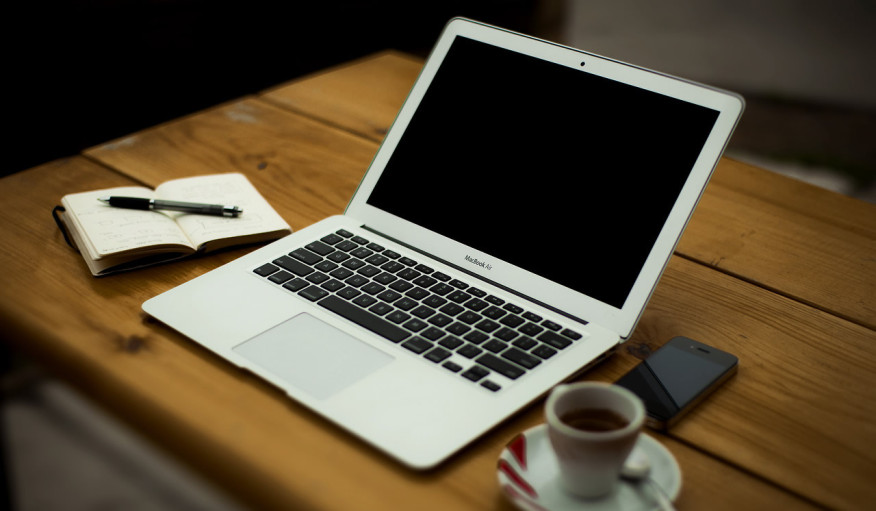 Want to start a blog, but don't know where to begin?

Then I wrote this step-by-step guide for you.
I created StartBloggingOnline.com to give beginners a fast, foolproof guide to starting a blog, without having to learn HTML or waste your time reading long, boring tutorials.
I also wanted to help you avoid all the expensive mistakes that most people do.
P.S. This guide is 4,136 words long which means roughly 20 minutes of reading. So grab yourself a tea, coffee or juice (whichever you prefer) and start with STEP 1. If you get stuck, send me an email and I'll do my best to help you out.
Step-by-step walkthrough for starting a blog
…and once you've set up your blog, I've also put together couple of additional guides for getting visitors to your blog, generating income and tons of other stuff that should make your start easy and painless.
If you're still hesitating, read my 11 reasons why you should even start a blog. But since you were searching for how to start a blog – I think you might want to get started ASAP.
Ready?!
1: Getting Started – Choose your Blogging Platform
---
First, you'll need to choose your blogging platform.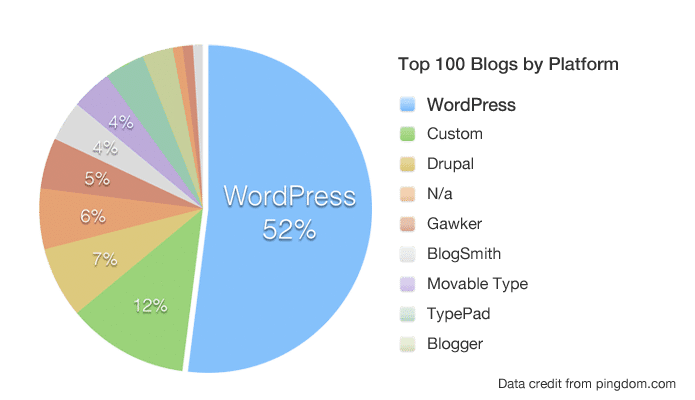 There are a lot of different blogging: WordPress, Tumblr, Blogger and many more. However, given that there are over 72 million active users using WordPress today, it's clear which platform is the boss. Even my own sites and blogs are built with WordPress platform. Here's why:
1) It's FREE for everyone to use.
2) It's super easy to set up.
3) It's secure; WordPress are always updating their software and keeping everything sound and secure, so there's rarely a worry of having your blog come under hacking attacks. No wonder Sony, NASA and even university blogs are using WP.
4) There are hundreds of free themes and plugins that add more functionality to your blog, from contact and subscribe boxes to plugins that improve blog performance and more.
While the other blogging platforms are generally all pretty great, nothing in my opinion has ever come close to matching the freedom and customisation options that WordPress offers. So without a doubt, go with WordPress.
HOLD UP! At this point, you don't need to install nor download anything – I'll show you this in a minute, but first…
Why FREE blogging platforms are no go
Think about it – what famous, successful blogger do you know of who is using a free blogging website instead of their own domain name (like "StartBloggingOnline.com", for example?)
It's not just that – free blogging platforms have other problems too – including…
You don't control your content – the blogging platform does. They could shut you down any time, and for any reason. Don't believe me, read this.
The web address of your blog will be long and hard to remember (like yourfreeblog.blogspot.com) instead of a catchy, branded address you choose.
You're not allowed to advertise on most free blogging platforms, making it much harder to ever make money from blogging.
Don't get me wrong: If you really don't care whether or not your blog will be successful, go with free blogging platforms. They're an okay way to try out blogging for a little bit.
But if you ever want to look credible, build an audience and make money blogging, then you need your own blog, on your own domain name, with your own hosting. That way, you make the rules and control your content.
If I were you, I'd start with a self-hosted blog on my own domain from day one. Setting up a blog like this is WAY easier (20 minutes max) and less expensive than you think.
Finding a domain name and web hosting provider
Now to exciting part! To set up a self-hosted blog on your own domain name, you'll need two things:
Domain name – This will be your personal blog address where people find you over and over again. For example Google's Domain is www.Google.com. Your new blog domain name will be www.YourBlogName.com, except you'll choose what's going to be behind YourNewBlog. The cost of a domain name is usually $10/year.
Web hosting – This will be the home of your blog address and content that's on the blog. Without web hosting, you'll be unable to use your domain. Think of it as a computer hard drive that stores all your content. The cost of web hosting is usually somewhere between $2-5 per month.
It's less than an XL coffee at Starbucks, so it won't break the bank. But it's an important investment to your blog success.
Where should I get my domain name and hosting?
When it comes to hosting, there are only two things that matter.
Page load speed – The average amount of time (in seconds) it takes your blog to load.
Uptime – 99,9% isn't enough (it's 42 minutes of downtime per month). You should be aiming for 100%.
There are hundreds of different web hosting providers. They all offer you a similar service (domain + hosting) with a similar price, but since I've dealt with and monitored many famous and recommended web hosting companies like Bluehost, iPage, Godaddy etc… I now only use and recommend www.HostGator.com for domain names and web hosting.
Why? Nothing has ever come close to HostGator in terms of blog load speed and uptime (see below):
HostGator have great performance, they are easy to use and it's probably the best pick for beginners.
However, you can always go with another web hosting as long as it's fast, reliable and offers unlimited storage & bandwidth. This helps you to avoid problems later on.
2: Set up a Blog – On your own domain name
---
If you don't have a hosting or a domain yet – don't worry. I'll be going this through with you.
At the end of this step (2), you should have fully working self-hosted WordPress blog on your own domain name.
P.S. If for some odd reason you don't want to use HostGator, you can always choose another hosting provider. I can't promise they'll be that good, but the registration and the set up process should be some what similar. Some hosting companies do not have one click install for WordPress. If that's the case, see this guide for installing WordPress manually (not recommended for beginners, though).
Remember: Since I'm using HostGator by myself too, I've negotiated a discount for people who use this guide (67% off). This discount should be applied automatically.
2. Pick a Domain name for your blog
Already have a domain name?
Just write it in the right box (I already own this domain) and keep moving to the next step by scrolling down a bit.
How do I choose a good domain name?
Choosing a bad domain name is one of the most common mistakes I see bloggers make. Be sure you choose a domain name that is…
1. Easy to Remember – Don't choose a nonsense name, something tough to spell, or a long name full of dashes. "www.best-tech-gadgets-in-the-world.com" won't ever stick in someone's head, but something like "www.techgeeks.com" rolls off the tongue.
2. Unique and Descriptive – You want a name that reflects who you are and what you care about. Be creative and build an identity you're excited about!
3. Trustworthy – Domain extensions like ".com", ".org" or ".net" are the most popular, with ".com" being the one most people think of first. Try to avoid crazy extensions like ".rocks" or ".biz", as these are less commonly used, tougher to remember and not as trusted.
Type the domain name you want to use in the box, then click "next". If the name is available, you'll be able to claim it. If it's not available, choose another one.
If the name you want isn't available, HostGator will show you some alternatives that are similar – or you can punch in a new name and try again. I'd suggest you to use something that ends with .com, .net or .org
3. Choose your blog hosting plan
I recommend the "Hatchling" plan for now – you can always upgrade later if you decide you want more advanced features, but you get more than enough with the Hatchling.
4. Complete your registration
Once you've chosen Hatchling plan and found a name you like that's available, you'll need to register it by putting in your contact and billing information.
You'll also have a chance to customize your package a bit. This is a chance to save some more money, so don't skip it! Apply discount code "STARTBLOG"
Few suggestions:
1) Domain Privacy Protection (DPP) hides your registration information in the "whois database", a worldwide database everyone has access to. I recommend it if you want to keep yourself anonymous, but uncheck the box if you want to save as much as possible.
2) I'd uncheck all the other boxes (Site Backup, Constant Contact, SiteLock Security) as these aren't really worth your money. You can always add them later.
5. Log in to your new account and install WordPress blog
It may take a few minutes for HostGator to register your account, so be patient. You should get a confirmation email when your account is ready.
Once you've logged in to your control panel (all the information you need for that should be on your inbox) , it's time to install WordPress. Thankfully, this takes just one click!
Log-in to your Hostgator control panel
Look about halfway down the page for the left sidebar section
Click "Install WordPress"
Once clicked, you'll be automatically transferred to Mojomarketplace.com – don't panic, this is just a site that helps HostGator install platforms (like WordPress).
You should immediately see a screen where you're offered to "Install" or "Import" WordPress.
Click "Install" to get to the next step.
When you're finished, "Install WordPress". Once you've done that, you'll see a loading bar at the top of your page that will eventually tell you that your WordPress blog has been installed and you'll see your log-in credentials.
6. Log in in and check out your new blog
Once the installation completes, you'll get an email that shares your login information, including an "Admin URL". (In case you missed that notification bar)
To log in to your blog, click the admin URL. If you forget this URL, it's simply www.yourblog.com/wp-admin (where "youblog" is your domain name).
Congratulations – you installed WordPress and set up your blog, all on your own! As you can see, it was really easy and straightforward.
3: Configure, Design and Tweak your blog
---
In this section, I'll show you some WordPress blog basics, including:
Getting familiar with WordPress dashboard
Changing your blog's design
Installing new plugins/features
Making your blog search engine friendly
If you've set up your blog, you're now ready to start using WordPress and customizing your blog. I promise – it'll be pretty easy and fun at the same time.
Remember: You can log in to your blog by going to www.yourblog.com/wp-admin/ and using the credentials you set up with HostGator or any other hosting company you used.
Understanding the WordPress Dashboard
When you log in for the first time, you'll see a dashboard or admin panel that looks something like this: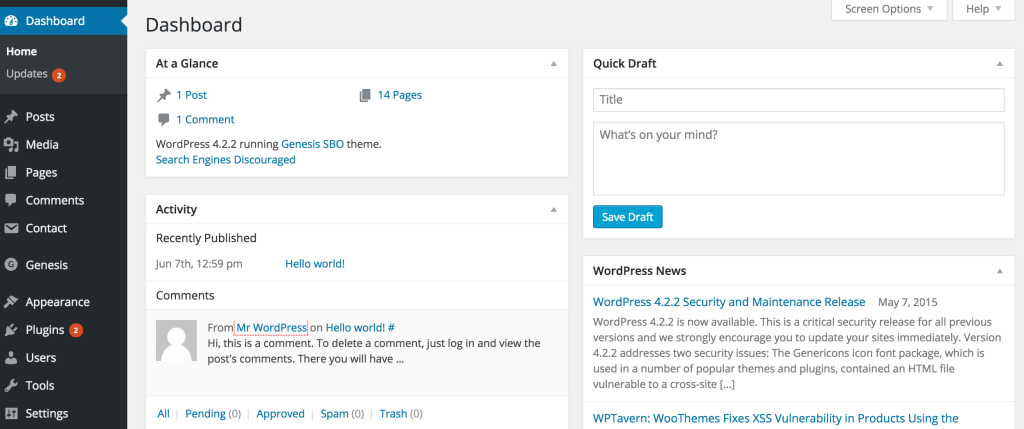 Let's break down some of the most important ones for new bloggers to know:
"Dashboard" shows you an at-a-glance look at your recent activity, including how many posts, comments and pages you have. You can also write up a quick draft blog post here – but don't – I'll show you a better way a little later in the guide.
"Posts" is where you'll click if you want to add a new blog post or edit an existing one.
"Media" is the library of all the pictures, videos, and audio files you've uploaded to the site. You can manage all of those items here.
"Pages" is where you can add a new permanent page – like a services or contact me page (not a blog post!) and manage the pages you've already created.
"Comments" is the place you'll want to go to manage comments. You can see which comments are waiting for your approval, review comments you've approved, see which comments WordPress has labelled as spam and delete comments you don't want.
"Appearance"

– this is where you can edit your blog's design and install new themes and layouts. I show you exactly how to do this a little later in the page.
"Plugins" is where you'd click if you wanted to install a new plugin, like a photo gallery or SEO tool. I'll show you how to do this in a moment.
"Settings"

is the last section you need to know about. Here, you can change your site's title and tagline, edit your email address and manage all of your site's important settings.
Changing Your Blog's Design (Themes & Layouts)
WordPress blogging platform uses design templates called "Themes" to figure out how your site should look. Changing your blog's layout and design is as simple as installing a new theme.
There are over 2,000 professionally designed, fully-customisable and free themes to choose from – so you've got a lot of options. If you want to see more premium type of templates and themes, head over to Themeforest.net
Here's how to find and install a theme you love:
Mouse-over the "Appearance" tab in the WordPress sidebar, then click on "Themes".
On the next screen, you'll see several themes are already installed. If you don't like those, click the "Add New" button at the top, or the great big "Add New" square to start searching for a theme.

Now, you'll see tabs where you'll find featured, popular and brand new themes, as well as a "Feature Filter" and search bar.
I really like the "Feature Filter" option, because you can choose themes in certain color schemes, select specific layouts and even choose themes with built-in advanced features.
Just choose the options you want, then click "Apply Filters" on the left hand side. If you're finding this challenging, just search by keyword – there's no wrong way!
When you've found a theme you like, click "Install". You're nearly done!
Once the theme has been installed, all that's left to do is click "Activate" on the next screen:
Installing a New Plugin (add some cool features to your blog)
"Plugins" are little software modules that you can install to add features and tools to your blog. They can do all sorts of things, like:
Adding contact forms
Reducing comment spam
Making your blog SEO-friendly
Creating newsletter sign-up forms
Adding photo galleries
And lots, LOTS more.
Installing them is really easy. First, Mouse-over "Plugins" in the sidebar, then click "Add New".
Now, you can search by keyword to find plugins for almost anything!
When you find a plugin you like, just click "Install Now" and then "Activate Plugin" on the page that follows.
BE CAREFUL: Before you install any plugin, it's a smart idea to Google its name and read reviews. Some plugins can break your theme, cause problems with security, or just plain work poorly, so always get a second opinion first.
Also, make sure your plugins (and themes) are always up-to-date. Don't worry though, WordPress usually lets you know when some of them are out of date.
If you don't know which plugins to use at first, have a look at my blog post – "Top plugins for WordPress blog that I personally use".
Configuring your blog search engine friendly
There are some things you'd need to do to make your blog more search engine friendly. Search engines do not like two things:
Ugly and clumsy URL-s – http://yourblog.com/2012/04/topic-a/auhtor-Mike/how-to-start-a-blog. A much better way is to use: http://yourblog.com/start-a-blog
See the difference? One is filled with irrelevant information and the another one is short, clean and neat.
In order to change your links to a more cleaner, click on the "Settings" -> "Permalinks" and use the following settings:
2. Spam comments – Unfortunately, lots of people want to leave automate spam comments on your blog. They do that for couple of reasons – to get people from your blog to their blog and to advertise their services/products.
To avoid that, make sure you moderate your comments. Here's how to do that: Go to "Settings" -> "Discussion" and tick those two options.
Managing Your User Information
If you ever need to change your user details, password, or add another user so someone else can access your blog, it helps to know how to manage your user details.
To manage users, mouse-over the "Users" tan on the left-hand menu.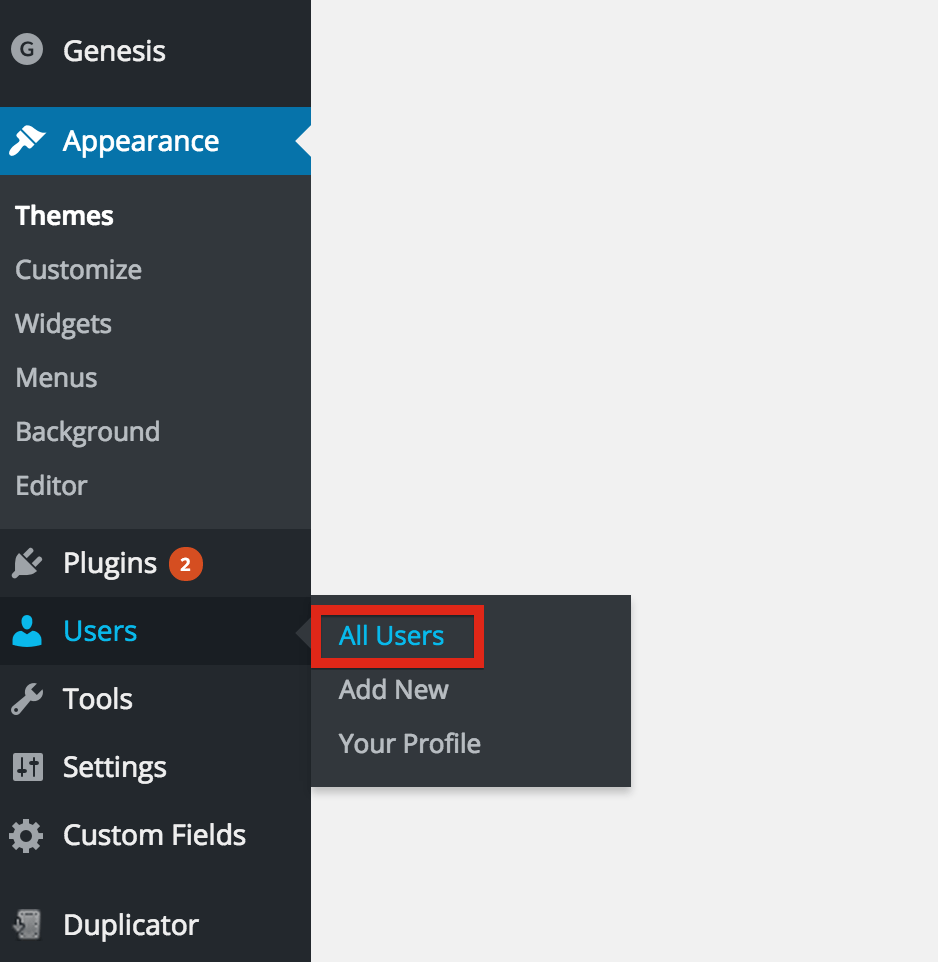 Adding a New User
Click the "Add New" link in the users section of the left-hand menu, and you'll be brought to this page: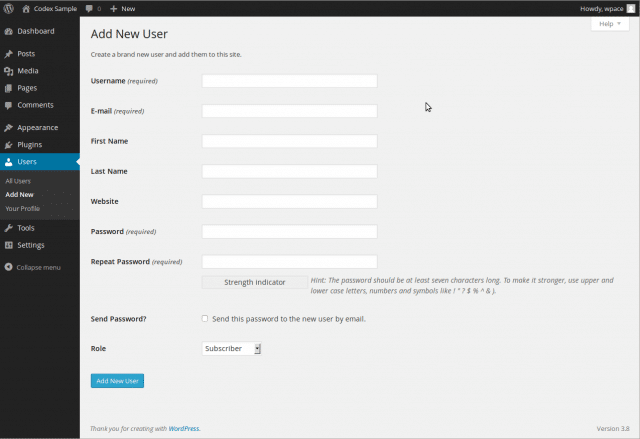 Fill in the details for the user you'd like to add – including a password you can remember to share with them. You can send it to them via email by clicking the radio box option – but that's not always the most secure way to do things.
BE CAREFUL: The "Role" you choose from the dropdown menu will determine what your new user is able to do.
"Subscribers" are only able to manage their own profiles – not update or change content.
"Administrators" can access all the administration options – making any changes or adding new users.
"Authors" can publish and manage their own posts, but nothing else.
"Contributors" can write and manage their own posts, but cannot publish them.
"Editors" can publish and manage posts – including the posts of other users.
Don't give access to anyone who doesn't need it!
4: Adding/Writing Blog Posts and Pages
---
By now you should have fully working WordPress blog on your own domain name. You should also have a custom blog theme that fits with your blog's topic. Congratulations – you've done a LOT and I'm proud that you've managed to get so far.
In the LAST step, I'll show you how to write your first blog post and share some tips for writing blog posts.
In this section, I'll show you…
How to write a post inside WordPress
How to add images, links and format text
Some quick tips and tricks for writing great content
Congratulations! If you've followed Steps 1 – 3, you've now set up your own blog on your own domain name, with great hosting and a design you like!
Using WordPress to Blog
Adding a New Post
To add a new blog post, click the "Posts" section on the left hand side-menu, then click on "Add New".
On the next screen, you'll see something like this:
You can add the title to your blog post in the top field, and your content goes in the big text box below the title.
You can save your draft or publish your content live by using the box menu on the far right of the page. You can even schedule the post to be published later – or make the post private so only friends can see it.
Once published, your new post can be found in the "All Posts" section of the "Posts" tab, so you can edit it any time.
Let's take a quick look at some things you can do to spruce up your post:
Adding Images
To add an image to your post, click the "Add Media" button right above the lower content field.
Tip: Before you click "Add Media", be sure you've left your cursor inside of your blog post where you want the image to show up. Otherwise, you'll have to move it later on.
Next, click the "Upload Files" tab on the screen that pops up, then click "Select Files".
Once you've found the file, double click it and WordPress will upload it automatically.
When the upload is finished, make sure the image you want is selected, then click the "Insert into post" button to add the image to the post you're writing.
Adding a Link
Linking out to other websites is a great way to build relationships and share interesting content.
To add a link, click on the icon in the toolbar that looks a bit like a chain link.
On the pop-up, you'll need to enter a few important bits of information.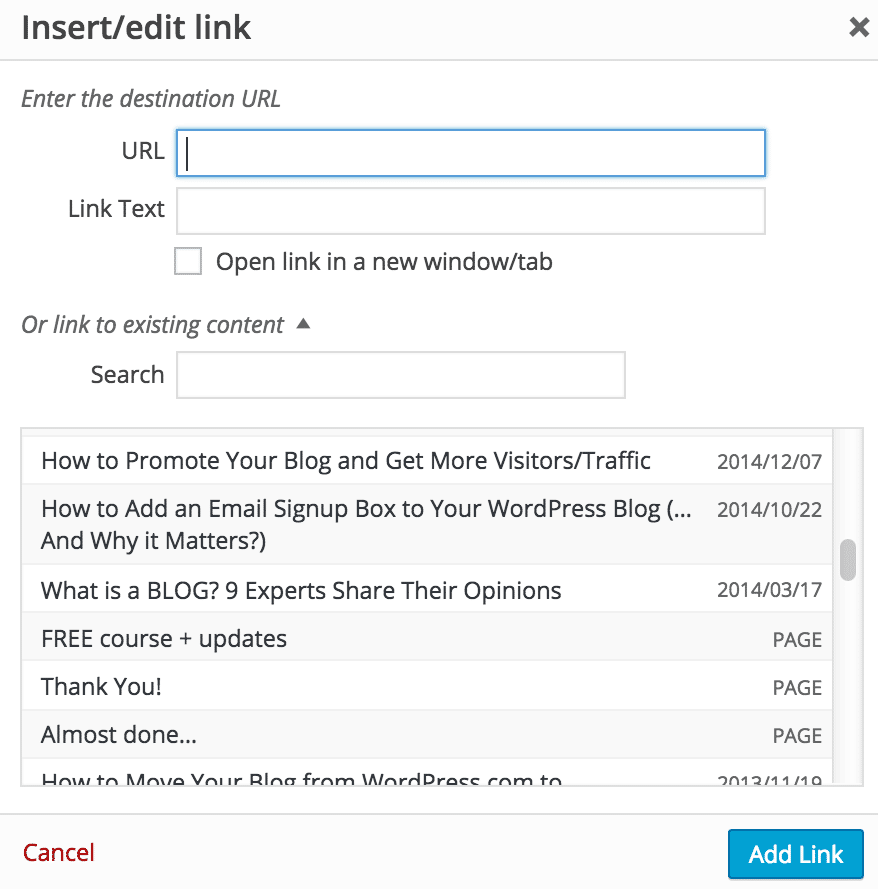 URL is the web address of the link you want to share. Make sure you include "http://" before the "www." address, or your link will be broken.
"Link Text" is the text you want people to click on to get to your link. It might be "Click here", or anything you choose.
"Open link in a new window/tab" – it's a smart idea to check this box. Otherwise, when someone clicks your link, they'll leave your blog.
If you want to link to an existing page, you can use the "Search" section to find a post or page you've already created and click it to add a link.
Finally, click "Add Link", and your link will be added where you left your cursor in the post you were writing.
Adding Headers & Editing Text
It's a good idea to use headers and bolding to make your content easier to read and scan.
Adding Headings
To add a heading, click on the drop-down menu on the bottom left of the toolbar.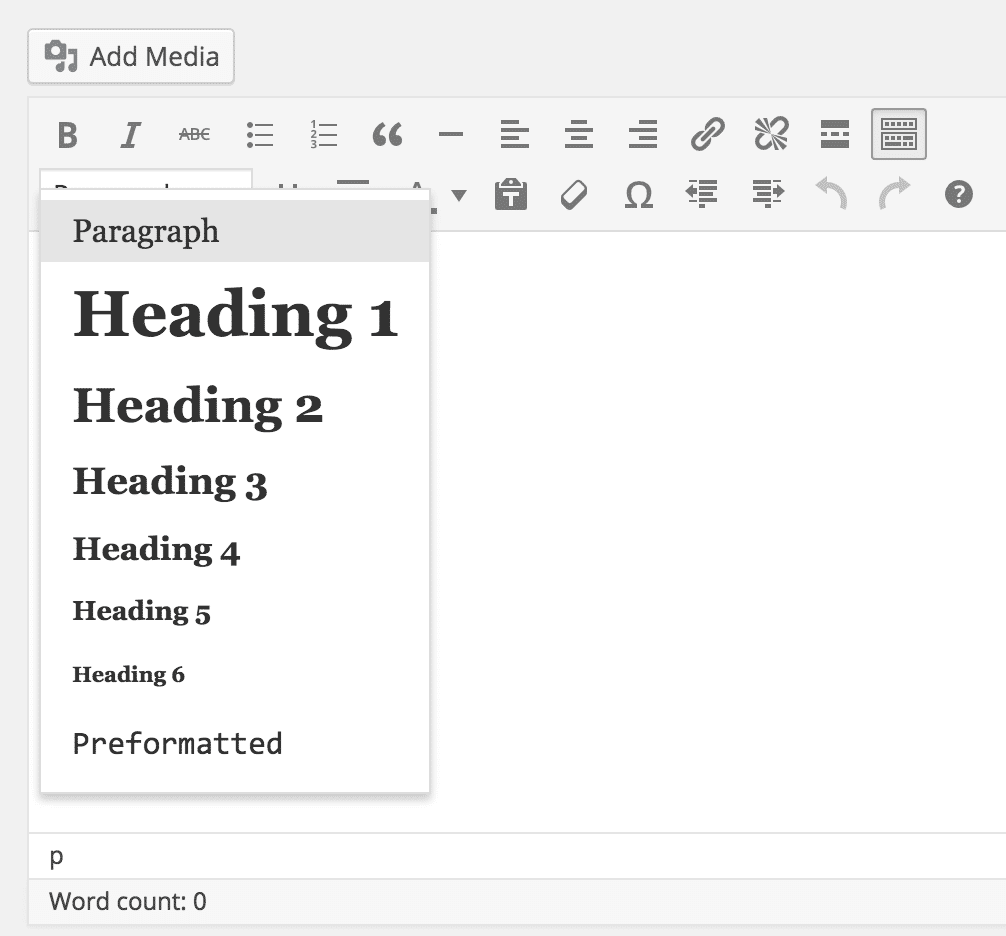 Try to only use "Heading 1" once within your page (usually at the top), and use "Heading 2" or "Heading 3" for other sections in the copy, as this is better for search engines.
Tip: You can also highlight the text you want to change in your blog post, THEN click on the dropdown menu and select the format you want the text to be in.
Editing Fonts
You can also bold, italicize, underline and even change the colour of your text in a click or two.

"B" is for bolding
"I" is for italics
"U" is to underline your text
"A" will open a dropdown menu where you can select font color
As you can see, this is all pretty simple for someone who has worked with Microsoft Word.
Quick Writing Tips
I know, I know – you're itchin' to get writing, right?
I've got lots more to share about blog promotion and making money from you blog in the later sections of the guide, but these quick tips will get you started:
Your title is REALLY important! Titles are maybe the most important part of a blog – because they're responsible for getting people interested in what you have to say. Make your title short, catchy, descriptive and intriguing – and don't be afraid to test a new title if your post isn't taking off like you'd hoped.
Try to keep paragraphs to just 3 – 4 sentences. More than this looks very overwhelming and text-heavy, and people may choose not to read it at all!
Make use of headers, bullet points and bolding to make your blog post easier to scan. People are impatient, and they like to skim through content for the most important information.Let them! If they like what they read, they'll be back for more.
Use images to capture attention – especially near the beginning of your post. Images add a new layer of interest to a blog post and break up heavy text, making it more enjoyable to read.
Always edit. Nobody's perfect (heck, you might have even found a typo or two on this guide), but make sure you go back and re-read your posts to try and catch spelling mistakes, confusing parts or sections where you got a bit long-winded. 
Try to stay focused. It's okay to write about a lot of topics – but if you want to get known or target a specific audience, it's smart to stay focused on a niche or area of interest you're passionate about.Be human, be real, be interesting – but try to pick a niche or subject you can write a lot about.
If you run out of ideas, don't panic. Everybody hits a wall sometimes – the trick is to find some new inspiration. I like to read other popular blogs for conversations I can contribute to. I also like to check out Q&A websites like Reddit, Quora or Yahoo Answers to see what people are wondering about.
Don't know what to write about? Check out my blog post ideas (warning: It's HUGE). Another option is to go for a walk and get some exercise. Moving around helps spark ideas and getting away from your laptop screen might be just what you need to feel inspired again.
Want to keep yourself productive? Here's comprehensive guide (I wrote) to keep your blog organized and your productivity super high.
What's NEXT?
I bet you have tons of questions on what to do next. But as promised…
I'm offering free help via email. So if you get stuck (for some reason), get in touch with me.
If you've set up your blog and want to know MORE, go check all my pages on StartBloggingOnline.com here.
If you want more advanced stuff, sign up to my free blogging course.
If you found this guide helpful, make me happy by sharing this page below.
Your "Blogging Guy", Mike