I know, I know… starting a blog can be confusing. When I started my first blog over five years ago, didn't know a THING about blogs or blogging.
I kept looking through Google for help, but all the guides I found were too technical and difficult to follow.
That's why I wrote this guide. I've now managed over 20 different blogs, some with over 200,000 visitors, and I wanted to help beginners (like I used to be) do the same by giving them a super easy guide that I wish I had when I started.
In this guide, I'll show you how to start a blog, including:
Finding a blog topic (in case you don't have one yet)
Setting up a blog on your own custom domain name (like yoursite.com)
Choosing a blog layout/theme (with a design you actually love…)
Getting more visitors and couple of ways to monetize your blog
One last thing…
If you EVER get stuck while learning how to start a blog – I'm here to help you. I won't be able to set up a blog for you, but I can do my best to answer your blogging related questions.
Just drop me a line if you hit a snag.
If you are still hesitating, I suggest you read my article titled "Reasons why you should start your own blog."
STEP O
NE:
Choose a

 Blog Topic
What should I write about?
To help figure this out, ask yourself a few questions:
1. Why am I blogging?
What's your goal – making money? Showcasing your expertise? Sharing your life experience? Whatever you write about should line up with that goal.
When I start my first blog, I just wanted to write about smartphones and tech gadgets and maybe make a few bucks along the way, so I started there.
2. What am I passionate about?
You need to LOVE what you write about or you'll burn out. Try to pick topics that you really like talking about. Blogging should never feel like a chore; your readers will know if you don't really care.
3. What am I an expert in? 
Know a lot about a specific field? Been in an industry for a long time? Chances are, you've got a lot of knowledge to share that others would find interesting.
The most important thing – just start!
Part of the adventure of blogging is that you don't need to have it all figured out. If you're stuck, just start writing about your hobbies or your daily life, and you'll soon discover what you like writing about most.
P.S. If you already know your blog niche or topic, you can skip this step and move onto Step 2.
Psst.. Want a few quick topic ideas? Click here (you will not leave the guide)
STEP 2: Finding the Right Platform
Before you start blogging, you need to choose the platform you'll use.
What's a "platform, anyway?"
Building a blog used to be pretty complicated. You needed to know HTML (code), CSS, and a bunch of technical junk.
Thanks to platforms, none of that is necessary anymore. A "platform" is just a system that makes adding and editing content super easy and code-free, even if you're not very technical.
Using a platform like WordPress is as simple as using Microsoft Word!
What platform do most people use?
Most of the blogs on the internet are made with WordPress – in fact, WordPress has been used over 72 million times and is used by many popular blogs (including this one!)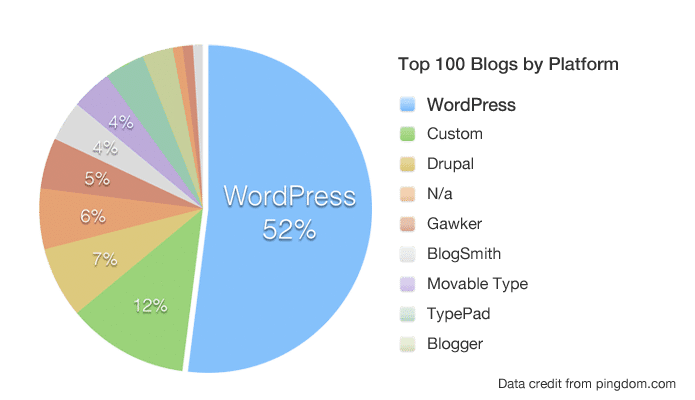 I've tried dozens of different platforms out there, and…
I strongly recommend you use WordPress for your blog. Here's why:
It's the easiest platform for beginners
You can choose from thousands of awesome-looking templates and themes
You can categorise your blog posts and create custom menus without knowing any code
There are tons of awesome plugins you can install with one click that add features like newsletter signups, photo galleries and more
Whenever you need help, there's a HUGE community of bloggers and developers on WordPress who are happy to share
Why shouldn't I just use a free platform, like tumblr?
I don't want to go into too much right now, but if you are serious about blogging and decide to blog more than 2-3 months it's strongly recommended to self-host your blog.
In that way you'll have no limitations related to your blog content, images and videos. Your blog will look more professional, better looking and has tons of free features that you can add later on. Plus, you actually own your blog.
However, if you don't plan to blog a for more than a month, free option might make sense.
Why FREE blogging platforms are not actually free...
How much will it cost to start a WordPress blog on my own domain?
Not much! All you need is…
A domain name (web address) – About $10/year (I'll show you how to get one for free)
A hosting service (connects your blog to the internet) – About $3 – $6 per month.
That's it – less than a movie ticket to use the best platform on your own custom domain.
What if I decide I don't want to blog anymore?
If you decide blogging really isn't for you, you can cancel any time. Most services even have a 30-day money-back guarantee, so you've got a full month to test it out without paying a dime.
I don't have a domain name or host yet. What now?
In step 3, I'll show you everything you need to do to get a WordPress blog up and running.
STEP 3:
Setting Up Your Domain, Hosting & Blog
How do I pick the best domain name?
My advice? Get creative – but keep it simple. Make sure your domain name is…
Brandable – Choose a domain name that reflects your style, attitude and subject. You might even choose to use your own name, like MikeWallagher.com
Memorable – Nobody will remember "www.all-about-latest-fashion-trends.com", but something like "welldressed.com" will stick in their heads.
Unique – Ripping someone else off is no way to build a brand.
I prefer to pick something that either ends with .com, .net or .org, but sometimes the best domain names are already taken.
Where should I get my domain name and hosting?
I've used tons of different hosting companies. Some were good, some were… well, terrible.
Today, I use www.iPage.com for all of my blogs and recommend it to every new blogger I help.
Why iPage?
Free domain name – If you sign up for hosting with the link above, you get a domain name thrown in for free
Quite cheap – Really affordable compared to the competition (less than $2.99/mo)
Easy set up – Setting up WordPress on iPage is ridiculously simple
Fast – Other hosts loaded my blog verrrry slowly. I've never had a problem with iPage.
24/7 support – If anything happens, they've got great customer support by phone and email
Later in the guide, I'll be showing you iPage's set up process – but I've included a tutorial on how to install your blog manually as well, in case you decide to go with someone else.
One last note: If you go with a different hosting company, please make sure they offer unlimited bandwidth and unlimited disk space (like iPage does). That will help you to avoid problems later on.
How do I Install WordPress?
Once you've got your domain name and hosting, you have two options to install your blog to your own domain:
A) With "One-Click-Installation" (iPage uses this – it's so easy)
B) Manually (A lot tougher)
The One-Click-Installation is better for beginners or those who are trying to set up their first blog. If you are internet/computer savvy then have a look at the manual tutorial. Either way, you'll get your blog online very quickly.
Option 1:  Set Up Your WordPress Blog Using iPage Hosting (EASIEST)
Click to read the instructions (expands – you won't leave this page)
Option 2: Set Up a WordPress Blog Manually to Any Host (ADVANCED)
Click to continue reading... (expands)
Once You've Installed: How to Choose Your Design, Write Your First Post and Promote Your Blog
Click to keep reading... (expands - you wont leave this page)
P.S. Two last things:
1) If you found this tutorial helpful, I'd love it if you shared it using the links below. It really means a lot to me!
2) If you started a blog, you should definitely join to my blogging course, where I share tons of tricks, tips and advice you can use to get traffic, make money and create an amazing blog!
Simply click on the "FREE updates" at the top of my page and you're on your way!
Keep bloggin'!
Your friend,
– Mike Wallagher