Last Updated on
InMotion hosting is a domain name and web hosting service that you may have heard of before. Perhaps you have been wondering, "Is InMotion hosting good?" and are researching it for your own website. Maybe you want to compare InMotion web hosting reviews to get a better idea of the company. Whatever the reason, we offer you a detailed analysis of the company and offerings.
This company is well-known and has been in business for a number of years. We will go over their offerings and how people like them as a hosting company. By the end of the article, you should be well-armed with information to make a decision about using them or trying somewhere else.
Disclosure
As an independent review site, we get compensated if you purchase through the referral links or coupon codes on this page – at no additional cost to you.
InMotion is an employee owned hosting company that is based out of Los Angeles, CA and Virginia Beach, VA. They have been in business since 2001 and have a domain base of over 300 thousand. They offer various hosting plans at a reasonable price, US based customer support, and a 24/7 hosting status page.
Something unique you will hear with InMotion hosting reviews is that they go beyond domain and hosting options. They offer website design services, as well. You can get a free consultation from an expert. If you choose to move on with the design, there is an addition charge.
You will be able to send in your content, review the design chosen, and then publish it all on InMotion servers. When considering the many factors of this review, InMotion has many positives. The many options, design help, and customer support all rank highly.
No service is perfect, but when looking at our InMotion hosting review and comparing it to other hosting sites, it is a service that will work well for many. Because of that, InMotion receives a 4.5 out of 5.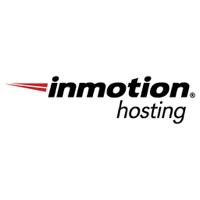 InMotion has a very professional website that is easy to navigate and find information on. They have many free tools available for those who use their hosting.
Their prices are great and start at less than three dollars a month. However, they also offer much more flexible offerings for those who need it and emphasize a customer base of businesses.
If you like to hit up customer service, InMotion is a potentially good choice. They offer phone, chat, email, and ticket systems. They also show excellent performance with their hosting packages. The control panel and one-click install also give it points in the positive. On top of that, they offer free data backups, which is unusual for hosts at their price point.
While InMotion has affordable options, to get unlimited options you often need to move into a more expensive package link dedicated server hosting. It is still affordable but not as affordable as some others. Also, some find that the amount of upsells and add-ons can be a bit over the top. Many will enjoy that, but others find it annoying so this can go either way.


Our #1 Choice For Hosting Blogs
62% Off Exclusive Offer Applied at Checkout
We went over a few of the features that InMotion offers, but there is more to cover. They offer cPanel to manage your site, as well as Softaculous which allows you to install over 400 applications with a single click. There are also plenty of options for blogging, such as WordPress, and for CMS.
In addition, they offer Moodle for educational sites. In addition to these features, you get a handful of other freebies. You will be able to purchase a domain name with hosting and get it for free. Unlimited disk space and transfers also come with every plan. The only thing that pales in comparison to other companies is the lack of multiple or unlimited domains. The launch account only allows up to two on the account.
One of the things that make this company stand out is the clear commitment to their users. They offer a whole host of help sources, including a YouTube channel where you can watch videos, and get walk-throughs of setting up an FTP account, how to redirect a domain from cPanel, and how to create a new email address on the server.
Businesses will love the features offered by InMotion, and there's a good reason for that. Their speed and uptime are excellent and have been for the majority of their time in existence. At the date of article writing, there had been no downtime in nearly one and a half months.
As mentioned above, there is also an excellent customer support team. You can reach them in various ways, and they offer compelling videos and help guides to walk you through whatever you need to do. There is a clear emphasis on being better than average in this aspect for InMotion, and it does show.
InMotion is a well-known brand that has been around for a number of years. While many brands are owned by another company, that is not the case for InMotion. They are entirely employee-owned, and one of their two data centers is labeled as 'green' and environmentally friendly. They focus on business users through shared hosting, virtual private servers, and dedicated hosting.
The company aims to bring quality to the mass market with a knowledgeable staff. As such, you can expect good speed and no cut corners when it comes to support. This comes at a bit of a price jump from some other hosts, but that will not matter much to those who want the premium service that InMotion offers.
InMotion hosting review: our conclusion
InMotion hosting is a well-known company that has many satisfied customers. They have a top-rated ranking from CNET, as well as A+ rating from the Better Business Bureau. When you take into factor what is offered, the price, and the customer service behind it – it is hard not to suggest InMotion as a potential web host people should be considering.
If you are comparing great web hosting, you might be interested in InMotion. This is doubly true if you are seeking somewhere to host a business site. If you prefer a dirt cheap option, this might not be the one for you, but it is worth considering for the breadth of choices you get when signing up.
Looking for a better option? Then I've got a deal just for you…