Last Updated on
You've certainly heard of GoDaddy. Their advertising campaign usually centers around outlandish, and often risqué, Super Bowl commercials. In fact, most of the commercials barely mention that GoDaddy is even a web hosting company.
Let's face it: Writing a GoDaddy review without mentioning the GoDaddy ads is basically impossible. So is there a quality web builder and host underneath all their marketing efforts?
Disclosure
As an independent review site, we get compensated if you purchase through the referral links or coupon codes on this page – at no additional cost to you.
I don't like to rely on someone else's GoDaddy website builder review. Instead, I want to check out a company for myself. So I used their services to build and then host a site for 12 months.
I have no reason whatsoever to sell GoDaddy to you. After all, I've already paid for a year's worth of service. Here's my complete, 100% honest review based on my personal experience with the GoDaddy web hosting service.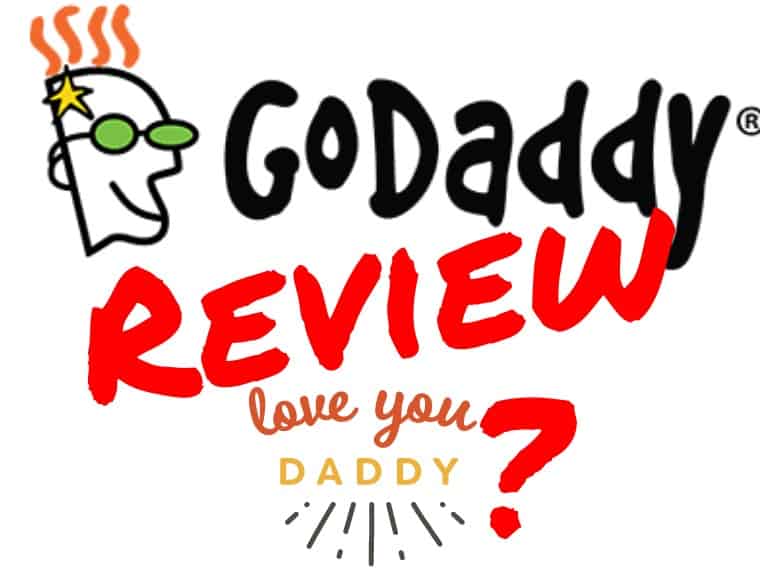 After using their services, I've got to say that GoDaddy's ads are a bit confusing to me. They seem designed to be edgy, cool and youthful. But GoDaddy's services are standard, accessible and really designed for mainstream bloggers and website owners.
This isn't a bad thing at all. GoDaddy is easy to use, has great customer support and a solid technical foundation. They have fair prices and refund policies.
At the same time, GoDaddy has very little e-commerce and mobile support. You also can't export your site from GoDaddy to another host. Plus, while their design options are easy to implement, your website runs the risk of looking a lot like many other GoDaddy-created sites out there.
If you've been searching for info on GoDaddy, you might have noticed something a bit confusing: GoDaddy web hosting reviews and GoDaddy website builder reviews are both found online.
This is because GoDaddy offers both website creation and hosting. You can start with nothing and end up with a full-functioning website.
They offer three levels of website building services:
Personal – $5.99
Business – $9.99
Business Plus – $9.99
Annual plans are also available where you can save by making a longer commitment up-front.
Everyone who signs up for a website building plan gets hosting for no extra cost. You also get access to their entire customer support network, which is pretty extensive.
GoDaddy doesn't offer free trials. But if you sign up for an annual plan, you get 45 days where you're eligible for a no-hassle refund. If you sign up for a monthly plan, you get a 48-hour refund window.
Here's a video from GoDaddy covering the basics of how to make a site, including some examples of what the final product is like:
GoDaddy reviews: pros & cons
They host 60+ million plus domain names. Over 13 million customers pay for at least some type of GoDaddy service. Plus, they offer support around-the-clock every day of the year including major holidays. Have a problem at two in the morning on Christmas Day? They'll answer the phone.
So, who should use GoDaddy? As I'll show you below, GoDaddy does some things better than just about any other hosting service. At the same time, they're definitely missing a ton of stuff many people consider pretty important. Unlike many other GoDaddy reviews, I'm going to tell you what I like… and what I didn't:
Easy setup with a variety of templates
You don't have to understand coding, HTML or design in order to put together good-looking website design ideas with GoDaddy. They have a simple drag-and-drop interface which lets you easily create a website. Choose from over 300 templates and then insert your own content to customize.
Creating websites is very easy. You simply drag elements around the screen. Plus, the templates are varied enough that you're sure to find something suitable no matter what your industry is.
​If you're an experienced internet marketing pro, I want you to sit down before you read the next sentence. When you call GoDaddy support, a real person actually picks up the phone on the other end! This is true 365 days a year, 24 hours a day.
You can also use live chat or a support ticket. Tickets take about 10 to 15 hours to generate a response, so this is for non-urgent items.
The support staff is almost universally pleasant and informed. They can handle detailed questions about website creation, hosting or both.
GoDaddy also has active forums and support materials for do-it-yourselfers.
Backups and data loss protection
Most hosting services only let you have one version of your website at any given time. This means if you want to revert any content or design changes, you have to do so manually. This also means if you have any technical issues, such as a conflict between plugins, you'll have to diagnose and repair those problems from within the site.
GoDaddy has a great solution here. They let you save multiple backup copies of your site. You can quickly select an older or different version of your site. To be honest, this is a great feature. I'm surprised it's not implemented in more web hosting platforms.
How well do you understand Search Engine Optimization techniques and tactics? If you're an SEO pro, GoDaddy's SEO services probably aren't that interesting to you. But you're an SEO newbie, this is a feature you'll want to pay attention to.
For an additional $2.69 a month, you'll get the following:
Keyword and Topic Suggestion Tool
Rich Snippet and Market Generator
1-Click Search Engine Submission
Are their SEO services going to shoot you to the top of results page? Almost definitely not. You'll need a full-time SEO professional (or team of professionals) to help you there. But if that's not in your budget, these tools are a great assist for a web developing newbie.


Our #1 Choice For Hosting Blogs
62% Off Exclusive Offer Applied at Checkout
Lack of export means you're tied to GoDaddy
You can't design a website in GoDaddy and then have it hosted on another hosting platform. There's no Export Function. If you create a site you love the look of, you're stuck with GoDaddy hosting for as long as you want to use that site.
Design isn't very flexible
Along the same lines, you're also stuck with whatever design template you choose. If you change your theme, you'll lose all the content you've created from the old theme.
This means you want to select a theme carefully. I recommend creating your content in a word processing program, so you can copy and paste it into a new theme. This still requires a lot of fine-tuning but you'll at least save some time.
Lack of E-commerce support
If your website is a blog or initial point of customer contact, then this won't concern you. But if you're running an online store, this is going to be a big deal. There are really no online retail tools to speak of.
All websites need some type of mobile support. For some businesses, especially brick-and-mortar stores, optimization for mobile is absolutely essential.
Unfortunately, GoDaddy falls a bit short here. Their mobile optimization is automated. Your site is converted into a mobile-friendly experience.
This is a basic conversion. You can't customize much of anything. You can only remove a few elements. This is not enough functionality if you need a great mobile presence.
Lack of customization in design
There are 300 design templates, and they all incorporate your text in very specific ways. While this is an easy way to get a website online quickly, the end product isn't going to look very original.
Three hundred templates aren't really that many when we're talking about over 60 million websites. There's bound to be some overlap, especially because there are only so many templates appropriate for each industry.
If your site emphasizes design, creativity, and originality, you'll probably get better results by building your site in WordPress or another platform where you'll have more customization options.
When you look past the ads, GoDaddy is one of the most traditional web hosting platforms around. They don't have a ton of customization. Their mobile and e-commerce support is basically non-existent. Their design templates aren't exactly cutting edge, design-wise.
But there's still a lot GoDaddy offers for the right audience. Building a site from scratch and getting it online is easy and uses simple, drag-and-drop techniques. Plus, GoDaddy's support team is terrific. They're available 24/7 by phone, chat and email.
Other GoDaddy reviews seem to miss this key point: If you're looking to get a solid website online quickly, GoDaddy is a great choice. If you're looking for much more than that, this might not be the platform for you.
Want something more than basic? Then I've got a deal for you…