Last Updated on
The battle of HostGator vs GoDaddy is important since I'm pitting two of the top hosting service providers against each other. They lead the rankings in many respects, whether its shared or dedicated hosting or if you're looking for unmetered bandwidth and flexible price plans.
Although I mainly focus on hosting plans here, don't forget the domain registration and website building services that these two industry giants provide. Although I've scored each section in this hosting comparison in isolation, consider combining the areas that are important to you. For example, you may lean to HostGator's shared hosting plans but be sure to check out the uptime score, too.
Disclosure
As an independent review site, we get compensated if you purchase through the referral links or coupon codes on this page – at no additional cost to you.
HostGator is better than GoDaddy when comparing the different hosting plans — shared and dedicated — as well as pricing, uptime and loading times. GoDaddy seems to be more tailored to VPS and dedicated hosting, whereas HostGator excels in its pricing plans for shared, cloud, reseller and WordPress hosting.
HostGator vs GoDaddy hosting comparison
Get comfortable, for I'm about to break down the different elements of both HostGator and GoDaddy. Soaking up all the information will allow you to apply the different areas of hosting and decide which areas are the most important to you.
Click on the table of contents on the right to jump to the area you're most interested in, or, if you're feeling brave, scroll through each section. These will give you a good idea of which is better, HostGator or GoDaddy.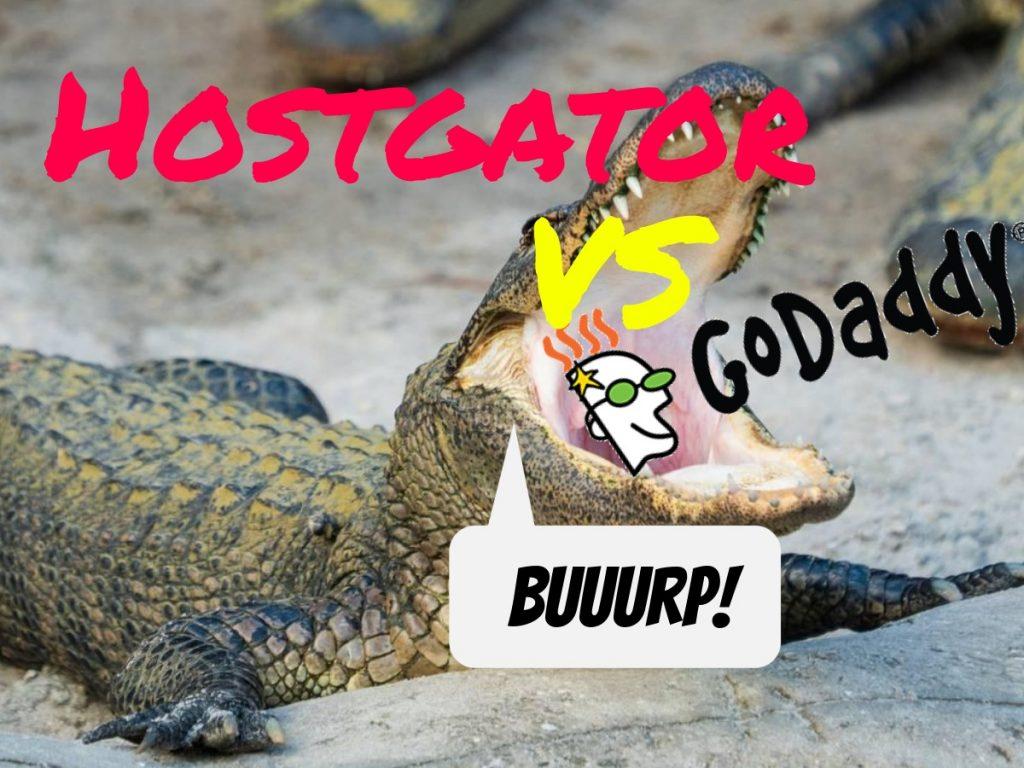 GoDaddy or HostGator for shared hosting?
HostGator has three shared hosting plans available for you, which is a standard setup. The pricing for these per month are as follows: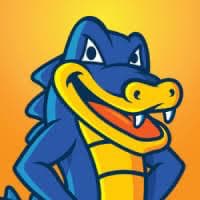 Hatchling $2.75/mo
Baby $3.95/mo
Business $5.95/mo
Note that the above prices are if you choose a 3-year billing cycle; that is, these are monthly equivalents if you pay for 3 years upfront. Paying a month at a time will cost you the following for each package:
Hatchling $10.95/mo
Baby $11.95/mo
Business $16.95/mo
No matter which plan you choose with HostGator, they come with a host of benefits for you to lap up. I particularly like that it includes a free SSL certificate, which provides that extra step in website security, encrypting all traffic between the server your site's hosted on your visitors.
HostGator are also one of the few hosting companies that offer a free domain with its basic package — with some, you need to grab the intermediate or top level plan to qualify for this. There is a caveat here, though… you need to subscribe for at least 12 months at a time to qualify. If you have the capital, this is definitely worth looking at given the discount levels mentioned above.
Bandwidth when choosing your hosting can be a struggle, especially when you don't know how big or popular your website is going to be. Even HostGator's basic plan includes unmetered bandwidth — as well as unmetered storage. This doesn't mean you can roam free with your bandwidth, though. The company's T&Cs delve into this further and say that although you won't be charged per amount of traffic, bandwidth or disk space you use, there is an expectation that these are in line with a small business or personal site. This is the case, no matter the price plan you choose, even the Business plan. HostGator does say that it rarely has to contact its customers about this problem, though.
If you're looking to register multiple domains with HostGator then you'd need to go for at least the Baby plan, for the Hatchling only allows you to register one domain. This isn't a surprise and is something most hosting services offer.
The main advantage of going for the Baby plan over the Hatchling is the mentioned increase in domain registrations. Both include one-click WordPress installations and free WordPress/cPanel transfers. The Business plan contains all of the benefits I've mentioned but also the following:
Free upgrade to Positive SSL
Free dedicated IP
Free SEO Tools
The main benefit of going for the Positive SSL upgrade is a $10k warranty and a TrustLogo security seal. The value of the SEO tools is stated to be approximately $50 per year, which isn't a huge amount considering how much it costs to pay for an SEO expert — I should know!
In the GoDaddy vs HostGator face-off, HostGator wins here.


Our #1 Choice For Hosting Blogs
62% Off Exclusive Offer Applied at Checkout
HostGator vs GoDaddy for WordPress hosting
HostGator's WordPress hosting plans come in at a higher price point than its shared hosting options if you purchase 3 years of hosting:
Starter $5.95/mo
Standard $7.95/mo
Business $9.95/mo
Cost for paying monthly are:
Starter $14.95/mo
Standard $20.95/mo
Business $27.95/mo
Note that there are further options available if you want to have more WordPress sites hosted, since you're limited by these basic plans as follows:
Starter 1 site
Standard 2 sites
Business 3 sites
You can pay for 5, 10 or 20 sites to be hosted, however, expect to pay more for this. No matter your choice, migration is completely free and storage space is unmetered. A free SSL is also included.
With WordPress hosting through HostGator, you're capped at how many visitors your site can have per month:
Starter 100k
Standard 200k
Business 300k
Another important feature is the backups, since your hosting service is a good place to integrate backups for your site content. WordPress restricts you to the following backup sizes:
Starter 1 GB
Standard 2 GB
Business 3 GB
The great news is that these backups are daily and are restored with a single click. Free email hosting is also included as standard across all packages, with unlimited email addresses on offer.
With HostGator's liberal combination of hosted WordPress sites and value pricing, it's hard to look past it.
Cloud hosting plan comparison
Cloud hosting is just a short step up from shared hosting, and so expect to pay a little bit more at HostGator:
Hatchling $4.95/mo
Baby $6.57/mo
Business $9.95/mo
Again, the above is for 3-year plans. The monthly payments are as follows:
Hatchling $12.95/mo
Baby $13.95/mo
Business $19.95/mo
You get the same benefits as you would if you had a shared hosting service, in terms of free SSL, free domain and unmetered bandwidth. On top of that, the server specs we're given for cloud sharing across the Hatchling, Baby and Business plans are:
Memory: 2GB, 4GB and 6GB, respectively
CPU Cores: 2, 4 and 6, respectively
HostGator or GoDaddy for VPS hosting?
VPS server hosting over at HostGator will cost you the following if you pay for 3 years at a time:
Snappy 2000 $29.95/mo
Snappy 4000 $39.95/mo
Snappy 8000 $49.95/mo
If you prefer to pay monthly:
Snappy 2000 $89.95/mo
Snappy 4000 $129.95/mo
Snappy 8000 $159.95/mo
What will these get you for your own slice of a virtual server?
RAM:
Snappy 2000 2 GB RAM
Snappy 4000 4 GB RAM
Snappy 8000 8 GB RAM
CPU cores are 2, 2 and 4 respectively, with disk space being:
Snappy 2000 120 GB space
Snappy 4000 165 GB space
Snappy 8000 240 GB space
For those of you interested in bandwidth restrictions:
Snappy 2000 1.5 TB
Snappy 4000 2 TB
Snappy 8000 3 TB
On top of the above core features, using HostGator as your VPS host will give you access to:
Full root access
Custom installation
Dedicated resources without paying for a dedicated server
Weekly off-site backups included
Dedicated hosting comparison
Dedicated server hosting is the pinnacle of renting your own server space, so expect to dig deep into your wallet. 3-year plans with HostGator are:
Value $118.99/mo
Power $138.99/mo
Enterprise $148.98/mo
Costs for paying monthly are:
Value $189/mo
Power $249/mo
Enterprise $289/mo
Note that when choosing your plan in the shopping cart, you can choose either an SSD or HDD, neither of which change the cost. The same applies whether you prefer Plesk or cPanel.
The prices above are for a managed server; semi-managed servers are cheaper — approximately $10/mo cheaper.
No matter which price plan you choose, bandwidth is unmetered and you can take your pick from either Linux or Windows OS. When it comes to hardware, you get the following:
CPU:
Value 4 Cores
Power 8 Cores
Enterprise 8 Cores
RAM:
Value 8 GB RAM
Power 16 GB RAM
Enterprise 30 GB RAM
Storage:
Value 1 TB HDD
Power 2 TB HDD/512 GB SSD
Enterprise 1 TB SSD
Additional features, no matter which package you choose, are:
3 x IPs
Full root access
Unlimited databases
RAID-1 configuration
DDOS protection
Fully redundant network
Compare HostGator vs GoDaddy domain registration
I'm doing a straight monetary comparison between the two, here. These are the prices that your domain extension will renew at, NOT the introductory offers (green denotes the cheaper option):
.com $17.99/yr

.website $15.00/yr

.info $17.99/yr

.club $15.00/yr

.org $17.99.yr

.host $45.00/yr

.co $35.00/yr
.net $17.99/yr

.online $15.00/yr

.space $15.00/yr

.me $19.95/yr

.site $15.00/yr

.us $17.99/yr

.biz $17.99/yr

.tech $30.00/yr
HostGator offers better prices across the list of extensions.
GoDaddy vs HostGator website builder
HostGator has a comprehensive site builder service, with 2-year costs for its plans as follows:
Starter $3.84/mo
Premium $5.99/mo
eCommerce $9.22/mo
Costs if you wish to pay annually are:
Starter $4.61/mo
Premium $6.14/mo
eCommerce $9.99/mo
Paying monthly will cost you:
Starter $4.99/mo
Premium $6.49/mo
eCommerce $12.49/mo
For the Starter plan, you get:
Unlimited pages
Unmetered storage and bandwidth
Free hosting
Free domain name for 12 months
Drag and drop builder
Customizable templates
Site analytics
Free SSL certificate
24/7 support
The Premium plan will give you everything in the Starter plan with priority support on top. The eCommerce plan includes all of the above plus extra eCommerce functionality, which includes inventory management, a shipping and tax calculator, and coupons.
HostGator doesn't have a huge amount of information on its website builder page, but it does provide an insight into the important details. It's also competitive on pricing, meaning it gets a tick for the GoDaddy vs HostGator challenge.
HostGator vs GoDaddy speed, uptime and reliability
Ignoring the different hosting options and other frills that are offered, HostGator is well-known for its excellent reliability.
Along with its high-quality 24/7/365 customer support department, these critical factors stand out:
Speed 0.96 seconds
Uptime 99.9%
Reseller hosting plan comparison
Reseller hosting is a good way to start your own hosting business on the back of an expert, but be aware of higher than average pricing pricing plans:
Aluminum $19.95/mo
Copper $24.95/mo
Silver $24.95/mo
The prices above are for a 3-year plan, and the same price between Copper and Silver doesn't appear to be a typo, however, you will pay more on a monthly plan:
Aluminum $29.95/mo
Copper $41.95/mo
Silver $59.95/mo
Free SSL certificates comes as standard for all plans, which is a common theme for all hosting services through HostGator.
Of importance when it comes to reseller hosting, though, is disk space, bandwidth and domains. You get unlimited domains no matter your chosen option, and the disk space available is:
Aluminum 60 GB space
Copper 90 GB space
Silver 140 GB space
Bandwidth restrictions are:
Aluminum 600 GB
Copper 900 GB
Silver 1,400 GB
You get free WHMCS client management and billing software as standard, as well as a 45-day money-back guarantee, which is above the average, and important when looking at a reseller host plan.
HostGator vs GoDaddy pricing comparison
Based on 3-year subscriptions (green denotes the cheaper option):
Shared $2.75 – $5.95/mo

Cloud $4.95 – $9.95/mo

WordPress $5.95 – $9.95/mo

Reseller $19.95 – $24.95/mo

VPS $29.95 – $49.95/mo
Dedicated $118.99 – $418.98/mo
HostGator offers the most affordable plans for the less-demanding site hosting. If you're on the fence about going for either HostGator or GoDaddy, perhaps it'll boil down to pure pricing.
GoDaddy vs HostGator hosting conclusion
The winner is HostGator!
Although GoDaddy does offer some reliable and robust services, it doesn't compare on price to HostGator, particularly for shared hosting. HostGator's site is very easy to navigate and the customer support is excellent. This popular hosting service would need terrible reliability to be outdone by GoDaddy, but even the uptime and page speeds are excellent. On top of that…
We have a special deal so that HostGator is even cheaper!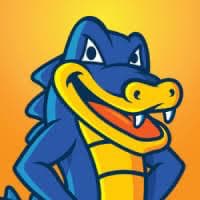 Our #1 web hosting pick:
Get top rated hosting for as little as
$2.64 per Month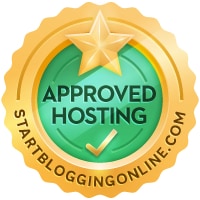 HostGator versus GoDaddy final score