Last Updated on
Shopify is one of the most powerful eCommerce website builders in the industry. On the other hand, Squarespace is the king of design among website builders. This is an interesting matchup that won't end with the overwhelming victory by one side.
Before giving you details about the two, I can tell you that in most cases it is easy to decide which of the two is a better option for a specific website. Anyone who wants to create a big eCommerce store should pick Shopify. On the other hand, if an online store isn't the primary focus of a website, Squarespace is a better option. Deciding is Shopify or Squarespace better overall is where it gets hard.
Disclosure
As an independent review site, we get compensated if you purchase through the referral links or coupon codes on this page – at no additional cost to you.
Squarespace vs Shopify for eCommerce seems like a decision that is easy to reach. After all, Shopify is one of the most powerful eCommerce platforms. However, not all eCommerce websites have complex stores or require all the tools Shopify offers. Sometimes, a better design is more important than sophisticated eCommerce features, especially in creative industries.
There are many situations where Squarespace is better for eCommerce, but ultimately you will have to be the judge of which platform is better for your website. I will give you all the important details about both platforms, so after reading this article, it should be easier for you to make that decision.
Squarespace is a better option for websites without stores and bloggers with small online stores. It has better features for design, so it is easier to create a good looking website with Squarespace. Shopify, however, has features that make it the undisputed king of eCommerce.
When deciding which one is better overall, I would choose Shopify. The simple reason is Shopify's app store that makes it easy to add any feature that isn't integrated into Shopify's plans.
Squarespace vs Shopify for ecommerce comparison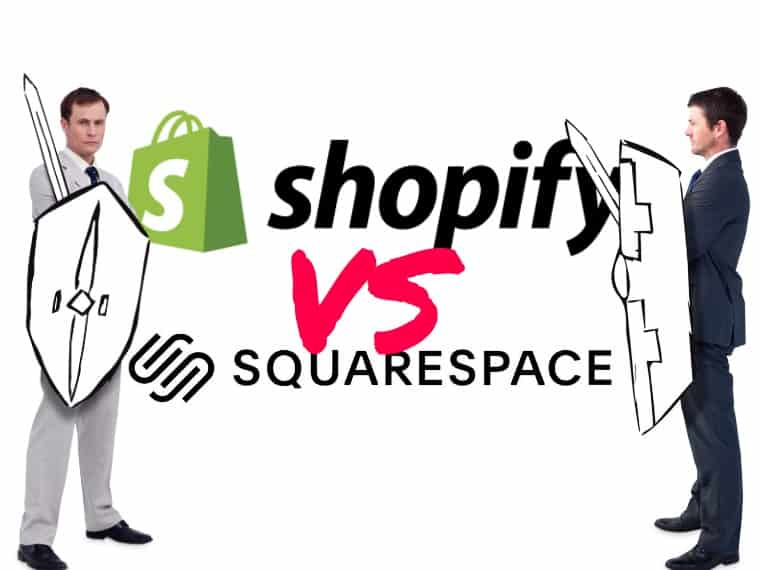 Don't forget to use the switch that toggles between our two competitors. Without further delay, let's compare Shopify and Squarespace:


Our #1 Choice For Hosting Blogs
62% Off Exclusive Offer Applied at Checkout
Shopify or Squarespace ease of use
It takes some time to get used to Shopify's interface. The editing interface and dashboard for managing sales are separate, so you will need to learn where to look for specific features. Some of Shopify's tools use unusual terminology that doesn't help users who already have experience with other website builders. Don't worry; once you get familiar with Shopify, you will realize that it is very easy to manage stores with it.
Shopify has excellent backend control and structure that makes management of huge stores with lots of products easier. The sheer number of tools at your disposal can seem overwhelming, so it isn't the easiest option for small stores, but the bigger your store gets, the more thankful you will be that all those tools exist.
Shopify vs Squarespace website builder
It is important to understand that Shopify specializes in eCommerce; as such, Shopify is limited to the creation of online stores. The benefit of such a limitation is that Shopify's builder, unlike most other website builders, is capable of creating complex eCommerce websites.
Shopify has one of the best website builders for eCommerce. It is a very sophisticated builder with powerful eCommerce tools. Although it can create complex stores, it has a clean interface that is surprisingly easy to use.
Shopify and Squarespace templates, themes and customizability
Shopify has 72 themes. All of them are geared toward online stores and come with industry-specific features. There are only eight free themes. Premium themes cost between $140 and $180 each.
There is plenty of customization you can do on your website and templates. You can move around and edit existing sections or add new ones. Options available when customizing a section will vary based on the type of the section.
Besides customizing a section, you can also customize the template. When you make changes to a template, all of them will automatically apply to all pages on your website.
Compare Squarespace eCommerce or Shopify features
As a platform specialized in eCommerce, Shopify shines in this category. You just need to check Shopify's support for payment gateways to realize how good it is. You can check their website to see all available payment gateways; I won't list them here because there are over 100 of them.
Their eCommerce features don't stop there; Shopify's inventory management is amazing. Shopify supports up to 100 variants of a product, and this can be upgraded by a third-party app. You can upload multiple products or variants simultaneously and find any of your products easily by using a search bar.
Abandoned cart recovery, revenue reports, management tools, automated tax calculator and an option to set flexible shipping rates are all integrated.
Shopify's eCommerce features are powerful enough to support even the biggest online stores and simple enough that a beginner with a freshly opened small eCommerce will be able to easily handle them. When comparing Squarespace ecommerce vs Shopify, Shopify comes out on top.
Shopify and Squarespace SEO
Basic SEO features like meta titles, redirects, URL slugs, etc. are built-in. Shopify also comes with the Shopify Email tool that lets you create and manage email campaigns.
For more sophisticated SEO and marketing features, you will have to use a third-party app. You shouldn't have problems finding an adequate app, because Shopify's app market is huge. There are around 900 apps in the marketing category alone.
Shopify lacks social bookmarking and blog-specific search features. Most online store owners want to have a blog to help them boost store sales. You can still create a blog with Shopify, but it isn't the best platform for bloggers.
On the other hand, you can increase the number of sales through social media accounts and other marketplaces. Shopify's multi-channel integration will let you connect your store with Instagram, Facebook, eBay and plenty of other social media platforms and marketplaces.
Squarespace vs Shopify features
Shopify doesn't have many other features that I didn't already mention. It is an eCommerce website builder, and it focuses heavily on eCommerce features.
The important thing to mention is that Shopify relies on the app marketplace for any additional features. The marketplace is huge, so it is unlikely that you won't find what you are looking for there.
Squarespace vs Shopify domain costs
Shopify is an eCommerce platform and a domain registrar, so you can get all the necessary services for your online store in one place. Here is how much you will have to pay to register some of the most popular domain extensions with Shopify:
.com: $14/year
.net: $16/year
.org: $17/year
.info: $20/year
.biz: $21/year
.tech: $27/year
Squarespace and Shopify customer support
In addition to a large forum community, Shopify has phone, chat and email support that are all available 24/7.
There isn't much to say about Shopify's customer support besides that Shopify's customers report positive experiences with support.
Shopify vs Squarespace speed, uptime and reliability
With such two big names there isn't much space for Shopify vs Squarespace competition in this category. You can expect almost constant uptime and excellent speed. Both companies are reliable, and you will be satisfied with the performance of your online store no matter which one you choose.
Shopify vs Squarespace pricing
Shopify has three plans with a big price difference between each of them. The biggest benefit you get from upgrading is the reduction in transaction fees. Here is the full list of features for each plan:
Basic Shopify: $29/month
Free SSL certificate
2 staff accounts
2.9% + $0.30 online credit card rate
2.7% in-person credit card rate
2% additional fee if you are not using Shopify Payments
Up to 64% shipping discount
Multi-channel integration
Manual order creation
Discount codes
Abandoned cart recovery
Gift cards
Print shipping labels
Shopify POS
Shopify: $79/month
All from the Basic Shopify Plan
5 staff accounts
1-5 store locations
2.6% + $0.30 online credit card rate
2.5% in-person credit card rate
1% additional fee if you are not using Shopify Payments
Up to 72% shipping discount
USPS Priority Mail Cubic pricing
Professional reports
Advanced Shopify: $299/month
All from the Shopify plan
15 staff accounts
Up to 8 store locations
2.4% + $0.30 online credit card rate
2.4% in-person credit card rate
0.5% additional if you are not using Shopify Payments
Up to 74% shipping discount
USPS Priority Mail Cubic Pricing
Advanced report builder
Third-party calculated shipping rates
Shopify's plans are more expensive than Squarespace's plans, but they are packed with powerful eCommerce features. It is easiest to compare the Basic Shopify with Squarespace's Basic Commerce plan because they have similar pricing.
Basic Shopify is the better choice for eCommerce because you get some important features that don't come in the Squarespace's Basic Commerce plan. The most notable among those features is abandoned cart recovery.
My verdict is that you get more value for your money with Shopify, but only if you are heavily focused on eCommerce. For a blog with a supporting store, Squarespace is a better choice.
Shopify vs Squarespace conclusion
The winner is Shopify!
Squarespace is an excellent website builder with a strong emphasis on the visual appeal of websites. Shopify, on the other hand, is specialized in eCommerce. The choice between the two should be based on the type of website you are creating. Overall, Shopify wins because it has a huge app market that lets users add any tools that aren't already integrated.
Shopify versus Squarespace final score
Shopify vs Squarespace FAQs