Last Updated on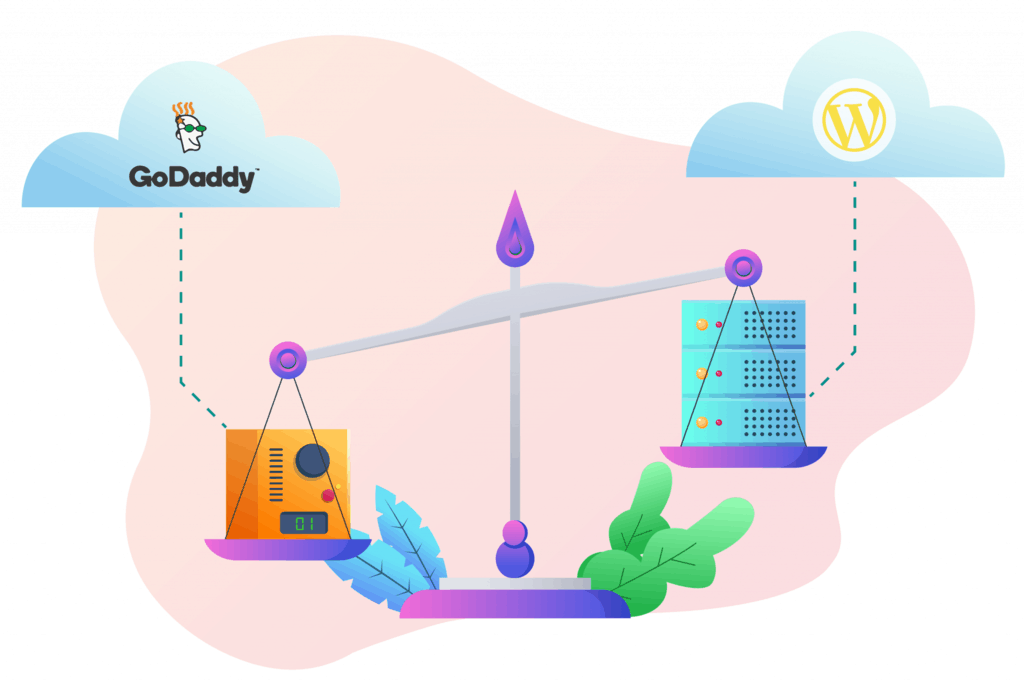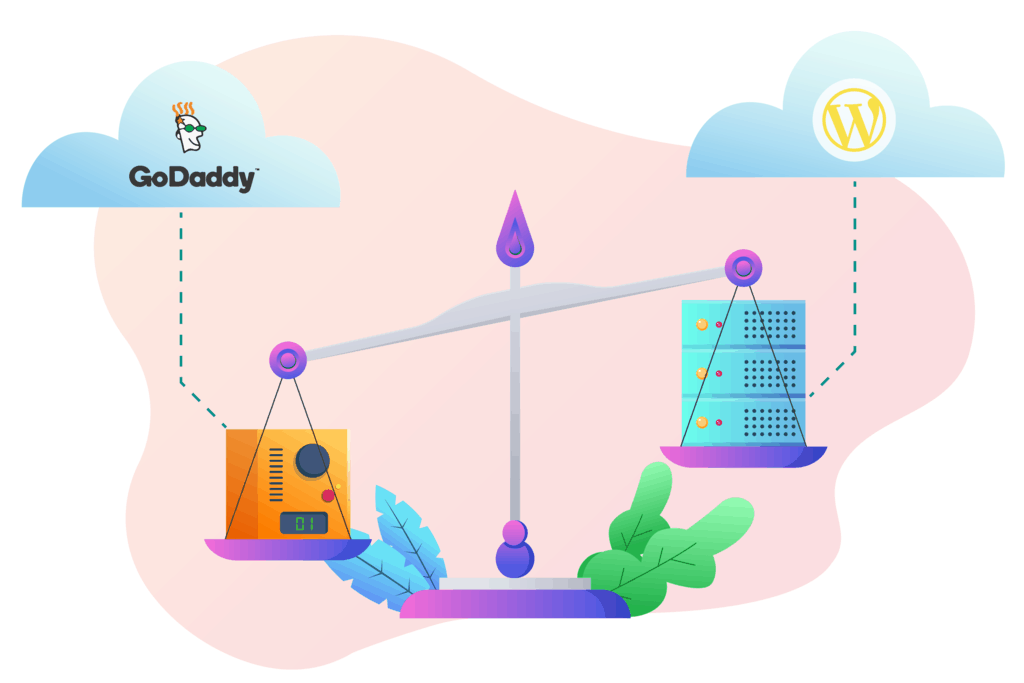 When you decide to create a winning blog or site, one thing you must get right is web hosting. But how do you pick the right hosting provider in the crowded market? Two outstanding names on the internet today are WordPress (WP) and GoDaddy.
Disclosure
As an independent review site, we get compensated if you purchase through the referral links or coupon codes on this page – at no additional cost to you.
WordPress is a free content management system (CMS) that is used by over 30% of websites on the globe, while GoDaddy has made a name for itself as a leader in shared hosting and domain registration. Although WordPress does not specialize in web hosting services, it has good options that are ideal for personal use and startups. On the same note, GoDaddy does not provide CMS services, but it has a one-click WordPress installation option for you.
In this WordPress versus GoDaddy comparison, I dive deeper into each provider to establish the core features, plans, site-building capabilities, and pros & cons. Dig into this detailed review to determine which option suits you best.
WordPress is the leading CMS today, used by more than 30% of websites around the world. It was started in 2003, by Matt Mullenweg and Mike Little, who wanted to create a well-engineered personal publishing system.
Over time, WordPress has evolved because of its open-source nature that helps to draw talented designers, developers, bloggers, and researchers. It offers unique opportunities for you to create and share anything from personal drawings to world-changing discoveries. Even if you are not tech-savvy, WP allows you to use experts to assist you in customizing your platform.
GoDaddy is a publicly traded American firm that specializes in web hosting and domain registration. The company was created in 1997 by Bob Parsons, who sold his financial software firm referred to as Parsons Technology to fund the more lucrative web hosting venture. Initially, it was launched as Jomax Technologies but later changed to GoDaddy Group, Inc.
Since inception, GoDaddy has grown steadily to hit 17 million customers by the start of 2017. In 2018, it had more than 62 million domains and was ranked the largest web host by market share. In the same year, GoDaddy shifted most of its infrastructure to Amazon Web Service (AWS) as a strategy to enhance its customer value.


Our #1 Choice For Hosting Blogs
62% Off Exclusive Offer Applied at Checkout
Because the primary goals for WordPress and GoDaddy are different, their features also vary. Here are some of the main features you should expect in each service provider:
Search engine optimization (SEO)
Whether you already have a website or have just made one using the WP site-builder, you will need to optimize it in order to get better ranking by search engines. The WordPress SEO feature allows you to optimize the site for higher traffic and better user experience.
The SEO tool helps you to check the site visibility, identify errors, and generate suggestions for improvements. You will like the fact that WordPress also allows you to integrate with other SEO tools such as Google Console and Google Analytics.
These features are created to help you generate great content for your website. The tools include Editorial Calendar to help you plan the website content and Notifications to alert your team about the latest happenings on your website.
Other publishing tools include Editorial Comments that allow you to leave comments for your site authors/developers and allows them to also leave feedback, plus a Content Overview that provides you with an opportunity to scroll and analyze content from authors. I found the Content Overview impressive, because it helps you to identify great content and improve those of poor quality.
This feature presents you with a new way to 'skin' your site or blog. However, the skins offer more than that. When you skin a website, it implies that its design has changed.
Themes provide you with additional control on presentation and site appearance without modifying the underlying software. When you pick a new theme, it could also come with customized template files, style sheets, and codes.
The video below shows a demonstration of what WordPress themes are:
Since inception in 1997, GoDaddy's management has been sprucing the platform with new features for better customer value. Like WordPress, I found the GoDaddy's team to be very innovative in creating new, impressive features. Here is a sample of these features:
Secure socket layer (SSL) certificates
SSL certificate is one of the security features that GoDaddy uses to guarantee your site of better security. It is a protocol used for relaying confidential data on the internet. SSL encrypts the connection to reduce the risk of attack by hackers.
During this WordPress vs GoDaddy comparison, I was impressed by this feature because it provides you with the confidence that a query made by a client or replies from the server cannot be easily intercepted. This makes the hosting provider a great option, even when your business is handling sensitive client information such as orders.
This is one of the crucial features at GoDaddy hosting that is aimed at helping you plan operations effectively. You can plan upgrades, time to add new content, or even run updates. If you have different marketing teams for your website, the events calendar can also signal them about upcoming events.
Inventory & order tracking
If you have an e-commerce site, I found this feature to be crucial in tracking specific orders. It makes it easy to link specific orders with aspects such as shipping, pricing, and available stock. It is also helpful when checking on your stock or ordering new products.
Marketing campaign tracking
When you initiate a marketing campaign, this feature allows you to track its progress. Whether it is an email or video marketing campaign, GoDaddy will assist you to know whether everything is progressing well.
To get more from the marketing tracking feature, it is prudent to set clear short-term and long-term goals at the beginning of a marketing campaign. You should then use the tool to establish whether you are on course or not. If you find that the campaign is not hitting the anticipated target, consider looking at it again and initiate changes.
On features and their application, I found GoDaddy and WordPress to be on par. Both brands have put a lot of effort and resources toward improving their features for better customer satisfaction.
WordPress Vs GoDaddy website builder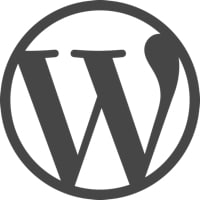 While WordPress can be technically referred to as a blogging software, other words used to describe it include: a content management system (CMS), a site builder, and even an e-commerce platform. It fits all the definitions, because it is a site building multi-tool. As an open-source platform, WP core code can easily be adapted to meet almost any site building need.
To use the website builder, you are required to start by installing and configuring WordPress. Then, you can upload your own Hypertext Markup Language (HTML) files and style sheets to start customizing the site. The builder allows you to also check thousands of pre-made site themes to figure out how the site will be once completed.
I was impressed by the WordPress builder's editor, which simplifies the entire process of creating a new site or blog. The editor looks like a regular word processor but it is, in reality, more than that.
You can easily use the editor to select images, audio, and video files from a computer or URL and add directly to your new site. If you select multiple videos or images, it automatically forms a gallery and further allows you to show them as thumbnail grid, slideshow, or mosaic.
Like WordPress, GoDaddy has simplified its website builder so that you can easily create winning sites and blogs. The site builder also offers many options for your website customization.
It provides access to multiple templates so that you can create a new blog, business, personal, or e-commerce site within minutes. You can also add videos, images, and audio files or include forms to allow people to sign up.
GoDaddy's site builder is a great tool for small businesses to take their business online at a low cost. It is also a good option for advanced websites to add useful features such as email marketing, forms, or entirely new e-commerce stores.
On site building, WordPress stands taller than GoDaddy. It allows you to create any type of website and has more templates and themes for your new site. I was impressed by their commitment to continuously improving the themes in line with emerging customer needs.
deal for personal use
Free domain for 12 months
Live chat and email support
6GB website storage
Basic design customization
Dozens of free themes
Good for freelancers and entrepreneurs
Free domain for 12 months
Live chat and email support
Unlimited premium themes
13GB of website storage
Video press support
Business Plan ($25/month)
Ideal for small businesses
Free domain for 12 months
Live chat and email support
Unlimited premium themes
Advanced design customization
VideoPress support
Google Analytics integration
24/7 customer support
Supports 1 website
100GB website storage
Unmetered bandwidth
Free domain and business email
24/7 customer support
Unlimited websites
Unlimited storage
Unlimied bandwidth
Unlimited sub-domains
Unlimited storage
Unlimied bandwidth
Unlimited websites
Free Secure Socket Layer (SSL) certificate
Unlimited database
Unlimited bandwidth
Unlimited website storage
Unlimited website support
Optimum website traffic
Free SSL certificate
Unlimited database
During this Godaddy web hosting vs WordPress hosting comparison of plans, it was apparent that GoDaddy offers more plans and features at affordable rates. For example, though the Personal plan at WordPress comes with metered bandwidth and only offers 6GB of storage, it is sold at $5 per month. However, GoDaddy's Economy plan that is considered equivalent, provides unmetered bandwidth and 100GB of site storage and is tagged $2.99/month.
On hosting plans, GoDaddy is obviously the better option. It offers great features, such as unmetered bandwidth, that guarantee better performance.
Before you can make the choice of using WordPress or GoDaddy, it is crucial to carefully go through the following pros and cons.
Offers highly customizable features and functionalities using its diverse themes and plugins
You can easily incorporate third-party tools such as Google Analytics into your WordPress site
Offers professional support and also maintains a large knowledge base that makes it easy to promptly get assistance
It is trusted by a huge online community across the globe
Top-notch features such as Google Analytics Integration and SEO tools are only available on the expensive Business plan
Number one global domain name registrar, making it easy to select a domain name
Offers a wide range of user plans to ensure you can easily find the right option for your site
GoDaddy offers high uptime of 99.99% that ensures your website is always available
Provides unmetered bandwidth that helps to enhance your site performance​
Offers professional support via multiple channels such as live chat and knowledge base
Top-notch features such as Google Analytics Integration and SEO tools are only available on the expensive Business plan


Our #1 Choice For Hosting Blogs
62% Off Exclusive Offer Applied at Checkout
And the winner is …GoDaddy
From this review about Hosting on WordPress vs GoDaddy, I arrived at the conclusion that both services are carefully tailored to deliver a top-notch user experience. They are packed with impressive features, and their support services excellent.
These are the main attributes that have made the hosting providers win a massive customer base on the market. GoDaddy stands taller because of its diverse plans that are carefully priced to cater to both starters and advanced businesses.
I found WordPress to be a good starting point if you are new to web hosting. However, it is important to be prepared to migrate to a more powerful provider once your website grows.
To get more value from web hosting, I strongly recommend that you go with the winning side. GoDaddy is the better option.