Last Updated on
It's surprising. There are two competitors in the same industry that offer similar packages and value for money – yet – there's a clear winner. 
Sometimes the most marginal differences can sway your decision, or perhaps your needs are better catered to. Siteground and A2 Hosting are both exceptionally well-known and trusted service providers in the web hosting industry. They both deliver on their promise of great customer care and prestige-quality services. Their services are simply tailored differently and towards the needs of different consumers. 
Disclosure
As an independent review site, we get compensated if you purchase through the referral links or coupon codes on this page – at no additional cost to you.
However, despite this, there remains a service provider between the two with slightly better infrastructure, marginally faster loading speeds, and a dedication to continuous growth and improvement. 
First, let's have a neutral look at both and compare their services, prices, and performance: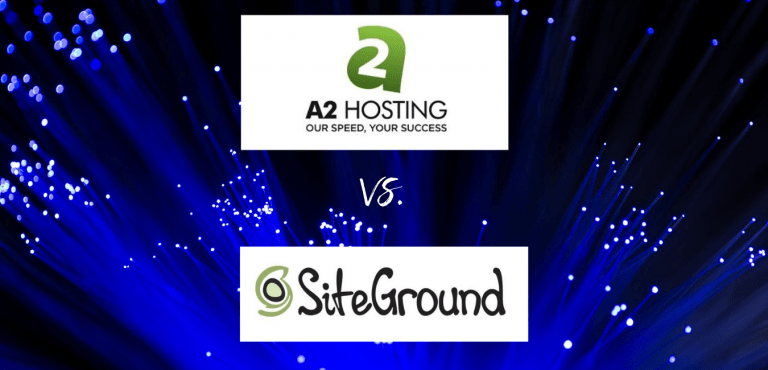 A2 Hosting vs. Siteground: Detailed Comparison
A2 Hosting and Siteground Hosting each have their own set of pros and cons, while one certainly seems to outperform when you measure user-satisfaction reviews, they're both excellent service providers, albeit in different ways. Before you make a decision, look at the areas in which each provider excels and choose the service that caters best to the functions you consider the most important. 
WordPress.org loves Siteground, they have officially endorsed this web hosting service provider. If you are running a WordPress site, Siteground offers you unrivalled support services, they boast some of the most reputable 24/7 WordPress support teams. Some of the other features that distinguish Siteground from A2 Hosting include;
automatic upgrades

built-in WP caching

CDN, 1-click staging

GIT version control
Not sure if this is the web host for you? Test them out by making use of their 30-day money-back guarantee. If you are not happy, they will offer a full refund (within 30 days). AN added bonus when you choose Siteground – this hosting company gives you the option to choose your data center location. This might be unimportant to some, but for others it might sway the decision. Not many hosting providers give you this option.
A2 Hosting is full of its own unique service offerings – rather than gaining approval from a third-party company like WordPress, A2 Hosting is committed to meeting the needs of web developers – that means – if you have a custom-built website, A2 Hosting will have the adaptability and fluidity that will meet your unique website's needs. 
Their versatility is one of their greatest selling points, you can choose between Linux and Windows Hosting as part of their shared hosting service. You also have full control over the hosting level as part of their VPS or dedicated server hosting plans.
If you want the ability to choose your data center location, just like Siteground, A2 affords you this option too. Their refund policy is slightly better than A2 Hosting, you can get a full refund within 30 days or you can request a pro-rata based refund after 30 days if there are services you have not used. 
Page Speed: A2 versus Siteground
A comparison of page load speeds require a neutral test of both hosting services providers by actually signing up and testing it out – you can't always take someone else's word for it. The folks at isitwp created a dummy site with dummy text and images in order to run a fair comparison between the two service providers. There findings are revealed in the charts below:

"From our chart, you can see that our SiteGround site performed fairly consistently until there were around 50 users. The website slowed down for a few moments, and then it reverted after a few more seconds." –IsitWP.com

"Similarly, our A2 Hosting test site performed consistently until there were around 40 visitors on the site. The website slowed down for a while and then reverted to its normal state." –IsitWP.com
Here is a list of their most popular web hosting features;
Raid storage

Site builder

Unlimited and scalable data transfer and bandwidth

Free domain (1,2,3 year plans only)

cPanel

DNS Management

24/7 FTP access

Password protected directories

Custom error pages
My Top 5 Picks for Hosting in 2020
A2 Hosting 
A2 Hosting top features
This web hosting service provider is well-loved by custom developers who value versatility and adaptability. A2 Hosting also offers a few other benefits in the form of features:
30-day money-back guarantee

Free SSD drives (on all plans)

Free CloudFlare CDN, PHP 7 with OpCache included, in order to improve server performance

WordPress.org official partner

Daily backups

Free unlimited email accounts
| | |
| --- | --- |
| A2 Hosting Pros | A2 Hosting Cons |
| Exceptional security protocols in place | Turbo Servers are expensive and only available at an additional fee |
| Linux and Windows Hosting options | A2 Hosting needs discount codes to be manually inputted to qualify for the discounted rates |
| Excellent Customer Support |   |
Siteground
This service is built for the WordPress fans that value two platforms working together – they fit together like a glove. They also have a few other top features that are worth mentioning:
Siteground top features
Anytime money-back

Unlimited storage 

Unlimited bandwidth

HTTP/2, PHP7, SSD & Free Cloudflare CDN & HackScan

Free SSL with Let's Encrypt
| | |
| --- | --- |
| Siteground Hosting Pros | Siteground Hosting Cons |
| 99.90% Server Uptime Guarantee | More expensive |
| Fully-managed hosting | No unlimited data storage (10GB – 30GB) |
| Excellent support | Limited time money-back guarantee (30 days) |
A2 vs Siteground: My Ultimate Verdict
Siteground might be slightly more expensive but you don't have to pay additional fees for their super-fast server speeds. A2 Hosting is only more affordable if you don't mind opting out of their turbo server features. This means that the two come out incredibly similar in terms of price – even if Siteground, by appearances, seems to be more expensive.
Both web hosting service providers offer exceptional support, although Siteground's support is aimed towards WordPress users. They both offer email and chat support 24/7 which means you can be helped instantly, no matter what time of the day or night it might be. Never undervalue this in your decision-making process, it can ultimately be the make or break in the service you're getting.
In terms of overall scores, Siteground performs slightly better than A2 Hosting. However, if you are running a site that is custom-built, you might find a few of the areas in which Siteground out performs A2 to be irrelevant to your needs. One area of service that is relevant to everyone is their infrastructure updates. Siteground works exceptionally hard to ensure that they are in a constant state of improvement. They utilize the very latest speed technologies for the best possible hosting platform performance.
A2 Hosting vs. HostGator (a tougher choice)
Hostgator is a well-established brand that has built its reputation in the industry after years of reliability and great uptime performance. Hostgator is slightly cheaper with their entry-level plan (known as the "hatchling" plan) coming in at $2.64 p/m compared to A2 Hosting's $3.92 p/m plan for their "Lite" option. 
Hostgator has fantastic servers and they don't tie you into a contract, you pay for the months you make use of their service. Some of their other noteworthy features include:
Familiar and easy-to-use cPanel control panel

FREE drag-and-drop custom website builder

Unlimited disk space, email, and bandwidth

Flexible term lengths with no contract required

MySQL databases

Disk space, and bandwidth,

One-click installs of popular open-source projects
Hostgator, being well established, might be the most reliable and consistent service provider you can opt for you. They're highly recommended and come with excellent user-satisfaction ratings.