Last Updated on
There's a clear winner, that's for sure. Isn't that always the most satisfying end result, when there's a clear victor? It's part of human nature, to love a definitive win. In this case, it's to not say that the service provider that takes second place is inferior or offers poor value. 
In contrast, both of these service providers are well-reviewed and well-loved. They both score well in user-satisfaction analyses and they both offer similar value-for-money. Each has its own strong points. 
Disclosure
As an independent review site, we get compensated if you purchase through the referral links or coupon codes on this page – at no additional cost to you.
However, one does outweigh the other in terms of the service provided and the value offered. Who could it be? Read on to find out.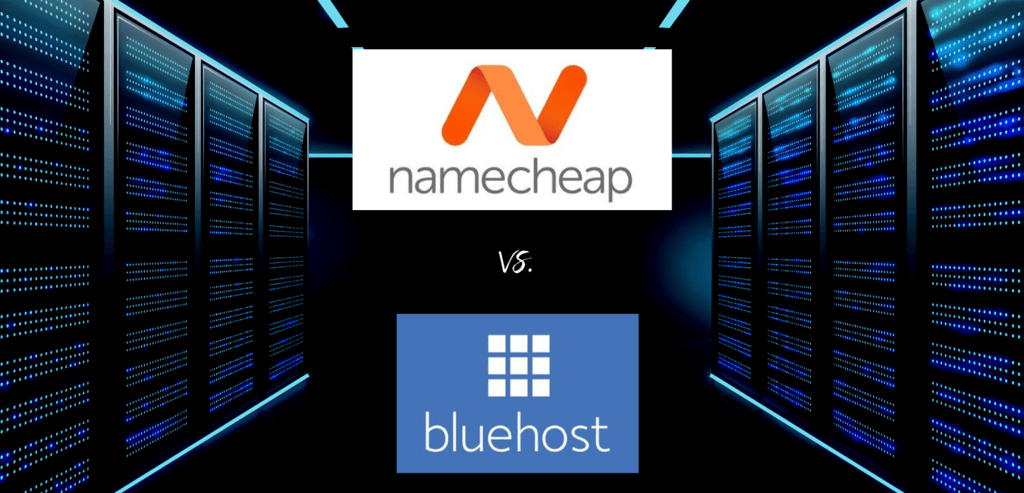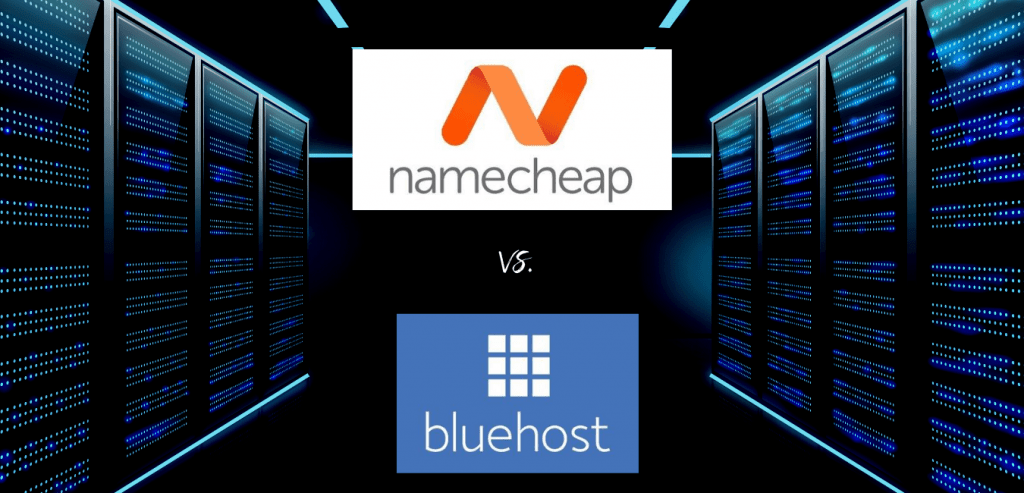 NameCheap Vs BlueHost: My honest verdict
Both platforms offer a fair number of noteworthy features. NameCheap comes in slightly more cost-effective unless you need add-ons. It requires a pretty comprehensive analysis of each service provider to establish how much value you're getting for the money you're paying. 
BlueHost Features include;

Live Chat

Email Support

Phone Support

Email Support

Forum Support

Video guides

Knowledgebase
NameCheap offers the same customer service avenues but for one difference, there's no 24/7 phone support. This can make a big difference if you need assistance urgently. It is always recommended to opt for a web hosting platform that can talk to you immediately, staying on the line until your issue is resolved. 
Support services are imperative. If you want to ensure your website is always "up" and available, you'll need a web hosting platform that guarantees an uptime as close to 99% as possible, but you also need excellent customer care. Web hosting can be very technical. 
If you think Bluehost is the better bet, the tables turn unexpectedly. NameCheap offers more in the CMS support field. They offer support for the following CMS platforms;
NameCheap does not support Presta Shop or Zencart, but these platforms are not significantly popular. Bluehost supports all of the mentioned CMS platforms, except for Drupal and they also do not support Zencart. While Bluehost only supports Linux as part of its OS support, NameCheap supports both Windows and Linux, taking the cake once again. However, if you're using custom coding on your site, it falls short.
Bluehost supports PHP, Java and Python as well as Perl. It does not support Node JS, Ruby on Rails, or Django. NameCheap only supports PHP, no other coding software. In terms of database support, they both cover two bases, albeit not the same ones. 
Bluehost supports MySQL and Mango DB, while NameCheap supports  MySQL and PostgreSQL. 
Pricing comparison
It's never wise to make thrifty decisions when it comes to your hosting services, it is important to consider the overall value for money you're getting. However, that's easy to say if you have a decent budget to get started with. For money people, cost plays a significant role in their decision-making process, there's nothing wrong with this. Remember to consider the features and the long term value you will gain from the web hosting service provider you choose to use. NameCheap and Bluehost come in at a slight price difference, but when you're paying extra for your domain and other features you might need, you might end up paying more than you had bargained for. 
| | | |
| --- | --- | --- |
| Pricing | Bluehost | NameCheap |
| Starting Price | $2.95 / month | $0.82 / month |
| Free Domain | Yes | No |
| Coupons | No | 1 coupon |
Features and user-satisfaction scores
Bluehost earns its higher starting price with a slightly user-satisfaction rating. On most of the scores, Bluehost only marginally betters NameCheap, but when you're the client requiring assistance with an urgent enquiry relating your hosting, customer care plays a big role in your success with a company. 
Reliability is one of the most important features to look at when you're choosing your service provider. Reliable service ensures that your website, or blog, can also serve your clients and readers, reliably. 
| | | |
| --- | --- | --- |
|   | Bluehost | NameCheap |
| Reliability | 9.8 / 10 | 9 / 10 |
| Cost | 9.4 / 10 | 8 / 10 |
| Ease of use | 9.5 / 10 | 8.5 / 10 |
| Customer care | 9.5 / 10 | 9 / 10 |
| Features | 9.4 / 10 | 8.5 / 10 |
It is interesting to note that NameCheap actually scored lower on price than Bluehost, despite their starting plan coming in significantly lower than Bluehost. This is where value for money showcases itself. NameCheap requires additional payment for many features, Bluehost includes plenty of features in that cost. If you're starting your website right now, it is very important to think of the long term road ahead of you – the added features you might require later on. Bluehost will be a better choice, in this case, it is scalable and inclusive of more features. 
You can go here to checkout the latest exclusive pricing we have worked out with Bluehost.
Shared Hosting Plans: NameCheap Vs BlueHost
How important is space, to you? This is an important deciding factor when you compare NameCheap's shared hosting plan with the one offered by Bluehost. NameCheap's 20 GB of space at only $0.82 as part of their Value plan, trumps Bluehost's offer of 5 GB at $2.95 on their Basic plan. Besides that, the two offer almost the same basic benefits, including unlimited bandwidth and the use of Cpanel. 
| | | |
| --- | --- | --- |
|   | Bluehost | NameCheap |
| Plan name | Basic | Value |
| Space | 5 GB | 20 GB |
| Bandwidth | Unlimited | Unlimited |
| Panel | CPanel | CPanel |
| Number of Sites | N/A | N/A |
| Features | – | – |
| Price | $2.95 | $0.82 |
NameCheap Vs BlueHost VPS Plans
The comparison of their VPS plans distinguishes Bluehost as a clear winner. Bluehost's Standard plan offers 30 GB of space to NameCheap's VPS Lite – Xen, at only 15 GB. To add to that, Bluehost promises dual-core CPU to NameCheap's single-core CPU. Bluehost delivers 2 GB of RAM and NameCheap only 512 MB. They're almost identical in their price – Bluehost is $19.99 ad NameCheap is $19.95 –  a difference of 4 cents!
Go here to professional Web Hosting with Bluehost starting at just $3.95 per month!
NameCheap refund policy: the breakdown
NameCheap has a cancellation policy that covers the purchases of Shared, Reseller, VPS hosting, and Dedicated servers. Their website states: "According to our policy, you can receive a full refund for all our shared hosting plans within the first 30 days. We believe that 30 days is enough to test the overall performance of our services and make a deliberate decision". NameCheap's refund policy is a bit more comprehensive than Bluehost's as it covers more of their services and purchases. 
You can go here to checkout NameCheaps' latest pricing and offers.
Bluehost's refund policy is simple and straightforward. They offer a refund policy on their hosting service only – any additional features or add-ons are excluded. You may only cancel within 30 days, and this refund will see a $15.99 deduction if you have opted fr a free domain. This justifies the purchase of your domain so that you can transfer it over to a new service provider. If you paid for your domain name, you will receive a full refund. There are no pro-rata refunds, discounts, take-backs or anything else after 30 days.
Bluehost reseller hosting: Is it worth it? 
According to Wikipedia: "Reseller hosting is a form of web hosting wherein the account owner has the ability to use his or her allotted hard drive space and bandwidth to host websites on behalf of third parties."
BlueHost offers this, but many people are uncertain of what that entails from their side. It's a bit like starting your own small hosting service, making a passive income by hosting other people's domains and managing the services on their behalf, charging them a markup fee. 
You will be acting as a middleman or an agent, if the client's website is down, you will deal with BlueHost to try and resolve the issue. 
Bluehost offers its reseller service as part of Linux Reseller Hosting services. The benefit of this platform is that you can create a free account that will enable you to resell domains, email services and addresses and provide hosting. What makes this easier is Bluehost's 24/7 super responsive service. You can get on the phone and deal with a professional almost instantly, ensuring you're providing your clients with the same level of service.
Don't forget out the exclusive offer we have with BlueHost for reseller hosting here
Bluehost's Reseller Club has over 800 products you can customize to fit your brand and resell.  This includes free hosting migration to port over to Bluehost from other platforms – a powerful selling tool. 
You can host as many domains as you want and you can give your clients the option of utilizing a self-managed hosting account, or have you hosting it on their behalf. Alongside this, you also get access to the all-in-one client management, support and billing software to ensure that your business is easy to run. 
Bluehost understands that their resellers' success is their success, so they have put many measures in place to make it simple and easy for anyone to start their own hosting business by outsourcing their services. 
It is absolutely worth it to join and utilize Bluehost's Reseller Club. 
My best recommendation for your hosting needs
Bluehost is fast becoming the industry standard. They're a strong and well-established tea of over 750 people. 
They host more than 2 Million domains. Their excellent user-satisfaction score and positive feedback regarding their customer care can inspire trust from the public. Bluehost also makes it super easy for people like bloggers and creatives who want to install WordPress as a CMS. 
The two integrate so seamlessly, that many established bloggers recommend Bluehost as their top choice. Bluehost might not be the most affordable option out there, but they offer exceptional value for money. 


Our #1 Choice For Hosting Blogs
62% Off Exclusive Offer Applied at Checkout