Last Updated on
Do you have a well-designed website and look forward to outdoing competitors in your industry? One must-have component is a web hosting service. However, selecting the right hosting service for your project is somewhat cumbersome because of the large number of providers on the market today.
A simple Google search and you'll be bombarded with numerous hosting providers, making it a tad difficult to select one that best suits your needs. Well, this is where I come in. I have taken it upon myself to review two cloud hosting providers with the hope that, by the time you are done reading this post, you will be in a position to make an informed decision.
Disclosure
As an independent review site, we get compensated if you purchase through the referral links or coupon codes on this page – at no additional cost to you.
Linode and Amazon Web Services (AWS) are both decent providers and you should consider them because of their commitment to customer value. These two web hosting service providers stand out from others, because they offer top-notch services that target high-end clients. Additionally, you will be billed based on the resources you use as opposed to long-term contracts.
Although billing based on the resources used sounds awesome, it is important to explore the disadvantages that come with it, too.
In this Linode vs AWS review, I am going to walk you through these two hosting providers' reliability, features, and pricing. This is geared towards helping you answer the main question: "Which is the best option for you?"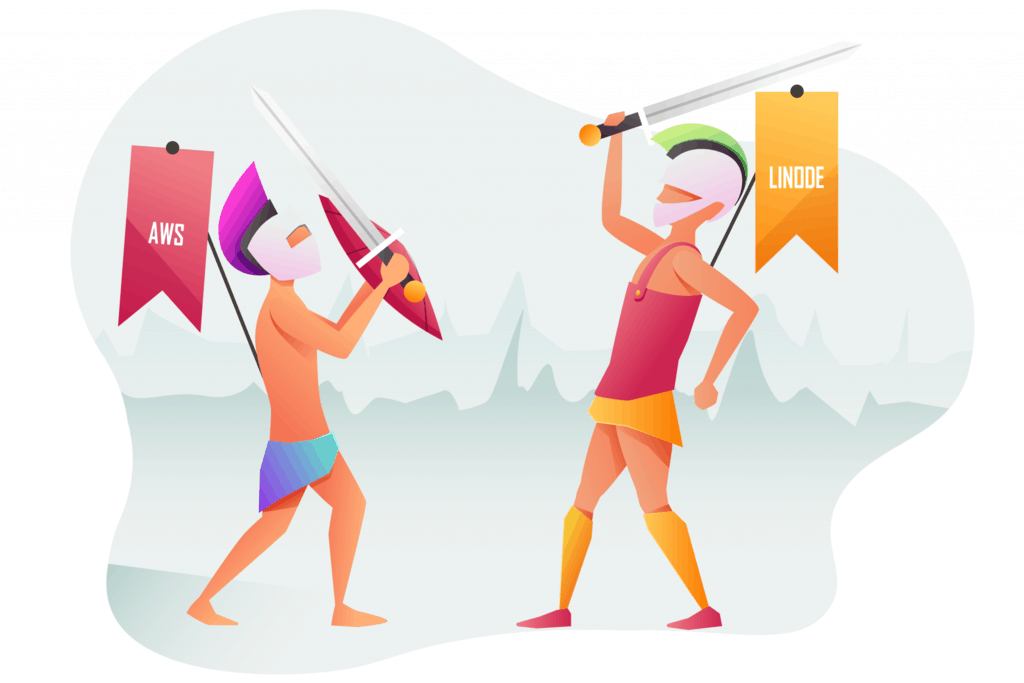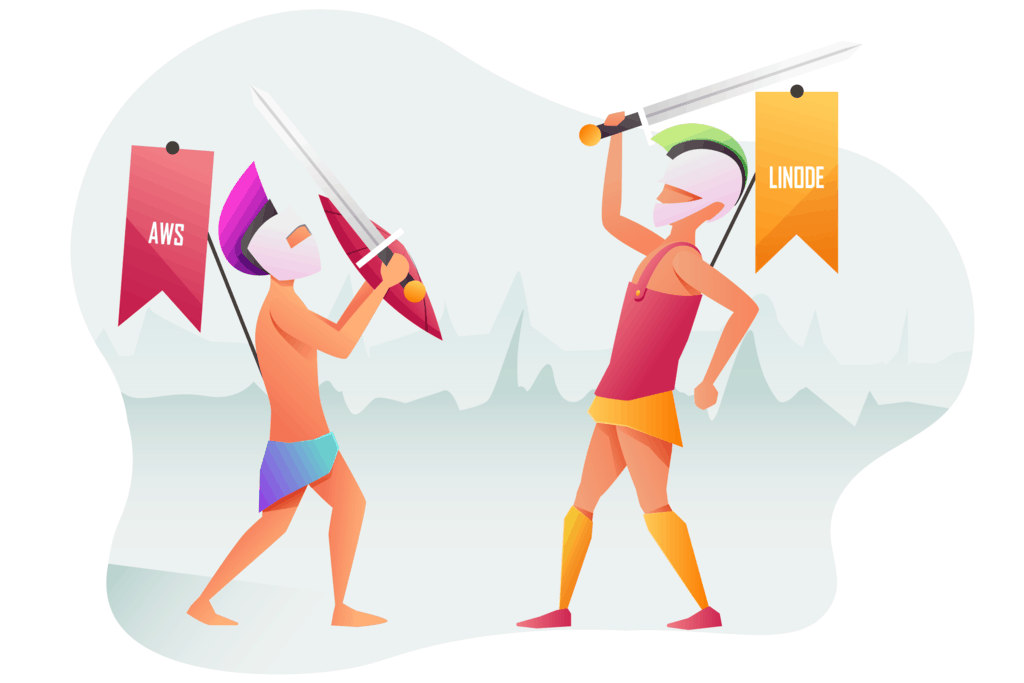 Amazon Web Services (AWS) is a branch of Amazon Company that provides a suite of cloud computing services, such as web hosting. Although AWS was started in 2002, its popularity started growing rapidly after a customer event in 2012 that helped people to rethink Amazon beyond selling books and consumer products on its marketplace.
The November 2012 customer event was used to demonstrate Amazon's commitment to innovation and delivering better web and hosting services than what clients and consumers already had in the market.
In October 2013, AWS was awarded a $600 million Criminal Intelligence Agency (CIA) contract. Amazon used this partnership with the CIA as an opportunity to demonstrate the quality of its services. By 2015, AWS had over a million active monthly users that included 2,000 government agencies and 5,000 educational institutions in more than 190 countries.
Linode is an American-based virtual private server (VPS) provider based in Philadelphia. The company's name, "Linode", is a combination of words "Linux" and "Node." It was founded in 2003 by Christopher Aker, who wanted to provide seamless hosting services to website developers, companies, and government agencies. That said, I also found the services impressive even if you only have a single website. By early 2019, Linode had 400,000 clients.
During this Linode vs Amazon AWS review, I found out that both Amazon and Linode have invested heavily in their services to guarantee you high reliability. For its part, Amazon has installed some of the best cloud hosting infrastructure in the industry, such as modern servers and data centers.
When you sign up for AWS, Amazon assures you of full redundancy, automated backups, and server cloning. Though Amazon does not give statistics on uptime and speed, my assessments during this review showed that servers are up more than 99.9%.
To demonstrate its high reliability, Amazon usually points at its high profile clients such as Netflix, Airbnb, and Unilever.
Like AWS, Linode promises you high uptime of 99.9% but does not give statistics. During this review, I carried out my own uptime tests and was impressed by the high uptime of more than 99.98%. Linode monitors its servers on a 24/7 basis to ensure that issues are identified and addressed before they become major problems.
To know if a web service provider is the right option for you, it is prudent to comprehensively evaluate its features. AWS has a wide range of features that help it to offer scheduled backups, content delivery, and elastic load balancer.
The main features can be classified into four categories: networking, content delivery, storage, and databases. Note that once you sign up with Amazon Web Services, you are allowed to take full control of the features, customizing them based on your needs.
In addition to the above features, you will also get a wide range of third-party programs and application programming interfaces (APIs). APIs help you to access the AWS in your website or other platforms for easier control. This implies that you no longer need to have an AWS interface plus another one for your website. You can simply use the right API to access AWS directly on your website. Impressive!
Like AWS, Linode is also packed with features such as solid-state drives (SSDs) and Intel E5 processors. These features are used to enhance the speed and performance of Linode servers.
Linode will also provide you with StackScripts that help to make website management easy. StackScripts provides a flexible way to customize the deployment of web content such as images and videos.
Because Linode targets clients with a background in computing, the features I have outlined above come with a great deal of flexibility. For example, you can opt to upgrade to a larger bandwidth or RAM to increase the speed of your site.
Before purchasing a specific web hosting plan, it is important to understand the financial implications. Linode services are priced flexibly, starting from $5 per month ($0.0075/hour) on the standard plan. This plan comes with 20GB SSD storage, 24GB of RAM, and 5TB bandwidth. The highest cost at Linode is $960/month ($1.44/hour) that targets high clients such as government agencies.
The hourly billing is calculated automatically every month in the event that you surpass the monthly cap. For example, if you surpass the 20GB SSD storage provided for in the lowest plan, you can still continue enjoying the hosting service but at an additional charge.
Unlike Linode, whose pricing is straightforward, AWS pricing is complex and expensive. During this Linode vs Amazon EC2 (abbreviation for Amazon Elastic Compute Cloud) review, I found that the price tag is high even for some Amazon sellers. These are people or stores that use the Amazon marketplace to market their products such as books or consumables.
EC2 is part of the Amazon Web Service that offers secure amd resizable computing capacity in the cloud. The primary goal for creating EC2 was to simplify cloud computing, especially for web developers and high end clients.
The pricing of AWS allows you to pay on an hourly, monthly, or yearly basis. If you opt for the hourly billing, the price starts at $0.08 while the monthly billing commences at $57. I found out that some Amazon users had to contract experts to assist them to pick the ideal plan.
Pros and cons of Linode and AWS
Before you can settle on either Linode or AWS for hosting services, it is important to look at the pros and cons of each.


Our #1 Choice For Hosting Blogs
62% Off Exclusive Offer Applied at Checkout
Block-level backups only require you to pay for what you use.
A multitude of options for scalability makes it a great option for big companies and enterprises that anticipate growing rapidly
Most components on AWS, such as network interface and IP address, can be changed or swapped depending on your needs for performance and cost minimization.
The AWS security profiles provide you with absolute control over the firewall without using the iptables (a command-line firewall utility that allows you to block or allow traffic). This is very helpful, because an incorrect setup of iptables can make you lock yourself out of the server
Flexible storage options allow you to pay based on what you use.
Customer support is professional and available on multiple channels such as email support, live chat, and direct call lines.
Though the flexible pricing is awesome, I found that its application at Amazon is complicated. Because you are paying for every GB of bandwidth and storage, the price is likely to go up significantly when the site experiences high traffic.
AWS's user interface is complicated to use. However, it is still possible to figure it out.
Linode uses a simple billing model and offers cheaper hosting services compared to AWS.
Linode support is responsive and professional. When I contacted Linode, my email inquiries were answered in less than five minutes.
The user interface and mobile application are simple and easy to use.
Free data backups are provided for all plans.
Upgrading your hosting account at Linode takes a lot of time. The shortest timeframe that I recorded during this Linode vs AWS review was 18 minutes. This is far longer than AWS, which upgrades in less than six minutes.
If you delete a node or move your data center, the IP address changes. However, the IP address does not change in the case of AWS
And the winner is … Linode
This Linode vs EC2 review was a battle of titans that ended with both parties differing by only a few points: Linode at 4.8 stars, and AWS at 4.7 stars. Although the AWS name could easily deceive you because of Amazon's popularity, it tied with Linode on reliability and features and lost on pricing!
Though AWS has been working hard to simplify its pricing, the cost is still high. Indeed, even sellers using the Amazon platform are still finding it difficult to use.
Linode, unlike AWS, has flexible plans and caters to a wide range of clientele. While the services are aimed at web developers and designers, the flexibility makes it ideal for all. If you are looking for a reliable hosting provider, I recommend Linode.