Last Updated on
Let's be honest. If you could, you'd get the most feature stacked hosting service available and finding the cheapest web hosting wouldn't be on your mind. A dedicated server with maxed out resources sounds great until you have to look at the monthly bill.
For many businesses, cheap website hosting is essential for keeping costs low. However, when looking for cheap hosting, you want to balance price with functionality…
Disclosure
As an independent review site, we get compensated if you purchase through the referral links or coupon codes on this page – at no additional cost to you.
Budget web hosting with no perks defeats the purpose of having a paid host. Shared hosting is the most obvious solution.
Today, we're going to take a look at the best cheap hosting available. All these providers have options coming in under $5/month.
If you want the quick answer, you can get started for only $2.64/month with HostGator using our exclusive link.
If you want to look into things a little more however, you can use this guide to decide which cheap webhosting is right for you.
Cheap web hosting: getting what you need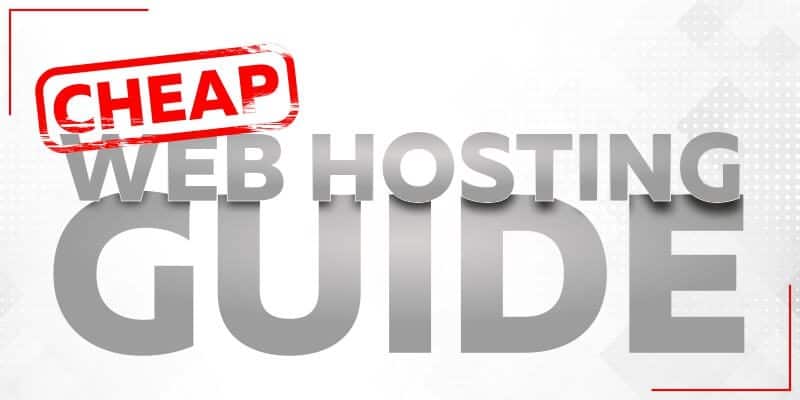 Most cheap hosting sites offer many of these same standard features like website building tools, the cPanel Control Panel, and 24/7 server monitoring.
Some sites include other perks to try and sway you to choose them. They may include unlimited websites and subdomains. That's great for a power user, but it's meaningless for the person just wanting to create a portfolio site.
Rule number one is to decide what features matter most to you and your website. The cheapest web host might not be the best web hosting choice for your needs. With so many options, you may find this task overwhelming. However, three criteria that will likely rank high on your pick are reliability of uptime, security against hackers, and tech support available when you need them.
And the factor underlying all of these basic criteria is speed. You want a fast site that offers a reliable uptime guarantee. Fast responses or early intervention for security issues means less downtime for your site. And a quick reply from tech support is always welcome. Through the checkout process, you'll get your first taste of all of these criteria as well as how transparent a web service provider makes its terms.
How we break cheap website hosting down
To find the cheapest website hosting, we'll start with the listed starting price, typically a limited time promotional price. Most sites list the regularly-priced rate to help you compare. Renewal costs are part of the mix as well. Then, we'll consider what you get for the price regarding standard features and perks. Finally, we'll consider the other costs, whether hidden or not.
To keep matters simple, we'll look at the costs for setting up and maintaining the cheap plan without any bells or whistles. Information about fees for domains and setup costs are included for the first term and subsequent ones. The descriptions include any game-changer features that may trump the hosting deal price. Your time and effort contribute to the final cost of the cheapest website host.
When setting up your site, make sure and read the entire order carefully through the signup process. Discounts may apply only to certain billing cycles. And don't forget the small print. Some sites may opt you in automatically for add-ons that you may not need. It's the extras that will take the cheap out of inexpensive web hosting.
Cheapest website hosting comparison chart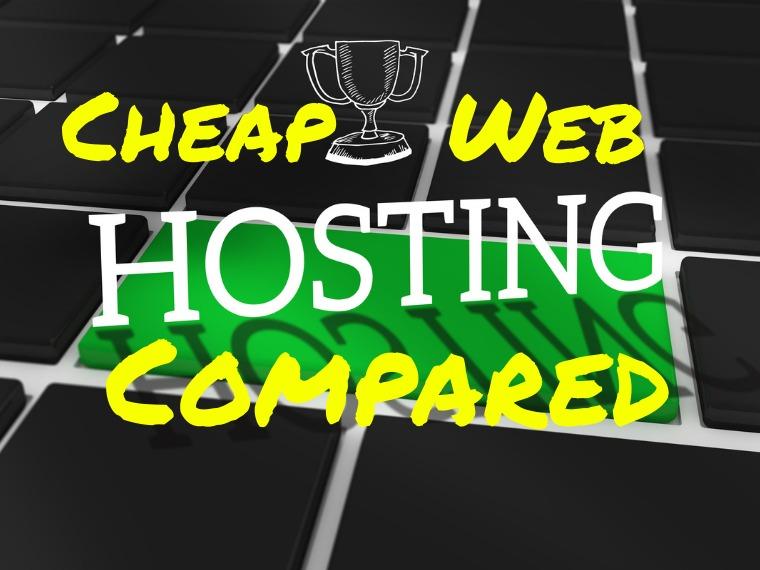 Cheapest web hosting services overall
The advantage that HostGator brings to the table is its name recognition. It has been in the business a long time, racking up prestigious clients like Google and Yahoo. HostGator makes it easy for beginners to build their website with over 4,500 templates to give you plenty of creative inspiration. For shared hosting, it offers an affordable option.
Like other sites, HostGator boasts its lowest price of $5.56 (or less than half that with this link) per month, but only with a 36-month contract. That means $200 upfront with a service that only provides a 45-day money back guarantee. The month-to-month price is affordable at $8.76 a month. There are no setup fees, and your domain is free for the first year. Renewal costs $12.95 after the first year.
The Hatchling Plan comes with one significant game changer if you're planning on using your site as an online store. This plan doesn't support a dedicated IP which is essential for an e-commerce site. That means you have to move up to the next plan.
If that's not a worry for you however, we have a huge reduction on hosting with Hostgator's prices through the button below.
1&1 has the distinction of offering the lowest price at $0.99 a month for its current discount. It offers an excellent collection of tools to create your website. PC Mag selected it as its top choice for WordPress hosting. Among its unique offerings is an SSL certificate even with the Startup Plan. It's a solid performer with the NCM Online 100-Percent Uptime Award.
The $0.99 price is, of course, a promotional discount. The cost of these promotions varies widely, with the price at $4.99 at different times. Like most of the providers reviewed, you'll need to poke around on the site to find the actual costs. Regular price for the starter plan is $14.99 a month or 14 times the discounted cost. Setup for your domain is free.
At the current discount, you'll pay a one-time annual cost of $11.88, an unbelievably low price. However, at the regular price, your hosting cost literally skyrockets to a staggering $179.88. Interestingly enough, it is best cheap hosted option and the costliest web hosting provider for an annual billing cycle.
The domain prices also go up from $0 the first year to a renewal rate of $14.99, which is pretty much standard for most hosting providers. While it is an added cost, it is well in line with domain costs in the industry.
A couple of things stick out as possible game changers for 1&1. First, it offers a short 30-day money back guarantee. When many providers offer more time or even anytime guarantees, this time frame seems cheap in comparison. And second, the Start Up Plan has a memory cap of 600MB that could impact high-traffic sites or if your site is image heavy.
A Small Orange is appropriately named because it offers lower-priced plans for users who don't need a full-blown site with lots of unneeded features. The starter plan does not include a domain which will set you back around $15 going through a third-party service.
Despite the lack of a domain, it offers a good value for the price. With over 350 web applications and free daily backups, the provider has a lot to offer for the individual or business owner alike.
To get to the low-cost plans, select shared hosting on the top menu. There, you will find the Tiny Plan at $2.92 a month which is an accurate description for what you get. It includes 500MB of storage and 5GB of storage for one site for $35 for a one-year contract. This price appears to be a promotional price as the site displays a message that it will renew at $55 next year. Plans for 24 and 36 months renew at the same price.
A Small Orange's strength lies in its ability to match the features you need with a matching plan. If you're looking for no-frills, look no further. While many hosting services have unlimited specs, these may be overkill for some users. And despite its appropriately named Tiny Plan, it managed to earn a 100-Percent Uptime Award that puts it on even footing with larger hosting providers.
A2 Hosting has garnered a lot of respect in the industry, coming in as the Top Web Host by NCM Online. The provider stands out for its emphasis on security. From its integration of the Cloud Flare content delivery network to its HackScan protection, it offers a secure and fast environment for your website. And if you are setting up an online store, security is essential to succeed with your business.
Hosting costs start at $3.92 with a regular cost of $7.99. However, these figures apply to a 24-month contract which you pay upfront. You can pay by the month at $4.90 with the discount.The domain price is not included in the Lite Plan, but the $14.95 annual cost is reasonable. With all of these figures in mind, you'll pay $58.80 by the month, $52.86 for one year, or $93.96, not including the cost of your domain.
If its impressive features weren't enough to sway you, its anytime money back guarantee and 99.9 percent uptime guarantee make A2 Hosting worthy of another look. You don't need to take the site's word for it either. Like 1&1, NCM Online also recognized its reliable service with its 100-Percent Uptime Award. And you'll also get the fastest web hosting service in the United States too.
5. Total Server Solutions
Total Server Solutions offer a solid option for hosting service that has unlimited disk space and bandwidth with a single domain at its starting plan, Dork. Upgrades get your unlimited domains and a free dedicated IP address and private SSL with its Nerd Plan.
While that plan isn't the cheapest one out there, it's worth keeping in mind since an SSL can be an expensive re-occurring investment.
Promotional pricing starts at $3.95 a month plan with a 36-month contract or $142.20 upfront. That's not a bad price, given that it includes a free domain for the first year. You could also opt for a month-by-month billing cycle at $8.95 a month or $107.40 a year. And therein lies the value of the 36-month commitment. A domain will set you back $12.92 for a monthly plan with $15 renewals.
Like A2 Hosting, Total Server Solutions offers an anytime money back guarantee which says a lot of the confidence it has in its products. Another indication is its 10-percent discount program with the installation of the Certified Pride button on your website. With a reputable as a 100-percent uptime, Total Server Solutions is good value for the money.
GreenGeeks offers one shared pricing plan that is loaded with free unlimited features including bandwidth, email accounts, and disk space. You have the choice of using both the Fantastico and Softaculous Script Installer for web applications.
The plan also includes free nightly backups for your peace of mind. One standout features is a free domain for the life of your account with them.
While the $3.96 price sounds right, you get that price only with a three-year contract or $142.56. It's not a bad price, but there is only a 30-day money back guarantee. The site automatically adds Whois privacy that is billed at $9.95 a year, making the startup cost $152.51.
If you don't want to be inundated with spam, it's a good idea to opt in for the service. The monthly hosting cost is $9.95 if you'd rather go that route, but you'll pay $15 for setup and $13.95 for the domain.
While you can get a monthly plan, it comes at a cost. GreenGeeks charges a one-time fee of $15 to set up monthly billing. However, you might consider it a minor inconvenience given its 100-percent uptime reputation. It stands out as a green solution, operating solely on renewable energy.
It is one of the few sites that understands and respects the impact that data centers have on the environment and climate change.
Hub, aka Web Hosting Hub, offers a decent starter plan that includes unlimited email accounts, bandwidth, and disk space. Instead of just one site, you can add two to your plan which sets it apart from some of the other hosting providers that typically offer only one.
The site bills itself as small business friendly with a generous 90-day money back guarantee.
Hub offers three tiers, starting with the Spark Plan at $4.99 for a 36-month contract for $179.64. While the domain is free for the first year, your final cost with backups will cost you an additional $1 a month for which you have to opt out.
There is no month-to-month option available for the startup plan. On the plus side, the checkout process is transparent, with renewal terms clearly spelled out.
The game changer with Hub is speed. It offers fast load speeds with a service that has a 100-percent uptime reputation. That makes the unlimited part of its services more worthwhile.
At setup, you can get BoldGrid, a WordPress version of an easy-to-use website builder, pre-installed. It's a powerful application that includes free themes and easy customization options for creating your mobile-friendly site.
The Blogging Buddha walks you through the process of building your website with WordPress and BoldGrid. As this longer video will show you, the two applications together offer numerous ways to customize your site with a professional look. Both Hub and inMotion are two hosting providers who offer BoldGrid integration.
InMotion offers a lot of perks for the price. You'll receive free backups, domain, and its signature No-Downtime Website Transfer. It includes Google Apps integration and over 400 free web applications with a 90-day money back guarantee.
If tech support is high on your list of features, you'll appreciate the ability to contact them by Skype in addition to regular phone service.
The three plans offered by inMotion have similar features across the board, differing only in a few options and numbers. Its Launch Plan starts at $5.99 a month with a 24-month contract for $143.76. The price includes two websites, two MySQL databases, and six domains with email.
For $2 more a month, you get six sites, 50 MySQL databases, and 26 domains with email. A limited time offer of $2 off per month for a one or two-year contract sweetens the deal.
If you prefer a monthly plan, you'll have to opt for the Pro Plan which starts at $13.99 a month, regularly $15.99. Also, the Launch Plan is not e-commerce ready, which is a definite game changer if you wanted to run an online store. All plans includes $250 advertising credits which is more than many services provide.
iPage makes web hosting easy with only all-in-one plan which is a nice break from the multiple plans and discounts offered by other services.
A hosting plan comes with a lot of goodies too, such as free SiteLock protection, Google and Bing ad credits, and free 1GB cloud storage from JustCloud. The provider specializes in making website creation easy and quick, aimed at the beginner.
Its plan starts at $3.25 a month for a 24 or 36-month plan for $78 or $117, respectively. You can also opt for a 12-month plan at $3.50 a month for $42, a price difference that almost makes you want to laugh.
Domain registration and setup are free. The checkout process includes several add-ons, a few of which are checked off and included in your final price. Check your selections carefully before checking out to avoid any additional charges.
If you want an online store, iPage has you covered with a free online store, Paypal integration, and your choice of a shopping cart. You can even get both a free toll-free number and Yellowpages.com listing, a unique perk with the business owner in mind.
While the site makes it clear at checkout, your site will renew at the end of the term at the regular price of $11.95 a month or $143.40 for an annual plan.
SiteGround has a solid reputation as an affordable hosting provider. Like most services, you can transfer or register your domain for free. It offers some perks with security features that give it an edge over the competition. While the plans are unmetered, you are limited to 10GB of disk space. For most sites, that'll be plenty of space to get the job done.
Plans come in three flavors that are geared toward specific traffic needs, a nice feature if you're unsure which one to choose. They come in one, two, or three year billing cycles. While it offers a month-long trial of their web hosting, it includes a $14.95 setup fee which will renew at the annual price afterward.
Its cheapest plan is $3.95 a month with a upfront cost of $47.70 with domain included. It's refreshing to see the discount available even at the one-year commitment with most sites reserving it for three-year billing cycles.
Reliability is the hallmark of SiteGround. Like A2 Hosting, its service includes the Cloud Flare content delivery network for added security and performance. Also, it offers free data backups to keep your data secure. And its 100-percent uptime reputation makes it a cheap hosting service worthy to consider.
What is the cheapest hosting service for you?
The bottom line is that although you might be getting the cheapest web hosting per year, there is also the long-term price of maintaining a site. More often than not, the two figures vary widely. However, if you take the time to read the small print, you're less likely to get an unwelcome surprise once your site comes up for renewal.
The key takeaway message is to pay attention at checkout. What look like the cheapest web hosts on first impressions may not be. Many sites will try and upsell your plan or offer additional services. While some like domain privacy are useful, others may not provide value for the average user. But a cheap hosting provider doesn't necessarily mean bad service. It's all about the choices you make.
To get the most of your investment, you should stick with a site that provides what you need most at a level to match your site's traffic. It's also important to select a service that is reliable and can help you upgrade seamlessly to the next level when that time comes. And that is where the real value of the lowest price web hosting service comes into play.