Last Updated on
These two are among the most popular providers in the hosting industry. Making a decision on which one to choose isn't easy, especially for people venturing into hosting for the first time.
The NameCheap hosting vs HostGator choice is especially hard because they both try to appeal to the same target market. If you are having problems with picking between the two, this detailed guide of all their plans and features will make the HostGator vs NameCheap decision easier for you.
Disclosure
As an independent review site, we get compensated if you purchase through the referral links or coupon codes on this page – at no additional cost to you.
HostGator has lower domain renewal prices and a better website builder. On the other hand, NameCheap has better response time and cheaper pricing across all hosting plans. Due to the pricing difference, this NameCheap vs HostGator battle goes in favor of NameCheap.
HostGator vs NameCheap hosting comparison
Below, you will find all about their pricing, plans, and discounts. Just don't forget to use the switch that toggles between the two providers. Now let's start NameCheap hosting vs HostGator comparison.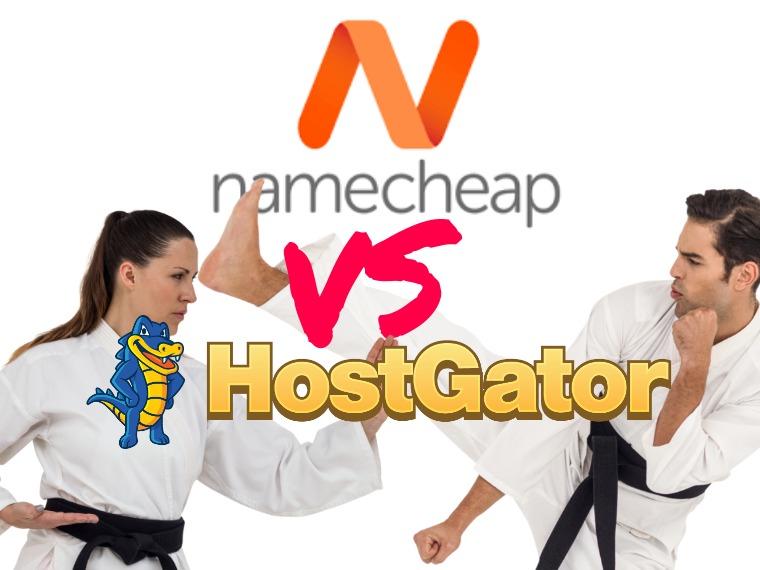 Our #1 Choice For Hosting Blogs
62% Off Exclusive Offer Applied at Checkout
Namecheap or HostGator for shared hosting?
Namecheap offers three plans for shared hosting:
Stellar: $2.88/month
3 domains
Free domain included
20 GB SSD storage
Unmetered bandwidth
Stellar Plus: $4.88/month
Unlimited domains
Free domain included
Unlimited SSD storage
Unmetered bandwidth
Stellar Business: $8.88/month
Unlimited domains
Free domain included
50 GB SSD storage
Unmetered bandwidth
Cloud Storage (only with US data center)
The amount of data isn't the only limitation to the data you can store; there is also inode limitation. An inode is a data structure on a filesystem on Linux that stores information about data. To make it simple to understand, you can think of an inode limit as a limit to the number of files, folders, emails, etc. you can store in your account regardless of their size. The inode limit is 300,000 for Stellar and Stellar Plus, and 600,000 for Stellar Business plan.
If you want to register a dedicated IP, that will cost you an additional $2/month. For servers in the UK, there is another additional fee of $1/month.


Our #1 Choice For Hosting Blogs
62% Off Exclusive Offer Applied at Checkout
Namecheap vs HostGator for WordPress hosting
Let's check out Namecheap's WordPress hosting plans:
EasyWP Starter: $3.88/month
10 GB SSD storage
50,000 monthly visits
EasyWP Turbo: $7.88/month
50 GB SSD storage
200,000 monthly visits
EasyWP Supersonic: $11.88/month
100 GB SSD storage
500,000 monthly visits
Namecheap doesn't have a detailed overview of WordPress hosting packages. In addition to the lack of a proper overview, there is nothing special in any of the offers besides low pricing.
This part of HostGator vs Namecheap competition is evenly balanced and it all depends on whether you plan to use Google Adwords or not.
HostGator or Namecheap for VPS hosting?
Namecheap has only two options for VPS hosting:
Pulsar: $14.88/month
2 CPU cores
2 GB RAM
40 GB SSD storage
1 TB Bandwidth
Quasar: $24.88/month
4 CPU cores
6 GB RAM
120 GB SSD storage
3 TB Bandwidth
Their plans cover the basics, but you will have to pay for additional software. For example, cPanel will cost you $10.88/month extra, and WHMCS Professional license will cost you $28/month.
Namecheap seems cheaper at first glance, but the final Namecheap hosting vs HostGator choice will depend on all the extra purchases you decide to make.
Dedicated hosting comparison
Namecheap has 23 different servers to offer. Here are three of them for a simple preview of Namecheap hosting vs HostGator offers:
Xeon E3-1240 v3: $52.88/month
4 CPU cores
8 CPU threads
8 GB RAM
1 TB HDD
100 TB / month bandwidth
Xeon E-2136: $87.88/month
6 CPU cores
12 CPU threads
32 GB RAM
2 x 480 TB SSD
100 TB / month bandwidth
Dual Xeon Gold 5218: $298.88/month
16 CPU cores
32 CPU threads
128 GB RAM
4 x 1 TB SSD
100 TB / month bandwidth
Namecheap has a huge variety of servers to choose from, and they come at a better value for money. You should choose Namecheap for dedicated hosting.
Compare HostGator vs Namecheap domain registration
These are the prices that your domain extension will renew at, NOT the introductory offers (green denotes the cheaper option):
.com $12.98/year
.net $14.98/year
.org $14.98/year
.site $16.88/yea
.online $19.88/year
.us $10.48/year
HostGator vs Namecheap website builder
Namecheap's website building experience starts with choosing your template. After you select a template, you are able to customize, resize and move around page elements easily.
The rest of the website building experience is not as smooth as the first part. It isn't especially difficult, but compared to other builders (including Gator Website Builder), there are tools that aren't as good as they could have been.
Alot of small details aren't terrible but they aren't really good either. For example, blocks with multiple components are difficult to delete, the undo tool doesn't undo item placement, eCommerce software is not intuitive, etc.
All in all, Namecheap's website builder is ok, but it isn't any better than ok.
HostGator vs Namecheap hosting speed, uptime, and reliability
All the big hosting providers have almost 100% uptime, and Namecheap is no exception.
Their response time isn't that great. 761 ms isn't bad (especially when you compare it to HostGator's 2,337 ms). Some hosting providers keep their response time under 300 ms, so this isn't really a great response time but it is acceptable.
Support: 24/7 live chat
Response time: 761 ms
Uptime: 99.97%
Reseller hosting comparison
Let's check out what kind of reseller hosting you can get from Namecheap:
Nebula: $18.88/month
30 GB storage
Unmetered bandwidth
Unlimited Domains
25 cPanel Accounts
Galaxy Expert: $32.88/month
90 GB storage
Unmetered bandwidth
Unlimited Domains
100 cPanel Accounts
Universe Pro: $48.88/month
150 GB storage
Unmetered bandwidth
Unlimited Domains
200 cPanel Accounts
NameCheap is once again the cheaper option, but they have limits to the cPanel accounts you can open. If you don't require more cPanel accounts, you should choose Namecheap.
Namecheap vs HostGator pricing comparison
Based on 1-year subscriptions (green denotes the cheaper option):
Shared: $2.88/month


Cloud: N/A

WordPress: $3.88/month

Reseller: $16.88/month

VPS: $14.88/month

Dedicated: $51.88/month
Namecheap has much cheaper pricing across all their plans.
Namecheap hosting vs HostGator hosting conclusion
The winner is NameCheap!
The offers these hosting providers have are very similar, but the Namecheap hosting plans come at a lower price. HostGator doesn't have much in repertoire to justify the price difference, so you will be better off with NameCheap.
Namecheap versus HostGator final score
Namecheap vs HostGator FAQs