Last Updated on
Shopify and Volusion – chances are you've encountered Shopfy's name a great deal more than you have Volusion. You wouldn't guess that Volusion is actually the older platform of the two. Shopify has a catchy name and it aligns itself exceptionally well with the goals of today's entrepreneurs. It's become a benchmark as a n ecommerce platform. Volusion offers very similar functionality and they service some of the most established stores in the world. How do the two compare when you look at their features value for money, side -by-side?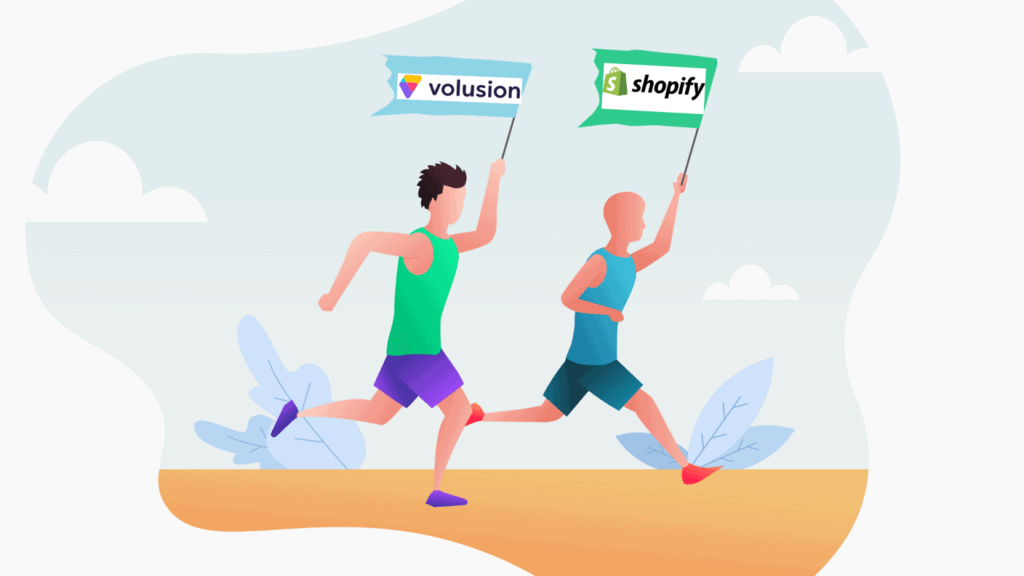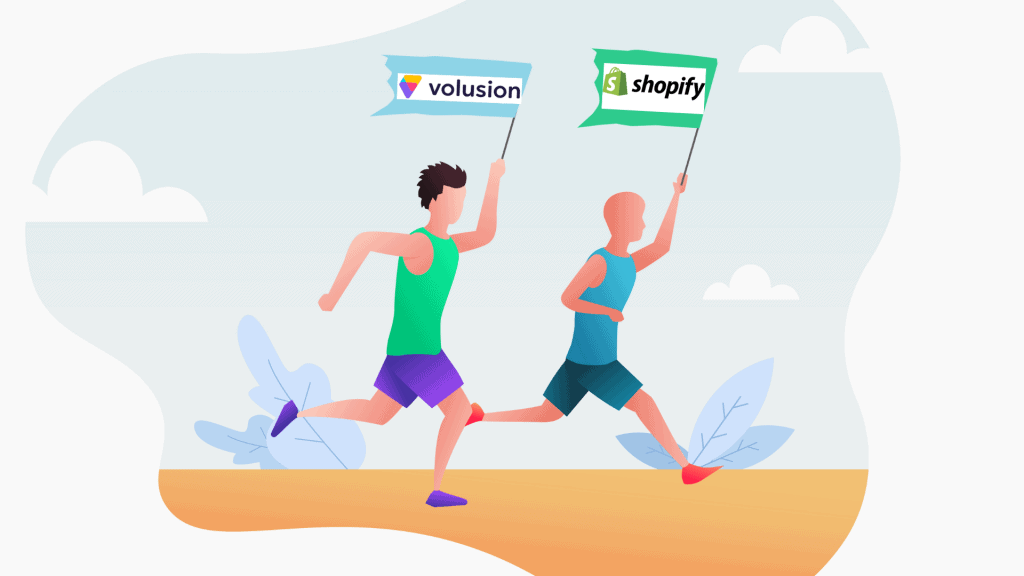 Both platforms have a lot to offer the budding (or established and growing) entrepreneur. You can't go wrong with either one, both support some of the biggest household names in the online shopping niche. One does offer marginally better value:
User-friendliness
Volusion – This back-end system could use a great instructional guide or even a video tutorial, users that are new to ecommerce are likely to find themselves confused and unsure of where to find some of the functions. 
Adding products can be quite tricky – although it's not impossible. Adding new pages, blog posts, shipping methods, and linking your accounting software to your store – that's unnecessarily complicated and requires clicking through several options before you find what you're looking for. Volusion isn't difficult to manage, but there are areas they could have simplified their features to offer more user-friendliness. 
Shopify – This is almost an unfair comparison, since Shopify is known as one of the easiest ecommerce platforms to operate successfully. It's highly intuitive and the back-end is simple to navigate. Adding third-party apps and integrations, like accounting software, is straightforward and fuss-free. Maintaining your ecommerce products, adding new ones, and adding non-ecommerce related items like blog posts, is unbelievably easy. Without a doubt, Shopify wins this round  loud and clear. 
Besides for user-friendliness and functionality, Shopify actually outperforms Volusion in a few ways. Here's a brief breakdown before we get fully into it:
| | | |
| --- | --- | --- |
|   | Shopify | Volusion |
| User-friendliness | 4 / 5 | 3 / 5 |
| Customizaton capabilities | 5 / 5 | 4 / 5 |
| Product and presentation features | 5 / 5 | 5 / 5 |
| Payment gateway options | 5 / 5 | 5 / 5 |
| Client user-friendliness and check-out convenience | 5 / 5 | 5 / 5 |
| Shipping options | 5 / 5 | 5 / 5 |
| Language capabilities | 3 / 5 | 2 / 5 |
| SEO functions | 4 / 5 | 4 / 5 |
| Hosting – page speed and uptimes | 4 / 5 | 3 / 5  |
| Customer care and support | 5 / 5 | 5 / 5 |
| Apps and plugins | 3 / 5 | 4.5 / 5 |
| Cost effectiveness | 4 / 5 | 4 / 5 |
| Verdict: Who is it for? | Volusion offers better functionality for teams that require multiple staff accounts | Shopify offers a better customer experience |
Themes and customization
Both platforms offer responsive themes, their premium themes average the same price (approximately $180), the themes are modern and contemporary in appearance, and both offer a relative amount of flexibility in terms of customizing themes. However, Volusion's themes require some coding knowledge to customize their themes, whereas Shopify offers a simple drag-and-drop solution. 
There are a few other areas where Shopify outperforms Volusion. They offer ten industry specific themes, Volusion doesn't offer this feature at all. Shopify comes with over 60 themes to choose from and Volusion offers 47. Volusion slightly betters SHopify by offering 11 free themes, Shopify only 10. 
In terms of ease of use when it comes to changing your theme and template, Shopify takes the cake again. Volusion is simply not as straightforward and easy to work, Shopify makes it super simple to change your theme. Overall, with its intuitive theme editor and greater selection of choices (for the same price), Shopify is the winner. 
SEO
How well will your site be optimized to appear in Google's search results? This is what your SEO determines. Google requires certain criteria to be fulfilled in order to index websites more effectively. The coding that gives your site its functionality needs to be neat and concise. Then, your platform also needs to offer you the opportunity to analyse how effectively you've used your keywords and how "readable" your content is. 
Shopify includes SSL in its packages, an important element when you consider how important it is if you want to build trust between your brand and your buyers. Volusion charges an additional $90 a year for this feature. Both platforms enable integrations like the Facebook tracking pixel and the Google analytics code. Volusion offers access to Robots.txt, Shopify does not. Both offer a site map (helpful when you're planning your keywords and content structure), both offer 301 redirects, custom page titles and custom page descriptions.  
Volusion Pricing: Honest thoughts
Volusion prices are reasonable for what they offer. They have a number of options that sellers can choose from. SInce they offer limited bandwidth, factor in an additional $7 per 1 GB if you go over your limits. Their prices do not include SSL and since this is highly recommended, you should probably include an additional $90 per year into your costing estimations. 
Volusion does offer unlimited staff logins and accounts and all transactions are free. Their 4 main plans include:
Mini: $15 a month (1GB bandwidth and 100 products)
Plus: $35 a month (3GB bandwidth and 1000 products)
Pro: $75 a month (10 GB bandwidth and 10,000 products)
Premium: $135 a month (unlimited bandwidth and products)
In contrast, Shopify appears more expensive but many of the extras you would have to pay for if you opt for Volusion, come standard as part of your plan with Shopify. This includes unlimited storage and bandwidth and free SSL. However, you do have to pay for your transactions, which would be free with Volusion. Shopify's plans look like this:
Lite: $9 a month (just add ecommerce to an existing site)

Basic: $26 a month (2 staff accounts)

Shopify: $71 a month (5 staff accounts)

Advanced: $266 a month (15 staff accounts)
What is Volusion platform?
Volusion might sound like the new kid on the block in the ecommerce world, but they've been around since 1999. Their platform is fully cloud-based, providing dropshippers, creatives, and entrepreneurs the tools they need to create and manage an online store effectively. It's a cost-effective resource with a multitude of useful features. 
Which is better, Shopify or Volusion?
In our comparison, Shopify outperforms Volusion on most points, however, many of these points may not apply to each and every seller. For example, SHopify offers a larger number of themes to choose from, but if you find a theme that resonates with your "look", you have no need of those extra choices. In terms of functionality and SEO, the two platforms are very similar. Shopify is marginally better but it certainly doesn't discredit Volusion's value. 
What is the best ecommerce platform?
There are so many to choose from, each platform offers something unique. The trick lies in choosing the service provider that offers what you're looking for. Some people may benefit from more features and integrations while others might appreciate something user-friendly and cost-effective. The most popular ecommerce platforms include Wix, Squarespace, Shopify, Volusion, CommerceHQ, Magento and WooCommerce. 
What's better, Shopify or Wix?
It's not a question of which is better, rather, it is a question of which is better for you. If you're just starting out and you're selling less than 100 products, Wix is best for you. If you're an established seller with a large quantity of items to sell, Shopify is best. They're both targeted towards ecommerce sellers but for different sizes and types of stores. 
Is Shopify good for beginners?
Shopify is user-friendly and offers an incredibly intuitive backend that simplifies the functions in such a way that it's simple for beginners to understand. Shopify is great for beginners. Wix offers a greater number of features that are useful for beginners, but Shopify is as good as Wix, it also enables you to expand your store and grow your success. 
Who uses Volusion?
Volusion is a trusted platform and there are well-established brands that make use of their services. The household names include companies like Intel, 3M and Slickwraps as well as 40 000 other online stores. They're loved for their quick set up and exceptional customer service. 
Is volusion safe?
Yes, they're very safe. Volusion is a well-established company, although they have stayed under the radar in terms of brand awareness. They offer exceptional site security protocols and penomenal customer care services. Their hosting is adequate, with decent uptimes and acceptable page load speeds. 


Our #1 Choice For Hosting Blogs
62% Off Exclusive Offer Applied at Checkout