Last Updated on
Hi all, and welcome to our iPage vs GoDaddy review and comparison.
GoDaddy is a name you've likely heard, it's a big company with millions of customers worldwide. They have large marketing campaigns and offer steep introductory discounts at nearly every level of hosting service. iPage is similar, but instead of making offers at every tier, they focus on those that are new to web hosting.
Disclosure
As an independent review site, we get compensated if you purchase through the referral links or coupon codes on this page – at no additional cost to you.
"iPage" is in the same brand family as HostGator and BlueHost. This means that all three of these hosting brands are owned by the same parent company: Endurance International Group (see our article about EIG web hosting). Of the three, iPage is the most "budget conscious". They also offer the most attractive discounts for new customers.
From this information alone, it looks like iPage should be a winner on price and for anyone with a single website, while GoDaddy would be more supportive for larger online businesses. Is this true? This review aims to help you decide if it's worth it to start out with iPage, or if GoDaddy is just as good for beginners.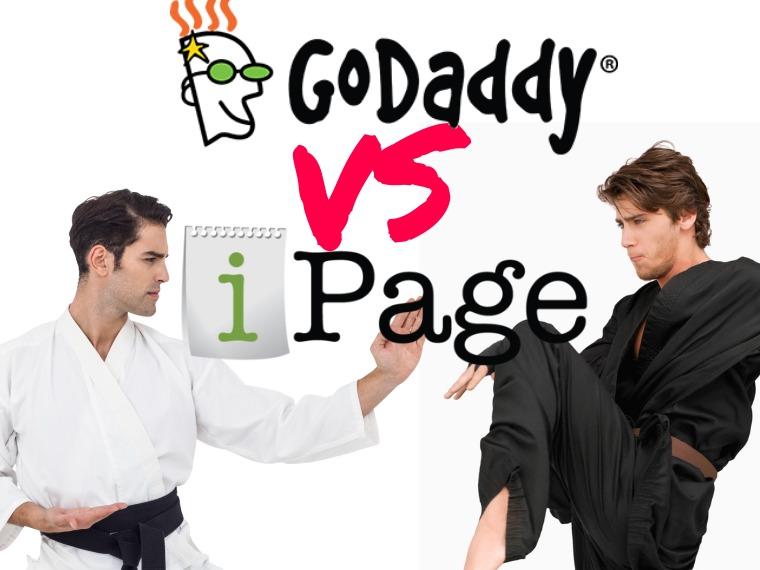 Below are five factors with explanations of what they are and why they're essential for any web hosting provider to have and excel at.
This is the first category and where all of the hosting types on offer at either brand are named, and the more basic plans will also be explained. Though iPage has its focus on people just getting started with learning how to host a website and domain, they do offer several different levels of hosting.
Setting up your website is something you want to go smoothly. You may have your heart set on a drag-and-drop type page builder, or maybe you're a WordPress fan. In either case, this is the category where you will learn which host offers what tools and whose are better.
When you want your questions answered, you may turn to a 24/7 helpline, if one is available. Then you may want to know about how long your wait will be for answers before you commit to a web hosting provider. You may also want to know what other self-service and non-phone support options are available.
Page load speed and reliability
Which of these two hosts, in a head-to-head comparison of iPage vs GoDaddy, is able to provide your website with more uptime? Which host will allow you to shave critical microseconds off of your loading time, allowing you to provide more impressive content? Those questions are answered in this section.
One of the most basic things any website that collects "customer" or reader data or that sells anything needs to have is an SSL certificate or SSL encryption. Few hosting providers offer this for free, and many place limits on it. How a web hosting provider handles SSL is usually indicative of how they view security as a whole.
If you're not sure how important SSL is, or how it should be set up, the video below provides a quick explanation.
GoDaddy vs iPage: which hosting company offers more?
Below you can see all five categories as well as direct comparisons of iPage and GoDaddy in each category.
Again, will iPage offer the most value? Or will GoDaddy win out in the first category? If a price is listed, it's the standard price after any promotions have expired.
For just $7.99 per month, iPage offers their basic shared hosting plan with much more on offer than GoDaddy's price-comparable plan. With iPage, you get unlimited disk space and domains, as well as scalable bandwidth. You even get a free SSL certificate for use with one domain for as long as you're subscribed.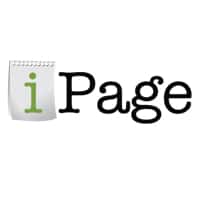 Not only that, but you get easy to set up e-commerce functionality right off. With promotional pricing, new customers also get a stack of advertising credits for many major search engines and websites.
If you're looking beyond hosting for beginners and new websites, both cloud and managed VPS are on offer from iPage. Starting at $24.99, post-promotional pricing, this is slightly less than GoDaddy, and the plan has similar specs.
Dedicated servers are where things start to diverge. Here, iPage's pricing is much higher (>$40/mo.) than what GoDaddy offers for nearly the exact same plans. iPage also offers managed WordPress plans starting at $7.49 per month for one domain.
Similar to iPage, GoDaddy offers shared, VPS, and dedicated hosting services. Cloud may be offered as part of their business and some VPS packages, but it's not the standard setup.
The best shared hosting package from GoDaddy starts at $7.99/month (the exact same price as iPage's basic shared plan). However, with this plan, you have a lot of limits, unlike what iPage offers. To get rid of those limits and have a similar plan to iPage's, you need to upgrade to the "deluxe" version ($10.99/mo.).
VPS and business plans start at $29.99 per month and allow you to start building e-commerce stores with tools offered by GoDaddy. It also increases your ability to handle regular, high traffic, and any traffic spikes.
Dedicated servers offered by GoDaddy start at around $80 per month and come with a free SSL for one year. Managed WordPress plans are also available, and they come with free backups (and paid restoration) at all levels.
It's a split decision in this category. iPage is the clear winner for shared and VPS value. GoDaddy offers more for your money for dedicated plans.


Our #1 Choice For Hosting Blogs
62% Off Exclusive Offer Applied at Checkout
Website builders and apps
How simple is it to build a website from the tools provided by these two web hosts?
The website builder offered by iPage is just as good as some page builders you could get at a premium. It's intuitive to use and easy to build simple websites with up to six pages, just the right amount for a local business or service provider.
They also offer the same types of apps and easy installs as GoDaddy and the other brands in EIG's portfolio. Easy to use e-commerce stores can be set up with any plan.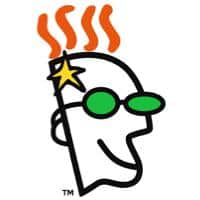 As far as website builders go, GoDaddy's website builder is overly complicated and bloated with extra features and templates that do absolutely nothing for the majority of users. They're outdated and simply make it harder to get things done.
If you're looking for something quick and easy, one-click installation of a CMS or e-commerce tool could do the trick. The apps come with every plan, but the eCommerce tools only come with higher-tier plans.
iPage wins this category by having e-commerce tools open to everyone, as well as an intuitive web page builder with no bloat.
When you have questions, you want them answered efficiently. Can iPage and GoDaddy do that?
Offering 24/7 phone and live chat support, iPage wants to help you out when you need it. They also have in-depth tutorials and an online help center with searchable FAQ sections and a ticket system. Responses take minutes, and escalation is similarly efficient.
Offering the same support options as iPage, GoDaddy has similar response times, though complicated issues that need to be escalated can create substantial delays.
Both of these web hosts offer the same types of resources, with no major quality differences. It's a tie.
Page load speeds and reliability
When it comes to GoDaddy vs iPage, they're both backed by very large hosting companies, even though iPage has a less-recognizable name. Still, that doesn't necessarily guarantee that they're reliable.
Reliability and uptime go hand in hand. However, with these two hosting companies, there's not much to compare. They both have top-end uptimes at greater than 99.98% on average. Loading time is also around half a second.
As a top hosting company, seeing that GoDaddy has an uptime of greater than 99.98% on average isn't surprising. Neither is the half-second loading time.
It's a clean tie. These are both exceptional hosting providers that know how to provide these two standard facets of hosting.
When it comes to security, who offers the best protection and value?
iPage offers at least one free SSL with every single hosting plan they have. For the life of that plan. As far as general security goes, they monitor both account and server activity for any anomalies daily and provide additional free security tools to every user, upgrading them at every level.
One thing that's not so great about GoDaddy is how much they seem to like to charge for add-ons that have the most benefit. SSL certificates for any GoDaddy hosting plan are expensive. They offer no free tools outside of managed WordPress plans, and their overall security is average.
iPage offers more value when it comes to security, plain and simple.
GoDaddy or iPage: whose service should you start with?
After going over all five of these categories, it's clear that the winner for any new website, or any website that is just starting to get off the ground, is iPage. It's not until you need a dedicated server that what GoDaddy offers begins to outstrip what iPage has.
However, when you add up all the little fees (additional domain registrations, SSL certificates, etc), then iPage still remains competitive. With similar security and uptime and low, low prices, they make a very attractive first host.