Last Updated on
Website builders are tools that let anyone build a website without any technical knowledge. They aren't capable of creating complex websites, but sometimes all you need is a way to create a simple website quickly. That is when website builders get handy.
In this review, I will compare Wix and GoDaddy. Wix is one of the most popular website builders, while GoDaddy is one of the biggest domain registrars. Both of them offer domain registration and website builders, but which one does the job better?
Disclosure
As an independent review site, we get compensated if you purchase through the referral links or coupon codes on this page – at no additional cost to you.
GoDaddy is better if you want to create a website faster, but Wix has a better website builder overall. Wix has better features, more customization options, and opens up more ways to approach building your website.
Wix vs GoDaddy comparison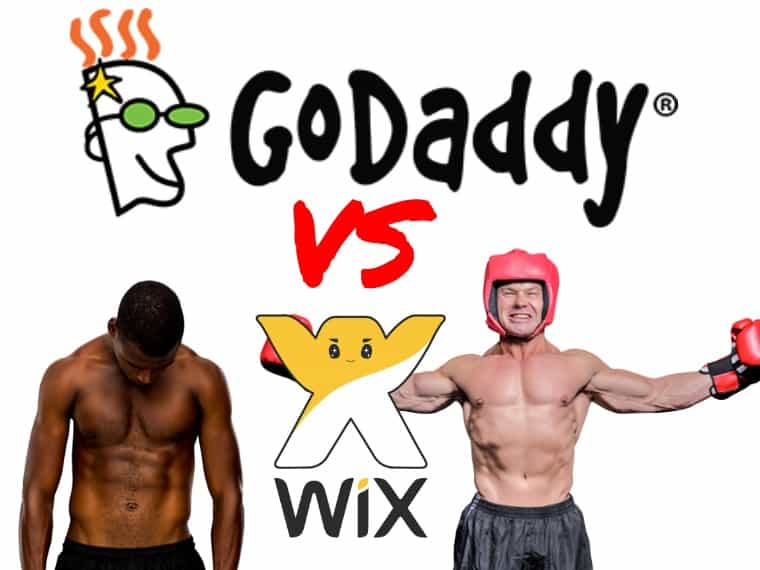 I already told you that Wix is better overall, but there are still some things that GoDaddy is good for. Let's compare GoDaddy and Wix side-by-side and see what each of them is good for (use the switch to toggle between the two)
GoDaddy vs Wix ease of use
Both GoDaddy and Wix are fairly easy to use. GoDaddy has an easier initial website building experience. You just have to answer some questions, and GoDaddy's builder will build the website for you.
Once the website is created, you can edit some elements of the website. That is where Wix gets easier to use. GoDaddy isn't complicated either; it is just that Wix's editor is more intuitive.
To conclude the ease of use, both GoDaddy and Wix are easy to use and not even a complete beginner should have problems with either one. It is easier to create a website with GoDaddy, and it is easier to edit it with Wix. It is up to you to decide which of these options you value more.
GoDaddy website builder vs Wix
GoDaddy uses an ADI (Artificial Design Intelligence) website builder. This means you get a set of questions to answer, and the builder creates a website based on your answers. It bugs me out that it is called ADI and not AID, which would sound better and make more sense, but whatever the name, it still gets the job done.
The websites created with ADI look surprisingly good when you consider the fact that they were created by automated software. That being said, they will still be quite generic. So, if you are ok with your website looking like many other websites out there, GoDaddy is not a bad option here.
One thing worth mentioning is how fast you can create a website with GoDaddy. The process takes less than an hour. If speed is important to you, it is good to know that there is no faster option for building a website than GoDaddy.
GoDaddy's versus Wix's templates, themes and customizability
GoDaddy has an enormous number of themes to choose from. Despite the huge number of themes, lots of them are very similar, so there isn't that much variety to choose from.
The customizability of the themes is limited. You can only change some basic settings like text, images and buttons. There are even constraints to changing the basic settings. Pictures can only go in places designed to accommodate images, and you can only choose fonts and colors that are prepackaged in the theme.
A huge number of themes doesn't mean much with so little customization. Without enough customization, you can't add a personal touch to your website. This Wix vs GoDaddy duel goes in favor of Wix.
Compare Wix or GoDaddy eCommerce features
Neither GoDaddy nor Wix is specialized in eCommerce, but you can still build an online store with both of them. Note that not all GoDaddy plans support online stores; only the most expensive plan does.
Wix and GoDaddy have several things in common. They both let you list the unlimited number of products without transaction fees. Those products can be either physical or digital, and you can offer discounts and sales codes for the products. There is also a feature that lets you set up flexible shipping options with both Wix and GoDaddy.
GoDaddy offers several payment options you can use in your store. You can check the full list here.
The biggest bonus of GoDaddy is an integrated abandoned cart recovery option. With Wix, you have to use a third-party app to add that functionality.
Aside from integrated abandoned cart recovery and integrated email marketing tools, GoDaddy has fewer eCommerce features than Wix.


Our #1 Choice For Hosting Blogs
62% Off Exclusive Offer Applied at Checkout
GoDaddy comes with built-in keyword suggestions and SEO tracking. You can also edit the basics (meta titles, URL slugs, etc.) and submit your sitemap to search engines, but that is the bare minimum you should expect from any website builder out there.
When it comes to the integration of social networks, you can't embed live social feeds. All you can do is add follow buttons for various networks on your website.
GoDaddy has no app store, so you can't further expand on SEO features. What you see here is all you get. At least you will get built-in email marketing tools with each of GoDaddy's plans.
Wix or GoDaddy for features?
The purpose of GoDaddy is to create simple websites quickly. The speed of creating those websites comes at the price of a small number of features GoDaddy has.
With GoDaddy, you will get the features we discussed in previous sections, unlimited bandwidth and storage and online appointment features.
Bloggers out there won't be happy to find out you can't even add comments and search.
GoDaddy doesn't have many features, so if you are looking for anything more than the simplest website possible, you should choose the Wix website builder over GoDaddy's.
Wix or GoDaddy domain costs
Here is how much domain renewal will cost you with GoDaddy:
.com: $17.99/year
.net: $19.95/year
.org: $20.99/year
.info: $23.99/year
.me: $19.99/year
.wiki: $39.99/year
.tv: $44.99/year
Just keep in mind that you can register more different domain extensions with GoDaddy than with Wix. It would be pointless to list them all here because the list is huge. This is just a warning so you can check if you can register the domain you want with Wix before you make your website builder choice.
Wix against GoDaddy customer support
GoDaddy has 24/7 phone and live chat support. The impressive thing about their support is that they have support teams for 53 different countries with phone numbers located in the country. This means you don't have to spend lots of money on international calls and you may get support in your language.
GoDaddy vs Wix speed, uptime and reliability
Speed and uptime are among the most important factors for a website. Here is how GoDaddy performed on those two factors recently:
Uptime: 99.91%
Response time: 315 ms
There are four plans you can choose from, and only the most expensive one comes with an eCommerce option. Let's check them out.
Basic: $10/month
1 social media listing platform
5 social posts and responses/month
100 email marketing sends/month
Standard: $15/month
3 social media listing platforms
20 social posts and responses/month
500 email marketing sends/month
Premium: $20/month
Unlimited social media listing platforms
Unlimited social posts and responses/month
25,000 email marketing sends/month
Ecommerce: $25/month
Unlimited social media listing platform
Unlimited social posts and responses/month
25,000 email marketing sends/month
eCommerce features
With all GoDaddy plans, you get unlimited bandwidth and storage, but the tradeoff is that you get limited social media listing platforms, social posts, and social responses.
You also get a business email address as well as a business phone number for free for one year.
SEO features are included in all plans besides the cheapest plan, so you might want to skip that one. Although GoDaddy's plans are somewhat cheaper than Wix's premium plans, GoDaddy's plans aren't as feature-rich. There is also no app store you can use for additional functionality, so in my opinion, Wix has better value for money.
GoDaddy vs Wix conclusion
The winner is Wix!
Wix is the more powerful website builder. You get to do more stuff with Wix, and you get to do all that with more freedom. GoDaddy lets you build websites faster, but Wix lets you build websites in greater detail.
Wix versus GoDaddy final score