Last Updated on
When you create a website or blog, an important components that is needed to take it live and start reaching clients is hosting. The service to host your website you choose will determine how many visitors your website can deal with easily, how fast your website renders, and the overall experience visitors and client to your site get.
As more businesses realize the advantages of operating online, there has been a huge increase in the number of companies that offer web hosting services. And with this increase in the number of web hosts available, it may be difficult to pick the right provider for your site. This is why we are comparing Wix vs BlueHost in this post.
Disclosure
As an independent review site, we get compensated if you purchase through the referral links or coupon codes on this page – at no additional cost to you.
I have done the bulk of the legwork for you and dug deeper into Wix and Bluehost to outline their history, performance, features, support, as well as the pros and cons of each to help you decide if Bluehost or Wix as a web hosting provider is right for you and your website.
Wix was founded in 2006 by Giora Kaplan, Nadav Abrahami, and Avishai Abrahami. The trio were disturbed by the difficulty they faced trying to create their own website. It was frustrating and expensive.
To address the challenge, they created Wix hosting firm in 2006 with a drag-and-drop site builder enabled with HTML5 capabilities and over 100 ready-to-use templates. Today, the company has grown to reach over 120 million users in more than 190 countries.
Bluehost is a web hosting firm owned and run by Endurance International Group (EIG). The company was established in 1996 by Matt Heaton. He formed two hosting services, Ocatch.com and 50megs.com, before combining them to create Bluehost in 2003.
In 2010, Bluehost was acquired by Endurance International Group. This made it a sister firm to other companies that operate under the EIG umbrella including HostGator, JustHost, BlueDomino, Spry, and EasyCGI.
Wix vs BlueHost comparison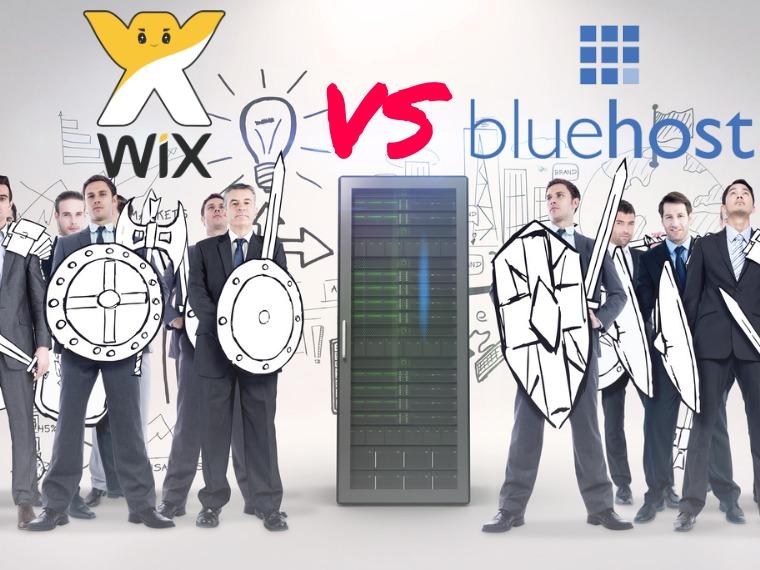 BlueHost vs Wix performance
When you are looking for a hosting service provider, the first parameter to check on is performance. This can be captured through two key components: site speed and uptime.
Bluehost promises an uptime of 100% and delivers an impressive 99.99%. This implies you are assured that your sites and blogs will always be up and available every time clients browse content in them.
For its part, Wix promises 99.99% but does not offer any data to show their actual uptime. Though I found most users contented with the uptime, it is rather difficult to convince a new client to join Wix without offering tangible performance data. Wix should consider adding this data for easier comparison to help clients make the decision to join.
On speed, Bluehost loads in less than two seconds. This is impressive, because most of the search engines factor site loading speed as an important factor for their ranking algorithm.
If you host your website on Wix, expect slower loading speed compared to Bluehost. During the test period, Wix average loading speed was 2.7 seconds.
Wix vs BlueHost website builder review
A website builder is one of the principal features that no web hosting service wants to overlook. The feature allows you to create professional websites without contracting a web designer.
Bluehost provides you with a drag-and-drop site builder powered by free Weebly and goMobile web development services. The free web builder allows you to launch new sites, stores, and other features to enrich your site.
If you are unsure of how to go about building a site, Bluehost has reliable support waiting to assist. Whether you are a newbie or experienced developer, the Bluehost builder is a tested tool that will not disappoint.
Wix hosting puts a lot of effort into making its builder more appealing than others offered by competitors like Bluehost and HostGator. The builder is a drag-and-drop feature that allows you to simply drag text, images, and icons to the target position to create a new website. No coding experience is needed!
Wix provides hundreds of templates categorized by industry niches. Then, you can modify the templates to use preferred layouts and include custom sliders, responsive displays, and dozens of navigation tricks.
Wix or BlueHost for WordPress?
WordPress is one of the most popular content management systems and it powers more than 25% of all websites. For business blogs, it is the most preferred, and a web host that offers WordPress hosting will make be of great benefit to you. With WordPress hosting, Bluehost wins this round quite significantly. Let's see why. 
Bluehost's WordPress hosting packages is the best alternative to their shared hosting plans and had been a main driver behind the company's growth. 
While not as customizable as other plans, WordPress hosting by Bluehost is built on their VPS hosting platform. Its interface makes it easy to navigate, provides for speedy setup, and comes with advanced features such as the MOJO marketplace.
Since 2003, Bluehost has been one of the elite web hosting companies to be approved by WordPress for web hosting. To put it differently, I have found Bluehost to be the best to your your WordPress site.
The following video is a demonstration of how to launch a WordPress website with Bluehosth
Notably, WordPress hosting isn't something Wix offers. This has been a major undoing on its part because you will not want sign up for Wix web hosting if you fancy WordPress. Using Wix, you won't be able to use the unique benefits of WordPress, like its multiple themes and easy expansion with plugins.
BlueHost vs Wix hosting plans & pricing
Both Bluehost and Wix hosting services have three main plans on offer. With Bluehost, the Basic plan is the cheapest and will cost you $2.95/month. The Basic comes with 50 GB of storage, unlimited bandwidth, and you can host only one website. With Wix, its Combo plan is the least expensive and this costs a lot more at $11/month. The Combo plan, recommended for personal websites, includes 3 GB of storage and 2 GB of bandwidth, and it also supports only one website. 
The second main plan is the Bluehost Plus plan at $5.45/month and you get unlimited bandwidth, unlimited parked domains, unlimited storage, and you can host any number of websites. For Wix, the second plan is its Unlimited Plan, again a lot more expensive than Bluehost's option at $14/month. It also comes with unlimited bandwidth but you are capped at 10 GB of storage. Other details aren't easily found, like the number of supported emails. 
At the more expensive side, Bluehost's Choice plan costs the same as the mid-level option at $5.45/month and all the benefits you get – bandwidth, storage, email accounts, and parked domains – are unlimited. The Choice plan is best for companies with a large following. 
For Wix, they have the VIP hosting plan for $29/month and you don't get nearly as many unlimited benefits. With the VIP hosting plan, expect only unlimited bandwidth, a free domain for only one year (thereafter, you need to pay a fee), and 20 GB of storage.
Customer services & support
Before you can buy hosting services from a provider, it is advisable to carefully evaluate the nature of support services offered. Bluehost has invested in multiple channels of support to ensure that you can easily get professional assistance. You can use Bluehost's email, ticket, phone, or live chat to make inquiries. In addition, the company also maintains a knowledge base that can help you to learn about web hosting and related topics.
Wix, like Bluehost, has also diversified the support services for its clients. You can reach the support directly via phone and live chat. You can also get help by sending a ticket, making an email inquiry, or reading through hosting resources on its blog.


Our #1 Choice For Hosting Blogs
62% Off Exclusive Offer Applied at Checkout
BlueHost and Wix pros and cons
Should you go with Wix or Bluehost? To help you get the right answer to the question, I have done a comparison of the main pros and cons of each.
Offers you unlimited resources
Allows you to host unlimited sites
Provides WordPress hosting services
Allows control over your websites
Cheap hosting services
Impressive support
Easy-to-use and intuitive user interface
Recommended only if you have some experience in web design or computing; less suitable for newbies
Easy-to-use and intuitive website builder
Diverse hosting services that cater to a wide range of client base
Offers impressive performance with an uptime of less than three seconds
Does not offer WordPress hosting
Services are diverse, but more expensive than Bluehost
Limited resources
BlueHost vs Wix winner: BlueHost
To be able to pick the right hosting provider, it is prudent to understand your personal or commercial hosting requirements. For example, how many visitors do you expect per month? What site speed is needed? Is your enterprise at startup or an advanced stage?
From this Wix vs Bluehost review, Bluehost stands taller. Though Wix has done a great job in providing its clients with an easy-to-use, drag-and-drop site builder, it lags behind Bluehost in other areas such as WordPress hosting and speed. I was especially disappointed by Wix's failure to provide WordPress hosting services despite its proven efficiency in supporting blogs.
Bluehost also edged Wix out by a great margin on hosting plans by offering better features at lower rates. Whether you are looking forward to hosting a new site or maintaining a well-established business blog, do not be confused about the differences between Bluehost and Wix. I strongly recommend you go for Bluehost.