Last Updated on
GoDaddy and SquareSpace both offer website builders, but are they both great website builders? If you want to build a website but are new to hosting and web development or are a little uneasy about the prospect of managing your own website, this review aims to simplify who to choose.
GoDaddy is a big name when it comes to domain registration and hosting. They offer a wide range of customization options and a depth of control that few other web hosts can match.
Disclosure
As an independent review site, we get compensated if you purchase through the referral links or coupon codes on this page – at no additional cost to you.
SquareSpace, on the other hand, is also a big name. However, their product is aimed right at people who are new to web development and want to have a site up quickly and easily.
Below, you'll learn if you should go with SquareSpace, for the sake of convenience, or if GoDaddy really does offer a comparable product or something even better.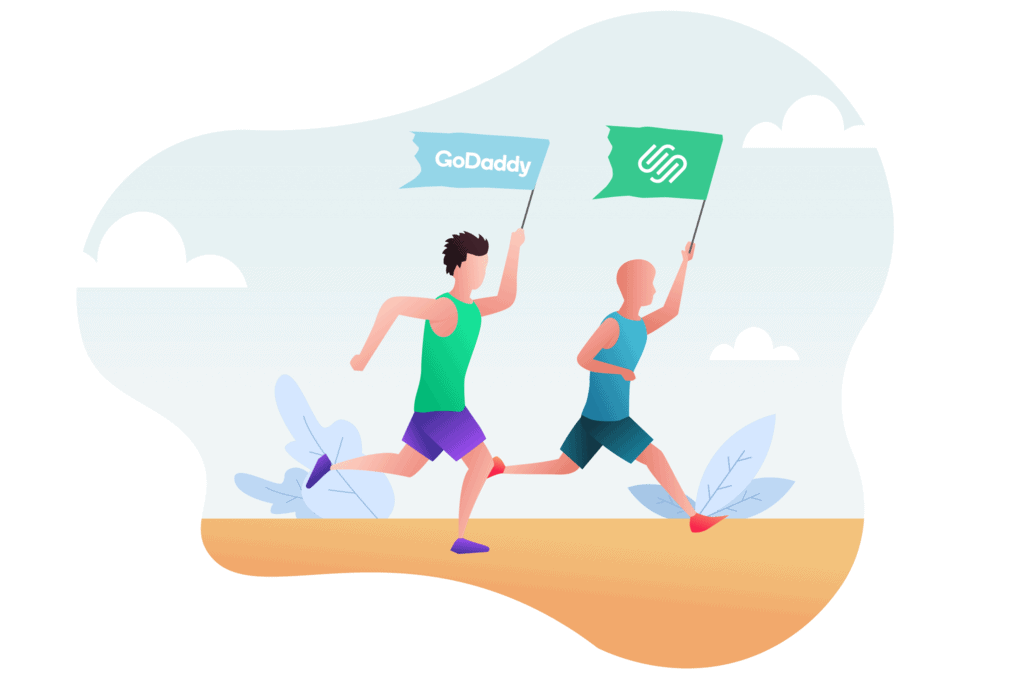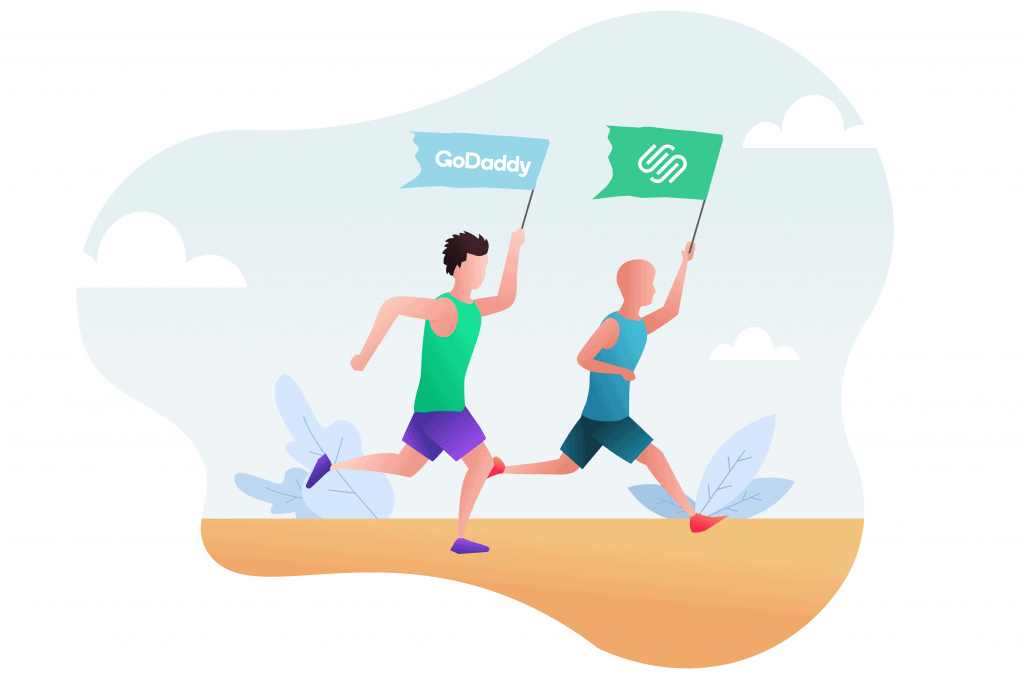 Criteria to evaluate GoDaddy vs SquareSpace
Below are brief descriptions of what each category means and how they were used to rank both GoDaddy and SquareSpace for the purpose of this review.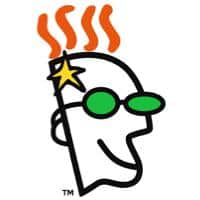 The plans we'll be looking at in this review are the plans that someone is most likely to start out with: basic shared hosting, basic Cloud or VPS plans, and dedicated plans. In this section, plans will be compared. Do basic plans for GoDaddy equate to basic plans for SquareSpace?
Ease of use is determined, for this review, by the company that makes it easier to purchase a product and set up a website with it. It won't go too in-depth. This is a rating primarily to see how easy it would be for someone with zero website creation experience to get started.
Some web hosts offer certain features standard with any plan or any plan that's in their basic tier of VPS and above. These features can be anything from free apps and premium support options, to free SSL certificates or WordPress plugins. Though there may be many offers, only the best will be mentioned.
This is a review that compares GoDaddy vs SquareSpace on their hosting and their DIY website builders. It may seem like SquareSpace has an advantage in this case, as their website builder and related tools are the focus of their main offers and marketing efforts, but we'll take a look at this.
Support and customer service
You want your website to remain secure no matter what its purpose is. This is critical if you are collecting any sort of information or data and even more so if you are planning to have an e-commerce website.
Uptime and average page load speeds
Will your website be "up" and able to load quickly whenever someone requests it? Are there times when it will be down? Will pages be unavailable on a regular basis? Uptime is easy to measure and will determine half of how well wither GoDaddy or SquareSpace does in this category.
Loading time can be different for a number of somewhat complex reasons. However, if you are requesting a page of the same type and size from two different servers with comparable specifications, there may be some differences depending on how those devices are configured.
The start of the SquareSpace vs GoDaddy web builder and hosting review
Below you will see GoDaddy and SquareSpace compared in seven categories that would influence your experience if you chose them as your hosting company.


Our #1 Choice For Hosting Blogs
62% Off Exclusive Offer Applied at Checkout
Both of these hosts run specials and discounts all the time. Pricing discussed in this section is going to be what you can expect to pay over the long-term after any promotional pricing has gone away.
The pricing at GoDaddy is competitive with the other top five hosting companies. Prices start at $7.99 per month for shared hosting and at $19.99 per month for business or VPS hosting.
They offer a basic shared plan for $7.99 per month that is very limited. You get one website, 100GB of storage, and a free domain (if you pay annually). This is on top of all other basic features offered, like 24/7 support and the ability to install WordPress or another CMS with one click.
For $10.99 per month, you can upgrade to unlimited storage, websites, and subdomains. This is the most comparable to SquareSpace's basic plan. It's not much cheaper, and GoDaddy does charge for SSL.
The business plans come with everything a basic plan does but add even better stability and power, as you have access to more server resources. That means more people can visit your site without causing an error or being unable to connect.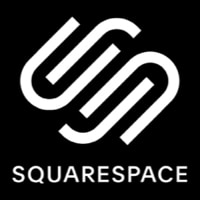 The pricing at SquareSpace is different from any "standard" web host. What they offer is unique and based on the assumption that you're there for the web builder and tools that they offer. That said, their plans are ambiguous about the types of hosting they offer and focus on other factors instead.
SquareSpace offers two types of basic plans, one for Websites and one for Business. Their website plans start at $12 per month, billed annually (or $16 billed per month.) You won't have to pay for your domain the first year if you choose an annual plan. They also offer "online store" plans.
With this, you also get hosting and web builder for a single domain and a free, easy-to-set-up SSL certificate. Storage and bandwidth are also unlimited.
With SquareSpace for business, you'll be paying $26 per month but be able to use features of their web builder that let you create pop-up ads and other special shop and marketing features.
If you plan to open a shop with SquareSpace, you're better off choosing a shop plan than a business plan. Why? Transaction fees. With business, you have to pay a 3% transaction fee on every order. With a shop plan, there is no additional transaction fee.
All shop plans come with the same powerful website builder, but this time you also get inventory, sales, and metrics tools. Accounting is integrated with Xero, and shipping is done through ShipStation. This is with the basic plan at $30 per month.
With the advanced plan, you get all of the features mentioned above plus cart auto-recovery and subscription service features. These can be complicated to set up on your own, and, if you're thinking of setting up a shop, this could save you a lot of trial and error.
The best option for pricing and plans Is …
If you want to DIY, GoDaddy is the winner. It's much cheaper and offers solid plans and upgrade options that you can switch to at any time.
If, however, you're looking for something easy that will save you time and won't cost that much more, then SquareSpace is the host you're looking for. This is especially true if you're looking to open an online shop. The one caveat is domain registration. It can vary at SquareSpace, so be careful.
Ease of use goes hand-in-hand with how much control you have over your website. The more control you give up, the easier things get. This is where a big difference between GoDaddy and SquareSpace lies. It's hard to compare GoDaddy's basic hosting plans with what SquareSpace offers.
When you go to set up a website on GoDaddy, you could install a CMS and go from there. You could set up your code on the server. You could use their website builder. They don't push you in any one direction.
SquareSpace, on the other hand, wants you to get started with their website builder right away. Yes, you can use and manage your own code, too, but their website builder is the product they are and continue to want to be known for. Choose a template, customize it, and then you're done.
Ultimately GoDaddy gives you more options and a relatively simple experience. They offer a customized version of cPanel as their backend tool of choice.
It allows you to see what you're doing with easy-to-identify icons and will walk you through a number of processes and scenarios, if you so choose, with the help of wizards.
SquareSpace will show you how to set up a website and allow you to edit images using an intuitive, drag-and-drop interface or with the use of buttons and sliders, showing you only what you want to work on, step-by-step.
It's more limited, for sure, but if you're just judging pure ease of use for setting up a website, SquareSpace has it.
You can even play with the builder to get used to it before you sign up for hosting and see if it can do the things you want (though some features are limited for demonstration purposes, and you can't save your work from session to session without a paid plan).
The best option for ease of use is …
SquareSpace makes things elegantly simple. That's their mission, and they succeed at it. It may come at a price but for the convenience and the fact that you can get up and running in only a few hours, with little to no experience, makes this possibly the easiest experience you will come across.
Extra features, as defined in this section, are things that are useful to have for nearly anyone but that a web host doesn't typically offer. This includes things like SSL certificates and integrated tools or features.
If you purchase a managed WordPress plan, you'll get bonus WordPress features. If you buy a plan and then install one of the Templates offered for GoDaddy's Online Store tool, you get secure checkout and some SEO tools. With most plans, they tend to charge for anything that could be considered "extra".
SquareSpace's unique plan structure covers a number of unique features and pre-integrated options. With the most basic of the basic plans, you get free SSL security and integrated website metrics. The former is a paid service at GoDaddy, and the latter is something you have to set up with them.
With the Shop plans, you get included features like those plus zero transaction fees, integrated accounting, and easy-to-set-up abandoned cart recovery and Instagram integration, among other features. What SquareSpace offers to shops, at no extra charge, is much more than what you'll find at GoDaddy.
The best option for extra features is …
SquareSpace undoubtedly offers more with every plan. Yes, their shop plans cost more, and that may be part of the reason they offer so much to start with. But at an average of $6 per month more than a comparable plan at GoDaddy, the extra features offered by SquareSpace may be worth it.
This section is where we reveal who wins in a comparison of the SquareSpace vs GoDaddy website builder.
GoDaddy's website builder is just fine. It's easy to use but very limited. Yes, there are a lot of themes to choose from, but many look either dated or unprofessional. The template options are often uninspired, and building more than one page, let alone a shop, can seem tedious.
Further, if you want to change your theme, you do so at your own risk. Much of your content will be lost or widgets will have to be reconfigured, etc.
SquareSpace offers around a hundred basic templates and more options for customization than GoDaddy by far. They have fully featured shops in all plans, though their shop plans come with better additional features. Their builder is intuitive, and nearly everything can be moved around or customized with your own images, text, or branding.
The Best Option for a Website Builder Is …
SquareSpace wins without a doubt. If you're judging the website builder independent of hosting quality, SquareSpace offers the template and design options you want, as well as advanced features for e-commerce and easy-to-set-up site widgets and modules that can be configured independently of the main template.
Support and customer service
Support for both GoDaddy and SquareSpace is offered 24/7. What channels are available and how long is the average wait for a response?
GoDaddy is one of the few top hosting providers that offers phone support. They also offer web chat or a ticket system. No matter what method you choose to contact them, you're likely to get a prompt response within minutes. Even escalated issues are taken care of within a day, on average.
SquareSpace only offers live chat or message-based support. No call option is available. They also offer an in-depth self-service knowledge base. Responses are thorough, and replies typically take a minute or two with some automated services being used.
The best option for support and customer Service Is …
GoDaddy wins this category by a slim margin. Having phone support can be very comforting for some people. It's a great option to have. However, if you only compare knowledge and response times, then this would be a tie.
Which provider offers the highest level of security, and how do they handle SSL certificates? If you're not sure why you need an SSL certificate or how they work, please watch the video below.
GoDaddy has a paid security package as well as paid SSL certificates. They offer some security on a basic level, but they tend to allow people to run their sites how they see fit.
As SquareSpace's e-commerce shop hosting is a main part of its business, they take security very seriously. An included SSL certificate needs to be set up with every package, and they will do a few verification tests if you have experienced issues or if they feel that something has gone wrong.
The best option for security is …
In this case, SquareSpace offers basic and advanced security to keep both you and your customers secure without the need to set up additional services or pay them more money. That sounds like a winning solution.
Uptime and average page load speeds
Page load speeds and uptime may both, ultimately, affect both your search engine rank and customer experience.
GoDaddy has base page load speeds that are right around the industry average. Their reliability and uptime are, too.
It's difficult to say how SquareSpace's load times compare. They seem to be a bit slower than average, but the complexity of websites offered by SquareSpace may have been the deciding factor. All in all, it's nothing that will make or break their score. The uptime of SquareSpace is right on par with the industry average at greater than 99.9%, comparable to GoDaddy.
The best option for uptime and Average paid load speeds Is …
A tie. Both SquareSpace and GoDaddy offer excellent uptime as well as page load speeds. They are well within the acceptable range on desktop and mobile.


Our #1 Choice For Hosting Blogs
62% Off Exclusive Offer Applied at Checkout
Who offers the best hosting and website builder? Our conclusion
All in all, it really depends on your comfort level. SquareSpace makes things approachable and easy. They offer decent hosting and one of the best website builders for eCommerce.
If you're thinking of opening a shop online, SquareSpace's product is focused on meeting your needs.