Last Updated on
When you're looking to host your website, you need to consider what a host has to offer and contrast that with the price. Ideally, you'll be able to find someone that offers the features you need at a price you can not only afford but that you don't mind paying.
New businesses especially need to keep a close eye on their budgets. In some cases, however, it may be worth choosing a plan or product that costs more if it will save you time and trouble in the long run. That's what this review will help you determine: Who offers the most value when it comes to hosting?
Disclosure
As an independent review site, we get compensated if you purchase through the referral links or coupon codes on this page – at no additional cost to you.
Below you'll be able to read how NameCheap and GoDaddy compare in a number of essential categories. I will also provide you with a category winner and an overall winner in the conclusion at the end of this review.
Below I've defined the 7 features or categories of features I used to evaluate both NameCheap and GoDaddy in order to figure out which host offers the most reliable and reasonable plans for the price you pay for them.
First and foremost, I have compared the most basic plans for every major level of hosting offered by GoDaddy or NameCheap.
Fees and Features You Have to Pay for
Second, the fees and additional features that you may need to pay for, in addition to your hosting plan, will be discussed. This is important because, while some companies offer things standard (like an SSL certificate or security package), other hosts will ask you to pay more if you want them.
Included Value-Added Features
After what features you won't get, we'll go over some of the features you will. These are things that stand out as valuable to most website owners or particularly unique features of a specific host.
Reliability (Uptime and Page Load Speeds)
You want your website to be available and accessible as often as possible. Due to maintenance and the highly technical nature of the hosting process, there will be an occasional "blip" or momentary downtime over the course of your hosting experience. Many times this will be unnoticeable.
Page speed is typically more important, but major hosting providers all fall within a certain page speed standard. Still, this is a thing many people have questions about. And for good reason, as it may—in however slight a way—affect how their websites rank in search engines.
How easy will it be to set up and manage your website? Will there be walkthroughs, wizards, installers, or tutorials?
There's a good chance that at least a third of the people who read this want to know how easy it will be to install WordPress or another CMS. That's why this gets its own section.
Customer Experience and Support
Overall, you need to know if you'll be able to get support when you need it. That's why I've evaluated not only customer support channels and self-service resources, but response times and thoroughness as well.


Our #1 Choice For Hosting Blogs
62% Off Exclusive Offer Applied at Checkout
When you're reviewing for value, you have to look at the NameCheap vs GoDaddy prices and plans. When you're considering the plans below, it's important to know the difference between Cloud, VPS, shared hosting, and a dedicated server. You can learn more about the differences by watching the video below or reading the definitions provided.
If you already know what these terms mean, feel free to skip to this section's actual review.
Shared Hosting
Shared hosting is the cheapest hosting you can get. This is where your website and a number of other websites are sharing a single server, and there are few, if any, clear boundaries. To use a popular example, this is like your website and all the other websites staying at the same hostel, using the same shared resources.
VPS Hosting
VPS Hosting has clearer boundaries than shared hosting. Yes, everyone is sharing the same server, but there are clear limits and fewer websites hosted on a server, in most cases. Resources are more carefully managed, and traffic spikes from other websites are less likely to affect you. This is like renting an apartment in an apartment building with shared common areas.
Cloud Hosting
Cloud Hosting is a lot like VPS Hosting, and many web hosts treat them like one and the same. That, or they offer separate plans that look and act the same once you're using them.
However, behind the scenes, cloud hosting means that resources are spread over several machines whereas with VPS hosting, everyone shares the same physical server. Performance-wise, if you expect to grow your site quickly, starting with VPS or cloud is typically recommended.
Dedicated Servers
Dedicated servers are the most expensive tier because your website (or websites, if you plan to host more than one) is kept on the same private, physical server. This means that no other website will be sharing your resources. This is like renting your own private home.
WordPress and "Managed" Hosting Plans: Managed hosting plans are "specialty" types of plans that may or may not be offered by a given web host. These are not standard and can be difficult to compare. Popular managed plans are usually WordPress or e-commerce specific.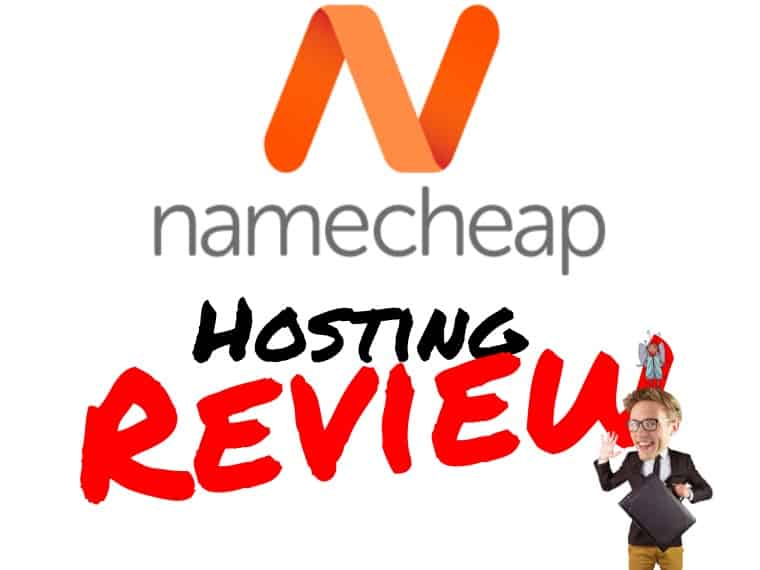 NameCheap is all about offering the cheapest services. But are they worth even the low, low amount NameCheap charges?
All of NameCheap's plans are billed annually, not monthly. Their smallest plan, "Stellar", offers 20GB SSD-accelerated disk space, hosting for three domains, and unmetered bandwidth. That's 1/10 the space GoDaddy offers at about 1/3 the price GoDaddy asks for their most basic plan.
Their next tier offers unlimited everything, comparable to GoDaddy's "deluxe plan". It will cost you $52.88 per year, with a hefty discount your first year. That's about half of what GoDaddy's plan would cost you for a year (before any discounts).
Their "business plan" which—like GoDaddy's—is a VPS plan, costs $98.88 per year and comes with comparable storage, bandwidth, and unlimited websites built. That's about ¼ what a similar plan from GoDaddy would cost.
GoDaddy offers shared, VPS, and dedicated servers. They don't offer cloud hosting at this time, or they may offer it as part of their business services without saying outright that it's something they use.
Their basic plan for $7.99 per month is all right if you're brand new to websites and just want to play with hosting. It's very limited but allows you to use the same features and interface you get with a better plan.
The next upgrade allows you to host unlimited domains and have unlimited storage space with the same features as the basic plan. It only costs $10.99 per month.
If you need more power or want to build a business website that you want to ensure stays up and can handle a fair amount of traffic, then you may want a business plan. They start at $19.99 per month and come with a few e-commerce-specific features but not much else.
Dedicated hosting is significantly more expensive, starting at around $80 per month for their smallest options. This also gets you 3 dedicated IP addresses as well as a free SSL (for a single year).
If you are planning on running just a few business websites or a single website, NameCheap wins hands down. They offer the lowest prices for these kinds of plans. If you need more, then you need a different host.
Fees and Features You Have to Pay for
If NameCheap is so cheap, does that mean it offers less overall? Does GoDaddy just come with more at the basic level?
NameCheap doesn't make you pay for many extras, and the extras they do offer (compared in the next section) are there for everyone, even if you have their cheapest shared hosting plan. As one of NameCheap's pet causes is "a free and equal internet", they live up to their ideals in this space.
GoDaddy charges (a lot) for SSL certificates and security features that should come standard. They also offer some things to you for free for a year, and then charge you on your next billing cycle whether you used the feature or not, unless you specifically opt out.
NameCheap offers what it offers for all. They don't try to hide what they'll bill you for later
Included Value-Added Features
What do these two hosts offer that most other hosting companies may not?
NameCheap offers free SSL certificates for all customers, no matter what plan you choose. They realize that now SSL certificates are mandatory in most applications and are there for you.
NameCheap also offers a decent website builder that will allow you to build a basic informational webpage with a number of social media and video plugins to manage your content. Easy WordPress installs are also available.
Namecheap also offers free backup services and 50 MySQL databases even with their value plan. These are things that are much more limited or completely lacking from other offers and other hosting companies.
GoDaddy offers many things that are similar to what NameCheap will give you. A decent website builder, one-click WordPress installs, or 1-click installs for hundreds of other apps.
If you happen to have a dedicated server or higher-tier business plan, you may also get several things included—like a free domain registration or certain GoDaddy-developed themes or plugins.
NameCheap offers more features to everyone, not just the higher-tier users. Therefore, NameCheap wins this category.
Reliability, uptime, and page load speeds
Overall reliability means that a basic page will load in under a second on either desktop or mobile, while uptime stays at over 99.9%. If your page takes too long to load, whether it's the host's fault or because the page itself is too "large", it will result in
visitors leaving immediately
.
NameCheap meets these standards easily. Their pages load quickly and stay up often enough to meet or exceed industry standards in most recent tests. However, until last year, they had an overall uptime rating of 99.98%, slightly less than their best competitors.
GoDaddy has a similar page load time and reliability rating overall.
Not much needs to be said here. With either host, you have just as short a page load time and just as reliable an uptime rating. Both of these hosting companies meet or exceed the hosting industry standards—it's a tie.
If you're brand new to websites and hosting but need to get a website up yesterday, this is what you need to know.
An easy to use website builder that lets you get a page up quickly (and doesn't bombard you with a few hundred low-quality templates) is your first option from NameCheap. It's easy to use and easily accessible from their cPanel interface.
The modifications they've made to the cPanel make it easy to use for everyone, whether they've used this tool before or not.
For e-commerce, you have several secure apps to choose from within NameCheap's app installer. WordPress and WooCommerce are available and easy to set up as well.
GoDaddy also uses a modified cPanel. Theirs is a bit more complicated and cluttered, just like their website builder.
If all you want is WordPress or another CMS, GoDaddy offers that, too. It's easy to get started in just a few clicks. Their e-commerce solution, for business plans or better, is also easy to use, albeit limited and a bit slow.
Namecheap is simple and straightforward. It has a well designed custom cPanel and great website builder.
Compatibility with CMSs (like WordPress)
You may already have an idea how this NameCheap vs GoDaddy comparison of CMS compatibility will go. They've been pretty evenly matched on features—will it stay that way?
Namecheap offers one of the easiest WordPress installs around. In just a few clicks, you can have WordPress, or an assortment of other CMSs, or apps installed and ready to work with.
GoDaddy offers a similar process. With just a few clicks, or a single click if you want them to fill in some of your specifics, you can have your CMS or apps running.
If you choose a managed WordPress install, however, choosing GoDaddy also means you get access to several Premium themes and plugins for "free". Just for the extra cost of having GoDaddy manage your installation. This means they install updates and create basic backups.
GoDaddy offers WordPress-specific hosting and managed plans. Namecheap does not. This means that GoDaddy wins this category, though if you choose to install WordPress on your own or a basic hosting plan, they are evenly matched.
Customer support & experience
How long will it take to get an answer when you need it, and will that answer be useful? Those are the answers you will find here.
NameCheap offers no phone support. You can submit a ticket or take advantage of their live chat system. Either way, you will likely receive an in-depth response or a request for more information within a handful of minutes. The wait is short, and the support staff know what they're talking about.
NameCheap also offers a 30-day money-back guarantee.
GoDaddy offers 24/7 phone support, live chat, and ticket-based support. You can expect to have a response from any of these sources in just a few minutes, though escalated issues (those requiring expertise) may take longer to resolve.
GoDaddy also offers a 30-day money-back guarantee. It's nothing special, but it could be something you need to know or use if you do decide to go with GoDaddy and end up regretting it.
GoDaddy is unique for offering phone support. Out of all the host's I've reviewed, they tend to win best support for this and this alone. It's a great thing for them to have. Not only is it phone support, however, but short response times when you call. When was the last time you spent all of one minute before being connected to a representative?
GoDaddy vs NameCheap: our conclusion
GoDaddy vs NameCheap, their overall hosting is comparable. When you're looking for value, however, that's where NameCheap wins. They offer more for less and do it consistently. They also offer the customer service and overall stability you might not expect at those prices.
If you want more for less, NameCheap is your winner. It's a great company to work with when you're starting out and to grow with as you build your website or websites.
If you need a host that offers more than VPS, then you've ruled NameCheap out. They only offer a fairly standard VPS plan, no dedicated servers.