Last Updated on
Year after year, the web hosting market gets more competitive. As the battle intensifies, I've chosen to pit HostGator vs Wix—both well respected and highly-demand hosting providers—and compared them side by side to see who wins the crown.
Throughout the years, speed, technical support, and security have remained the key factors that you would have to look at to evaluate how great a hosting provider is, regardless of whether you are hosting a personal, business, or e-commerce website.
Disclosure
As an independent review site, we get compensated if you purchase through the referral links or coupon codes on this page – at no additional cost to you.
If any of these three features, say, technical support, are lacking, or they are all lacklustre, then it doesn't matter what else that hosting company may be offering; you would be better off ignoring them.
Even though Hostgator and Wix fare pretty well in terms of those three basics and in a lot more other features, there's obviously a point where one stands above the other.
So, in this article, I'll be doing an in-depth comparison of HostGator vs Wix to see which would best fit your hosting needs. If you need to know even more afterwards you can find links to both reviews below.
Overview of Wix and Hostgator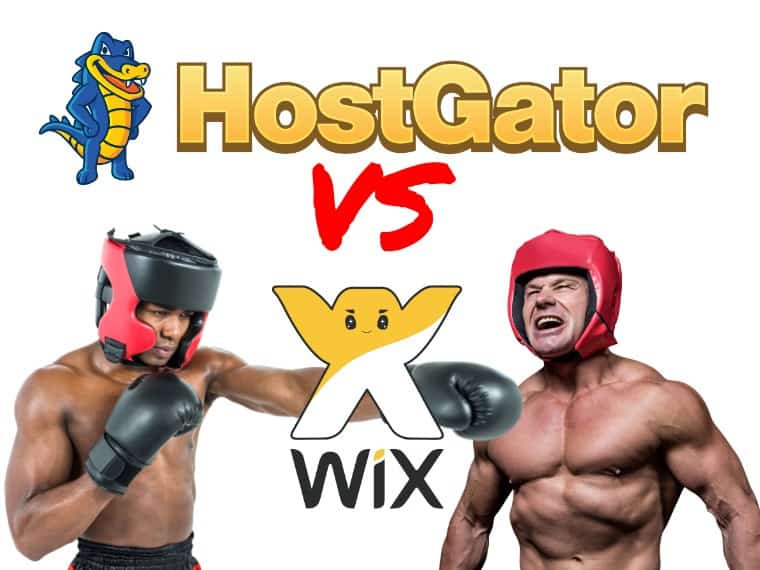 Both of these companies have been in the hosting space for a good number of years, and this partially explains why you might have heard about them.
Hostgator, a global provider of web hosting services, was founded in the early 2000s. Initially, it was based in Florida, but now the company is headquartered in Houston, Texas, with a global presence. Some of the services offered by Hostgator include web hosting, domain name registration, web design, and a website builder tool.
Hostgator is pretty common with bloggers and users of content management systems such as WordPress, Drupal, and Joomla. Also, their Cpanel lets you have more control over how your website is built. But you have to be a semi-technical user and spend more time and effort to hack that.
Wix is a slightly newer kid on the block, having been founded in 2006. It's an Israeli cloud-based company that has rapidly grown in popularity in recent years, with offices in major parts of the world, including the United States.
Wix's website builder is one of the most competitive. Its reputation is built on the fact that you are able to easily create a classy and highly professional website with the help of their Artificial Design Intelligence (ADI) feature.
Below is a video of Wix Founder and CEO, Avishai Abrahami, demonstrating how ADI works:
You could also do it from their website editor. Whether you are a novice or advanced user, Wix has space for you.
We will now go a little bit deeper and see how Hostgator and Wix stack up against each other in terms of top features.
Top features – Wix Vs Hostgator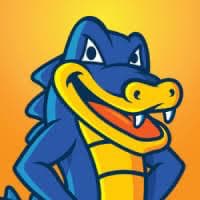 The speed provided by your host is dependent on the plan you choose. This is why knowing your needs to a good degree will help you make the right decision on what hosting company to work with and what plan to go for.
For your business or personal website, web pages that load faster will help you better engage with your customer, while improving conversion rates and providing a better user experience, resulting in a higher Google ranking. The other factors that might significantly affect speed is the website builder you use and the hosting company you choose.
Hostgator has a stellar record in providing their consumer with a relatively good speed, commensurate to the hosting plan you choose. For instance, their Virtual Private Service plans guarantees a Gigabit uplink of 20 Mbit connection, which is roughly 2.5 megabytes per second. Uplink speed is the rate at which data is transferred from the router to your internet service provider.
Once optimized, Wix websites tend to load faster despite being dynamic, which is great for your online visitors. Recently, the company added a new technology named Wix Turbo, which powers up their websites to run even faster.
So, regarding speed, both Wix and Hostgator do exceptionally well.
Wix utilizes a number of measures that ensure your site enjoys the highest level of security. They include multi-layer security solutions, automatic updates, and SSL certificates for all Wix websites.
With Hostgator, you can be sure of protection against DDOS attacks, as well as the provision of a free SSL certificate for processing website transactions. Their servers also enjoy protection from their extensive custom firewall rule plus large ModSecurity rule sets (these are generic attack detection rules that you could use with ModSecurity or any other compatible web application firewalls).
Some of Hostgator's premium plans offer daily database backups and automatic malware removal, among other measures aimed at making their servers safer.
Evidently, Hostgator has more security measures in place compared to Wix. Nevertheless, to date, neither of them has suffered a major security breach that should make you overly concerned about their security features.
If you do not already have a website, you could consider HostGator website builder reviews as a source of inspiration to try out the Gator web builder. Why you should consider the Gator website builder? Here's what to expect from their cheapest plan (starter):
A drag-and-drop option that's easy to use
Customizable templates
Free SSL certificate
Domain included
E-commerce functionality
Mobile friendly templates
Free hosting
Customer support
Wix's website builder free plan comprises the following:
Free domain (not custom)
Free hosting
Free storage and bandwidth (up to 500MB)
Visually impressive layouts
Optimized for mobile devices
Numerous apps on Wix market
Bilingual websites
More than 1000 templates fit for a wide range of industries
Customer support
When it comes to website building, it's certainly Wix's area of speciality, and to say that Wix knocks the ball out of the park when it comes to ease and a plethora of designs, is an understatement.
Benefits – Wix vs Hostgator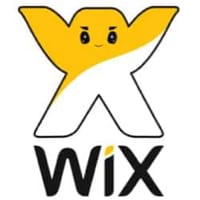 Website building is where Wix thrives. Expect to come across thousands of templates, an intuitive editor, and trendy designs that cater to almost any niche. At first, the platform may appear daunting, but it won't be long before you get the hang of it, and everything else will be a breeze.
Even though they do have blank templates, you don't have to start from scratch. Also, you don't need any coding skills.
Hostgator, too, has their own website builder. It's named Gator and comprises a drag-and-drop interface with pretty much every key feature you would expect from a decent website builder, like a variety of designs, an interactive interface, and ability to create blogs as well as e-commerce stores.
Even though this may look like a tie, from the many user experiences I've gathered, it seems Wix is relatively easier to use compared to Hostgator, due to the simplicity of its platform and the fact it was designed to help mostly novice users who would rather not build a website from scratch.
Hostgator's performance has been nothing short of consistent and reliable. As outlined in Hostgator's agreement, when you are signing up, they guarantee 99.9 percent uptime. Should they fail to hold up their end of the bargain, the company will give you back your money.
In the nine months running up to now, Hostgator's uptime has been 99.9 percent, which is truly remarkable. As for the average page load speed, the average is approximately 0.17 seconds.
But don't just take my word for it, you can access their inbuilt server uptime monitoring through your customer portal.
With Wix, you can also be sure of consistent uptimes of up to 99.8 percent. Wix loading speed is breathtaking and explains why it has become so popular with businesses. In the past few months, the average page load speed of websites built with Wix has been 1.00 second. To check the performance of your site, try out Wix speed test tool, as it gives reliable and accurate results.
Despite the tiny gap in page load speed, performance-wise, both companies seem to do well. A look at both Hostgator and Wix's website builder reviews also reveals little to no dissatisfaction where speed is concerned.
Pricing is among the
big factors
you have to carefully consider before you make a decision on which plan to go with. Hostgator has an extensive array of plans to choose from that are budget friendly as well as high end, depending on your hosting needs.
Hatchling is Hostgator's cheapest plan and is on a sharing basis. At $ 2.75 per month, you can enjoy a domain, have unlimited disk space, and store unlimited subdomains. Hatchling is one of three plans available in the sharing category. Hostgator also has additional hosting plans such as virtual private server (VPS) and dedicated hosting. Hostgator's website builder start at $3.84 per month, with the highest plan retailing at $9.22 month.
Wix currently has a total of 6 paid plans, with the cheapest option being the connect domain at $4 per month. This plan comes with some goodies that include 500MB storage, 1 GB bandwidth, and a free custom domain. On pricing, Wix seems to have more versatility, as they have plans to suit more budgets and a long list of features as you go up the price ladder.
Hostgator offers 24/7 support both on phone and live chat. Their staff is very knowledgeable and competent. But more often than not, they can be overwhelmed by the influx of callers and chat customers on the queue. This is evidenced by the occasional long wait times for both phone and chat.
Wix is more specialized in website building and, therefore, offers exceptional customer support on this front via phone and email, but they do not have a Live Chat. Instead of chat, they have a resource center where you can find nearly all the answers to your queries.
When you submit a question, a detailed answer is usually delivered promptly.
Despite the occasional delay on customer support, Hostgator is constantly improving on it. Wix does a good enough job, but I think adding chat would make their customer support even better.
Comparison of Hostgator vs Wix: our conclusion
Website building and hosting have been made so much easier with companies such as Wix and HostGator. Both seem to be doing great on all the key fronts, from speed, security, and performance to pricing and plan features, among other factors.
My recommendation is, if you are a novice in need of a more specialized and professional-looking website, Wix would be a great fit due to its superior web building tools. HostGator, on the other hand, is a perfect choice for extensive hosting plans, as well as for building websites that do require a very high level of sophistication.