Last Updated on
The choice of a hosting provider is the first step in creating a website. For people who are not experienced with hosting, this can be the hardest step. After all, some hosting providers have hidden limitations, and they promise more than they deliver.
BlueHost and HostGator are two huge names in the hosting industry. They have a similar target market and similar offers, so the choice of BlueHost vs HostGator can be even harder than usual.
Disclosure
As an independent review site, we get compensated if you purchase through the referral links or coupon codes on this page – at no additional cost to you.
When you read this review, that choice should become much easier because I compared all they have to offer, including some things they won't tell you upfront.
BlueHost and HostGator are tied in many aspects, but there are differences. BlueHost is better if you want a website that loads faster, but with HostGator, you get more free features and more reliable customer support, so I believe HostGator is a better choice overall.
HostGator vs BlueHost comparison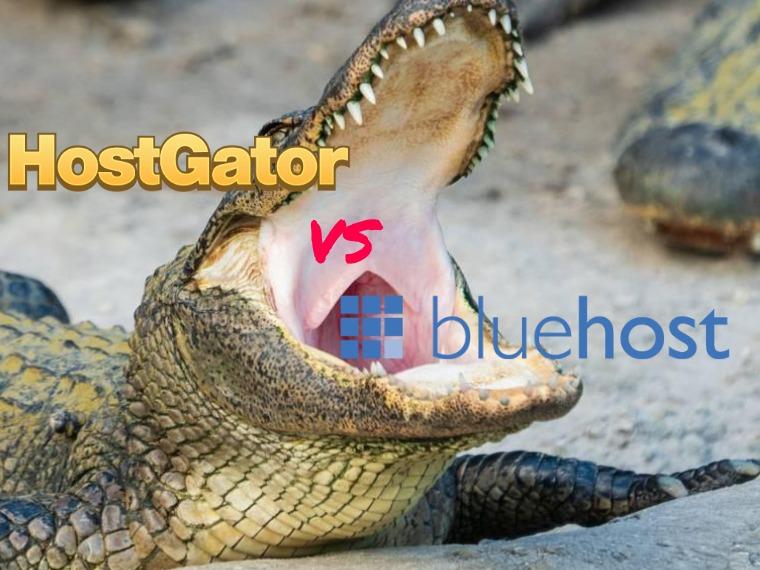 In this review, I compare HostGator and BlueHost side by side in several different categories. You can use the toggle to switch easily between the two.
Now let's see, is BlueHost or HostGator better for your needs?
BlueHost or HostGator ease of use
Setup and management of your website with BlueHost are as easy as they get. You can manage your account, websites, and email addresses from one location – cPanel.
BlueHost's cPanel has a modern design, and it is a bit cleaner and easier to get around than HostGator's. You can customize the layout of the cPanel, this option lets you access frequently used features more quickly.
BlueHost's cPanel gives them a slight edge over HostGator, but you should not worry about ease of use with any of these two providers. When choosing between the two, your decision should be based on other factors.


Our #1 Choice For Hosting Blogs
62% Off Exclusive Offer Applied at Checkout
Compare BlueHost vs HostGator WordPress hosting
BlueHost has one less plan for WordPress hosting than for shared hosting. Here are three plans you can choose from:
Basic: $7.99/month
1 website
1 domain included
5 parked domains
25 subdomains
Plus: $10.99/month
Unlimited websites
Unlimited domains, parked domains, and subdomains
Spam Experts
Choice Plus: $14.99/month
Unlimited websites
Unlimited domains, parked domains, and subdomains
Spam Experts
Domain privacy and protection
Site Backup
Features in BlueHost WordPress plans are the same as those for shared hosting, so there isn't much to add that I didn't mention in the previous section of this review.
BlueHost vs HostGator storage space and bandwidth limits
All BlueHost plans come with SSD storage. Compared to HDD storage, data loads faster from SSD storage which, in turn, makes your website load faster.
Each plan, besides their cheapest WordPress and shared hosting plans, comes with unlimited storage and unmetered bandwidth. Their cheapest plans have a storage limit set to 50 GB.
Although I just said that bandwidth is unmetered, there is a caveat you should be wary of. There are hidden limits to bandwidth that aren't defined. Their terms of the agreement state that "you should not utilize more resources than should be the case in the normal operation of a personal or small business website." This clearly means that your data usage is measured, and that promise of unmetered bandwidth is a blatant lie. What exactly is considered "a normal operation" is left to BlueHost to determine.
I would always choose a host with clear conditions stated over a hosting provider that brags about unmetered and/or unlimited resources, while not providing them. Unfortunately, both hosting providers in this review share this drawback.
HostGator or BlueHost website builder
BlueHost doesn't have its own website builder. They allow you to easily add Weebly builder to your website. Weebly is one of the best and most popular website builders out there.
Weebly is a drag and drop builder that uses a grid system. With a grid system, every element you place will snap in place and auto-align with other elements.
Gator website builder and Weebly are both great for building simple websites. The main difference is the grid system. With Weebly, you don't have to worry about overlapping elements, and with Gator builder, you get more freedom in placing the elements.
HostGator or BlueHost for SEO?
SEO is the most important factor for your website to be found on search engines. BlueHost loves to upsell features you are likely to use, and SEO tools are one of those features.
To get access to SEO tools, you will have to pay an additional $71.40 per year. You don't get much with their SEO tools. They give you the option to submit your sitemap to Yahoo!, Bing and Google. You also get personalized marketing reports and a keyword discovery tool, and that is about it.
I wouldn't recommend BlueHost for SEO. The SEO tools you will have to pay for with BlueHost come included in the plans of many other hosting providers.
HostGator or BlueHost domain costs
For some domains, BlueHost is the cheaper option, while HostGator is the cheaper option for others. Here are the prices for most common domain extensions:
.com: $11.99/year
.net: $12.99/year
.org: $8.99/year
.site: $2.99/year
.online: $4.99/year
.us: $8.99/year
HostGator versus BlueHost security
Starting with BlueHost's Plus plan, you will get Spam Experts with your subscription. This is a service that offers anti-spam email filtering and archiving.
With the Choice Plus plan and Pro plan, you get two additional security options.
The first one takes care of your personal information with the domain privacy protection feature. With this feature, BlueHost replaces your personal contact information with generic BlueHost contact information.
The second one is a site backup with CodeGuard Basic. It provides you with automatic backups that can be scheduled to take place on a daily, weekly, or monthly basis.
HostGator vs BlueHost customer support
BlueHost has 24/7 live chat, phone and email customer support. There are mixed reviews about customer support by BlueHost users.
Those who managed to reach the support were satisfied with the service and gave it top ratings. However, there are also users who reported they were unable to reach the support after multiple calls.
BlueHost versus HostGator speed, uptime and reliability
Both hosting providers have almost constant uptime, but BlueHost is performing much better when it comes to speed. The easiest way to show you this is to give you some data, so you can compare the data yourself. Here is the average uptime and average speed (response time) for BlueHost based on Pingdom's data:
April 2020
Uptime: 99.99%
Response time: 525 ms
March 2020
Uptime: 99.98%
Response time: 584 ms
February 2020
Uptime: 100%
Response time: 421 ms
January 2020
Uptime: 100%
Response time: 404 ms
December 2019
Uptime: 100%
Response time: 566 ms
November 2019
Uptime: 100%
Response time: 365 ms
October 2019
Uptime: 99.96%
Response time: 478 ms
September 2019
Uptime: 99.99%
Response time: 385 ms
August 2019
Uptime: 99.99%
Response time: 351 ms
July 2019
Uptime: 100%
Response time: 386 ms
June 2019
Uptime: 99.98%
Response time: 415 ms
May 2019
Uptime: 100%
Response time: 384 ms
HostGator vs BlueHost pricing comparison
Bluehost prices for shared hosting range from $7.99/month to $23.99/month, and for WordPress hosting from $7.99/month to $14.99/month.
BlueHost also offers other types of web hosting: for VPS hosting you will pay $29.99/month - $119.99/month and a dedicated server will cost you $149.99/month - $249.99/month.
Finally, if you want to become a reseller, you will pay between $18.99/month and $42.49/month, depending on a plan you choose.
BlueHost versus HostGator extra features
BlueHost doesn't have many features included in their plans that I haven't already mentioned. There is a domain manager that lets you track, update, transfer and purchase all your domains from one place.
I already mentioned that BlueHost is known for upselling, so there are some extra features you can subscribe to.
Premium SSL Certificates will cost you $49.99 per year. For $59.88 per month, you can get Office 365 and for $23.88 per domain per year, you can get malware scanner SiteLock.
BlueHost vs HostGator conclusion
The winner is HostGator!
While neither BlueHost's or HostGator's offers seem upfront, HostGator has less upselling after you subscribe to one of their plans. They also have a more reliable support team and offer free SEO tools in some of their plans.
BlueHost versus HostGator final score