Last Updated on
There are hundreds of hosting providers in the market, but today, I take a look at two giants in the hosting industry, BlueHost vs GreenGeeks, comparing the hosting plans and other services that they offer.
Both have made a name for themselves as a reliable and secure hosting providers over the years, so the choice is a tough one. To help you choose between the two, I breakdown their services to help you understand what each has to offer.
Disclosure
As an independent review site, we get compensated if you purchase through the referral links or coupon codes on this page – at no additional cost to you.
With most services, you typically hear that the best option depends on what your needs are? However, when it comes to GreenGeeks vs Bluehost, BlueHost is a clear winner when comparing pricing, hosting options, and overall service. While GreenGeeks provides the best green hosting and exceptional services that are hard to beat.
There is more to the story however as you'll find out, and we also have both GreenGeeks and BlueHost reviews (linked below) if you want to look into those more deeply after reading this article.
OK, let's compare GreenGeeks and BlueHost:
BlueHost vs GreenGeeks hosting comparison
After extensively testing both GreenGeeks and BlueHost, two of the most reliable and powerful hosting providers out there, I drew a comparison between the two to help make your choice easier.
I evaluated the different plans the two providers offer and the advantages for each. This will help you determine which of the two is better suited for your hosting needs.
If you are interested in a particular type of service from GreenGeeks or BlueHost, click on the table of contents on the right to get to the section you need.
OK, let's compare GreenGeeks and BlueHost: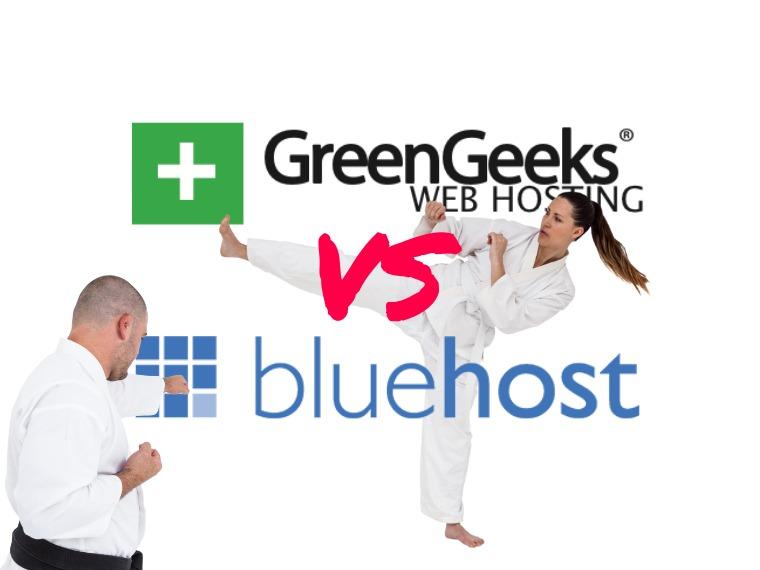 GreenGeeks or BlueHost for shared hosting?
GreenGreeks understands the need for small businesses and bloggers offering them an affordable shared hosting option for their website. The provider has an SSD infrastructure put in even for shared hosting options which ensures your website is on a reliable server.
The hosting account is easy to manage with an online interface where you can do anything from within your account such as transfer site, register your domain, and so on. With GreenGreek you will get 99.9% uptime and will never really have to worry about your site going down, something that is important for small businesses even when looking for affordable options.
Lite: $2.95/month
Pro: $5.95/month
Premium: $11.95/month
GreenGeeks vs BlueHost for WordPress hosting
GreenGeeks' WordPress hosting is based on its shared hosting plan. The provider has an infrastructure that is ideal for hosting WordPress website providing users with unlimited data transfers and storage on its servers with SSD RAID-10.
A platform that is perfect for CMS-based websites no matter how heavy they may be. The provider also ensures that the WordPress core files are updated automatically and isolates each hosting account to provide better security and block attacks on the websites. You will surely get optimal WordPress performance with GreenGeeks.
Ecosite Lite: $2.95/month
Ecosite Pro: $5.95/month
Ecosite Premium: $11.95/month
BlueHost or GreenGeeks for VPS hosting?
GreenGeeks gives businesses the option to expand their website and scale resources as the business grows. The provider gives you the option to choose storage space starting at 25 GB up to 125 GB.
For security, it comes with a Firewall and ConfigServer Security which protects your website and its data. It also backs up the website data every two days, giving users a chance to restore their website once a month for no additional charge.
1 GB RAM: $5/month
4 GB RAM: $20/month
8 GB RAM: $40/month
Dedicated hosting comparison
GreenGeeks provides users with a comprehensive dedicated hosting plan as all its plan come with 5 IP addresses, you have the option to choose data transfer up to 10 TB, and memory of 16 GB DDR3 RAM.
The storage space is up to 1 TB. Unlike all other hosting plans the company offers, dedicated hosting doesn't have an SSD drive, which is the reason why this service isn't as strong as their alternatives.
Entry: $169/month
Standard: $269/month
Elite: $319/month


Our #1 Choice For Hosting Blogs
62% Off Exclusive Offer Applied at Checkout
Compare BlueHost vs GreenGeeks domain registration
These are the prices that your domain extension will renew at, NOT the introductory offers (green denotes the cheaper option):
.com $13.95/yr
.net $13.95/yr
.org $13.95/yr
.tech $54.95/yr
.co $29.95/yr
.website $24.95/yr
BlueHost vs GreenGeeks Website builder
The GreenGeeks website builder has a simple interface that lets you create an information-based website in as little as an hour if you know exactly what you want.
You have the option to choose from tons of website templates that are responsive. They have both free and premium templates. The builder is as simple as dragging and dropping what you want from text to images, making it simple for you to design your business website.
BlueHost vs GreenGeeks speed, uptime, and reliability
GreenGeeks is high on reliability. Its infrastructure of SSD disks coupled with DDR3 RAMs ensures that it offers its customers top speeds.
It also has an uptime guarantee of 99.9% so unless there is a major breakdown or you forget to renew your hosting, your website will never go down.
You get numerous security tools that help keep your site and data protected, making GreenGeeks a reliable hosting platform.
Reseller hosting comparison
GreenGeeks offers resellers wholesale pricing which can cost as little as $2 a month per website. It offers packages based on the cPanel accounts you need from 10 to 50 accounts. You have the option to scale up specific accounts over others when needed so if you have a customer that needs more hosting power, you have the controls to provide that to them.
The reseller platform also relies on SSD RAID-10 technology. While you have the option to white label the program so your customers don't find out that you GreenGeeks is the actual hosting provider.
Reseller 10: $19.95/month
Reseller 20: $34.95/month
Reseller 30: $44.95/month
Reseller 40: $59.95/month
Reseller 50: $59.95/month
GreenGeeks vs BlueHost pricing comparison
Based on 3-year subscriptions (green denotes the cheaper option):
Shared: starting from $2.95/month

Cloud: (not offered)

WordPress: starting from $2.95/month

Reseller: starting from $19.95/month

VPS: starting from $5/month

Dedicated: $169/month
When it comes to pricing, GreenGeeks is known to provide reliable hosting services at affordable pricing. The company runs promotions on and off to offer competitive pricing to ensure its customers get value for their money.
BlueHost vs GreenGeeks hosting conclusion
The winner is BlueHost (with a caveat)!
You may think that the scores are slightly skewed due to the fact that GreenGeeks doesn't offer cloud hosting, and you would be right. BlueHost does either tie or beat GreenGeeks in other hosting categories however even if you don't take cloud hosting into account. With a good score on cloud hosting however, Greengeeks would have tied or even beat BlueHost out!
Between GreenGeeks or BlueHost, BlueHost is the winner this time around, but GreenGeeks isn't too far behind, so you have little to worry about if you make this choice… and you'll also be helping the planet.
GreenGeeks versus BlueHost final score