Last Updated on
Choosing between different hosting companies can be a bit of a challenge as there are a lot of hosting companies, all claiming to be the best in the business! For this purpose, we have put two of the most famous names of the hosting industry against each other.
In this BlueHost vs GoDaddy comparison, you'll find everything you need to know about the two companies and, hopefully, you'll be able to pick one for your hosting companion.
Disclosure
As an independent review site, we get compensated if you purchase through the referral links or coupon codes on this page – at no additional cost to you.
When it comes to hosting comparisons, there are many things to consider: bandwidth, disk space, hardware configurations a.k.a RAM and CPU, uptime, page load, etc. For this purpose, we have compared the different hosting plans of each company and the perks they offer. So, without further delay, let's dive in.
BlueHost is better than GoDaddy in many ways. If we compare pricing on different hosting plans and related perks, BlueHost wins by a big margin. But when it comes to registering domains or reseller hosting, GoDaddy seems to be the clear choice due to more benefits and full control over your hosting.


Our #1 Choice For Hosting Blogs
62% Off Exclusive Offer Applied at Checkout
GoDaddy vs BlueHost hosting comparison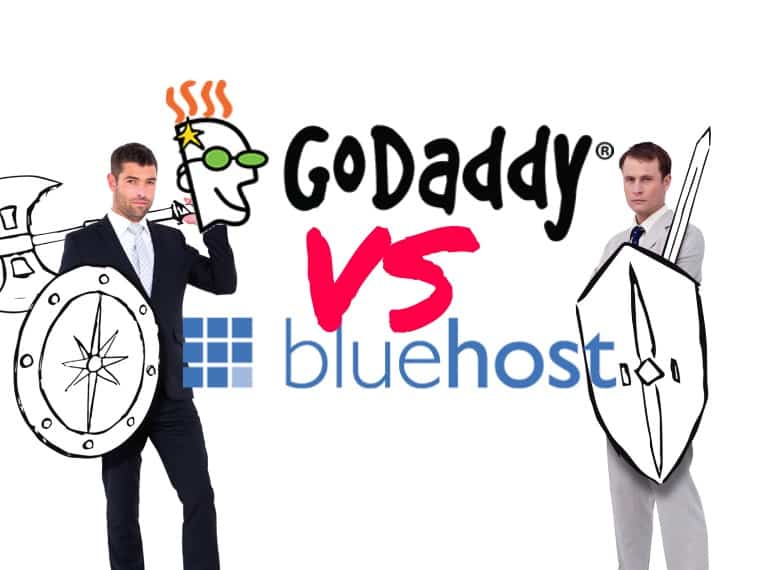 Below, you will find comparisons of the different types of hosting in detail. These include Shared, WordPress, Cloud, dedicated and other hosting plans that each company has to offer.
You'll get an idea of the pricing of the different packages as well as the benefits to help you make an informed decision as to which company should be your hosting companion.
You can simply click on the table of contents to jump to a specific section or you can read the entire piece and leave no stone unturned!
OK, let's compare BlueHost and GoDaddy:
BlueHost or GoDaddy for shared hosting?
Bluehost has four shared web hosting services available for you. The name and pricing of those packages are as follows:
Basic $3.95/mo
Plus $5.95/mo
Choice Plus $5.95/mo
Pro $13.95/mo
Note that the above prices are excluding VAT and only applicable if you choose a 3-year billing cycle; that is, these are monthly equivalents if you pay for 3 years upfront.
If you don't have the budget to for 3 years upfront, you will need to pay:
Basic $7.99/mo
Plus $10.99mo
Choice Plus $14.99/mo
Pro $23.99/mo
Irrespective of the plan you opt for, you will get a Free SSL certificate. This means that you get an additional layer of security for your website at no additional cost.
But that's not all. BlueHost also offers unmetered bandwidth, meaning that you will not be charged on the basis of disk space of bandwidth used. This can come quite handy if you are just starting your online business and you don't have an idea of the resources you are going to use. Of course, unmetered doesn't really mean that you can go crazy on the resources. There are certain terms of services that your site needs to comply with.
Further, BlueHost also offers a free domain with all its packages (even the basic one), provided you buy at least 12 months of any hosting plan. This is certainly a plus point as there are only a few companies currently offering this, so kudos to that.
As you go up the ladder, the benefits in each package start to increase. All the packages (except for the basic one) offer unlimited websites, meaning that you can host an unlimited number of websites with your hosting plan.
Furthermore, the benefits also include:
Spam experts
1 Office 365
Mailbox - free 30 days
Domain privacy + protection
Site Backup - CodeGuard Basic
Dedicated IP
In order to get all these benefits, you will need to select the Pro plan. However, the Plus and Choice Plus plans do have some of the above-mentioned benefits.
In the BlueHost vs GoDaddy comparison, BlueHost wins this round by a mile!
BlueHost vs GoDaddy for WordPress hosting
The pricing of Bluehost's WordPress hosting packages are same as the shared hosting packages. You can choose from 3 different packages:
Basic $3.95/mo
Plus $5.45/mo
Choice plus $5.95/mo
These are the lowest prices you can get (excluding VAT) if you choose to pay for 3 years upfront.
However, if you wish to buy hosting for one year only, then you are required to pay:
Basic $7.99/mo
Plus $10.99/mo
Choice plus $14.99/mo
The Basic package allows you to host only one website, so if you are looking to host several sites, your best choice would be Plus or Choice Plus packages as they offer unlimited number of websites to be hosted.
BlueHost hasn't specified the amount of traffic each package can handle, but all the packages come with a free SSL certificate, free domain, and unmetered SSD storage except for the Basic package, which is capped at 50 GB SSD storage.
One thing we particularly like about BlueHost is the $200 marketing credit that comes with any plan you choose. This means you will get $100 for Microsoft advertising and $100 for Google Ads if you spend $25 on advertising with your new account.
Apart from this, BlueHost also offers automatic WordPress installation and automatic updates. These features can come quite handy if you are not a developer.
Cloud hosting plan comparison
BlueHost has discontinued providing cloud hosting services, so there is nothing to see here folks.
Bluehost or GoDaddy for VPS hosting?
Want superfast servers and greater control for your website? Then consider one of the following BlueHost VPS hosting packages:
Standard: $19.99/mo
Enhanced: $29.99/mo
Ultimate: $59.99/mo
(Prices are based on a 3-year term.)
If you wish to purchase any plan for 1 year, then these prices jump to:
Standard $29.99/mo
Enhanced: $59.99/mo
Ultimate: $119.99/mo
Here are some benefits you can expect with VPS hosting packages:
RAM:
Standard package: 2 GB RAM
Enhanced package: 4 GB RAM
Ultimate package: 8 GB RAM
You also get 2, 2 and 4 CPU cores respectively per plan.
Furthermore, the disk space allocated to each package is:
Standard package: 30 GB SSD storage
Enhanced package: 60 GB storage
Ultimate package: 120 GB storage
An important thing worth mentioning here is that there is a limit on bandwidth and you will get 1 TB, 2 TB or 3 TB bandwidth allocated based on the package you select.
Additional benefits include free domain for the first year and a dedicated IP address but for the high price you are paying, you are entitled to such benefits.
A good thing about these packages is that they come with a 30-day money-back guarantee, so you can claim a full refund if you are unsatisfied
Dedicated hosting comparison
Looking to take full control of a server to better manage your online business? Then try getting dedicated hosting. With dedicated hosting, you can get full control of a server. This means, you can customize the server's resources according to your business needs. Other benefits include: additional security, reliability, and hassle-free maintenance.
BlueHost offers 3 packages for dedicated hosting, and if you choose to a 3-year plan, you will get the following prices:
Standard $79.99/mo
Enhanced $99.99/mo
Premium $119.99/mo
If you don't want to pay for 3-years upfront and wish to take it year by year, then these prices jump up to:
Standard $199.99/mo
Enhanced $159.99/mo
Premium $209.99/mo
Dedicated hosting is the best thing your site can have, so expect nothing but top of the line performance.
Here's what you will get depending on the package you select:
Hardware configuration:
Standard: 4 cores @ 2.3 GHz with 4 GB of RAM
Enhanced: 4 cores @ 2.5 GHz with 8 GB of RAM
Premium: 4 cores @ 3.3 GHz with 16 GB of RAM
You also get a mirrored disk storage of 500 GB, 1 TB and 1 TB respectively.
As for the bandwidth, BlueHost seems to impose restrictions, but it is fair to say that they offer a generous bandwidth that should be efficient for any business needs.
The bandwidth allocated to each package is as follows:
Standard: 5 TB bandwidth
Enhanced: 10 TB bandwidth
Premium: 15 TB bandwidth
Further, you also get 3, 4 and 5 IP addresses respectively.
Compare GoDaddy vs BlueHost domain registration
Unfortunately, BlueHost does not mention domain renewal prices. The only way to see how much a renewal will cost you is by going to your Cpanel after registering your domain.
By default, domains are set to auto renew according to the initial term unless selected otherwise in the Cpanel manually.
Judging by this, we have to declare GoDaddy a clear winner here.
GoDaddy vs BlueHost speed, uptime, and reliability
BlueHost has made a name for itself over the past few years in terms of quality services. With a 30-day money-back guarantee, it's safe to say BlueHost can be trusted with your online business!
With any hosting package with BlueHost, you will get:
Uptime: 99.99%
Speed: a load time of 401ms (0.401 seconds)
Reseller hosting comparison
When you click on the reseller hosting plans, BlueHost seems to take you to another site called "resellerclub.com". Assuming that these two are linked together, here is the pricing of reseller hosting plans that you can get for a 3-year term:
R1: $10.99/mo
R2: $14.49/mo
R3: $16.49/mo
R4: $25.49/mo
One good thing about the above-mentioned plans is that you get the same pricing for every package even if you reduce the purchase term to 1-year. Honestly speaking, this was a good surprise for me as it's quite common in the hosting industry to charge more for a shorter-term plan.
The benefits that you will get from the above plans are:
Free SSL certificates (which is quite common in the industry)
Unlimited emails
Unlimited cPanels accounts
Free WHMCS (except for R1 package)
Coming towards disk space and data transfer, each plan has its own limit, which is:
R1 comes with a 40 GB disk space and 800 GB data transfer.
R2 comes with a 50 GB disk space and 1000 GB data transfer.
R3 comes with a 100 GB disk space and 2000 GB data transfer.
R4 comes with a 200 GB disk space and 4000 GB transfer.
Since we are not entirely sure about the services of resellerclub and there is a lack of information available on the site regarding the hardware configuration of the servers, we'll have to say that the advantage goes to GoDaddy.
GoDaddy vs BlueHost pricing comparison
Based on 3-year subscriptions (green denotes the cheaper option):
Shared:

$3.95 - $13.95/mo

Cloud: N/A
WordPress:

$3.95 - $5.95/mo

Reseller:

$10.99/mo - $25.49/mo

VPS:

$19.99 - $59.99/mo

Dedicated:

$79.99 - $119.99/mo
BlueHost hosting vs GoDaddy hosting conclusion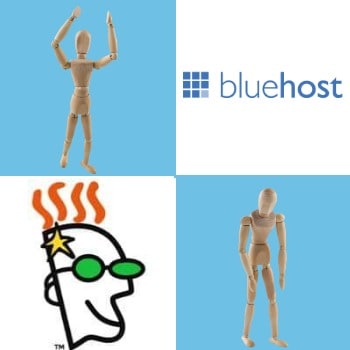 The winner is BlueHost!
It's quite evident that BlueHost provides quality hosting services at better rates than GoDaddy. And it's not just the pricing!
BlueHost is our pick with an easy-to-use interface, one-click WordPress install and automatic updates and a 30-days money back guarantee.
BlueHost versus GoDaddy final score