Last Updated on
Comparing Squarespace and Bluehost is not an easy task because they are completely different types of companies. Squarespace is a website builder that comes with hosting included. Bluehost is just a hosting provider. Although it is hard to tell which one is better, this makes the choice between the two easier.
Bluehost offers a variety of hosting plans. You can get shared, WordPress, dedicated, VPS, and cloud hosting. With Squarespace, you can only get shared hosting, but you also get an amazing website builder.
Disclosure
As an independent review site, we get compensated if you purchase through the referral links or coupon codes on this page – at no additional cost to you.
I reviewed both of the companies in several categories (shared hosting plans, pricing, features, SEO, reliability, etc.) and rated them according to their performance. You can check out any of the specific categories or read the whole article. No matter which approach you take, you will find all the important information about these two companies. By the end of this review, you should know much more about each of the companies and have an easier time deciding between the two.
Both companies have services that are easy to use and they offer excellent uptime and decent speed. Bluehost is better for having more CMS options and offering a variety of hosting types. However, Squarespace is better overall because Squarespace's plans come with more and better features, so you will get more value for your money with them.
Squarespace vs Bluehost comparison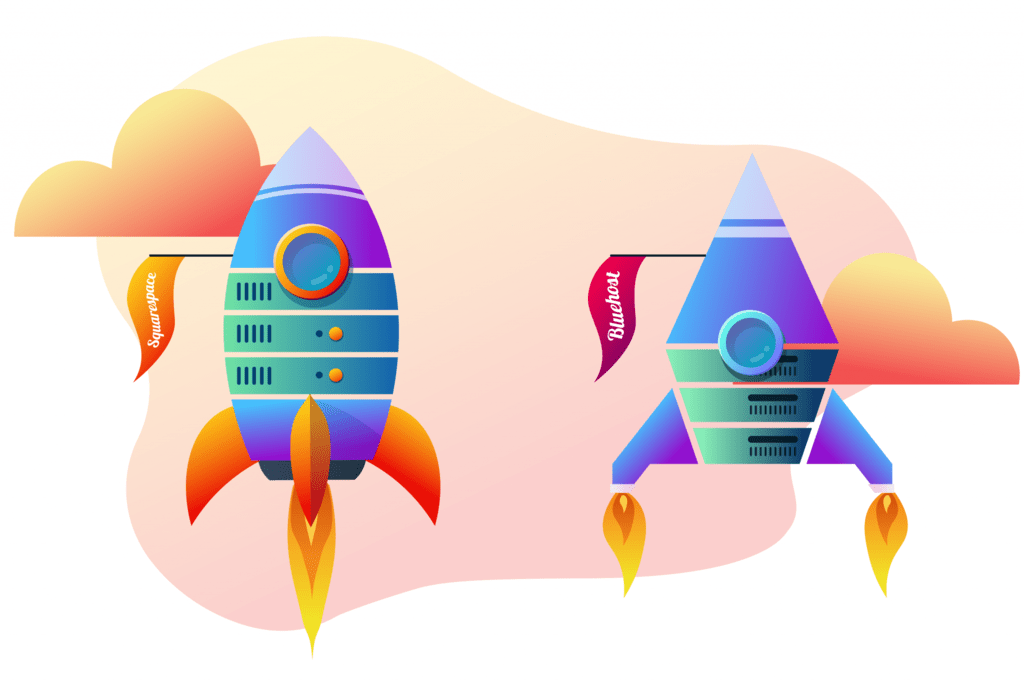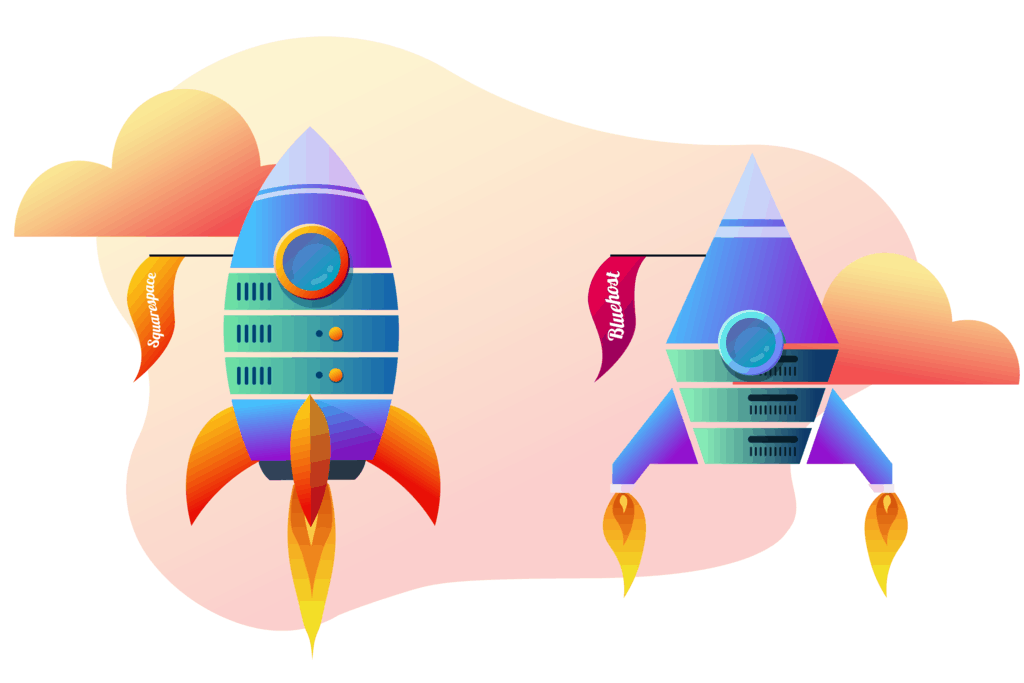 It is time to compare Bluehost and Squarespace; just don't forget to use the switch to toggle between the two:
Bluehost or Squarespace ease of use
Bluehost makes it easy for users to set up and manage their accounts and websites. All management is done from Bluehost's cPanel. The thing that greatly contributes to user experience is the layout customizability of Bluehost's cPanel. This feature lets you access features you frequently use more easily.
If you are already experienced with some CMSs, you will be happy to know that with Bluehost you can install most of them with just one click. This way, you can easily start using Bluehost with the CMS you are already familiar with. While we are on the topic of one-click installs, there are also a bunch of apps you can install that way directly from Bluehost's cPanel.
Bluehost is really easy to use, but as you will see, Squarespace isn't lagging behind Bluehost in that aspect. Both companies pass ease of use tests with flying colors.


Our #1 Choice For Hosting Blogs
62% Off Exclusive Offer Applied at Checkout
Compare Bluehost vs Squarespace features
The best thing about Bluehost is the support for a variety of CMSs. You can choose from among WordPress, Joomla, Magento, Fantastico and PrestaShop.
All plans come with a free SSL certificate and built-in CloudFlare CDN. Other than that, there are some additional features you can get if you pay extra. You can get a dedicated IP for $5.99/month. Premium SSL certificates start at $49.99/year and SiteLock for $23.88 per domain per year.
Bluehost doesn't have many features even if you pay extra. Squarespace, on the other hand, has a bunch of cool features. This makes Squarespace the clear winner in this category.
Squarespace vs Bluehost shared hosting
When comparing Bluehost vs Squarespace for shared hosting, you should be aware of their key difference. Squarespace is a website builder that comes with hosting, and Bluehost is a hosting provider that lets you use a website builder. Because of that, you will see more hosting-related differences in Bluehost's plans.
With Bluehost's Basic plan, you get a free domain and SSL certificate. The Basic plan lets you create one website and 5 email accounts. You also get $100 marketing credits for Google Ads and $100 for Microsoft advertising.
By upgrading to the Plus plan, you will be able to create an unlimited number of websites and email accounts. You will also get access to Spam Experts for 1 domain.
The Choice Plus plan comes with free domain privacy and protection in addition to all the features from previous plans. The most important perk of the Choice Plus plan is access to automated backups.
Bluehost's most expensive shared hosting plan is the Pro plan. It comes with a dedicated IP and premium SSL certificate, and it lets you use Spam Experts on two domains.
Bluehost and Squarespace storage space and bandwidth limits
If you read any of my previous reviews, you probably already know that I hate when hosting providers market unlimited bandwidth and storage. In short, something like that doesn't exist, and that is exactly what Bluehost is promising in all their plans besides the Basic plan.
What that really means is that there is an unspecified amount of storage and bandwidth you get to use. With the Plus and above plans, you get to use as much storage and bandwidth as you want, as long as you are not using it excessively. Excessive usage will be determined by Bluehost, and you will be asked to either reduce the usage or upgrade to an appropriate plan.
The only plan with specified limits is the Basic plan. It lets you use 50 GB of website storage and 100 MB of email storage per email account. The good thing is that Bluehost uses storage SSD storage in all plans, so you can expect your website to load fast.
Squarespace or Bluehost website builder
Bluehost doesn't have a website builder, but you can easily add Weebly drag-and-drop builder to your Bluehost account. The other option is to use WordPress for building your website.
Weebly has a free plan, but that plan isn't feature-rich. To add any other version of Weebly to your Bluehost account, you will have to pay a separate subscription.
The end results of building a website with Weebly and Squarespace are similar, but how you get to the end result is where these two differ. Weebly has an easier learning curve, but when you learn how to use both of the builders, creating a website becomes simpler with Squarespace.
The best thing about Bluehost is that you get to choose if you want to use a website builder or WordPress to create a website.
Bluehost vs Squarespace SEO
To access Bluehost's SEO tools, you will have to pay $71.40/year. The SEO tools will calculate your overall SEO score, let you submit your site to Google, Bing, and Yahoo, keep track of your visitors and give you access to a few other analytical features.
All in all, the tools you get are quite basic and aren't worth the price. The best solution to get good SEO with Bluehost is to choose WordPress hosting and install some of the free plugins that let you handle your SEO better than with Bluehost's paid SEO tools.
Bluehost vs Squarespace domain costs
Registering a domain is cheaper with Bluehost if you don't want any extras on a domain. With Bluehost, you just get a domain and you have to pay additionally for any extra features. For example, domain privacy will cost you an additional $14.88. Here are the prices of some of the most popular domains:
.com: $11.99/year
.net: $12.99/year
.org: $8.99/year
.site: $2.99/year
.online: $4.99/year
.tech: $11.99/year
Squarespace and BlueHost customer support
BlueHost has 24/7 live chat, phone and email customer support. Reviews by customers are mixed. There are lots of reviews by customers who managed to reach the support and were satisfied with the service. Some users reported they were unable to reach the support even after multiple calls. Some users claim customer support hasn't been able to resolve their issues.
Since there are so many mixed reviews, we can conclude that at least some users didn't get the support they needed.
Squarespace vs Bluehost speed, uptime and reliability
Bluehost has almost constant uptime and excellent speed. I checked how they performed over the past 12 months, and these are the results based on Pingdom:
April 2020
Uptime 99.99%
Response time: 626 ms
March 2020
Uptime 99.98%
Response time: 584 ms
February 2020
Uptime 100%
Response time: 421 ms
January 2020
Uptime 100%
Response time: 404 ms
December 2019
Uptime: 100%
Response time: 566 ms
November 2019
Uptime 100%
Response time: 365 ms
October 2019
Uptime 99.96%
Response time: 478 ms
September 2019
Uptime 99.99%
Response time: 385 ms
August 2019
Uptime 99.99%
Response time: 351 ms
July 2019
Uptime 100%
Response time: 386 ms
June 2019
Uptime 99.98%
Response time: 415 ms
May 2019
Uptime 100%
Response time: 384 ms
Bluehost vs Squarespace pricing comparison
Bluehost has four plans for shared hosting. The Basic plan costs $7.99/month. For the Plus plan, you will have to pay $10.99/month and for the Choice Plus plan $14.99/month. Their most expensive shared hosting plan is the Pro plan and it comes at $23.99/month.
Bluehost is obviously the cheaper option, but you will have to pay for additional features if you want your plan to be on the same level as Squarespace's plans. Despite the cheaper pricing, my verdict of this section goes in favor of Squarespace because they have better value for money.
Bluehost vs Squarespace conclusion
The winner is Squarespace!
Bluehost is a good hosting provider for people who don't want website builders. However, you wouldn't be reading this review if you weren't considering using a website builder. With Squarespace website builder, you can easily create mesmerizing websites with no technical knowledge. Squarespace also has excellent features and templates. Considering everything you get with Squarespace, it is well worth its price.
Bluehost versus Squarespace final score


Our #1 Choice For Hosting Blogs
62% Off Exclusive Offer Applied at Checkout
Bluehost or Squarespace FAQs