Last Updated on
Today, we will talk about two POS system providers. To decide which one to choose, you first need to know what important factors of the POS system to look out for. Let's go over that checklist.
It is important to check if a POS can process all payment methods you are going to need. If you expect customers to mostly pay with debit cards, and the POS system you choose can't process them, you won't have much use of its other features.
Disclosure
As an independent review site, we get compensated if you purchase through the referral links or coupon codes on this page – at no additional cost to you.
Good inventory management tools are a must-have. We live in a digital age and you shouldn't settle for a POS system unless almost all inventory management is automated. It should also include good report and analytics tools, so you can keep track of how your business is doing.
You should also pay attention to how well your physical locations and online store sync, and what are digital marketing and SEO features you get. For your sales to increase, your business must be easy to find online.
So, who is better in doing this, Square or Shopify? Let's find that out by pitting them against each other.
Square is slightly better for merchants that have exclusively brick-and-mortar stores, but Shopify is much better in all other aspects. Better eCommerce  handling, more features and payment gateways, and more sophisticated inventory management are some features Square can't compete with.
Shopify vs Square comparison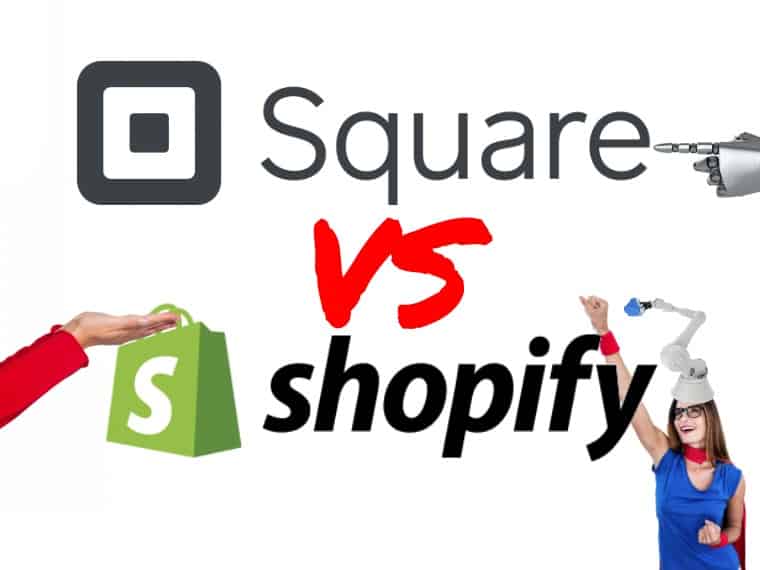 Don't forget to switch between Square and Shopify by clicking on the toggle button. If you are ready to read on, it is time to start this Square vs Shopify battle!
Square online store or Shopify ease of use
Both companies have product lines designed to make it easy for small businesses to use. POS setups are easy to learn, so training your employees shouldn't be a problem no matter which of the two companies you choose.
Website building software in most cases doesn't require any coding knowledge. Customization options are designed in a way that you can understand and use them with no technical knowledge. Payment processing charges are made simple, so even people creating their first shop will easily get a grip on this.
Both Square and Shopify will be easy to use both for you and your employees. They are both handling ease of use better than what you would expect based on industry standards, so they both get 5 out of 5 stars for ease of use.
Square vs Shopify templates, themes and customizability
Square has a somewhat different approach to templates than most online store builders. There are no premade themes you can choose from. Instead, you choose a template based on the industry you are in and proceed by picking the layout, fonts and colors the template will use.
Once you choose the basic options, you continue by adding website pages that start as collections of content blocks. The layout of a page is completely customizable; you can add, remove and rearrange custom blocks as you see fit. Initial collections of content blocks you select are just premade layouts that work well.
Customizability isn't as great when it comes to text. You are limited to only three options of text size. There is also a problem with text boxes. The shape, location, and size of text boxes can't be adjusted, and that can be frustrating.
Customizability also suffers from a lack of an option to access HTML or CSS of your website. This means that the only way to customize your website is by using the design tool.
Themes, templates and customizability are Square's weakest point, so if this is important to you, you should consider using Shopify.
Compare Shopify or Square eCommerce features
Both services accept payments from all major credit card networks. The benefit to using Square lies in Square's ability to process all payments offline. Shopify is limited to accepting cash and custom payment methods offline. There is also a limitation to Square's payment processing; if you choose Square as your POS system, you will have to use Square as your payment processor.
Paying taxes is an important part of every store. Square has a tax calculator that will calculate the exact amount of taxes you will have to pay, as long as you input your tax rate information.
Square's inventory management system will update the amount of products with each sale and stop selling products automatically once it is out of stock. One important feature it is missing is the automated adjustment of inventory levels when your product is returned.
An important eCommerce feature you should look out for is the possibility to add options and variations for your products. With Square, you can create option sets that you can easily apply on all similar products, and then just add the variations for each product.
If you don't know what the difference between option and variation is, let me explain with an example. Let's say you are selling shirts in your store. Different options would be size and color of the shirt. Variations of the option color would be purple, black, orange, etc.
Square has a feature called Abandoned Cart Saver, which is their version of abandoned cart recovery. It sends emails about abandoned carts to customers who added an item to their cart and left the cart without purchasing anything. Unfortunately, you don't get this feature in their Free plan and the Professional plan.
Your shipping features will depend on a plan you choose. You can charge the shipping rate based on weight, item quantity and order total with each of the plans. Paid plans let you access real-time shipping rates with UPS, USPS, and FedEx.
Square also has support for unlimited amounts of products, multi-channel selling, tools to sell on Instagram, shipping calculators, gift cards and sales coupons.
While Square has eCommerce features that will satisfy small businesses, bigger stores won't be overjoyed with what Square has to offer.


Our #1 Choice For Hosting Blogs
62% Off Exclusive Offer Applied at Checkout
Square and Shopify SEO & marketing features
Square is a terrible option when it comes to SEO and marketing tools.
Aside from Instagram and Pinterest integrations, the only marketing tool they offer is called Square Marketing. It is a tool that lets you create and manage email marketing campaigns. The cost of the Square Marketing tool will depend on the number of reachable customers in your customer directory. The price starts at $15/month for up to 500 reachable customers.
There is an app store with additional apps that can add some marketing features, but it is also very limited. In the marketing & analytics category, there are only 9 (no, I didn't forget to add any 0s after the 9) apps, and half of them (rounded down) are analytics only apps. To fully comprehend how miniscule that number is consider this fact: the number of subcategories in the marketing category in the Shopify app market is larger than number of apps in Square marketing and analytics category.
When it comes to SEO, you can add descriptions of your website, pages and products that will appear in search engines, and that is about it.
Square POS vs Shopify POS
Square doesn't have a huge number of payment options that Shopify offers, but they also let your customers pay through multiple payment options in a single transaction.
One thing where Square is better than Shopify is in handling offline payments. The Square POS system can handle all supported payment methods when it is online. For accepting credit cards in offline mode, it is only important you get the system back online within 72 hours of completed transaction.
Squares POS inventory system keeps track of inventory across all your brick-and-mortar and online stores. It flags products that are close to getting out of stock and notifies you through email, so you can replenish stocks in time.
When you issue refunds with Square, you will get a refund from Square for all the processing costs.
The POS system is where Square truly shines, and if you are only looking for POS system in your brick-and-mortar shops, it does the job better than Shopify
Shopify vs Square apps & add-ons
Compared to Shopify, Square has a really small app store. There are around 200 apps in total in the Square store, which is fewer than the number of apps in an average category in Shopify shop.
You can add some functionality with apps in this store, but if you love flexibility that comes with tons of apps, you should go for the Shopify POS system.
Shopify vs Square customer support
Square has excellent customer support reachable through multiple channels. Live chat and phone support are available Monday to Friday from 6 a.m. to 6 p.m. PST and Saturday to Sunday 8 a.m. – 5 p.m. PST. Email support is available 24/7.
Other than that, there is an excellent help center within Square Online Store dashboard, Square's YouTube channel and Blog, which have answers to most common problems.
Square online store vs Shopify pricing
Square has four plans you can choose from, and the great thing is that one of them is free. Let's take a look at them.
Free: $0/month
Automatic sync with Square POS
Instagram & Pinterest integration
Online shopping cart
2.9% + $0.3 transaction fees
Professional: $12/month
Automatic sync with Square POS
Instagram & Pinterest integration
Online shopping cart
Custom domain
No Square branding and ads
Free domain for a year
2.9% + $0.3 transaction fees
Performance: $26/month
Automatic sync with Square POS
Instagram & Pinterest integration
Online shopping cart
Custom domain
No Square branding and ads
Free domain for a year
Customer reviews on your website
Discounted shipping labels
Abandoned cart emails
2.9% + $0.3 transaction fees
Premium $72/month
Automatic sync with Square POS
Instagram & Pinterest integration
Online shopping cart
Custom domain
No Square branding and ads
Free domain for a year
Customer reviews on your website
Discounted shipping labels
Abandoned cart emails
Real-time shipping calculator
2.6% + $0.3 transaction fees
The only benefit of Square here is the free plan they offer. For any other plan, you will get better value for your money with Shopify. For example, if we compare Square's Performance plan and the Basic Shopify, for only $2/month more, you will get better shipping rates and an online store packed with more features.
Square vs Shopify conclusion
The winner is Shopify! There are only two reasons to pick Square over Shopify. The first is if you are going for the free plan they have, and the second is if you plan on having only a brick-and-mortar store. In all other aspects, Shopify outperforms Square.
Square versus Shopify final score