Last Updated on
In this article, we will have the grand Squarespace vs HostGator website builder battle.
If you were wondering who does the job better, one of the most popular hosting services or one of the most popular website building platforms, you are in the right place!
Disclosure
As an independent review site, we get compensated if you purchase through the referral links or coupon codes on this page – at no additional cost to you.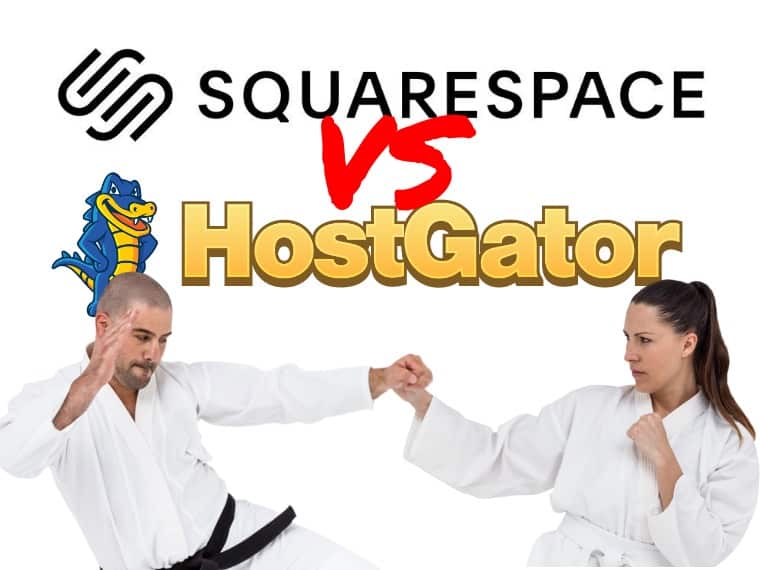 When we compare Squarespace vs HostGator you can clearly see that Squarespace is better in almost every category. However, there is a niche of users that only need the most basic functionality, in this case, HostGator is better because you can basic functionality cheaper from HostGator.
HostGator vs Squarespace comparison
OK, let's compare Squarespace and HostGator:
Squarespace or HostGator ease of use
Like most website builders out there, Squarespace is a drag and drop builder. Dragging and dropping things is a bit more confined than with HostGator's builder. Squarespace uses content blocks that snap into columns once you drag them where you want them.
Element bound options make navigating the options intuitive in the Squarespace builder. You just click an element, and the builder will show you specific style options for that element.
It is worth mentioning that Squarespace makes it easy for restaurant owners to create websites. Formatting menus can give you headaches in many builders. With Squarespace, you can compose a restaurant menu in a simple markup language that is automatically formatted. After you are done, you can customize borders, fonts, and colors.
All the templates are flexible, and you can easily customize them to create the website that fits your taste. One great feature most other website builders lack is the possibility to set the focal point around which your photos will crop. This feature makes it easy to edit your photos so they fit perfectly in your theme
HostGator or Squarespace website builder
Squarespace website builder might not be simpler, but it is more intuitive than HostGator's. It prioritizes the beauty and functionality of your website, over giving you complete freedom.
Squarespace vs HostGator templates, themes and customizability
Squarespace doesn't have as many templates like some other website builders. However, the quality of design and features in their templates is one of the best in the market. You might be so mesmerized with each of them that it could take you days to pick one. Don't worry; Squarespace lets you install multiple templates to work on, and you can switch between them at any point without losing the content on your website.
All the templates are flexible, and you can easily customize them to make the website that fits your taste. One great feature most other website builders lack is the possibility to set the focal point around which your photos will crop. This feature makes it easy to edit your photos to fit perfectly in your theme!
Squarespace vs HostGator ecommerce features
The only Squarespace plan where you don't get fully integrated e-commerce is their cheapest plan. Depending on which plan you choose, Squarespace has all the eCommerce features you will need.
You can sell unlimited products, utilize gift carts, sync your products with Facebook's Product Catalog, and tag products on your Instagram.
With Squarespace, you won't miss out on important features like abandoned cart recovery, point of sale, various tax settings and sell subscriptions.
There is also a possibility to customize donation checkout and email receipts, which makes it a perfect website builder for non-profits.
Squarespace can't compete with some specialized eCommerce builders, but for a general-purpose website builder, it does an excellent job in this field.
Squarespace or HostGator marketing features
Blogs are an important part of marketing, and Squarespace has excellent blogging features. They include post tagging, sorting posts in categories, customizable URLs, etc. For blogging groups, there is a feature that enables adding multiple authors on a single post.
For email campaigns, you can use Squarespace's platform or integrate MailChimp. There is nothing special to mention about SEO and social media integration. Squarespace follows industry best practices but doesn't offer anything that stands out.
HostGator or Squarespace features
In previous sections, I already mentioned features that make Squarespace great for restaurant owners and non-profit organizations.
Squarespace also has a great audio block with a beautiful audio player and excellent support for podcasting. The audio block will make submitting your podcasts and music to iTunes simple and efficient.
Squarespace's form builder with lots of field options and Google Docs integration will make your contact and document management effortless.
When you add images to your website, Squarespace will automatically scale them and save more versions of the images. This way, optimal images will load on every device, reducing load time and showing your website in the best possible light.
Squarespace v HostGator apps & add-ons
Most of the features you can use on Squarespace are integrated into their website builder.
For additional functionality, you can use third-party extensions; however, it is likely you won't need them with all the built-in features.
Squarespace or HostGator customer support
When it comes to 24/7 customer support, Squarespace has only email and social media support via Twitter. Their live chat option is available only Monday to Friday.
Aside from direct support, you can solve problems you run into by browsing the knowledge base, community forum and video tutorials. Help center has an answer to most of the problems you might run into, so resorting to direct support probably won't be necessary.
HostGator vs Squarespace speed, uptime, and reliability
Squarespace has a reliable uptime. Their server response time isn't the best, but it is doing much better compared to HostGator's.
Uptime: 99.5%
Response time: 837 ms
HostGator vs Squarespace pricing
Squarespace has three plans ranging from $12 to $40. All plans come with a free custom domain, unlimited bandwidth and storage, SEO features and free templates. For additional features, you will have to opt for one of the more expensive plans. You can check the features you get with each plan here.
HostGator or Squarespace? Our conclusion
The winner is Squarespace! Squarespace is a platform for building websites, while HostGator is a hosting company that has its website builder. Squarespace invested more effort in creating a good website builder, and it beats HostGator in almost all categories I analyzed.
Squarespace versus HostGator final score
Squarespace vs HostGator FAQs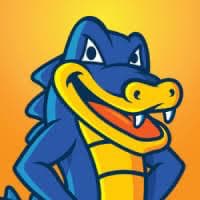 Our #1 web hosting pick:
Get top rated hosting for as little as
$2.64 per Month