Last Updated on
"Make a beautiful website." You've probably heard Squarespace's tagline on a video or podcast before. They've been around for a while, since 2004, but have made a strong marketing push over the past few years. Now they have plenty to show for it as our Squarespace review will show.
Ask just about any hipster under 35 what Squarespace is, and they'll be able to tell you it's a platform for building sites. They're big enough now to afford Super Bowl ads starring Key & Peele.
Disclosure
As an independent review site, we get compensated if you purchase through the referral links or coupon codes on this page – at no additional cost to you.
Does being big, however, translate to offering a great product? They tout fantastic themes and an easy-to-grasp web building interface. They claim to have an all-in-one platform that can take care of everything a user might need—no third-party apps necessary.
It all sounds impressive, so today we're going to take a look at what they have to offer in our review of Squarespace and their services.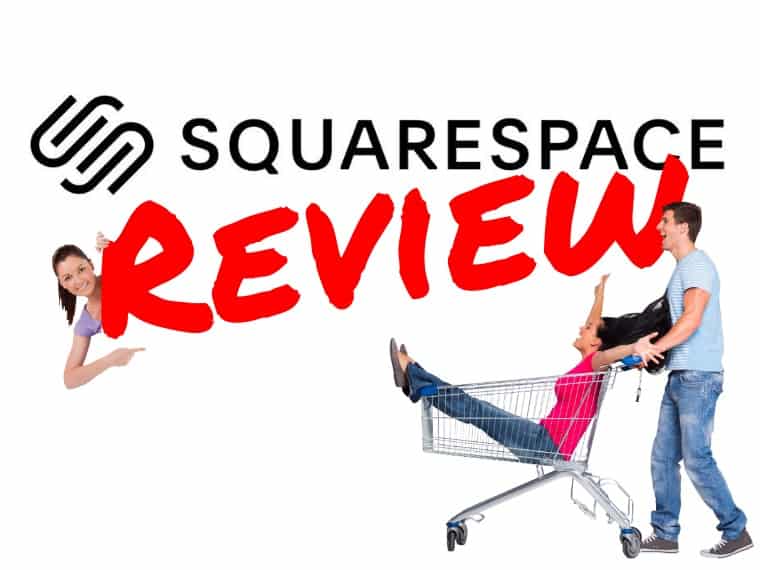 There's a lot that makes Squarespace great. It's an excellent choice if you're a creative professional trying to start a quick site. It also has some worthwhile e-commerce features that rival any other site builder out there. While those (and other) positives are compelling, we need to make sure this is a balanced review.
Squarespace isn't as simple as some other site builders and has a few design choices that left us scratching our heads. Let's review Squarespace.
Review of Squarespace pros and cons
Free trial and ad-free plans
Unlike their competitors, Squarespace doesn't have any options for a long-term free plan. What they do provide, though, is a 2-week trial period where you can get used to their software and see if it's the right fit for you. Because they don't have any "free" plans, everything that they do offer is sans-advertisements. No worries about intrusive Squarespace branding mucking up your pages.
All plans come with unlimited storage and bandwidth. You can also purchase a custom domain so that your site will appear more professional. Here's what they have on offer:
Personal: For simple, personal pages. You get to create 20 pages and add galleries, blogs, etc. They automatically generate a mobile website. You get free SSL security, website analytics, e-commerce support, and your custom domain. This plan runs $12/month.
Business: For starting a small business website. You get an unlimited number of pages, along with the extras provided in the Personal plan. You also get a "professional" Google-powered business email and $100 worth of AdWords credits. This plan runs $18/month.
Basic: You'd think Basic was a low-level plan by the name, but it's actually a beefed up Business plan. In addition to the features offered in Business, you also get the ability to manage inventory, orders, taxes, and discounts. You get access to label printing via Shipstation and integrated accounting through Xero. This plan runs $26/month.
Advanced: This is the cream of the Squarespace crop. You get the advanced features necessary to bring your business to the next level. Now you can implement an abandoned checkout recovery plan. You also get access to real-time carrier shipping. This plan runs $40/month.
Squarespace doesn't yank your chain with any hidden charges or trickery. You can sign up for a yearly term for a discount, but they don't require you to do so. If you feel better about going month to month, then have at it!
You really can make a beautiful site
This is Squarespace's main selling point. You're not going to find better-looking site-builder pages than the ones Squarespace offers. We'd be remiss if we didn't provide you with a Squarespace website builder review, so let's jump right in.
By now, you should know the broad strokes of how a website builder works. Squarespace follows a similar formula to Weebly and Wix. You sign up, then choose a template to match your grand vision.
Squarespace will then prompt you to enter some details about your operation. Your site name, your business name, an address (if you have a physical location). Squarespace will plug that information in to save you the hassle of doing it manually.
Once that's done, it's time for you to get started with Squarespace's editing interface. It's the most beautiful looking out the bunch—minimalist, though simultaneously stunning. It's not always the most straightforward (more on that later) but it does have the tools necessary to come up with a great finished product.
Most builders have some persistent toolbar that lets you select objects that you want to add to your site. Squarespace takes a different approach. When you click on a portion of the page that you want to edit, a box will appear with elements that you can add to the page.
The options include your web builder standards. You can add text. You can add photos. You can throw in videos, social media buttons, and the like. If you're a musician, you can add a player that gives visitors a sampling of your tunes. You can include downloads for your album (or any other digital product) of you so choose. The sidebar in Squarespace lets you add more pages. You can also select from other options like folders, events, links, etc.
Adding a blog to your page is a snap. You can add content to your blog page the same as you would any other. You can save and schedule posts for delayed publishing. You can enable and RSS feed. You can integrate a podcast. You can add comments and like buttons. There's even an option for writing new posts via email when you're out and about.
When it comes to editing images on Squarespace, they've made an effort to give you some worthwhile tools. You can use the Aviary editor to tweak images while you work. You can add galleries that appear as slideshows, carousels, grids, etc. You can add captions, transitions, and the like. You can even source images from Getty Images, with a small fee.
When you are finished, you'll likely be in awe of how slick your site looks. Once you're up to speed on Squarespace's ins-and-outs, you'll be able to create new sites that look professional grade within the span of an hour.
Built with creatives in mind
Some web builders offer hundreds of templates, but only a handful look good. Squarespace has 65 carefully selected themes that all look amazing. They've tuned these to target seven main categories:
Businesses
Portfolios
Blogs
Musicians
Restaurants
Weddings
Personal
We'll take a look at the Gravity template for example purposes. This is straightforward design for performing musicians. Right away you're presented with an example of how your cover page will look on a computer and mobile device. They also show you some examples of great sites others built using the template.
A powerful background image, simple navigation, and an immediate grasp of what the site is all about. This sort of clean layout is exactly what creative individuals need when trying to present a professional appearance. Like Squarespace says, "pick your template based on design, not functionality." You can add the extra features you need in the site building process. No matter which template you use, it will look good, and you will be able to create a page that does what you need it to do for your visitors.
Squarespace reviews hail the superb, responsive design, and with good reason. You can get a look at the full range of themes here. Peruse the selection and draw your own conclusions as to why Squarespace is often called the most elegant site builder on the market.
They make an attempt at eCommerce & monetization
It's difficult for a site builder to compete with dedicated e-commerce options like Shopify. Squarespace makes a good go of it, though, and should be commended. All of the plans give you the option of selling either physical or digital goods. Your store pages integrate naturally with your regular pages, so everything appears seamless.
You can create and manage an inventory. Customers will get a shopping cart so that they add items that they want to purchase. You can add coupons, discounts, and get access to tools to help with taxes and shipping. Furthermore, Squarespace doesn't put limitations on the number of items you can sell. Very useful for when you're trying to expand rapidly.
Squarespace also lets you make money via ads through Google AdSense. If your site traffic is good, you could stand to make a substantial sum through ads alone.
Additional considerations
We didn't touch on Squarespace's customer support yet, and that's because there are mixed feelings depending on what Squarespace website reviews you're checking.
Squarespace has a full-featured help center. You can look up answers to specific questions you might have in their help library. They also feature live chat and 24/7 email support.
On the other hand, though, they don't offer phone support, which is a standard feature among other site builder services. Furthermore, you'll get different responses on the quality of the service depending on who you ask.
We've never had any issues with support, but a fair number of users have made their complaints known, citing less-than-stellar service as the reason for their gripe.
All-in-all though, their support offerings are still strong, and there is an ever-growing community ready to help you out if you get stuck with anything.


Our #1 Choice For Hosting Blogs
62% Off Exclusive Offer Applied at Checkout
Squarespace pricing is... pricey
When you compare Squarespace's plans, they come in somewhat higher than the competition. Weebly and Wix both offer free plans. Their lowest paid plans are also $8/month, compared to Squarespace's $12/month Take a look at our post on SquareSpace alternatives for more details.
Squarespace's high-end plan is also high-priced, considering what comes with it. A few extra dollars might not impact you that much. Businesses on a budget, though, have to consider the extra expense carefully.
...and they skim from your online sales transactions
When you choose one of the two lower-end Squarespace plans, they will deduct a 2-3% fee from your sales on top of the payment processing fee. Not exactly ideal when you are trying to maximize profits when you're just starting your online business.
You can only use Stripe to process payments
Other site builders offer several options for payment processing. Squarespace only uses one—Stripe. They say their high level of integration with Stripe ensures that transactions run smoothly, and there is some truth to that.
There are areas where Stripe is not available, though, and those users are just going to be out of luck. Don't get us wrong; Stripe is a powerful and reliable processor. More options, though, would have been greatly appreciated.
Options can be difficult to navigate
There is a learning curve to using Squarespace's site builder, as it is unlike all the others. Some of the options aren't immediately recognizable, and there are times you'll be hunting through the menus like a madman just trying to locate one specific feature.
Reviews on Squarespace all seem to make note of this—it's beautiful, but tricky when you're first getting acclimated.
Template editing can feel restrictive
Your site will look great, and that's because they limit where you can place objects on your template. If you're used to doing things freeform, you're going to feel restricted by what Squarespace allows. It enhances the end product and keeps newbies from making mistakes, but at the cost of hampering creativity on those who want to experiment more.
Then there's the code editing. Squarespace has a developer platform that lets you tweak CSS and HTML, but it's not what you'd call robust. Beginners will shy away from this option, and advanced web developers might scoff at its limited usability.
Reviews of Squarespace's integration all hammer them for this, and rightly so. They say they have a self-contained platform, which ensures that everything works correctly. That's true, but if there's a third-party functionality that you're dying to add to your site, your hands will be tied. You have to wait until Squarespace deigns to work it into their platform their way, another burden for those looking to do any advanced developing.
Additional considerations
None of these negatives are an absolute deal breaker, but they hamper the overall experience. It's also worth noting that you can get around the third-party restrictions using their developer toolset. Beginner site builders, though, will be intimidated by this feature, which runs counter to the very idea of having the drag-and-drop interface that's supposed to support ease-of-use.
Our Squarespace reviews verdict
We're hoping our Squarespace review helped shed some light on whether or not the platform is right for you. The way we see it, if you're looking for a drop-dead gorgeous site no matter what, you'll find what you need with Squarespace. If you don't like feeling locked in on their all-in-one service, however, you might want to explore other options before you make the plunge.
Its no doubt that they are popular and big (enough to afford Super Bowl ads starring Key & Peele), however, you might want to explore other options before you make the plunge because…
If you don't like being restricted with website builders that can hold you back later, then I've got a great deal for you…
Our SquareSpace review final rating
Reviews for Squarespace note that the platform is slick and has tons of options. It certainly does, and those are both a blessing and a curse.
There are plenty of tools to use with Squarespace, but they seem to be more restrictive in how you can alter their templates compared to Wix or Weebly.
The interface is powerful, but it is also less welcoming to newcomers than its competitors. It's not bad by any means but does take some adjustment to grasp.
Squarespace is a 4/5, and the main review shows you why.


Our #1 Choice For Hosting Blogs
62% Off Exclusive Offer Applied at Checkout