Last Updated on
Have you been looking for a web hosting service provider to help boost your website performance? Two outstanding hosting providers in the market are iPage and Bluehost.
Bluehost and iPage hosting providers are similar in many ways, like having the same type of hosting and multiple sharing features. However, their performance differs with Bluehost providing faster page-loading speeds while iPage supports a wider range of third-party applications.
Disclosure
As an independent review site, we get compensated if you purchase through the referral links or coupon codes on this page – at no additional cost to you.
To help you determine the better option between iPage and Bluehost, I have done the legwork for you and explored their performance, website building tools, and pricing plans. This iPage vs Bluehost review seeks to answer the hard question: "Which is the better hosting option for your blog?" I will also explore key features of each provider and rate them.
A brief look at iPage and Bluehost
iPage is a webhosting company that was started in 1998 by Thomas Gorny. The company is owned by the Endurance International Group and is located in Burlington, MA, USA.
Initially the company was a full web service provider but re-launched the operations as a hosting provider in 2009. The company is well known for its commitment to offering cutting edge hosting services for both new and established websites.
Like iPage, Bluehost is owned by Endurance Group. It was founded in 1996 by Dan Handy, but it was not until 2003 that they first created the first two websites. Since then, the company has grown steadily to become one of the top hosting companies in the world.
In 2009, the company added a new feature referred to as CPU throttling that helps to reduce the users' CPU usage when a lot of server resources are being used. In 2010, the company was acquired by the Endurance International Group. By early 2019, the company has hosted a total of 1.2 million sites on its shared servers.
In this review, Bluehost is rated 4.8 stars because of its impressive speed, affordability, and great support services. iPage also earns a high rating of 4.7 because of its commitment to delivering high customer value and impressive features such as unlimited bandwidth and disk space.
A comparison of iPage and Bluehost performance
To identify the right web hosting service provider, the first component to evaluate is performance. iPage provides high reliability standards via its data centers located in Boston, MA.
These centers have thousands of servers, full-time security, and a pooled server environment. The hosting provider runs its data centers on multiple racks to guarantee users an uptime of 99.9%.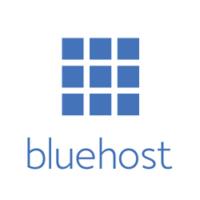 Like iPage, Bluehost has a high uptime of 99.9% that is supported by its kernel and self-managed data centers. The performance of Bluehost is enhanced through multiple fiber lines and full-time monitoring to ensure that any issue that might develop are addressed promptly.
If you take a closer look at the speed of the two hosting providers, Bluehost has an advantage of one second. Pages of websites hosted on Bluehost load in less than 2 seconds while those of iPage load in under 3 seconds. Though this difference is small, it is very important especially for people with websites that stream their content live.
Both Bluehost and iPage have three main types of hosting plans. Here is a closer look at the details of the plans.
iPage shared web hosting plans are the cheapest in its services list. The plans allow for an unlimited number of domains, unlimited storage, and unlimited emails but have a scalable bandwidth. Its price is $1.99/month.
Bluehost shared web hosting offers storage of 50GB and unlimited bandwidth. It only supports one domain. Despite the limitations on domains and storage, the shared hosting plan at Bluehost is pegged at $2.95.
iPage VPS hosting comes with storage of 40GB and bandwidth of 1TB, while Bluehost offers a smaller storage of 30GB but unlimited bandwidth. Both plans support one domain each but differ on RAM. iPage has a RAM of 1GB while Bluehost has 2GB.
Despite the differences in storage, bandwidth and RAM capacity, both companies tag the VPS hosting at $19.99. This means that, even with its smaller storage, Bluehost has a small advantage over iPage largely because of the unlimited bandwidth.
On dedicated server plans, iPage plan is tagged at $119.9/month and comes with 500GB storage, bandwidth of 5TB and 4GB of RAM. On the other hand, Bluehost offers similar storage capacity, bandwidth, and RAM but at a lower price of $79.99. This makes Bluehost the better option because you are assured of top-notch features but at a lower price.
Bluehost vs IPage WordPress review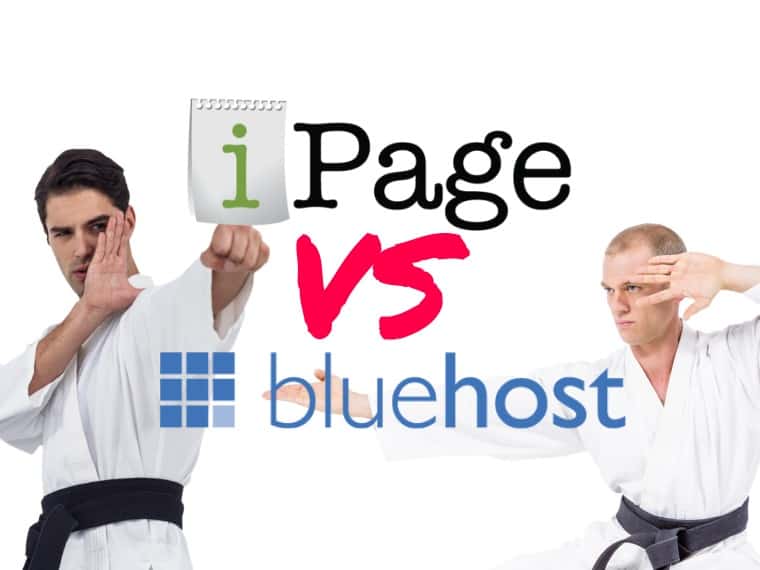 Bluehost WordPress hosting is designed for bloggers and first-time users. The WordPress interface built on the hosting company's VPS platform focuses on enhancing the user's operational speed and ease of use.
Although its WordPress managed hosting is not as customizable as others, the interface makes it easy to navigate while instant provisioning makes it easy for speedy setup. While Bluehost tries to keep WordPress as simplified as possible, it does not reduce functionality for any of the important features.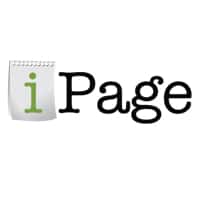 Some of the crucial features on WordPress packages include SiteLock security, Integrated W3 Caching, and content data network (CDN). These features have made Bluehost the undisputed leader on WordPress hosting services.
If you are looking for a cheap and simple-to-navigate host for a WordPress website, iPage is a great place to start. Though iPage WordPress services are not as fast or robust compared to what Bluehost offers, I found a lot of clients expressing their satisfaction with it.
The iPage system provides users with a number of curated WordPress themes that have been tested for optimal performance and usability. Some of the features of iPage WordPress hosting include SSD-based infrastructure that provides unlimited bandwidth, email accounts, and disk space.
iPage and Bluehost page builder comparison
Whether you already have a website or simply want to create a new one, there is no doubt that the process can be quite complicated. This Bluehost vs iPage evaluation established that both companies have put a lot of effort toward simplifying the website creation process by providing an easy-to-use website builder.
Bluehost's website builder is a simplified drag-and-drop model that makes launching new products such as an online brand and store easy and fast. To make your website creation even simpler, they have dedicated support to guide clients in developing their sites in no time. Therefore, you do not need to pay a developer because you can do it on your own.
Like Bluehost, iPage boasts of a professional website builder that allows its clients to create high quality sites in minutes. The builder provides easy-to-use templates with customizable colors, fonts, and schemes.
The iPage website builder also makes it easy to add new forms such as comments, business contacts, and RSVPs, among others. The simplicity of their builder and its ability to help users make high quality sites make it edge slightly ahead of Bluehost.
The video below is a demonstration of how the iPage web builder operates:
Customer support evaluation
On customer support, the two hosting providers have dedicated their efforts to ensuring that clients' queries are addressed as promptly as possible. At iPage, you can reach the support through direct calls, email, and chats.
However, the chats at iPage are offered via tickets. This means that you do not get to talk directly to a customer representative for assistance with your queries. The trick to getting better support at iPage is making a direct call because it is directed to technical engineers.
Like iPage, Bluehost also has multiple communication channels including direct phone line, email and live chat. In this case, the chat easily connects to support representatives who are very professional.
Both iPage and Bluehost have optimized their server security to guarantee clients optimal security for their sites and content. The hosting companies have partnered with top security companies that help to guarantee users top-notch security. For both providers:
CodeGuard helps to protect websites from automated scan and guards the site code from malware.
The SiteLock secures the website to enhance its stability and safer browsing.
SpamExperts are used to block spams from getting to your website email address.
From my iPage vs Bluehost hosting providers review, it is clear that they are similar in many respects. Their security, speed, hosting plans, and money back guarantees are almost identical.
Despite the performance of the two services being almost the same, I found iPage to be a better option for users who are just getting started online and who might want lower rates. However, those who are more experienced in online operations or want better performance should consider Bluehost.
Bluehost was especially impressive because of the rendering speed. Whether you have a website with a lot of visits per month or simply want to provide clients with an exceptional experience, Bluehost is the better option. However, you will also have to be prepared to pay a higher price for its services.
Remember that it is always important to evaluate your needs for hosting services before selecting a specific provider. Do not simply settle for any provider out there; look for the company in line with your specific needs and budget.