Last Updated on
In this article, I will compare two web hosts that target completely different groups. HostGator is a hosting provider that targets beginners. DigitalOcean web hosting, on the other hand, is a provider that targets experienced developers.
The offers they have are tailored for the specific group they target, but it is time to pit them against each other.
How reliable is HostGator? What is the best DigitalOcean yearly plan? HostGator vs DigitalOcean which is better overall? To find out answers to those and many other questions, read on and don't forget to use the switch that toggles between the two hosting providers.
Disclosure
As an independent review site, we get compensated if you purchase through the referral links or coupon codes on this page – at no additional cost to you.
I will compare their pricing, customer support, features, website builders, and all other factors that might be important in choosing the right hosting provider.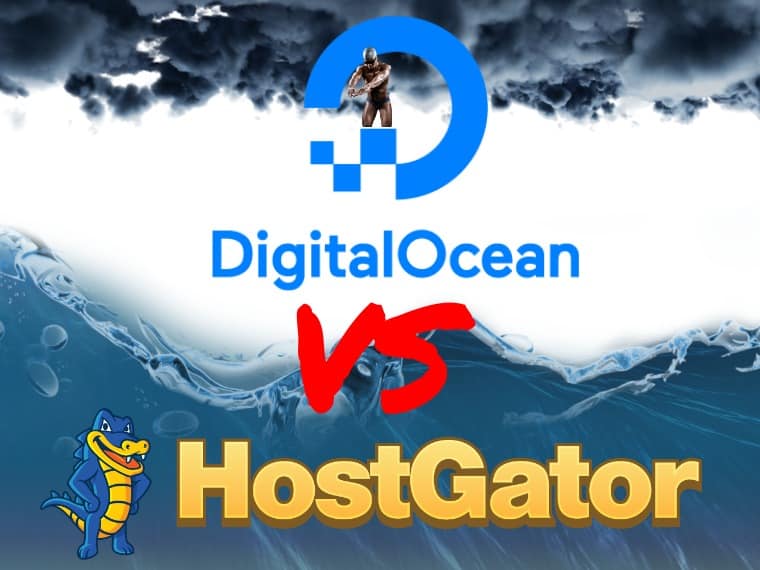 DigitalOcean web hosting offers a greater variety of cloud servers; those servers also have better response time compared to HostGator. However, DigitalOcean's focus on experienced developers results in a lack of some basic features (like 24/7 support), so HostGator is the best choice for most.
DigitalOcean vs HostGator comparison
OK, let's compare HostGator and DigitalOcean:
HostGator or DigitalOcean ease of use
HostGator is a hosting provider suitable for beginners. Everything from signup to launch and setup is quick and easy.
Management of your account and website isn't any more complicated than setup and launch. HostGator uses cPanel, a web-based hosting control panel that most providers use. cPanel uses an easy to navigate graphical interface, which makes management beginner-friendly.
With HostGator, you will have access to various apps and plug-ins that further help you manage your website.
To make things even easier for WordPress users, HostGator has one-click installation support.
One of the most important HostGator's target groups is beginners. Ease of use of HostGator services is suitable for those beginners, and you will feel comfortable with doing everything by yourself even if you have no previous experience in this area.
Cloud hosting plan comparison
HostGator has three cloud hosting plans you can choose from:
Cloud Hatchling: $9.23/month
2 CPU cores
2 GB RAM
Unclear hidden limit to storage
Unclear hidden limit to bandwidth
Cloud Baby: $11.95/month
4 CPU cores
4 GB RAM
Unclear hidden limit to storage
Unclear hidden limit to bandwidth
Cloud Business: $17.95/month
6 CPU cores
6 GB RAM
Unclear hidden limit to storage
Unclear hidden limit to bandwidth
HostGator cloud hosting servers come at somewhat cheaper prices compared to DigitalOcean servers. However, there isn't much variety to choose from, and there are hidden limits to storage and bandwidth. Their website states that bandwidth and storage are unlimited, but if you carefully read terms of use, you will find out that there are unclear limits to both.
If you are a beginner that doesn't have problems with hidden limits, you might be satisfied with HostGator. In all other cases, I suggest you take a look at what DigitalOcean has to offer. After all, DigitalOcean specializes in cloud hosting.
Compare DigitalOcean vs HostGator server locations
HostGator has only two data centers, and they are both located in the USA. One center is in Houston, Texas, and the other is in Provo, Utah.
HostGator can't even compete with DigitalOcean when it comes to the number of servers and their locations.
DigitalOcean vs HostGator website builder
HostGator has only two data centers, and they are both located in the USA. One center is in Houston, Texas, and the other is in Provo, Utah.
HostGator can't even compete with DigitalOcean when it comes to the number of servers and their locations.
DigitalOcean vs HostGator features
When choosing a hosting provider, you probably want to know what CMS, OS, and programming languages the provider supports. Here is the list of those features for HostGator:
CMS Support:
WordPress
Managed
WordPress
Joomla
Drupal
Magento
Fantastico
OS Support:
Language support:
Database Support:
HostGator has the upper hand when it comes to the number of features it supports. It isn't a huge difference, but if you want Windows-based OS or CMS support for Fantastico, you won't find those in DigitalOcean's offer.


Our #1 Choice For Hosting Blogs
62% Off Exclusive Offer Applied at Checkout
DigitalOcean vs HostGator security
HostGator takes care of security problems like DDoS and other possible attacks on servers. They also inform you what you can do to protect your data and website on your end, and inform users of weak passwords every week. HostGator also has a 24/7 monitoring team that works on stopping any attack on servers the moment it begins.
There is also a statement on their website that HostGator employs additional server security methods and precautions that are confidential. It isn't clear what methods and precautions this implies, but HostGator is a quite secure hosting provider
Compare DigitalOcean vs HostGator domains, migration & site transfer
These are the prices that your domain extension will renew at, NOT the introductory offers (green denotes the cheaper option):
.com $12.95/year

.net $12.95/year

.org $12.95/year

.site $0.95/year

.online $1.95/year

.us $5.95/year
When it comes to site transfer, you can do it on your own or get assistance through their free website content transfer service. It is important to note that the second option is available only within 30 days of signup or upgrade.
DigitalOcean vs HostGator customer support
HostGator has knowledgeable and fast-to-reply 24/7 customer support. You can contact them through various means, which include live chat, phone, email, and forum. In addition to English, you can get support in Russian and Chinese.
If you want to try and solve problems on your own before contacting the support, there is a huge knowledge base and numerous video guides on the HostGator website.
DigitalOcean vs HostGator speed, uptime, and reliability
As expected from one of the most popular hosting providers, HostGator has satisfying uptime. On the other hand, their response time isn't up to standard. Response time is the key factor in the load time of a website and shouldn't be overlooked.
Response time: 2.337 ms
Uptime: 99.90%
HostGator vs DigitalOcean pricing comparison
HostGator prices for cloud hosting range from $9.23/ month to $17.95/month if you opt for a 3 year plan. They offer better value for your money but lack the variety DigitalOcean offers. You can't go under $9.23/month if you need the most basic cloud server.
Another problem with HostGator is the lack of transparency with their prices. If you open their website, you will find a bit different prices from the ones I listed in the article. The prices listed there are the prices on discount, and there is no additional information on how long the discount lasts and whether that is the same price that your plan will renew at. To get real prices, you should visit this page
Other considerations: DigitalOcean versus HostGator
Some details don't fit any of the categories above, but I find them important to mention. The first one concerns the amount of control you get. DigitalOcean gives you root access, which lets you configure servers as you like. While this isn't important for most of the users, some developers with intricate desires might find this useful.
Another thing to consider is the content you want to host. With HostGator, you can host websites. With DigitalOcean, you can host almost everything, from game servers to applications. This option makes DigitalOcean an excellent host for those who need multipurpose hosting. The possibility to host other content besides websites is the answer to the question "Why use Digital Ocean hosting?"
If you are concerned by the environmental impact of your website, you will be happy to know that both providers take care to stay green. HostGator offsets its carbon footprint by 130%. DigitalOcean's environmental impact is different for each data center they have. However, only the two New York data centers aren't carbon neutral. The centers in Europe use only renewable energy. In their other centers they offset their carbon footprint by 100%.
HostGator hosting vs DigitalOcean hosting conclusion
The winner is HostGator!
HostGator is the option with a better value for your money. They are a beginner-friendly hosting provider with professional 24/7 support, excellent security, and an option to register a domain with them. The only problems that I find with HostGator are the lack of transparency with prices and limited locations of their data centers.
HostGator versus DigitalOcean final score
Hostgator versus DigitalOcean FAQs