Last Updated on
Selecting suitable web hosting service providers is the start of your site's transition towards being live on the internet. What comes next often confuses people: the choice between Windows vs Linux hosting. Your choice of hosting will significantly impact parameters such as speed, tech compatibility, operational costs, and manageability. As such, it can be somewhat tricky to make the right choice.
If you are looking for the right guide to make a final decision in this matter, then you have come to the right place! Rather than straight up deciding by comparing the difference between Linux web hosting and Windows web hosting, you should start by understanding your requirements first. Each hosting option offers its own overlapping as well as unique benefits. But it goes deeper than that, as it also depends on the resources you have and how well it integrates with your website. Deciding the best solutions for questions such as these is the right mindset to finalize which hosting suits you best.
Disclosure
As an independent review site, we get compensated if you purchase through the referral links or coupon codes on this page – at no additional cost to you.


Our #1 Choice For Hosting Blogs
62% Off Exclusive Offer Applied at Checkout
Windows vs Linux Hosting: here is the difference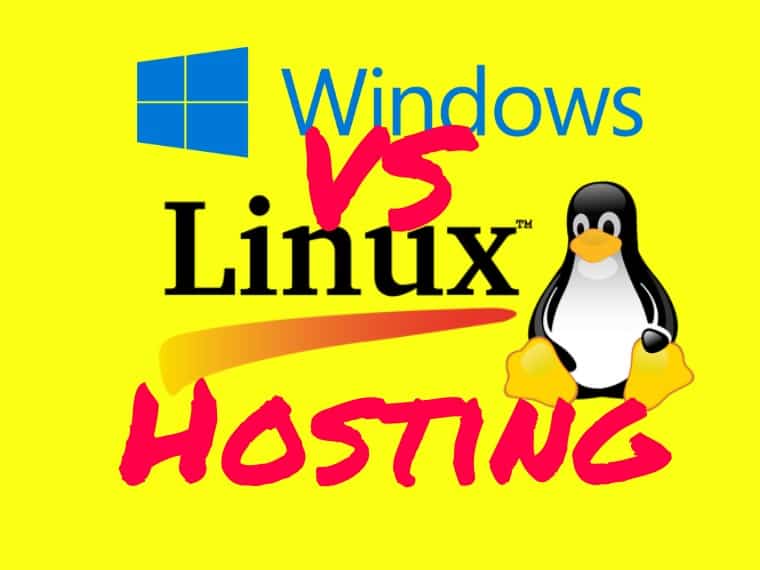 The main differences when pitting Windows vs Linux hosting is to always compare stability, security, costs and efficiency. Linux servers are streamlined and can handle server load without compromising security. Modifications can be implemented without having to restart the entire server.
Windows servers have relatively more background processes, which compromises their performance under extreme stress. Linux is also cheaper, since it is open source, which eliminates the capital for purchasing licensing. It is perfect for shared hosting where clients require a cost effective yet scalable web hosting package.
Linux hosting vs Windows hosting for WordPress
One of the main topics touched on when comparing web hosting is how well it suits WordPress, and this is for good reason. WordPress powers 35% of the internet, which amounts to approximately 455,000,000 websites. As a result, web hosting services have specialized packages for WordPress websites.
When it drops down to Linux vs Windows hosting for WordPress, it is the former which is preferred in most cases. Why, you may ask? The answer is actually quite simple.
WordPress is powered by PHP and MySQL, for which Linux servers are specifically optimized for. Furthermore, cPanel serves as a powerful web hosting control panel to manage your hosting from a single dashboard. Most WordPress websites are lightweight and, hence, can run on shared hosting, which is a speciality of Linux servers. This also significantly reduces operational expenditure, making it an economical option.
Linux vs Windows hosting advantages disadvantages
To simplify, following is a summarization of Linux vs Windows web hosting advantages and disadvantages you can expect.
Cost-effective shared hosting packages
Open source, which significantly reduces legal constraints and operational costs
Enables users to exercise a greater degree of control over their hosting settings
Minimum downtime as majority of patches can be integrated without server reboot
Allows users to design and implement their own security protocols
Perfectly suitable for simple websites, such as CMSs
cPanel makes it easy to manage apps, MySQL and PHP configuration
Has a short learning curve
Shared security model tips more towards the user, which can result in more effort to ensure security
Streamlined UI, which can negatively impact UX for users searching for more interactive options
More restrictive compared to Linux hosting
Designed to fully support Microsoft technologies; e.g., Visual Basic Scripts, MS Index Server
Excellent packages for dedicated hosting
Licensing ensures uniform procedures for deploying and managing web hosting
Automated security updates
Requires less effort to configure and set up
Our recommendations for Linux and Windows hosting
We recommend the following Linux and Windows web hosting services for our viewers. They offer both competitive prices and excellent customer support.
Following is our top rated Linux web hosting recommendation.
Bluehost is always among the top searches for Linux web hosting services. They have maintained their standards since their founding in 2003 and continue to provide professional shared, VPS and dedicated hosting plans. They offer a comprehensive all-in-one package at $7.99/month, which is often discounted to be as low as $2.99/month. It includes a free domain name and SSL certificate for 1 year, which is quite enticing on its own.
We recommend the following as our trusted Windows web hosting service provider.
Hostgator is a renowned web hosting service provider specializing in Windows servers. They also have web hosting packages specifically for WordPress to facilitate users of the CMS. Their most basic hatchling plan starts at $2.75/month. It includes 1 free domain and SSL certificate, cPanel, website transfer and unmetered bandwidth. Their 24/7 technical support is always available to resolve any issues you may encounter.
Hosting with both Linux and Windows
The first thing to do before opting for a hosting plan is analyze your requirements. Forming some basic questions will facilitate in eliciting the requirements. Will shared hosting be enough? Is your website developed using Windows technology? What are your resources for managing Linux and/or Windows hosting? CapEx and OpEx budgets? As aforementioned, every use case is unique in its specifications and requires analysis before committing to a hosting plan.
You must also remember that choosing a web hosting provider with both Linux and Windows servers opens options for transitioning in the future. Also, your choice of OS does not necessitate that your hosting be the same – for example, you can choose Windows hosting even if your PC runs Linux.
Difference between Linux web hosting and Windows web hosting: key takeaways
Linux hosting offers lower running costs, but lacks the advantages accompanied by licensed software.
Linux servers are quite secure but prone to cyber attacks if the user has failed to implement proper security according to the shared security model.
Windows servers are offered automated security patches that are designed to counter latest cyber threats.
Linux servers are streamlined, which enhances its speed in most cases. Windows is specialized for dedicated hosting, making it a viable option for enterprises.
Choosing between Linux and Windows servers for web hosting is dependent on user and website requirements.
Linux and Windows hosting difference FAQ