Last Updated on
Finding your niche was easy and creating dynamic content was really fun. You even managed to figure out how to turn your small little blog into a money maker! Everything is working out for you.
However, it's time to expand your operation. You can no longer function as a simple blog. Your brand needs some backup for all that momentum, so you need to build a website. With so many fantastic options available, it can be extremely difficult to choose the right website builder. How do you know which ones are great? Can you trust them?
Disclosure
As an independent review site, we get compensated if you purchase through the referral links or coupon codes on this page – at no additional cost to you.
In this article, we give you a GoDaddy website builder review (the GoCentral website builder), that GoDaddy promotes. We will break down all the features, helping you figure out whether the advantages outweigh the disadvantages and learn whether or not the GoDaddy web builder is right for your business needs.
GoDaddy GoCentral website builder is basically an online software that lets you create a website without having to know how to code or program. Many of these builders use a drag-and-drop systems to edit sites.
GoDaddy offers an even simpler alternative than drag-and-drop editing system however! Their website builder takes care of all the design work for you. Instead of focusing on rearranging page layouts, GoCentral focuses on goals over site design.
Nearly everyone has heard of GoDaddy. They have advertised all over and have created some of the most memorable Super Bowl ads of the last few years. If you are looking for a good place to host your blog or website, then GoDaddy wants you to know that they're available.
Just so you are aware, the terms GoDaddy and GoCentral are interchangeable, but for the purposes of this GoCentral website builder review, both refer to the website builder platform and not the hosting services. If it's the hosting you are interested in, see our GoDaddy WordPress hosting review.
GoDaddy website builder review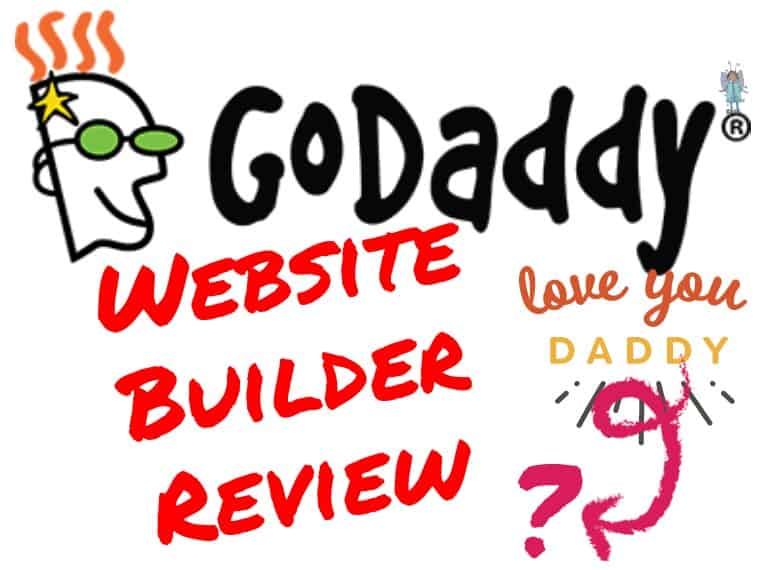 Let's dive into the meat of our GoDaddy GoCentral website builder review and take a look at a lot of the key features that matter when it comes to building a great website through a website builder platform. How does GoDaddy stack up in these categories?
GoDaddy web builder user friendliness
Everyone who uses a website builder wants something easy. Most people turn to these products because they don't have any technical experience in coding, programming, and designing websites. They want a system that they can use to make a professional site without spending too much money hiring experts to do it for them or too much time learning to do it themselves.
GoDaddy is pretty easy to use. Everything is in a very clean interface and the only time it became difficult to use was when we wanted more creative control.
If you don't mind their extremely rigid control over your creative process, they're probably the fastest way to get a site live on the Internet. It takes only a few clicks and some inserted text and voila – your site is online!
Their editor is even friendly towards phones, so you can edit on the go with your smartphone and not worry about how difficult it is to tweak your site.
You get your site built by answering their questions. These questions are pretty simply, but they give the site every piece of information they need to pre-build an attractive site for you, complete with some basic SEO (search engine optimization).
They definitely live up to their slogan of being the easiest way to get online.
The cool thing is that they go in depth. You can choose your niche market and they will go as far as matching free stock photography to your niche for you, so you don't have to go hunt for images for blogs and websites.
GoDaddy website builder review of Elements of design
You always want your site to look great. It should be a reflection of your brand, whether that's sleek and professional or carefree and whimsical. This makes design an important factor in any decision about website building.
GoCentral web builder uses a website questionnaire to lead you to a generated template. The set up doesn't let you use drag-and=drop editing or change very much, but you can select areas and add or delete some. You can change the design a bit, but not nearly as much as with other builders.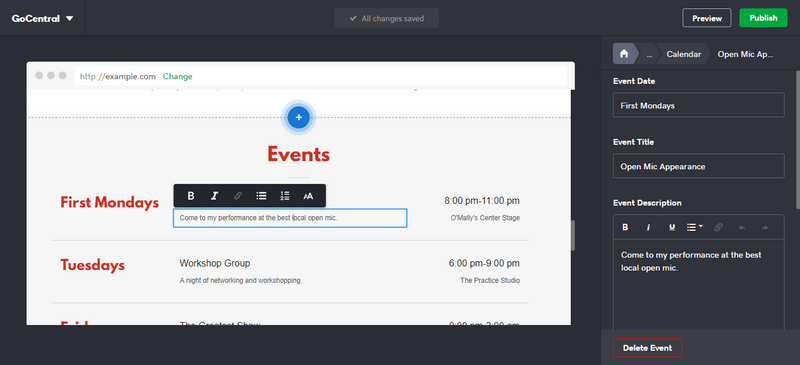 Editing with GoDaddy involves clicking on a particular design element to bring up the options to edit it. Usually, these options allow you to change the text or image, copy it, delete it, or click it and drag. Most of their changes are easy because of this one-click system.
The tool box on the left side of your screen lets you add new elements to your site automatically with a single click. Resize them the way you would any other part on your computer – just drag the corner.
The top navigation bar allows you to save the settings, gain backup and SEO tools access. You can also preview your website for mobile and desktop versions here.
Unfortunately, their templates are pretty limited and don't really have very many major changes from one design to the next. Their themes reflect the fact that it takes very little time to get your website live because they've left out any options to customize each theme for your personal site.
GoCentral online store features
I would not use the GoCentral platform for creating an online store. If you have a decent amount of merchandise to sell, they lack the resources to be a good comprehensive sales tool.
Their ecommerce functions are not hosted in the same place. Users are very picky when it comes to secure checkout systems, and they have every right to be because that's their private banking information. It will be difficult to get them to trust your site when your checkout is hosted on a different domain than your own.
That being said, they do have a few of the basic features. GoCentral allows for abandoned shopping carts, coupons, product variants, several shipping options, digital sales, and offline payments.
Unfortunately, they have just as many weak spots. You can't use gift cards, you can't customized the receipts, and you have to set taxes for each region, which can become very stressful.
Beware of this quirk: The default to newsletters is to offer 10% off any ecommerce orders to subscribers. If you don't want to give them this discount, then be sure to toggle that checkbox off.
GoCentral limits SEO capabilities, but if you use good basic SEO practice you should still rank fairly well in searches.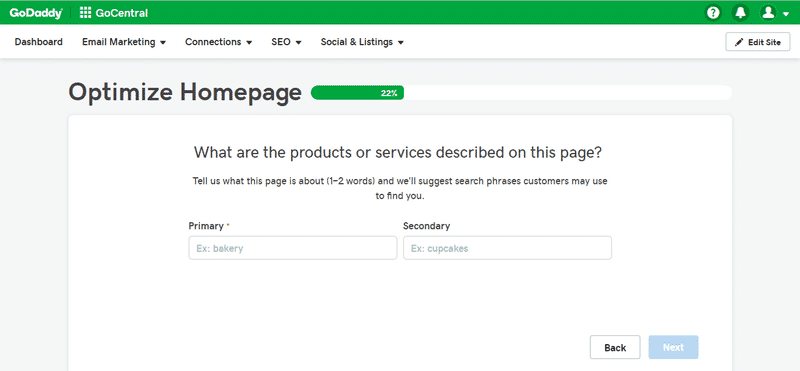 The GoCentral SEO Wizard will let you edit relevant SEO data with ease. Much like the rest of the platform, they will help you step by step. Unfortunately, their headline orders make very little sense and you can't edit them.
You can add Google Analytics to your site to help with SEO, too. This allows you to track your traffic data and learn what works and what doesn't. Their HTML element also allows other SEO tools to be implemented.
Customer service and support
One of the advantages to using the GoDaddy website platform is that it grants you access to their customer service. This is a reputable, well known brand so the customer service is great.
Their online knowledge base has tons of video tutorials to get you started with your website. They have a lot of documentation. Unfortunately, it is all mixed together with the rest of their knowledge base, so it takes some searching to get to what you need.
They also have a round-the-clock support team. Their team is available 24/7 for any of your needs through their live chat and telephone options. Watch out for the phone support, though, because they will often try to upsell you extra products and features.
GoCentral website builder review pros and cons
It is extremely fast. GoCentral was build based off the comment that building websites took too long. It allows you to go live with your site within minutes.
Their plans are usually much friendlier to small budgets than competitors.
The interface is extremely intuitive and user friendly.
Their layouts are all optimized for browsing from mobile devices, so you don't have to worry about how your site will look on a phone.
It is very restrictive. You have almost no freedom over any design element and there isn't much room for code injection if you're experienced enough to add to it.
Their design templates are a bit outdated. They are limited in selection and you can't change very much about them. Unfortunately, they're not as sleek or modern as competitor templates.
Their blogger tool kit is limited. You can't add authors, tags, and videos to their blog capabilities.
Our GoDaddy web builder review conclusion
while conducting our GoDaddy website builder review we found that overall GoDaddy is a decent web builder platform for small businesses who just want to get a functional site up quickly. It doesn't have as many features as other platforms and it puts major limits on how much you can customize a template, but it gets you online in under an hour.
Our GoDaddy website builder review final rating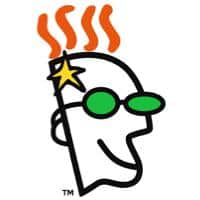 For this GoDaddy website builder review, I am giving GoCentral's website builder 3 stars out of 5.
There are a lot of really great features to use, but in general, it doesn't stand out well from the pack.
While it is user-friendly and offers some clean templates, it is also pretty basic and doesn't allow for much control. Options are extremely limited in the GoDaddy GoCentral website builder.


Our #1 Choice For Hosting Blogs
62% Off Exclusive Offer Applied at Checkout