Last Updated on
Do you know which company offers the best VPS hosting?
Like most things, the answer, unfortunately, is "it depends".
Disclosure
As an independent review site, we get compensated if you purchase through the referral links or coupon codes on this page – at no additional cost to you.
But to make it a little easier I'll tell you my favorite and some of the best VPS hosting providers.
But before we go into that, here's the thing. Unlike shared hosting, with VPS you know exactly what you are getting because virtual private servers are ideal for any business or individual that has outgrown shared hosting but isn't quite ready for a dedicated hosting site.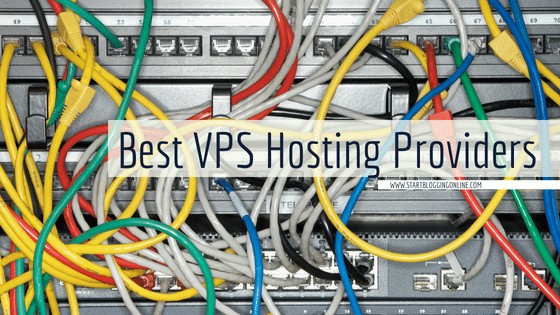 Even if there is a much larger company on the same server, it won't affect you because you are guaranteed an allotment of the system resources.
If you are having trouble making a decision about which provider is best for you…
then Keep Reading because this guide is for you!
Virtual private servers are a great alternative if you are in need of more power, or have specific compliance requirements that prevent you from using a shared server.
If you don't have the budget yet for a dedicated server hosting, you may want to consider a VPS.
When looking for the best VPS server for your business, you should take several things into consideration. Find a company will be easy to manage and ensures you stay up and running. The providers will continuously monitor each account to solve problems before they impact your website negatively.
Use the VPS hosting comparison chart along with our VPS hosting reviews for an in-depth look at your best options.
Best VPS hosting comparison
| VPS hosting company | RAM (Max) | Disk space | OS | Overall rating | Price |
| --- | --- | --- | --- | --- | --- |
| | | | | | |
| | | | | | |
| | | | | | |
| | | | | | |
| | | | | | |
Here are the best VPS hosting providers
HostGator is a good option for the business that expects high traffic or plans to grow quickly. Their completely customizable plans are perfect for businesses who need more flexibility.
If you think your needs may change often, it won't be a problem for HostGator. Upgrade your plan as your site grows and only pay for what you need at the time.
This Linux based provider has both semi and fully managed options, making your decision even more flexible. Whether you want to have complete control of your website or would rather pay the extra bucks to have a managed account is up to you.
HostGator gives you full root access, allowing you to install and customize any software you may need. Your hosting experience will be fully optimized with this provider. For more control of your website, your VPS comes with cPanel and MySQL databases.
With this company, you are guaranteed to have premium hardware and top-notch performance. Each VPS servers utilize 128GB of RAM and 3.6TB of RAID 10 storage. This gives HostGator an extremely high uptime, so your website is fully functional 99.97% of the time.
If you are looking for a web host with a long-standing reputation for quality and a wide variety of features, this is the best option for you.
InMotion Hosting is compatible with Linux-based operating systems. They are deemed one of the best VPS providers for many reasons including their variety of plans to fit just about any budget, good uptime, and loads of freebies.
InMotion hosting VPS benefits
Some freebies that are included with InMotion are free cPanel licenses, unlocked CPU Cores, and free Solid State Drives (SSD), and finally server management. While other VPS providers leave it up to you to do your own updating and patching, InMotion takes this off your hands.
With each VPS, InMotion offers unlimited emails, domains, websites, and MySQL databases. These features are very helpful in saving you money in the long run.
InMotion offers eComerse and website building support through many channels. You can talk directly to their customer support via phone, email, or online chat. They also offer many video tutorials to guide you through its processes. If you still can't find what you need, head over to their forum for support from other users.
There were several reasons that InMotion made the top two of our list. A few things that contributed to their overall high score include outstanding customer service, good uptime, and unlimited email, domain, websites, and MySQL databases.
InMotion Hosting is recommended for professional businesses of just about any size due to their high performance and customer support.
A2 Hosting is one of the only hosting providers that give you the option of a completely unmanaged site. This option is not only cheaper, but it also gives developers the ability to have complete control over their server with advanced capabilities.
This company allows you to choose your servers location, making it great for international companies. You can choose to have your server USA based, Europe based or Asia based.
A2 Hosting is a great choice if you are planning on WordPress blog creation. They offer 6x page load speeds of other similar providers.
This company has one of the fastest uptimes out there, even beating some of the larger, more popular providers. A2 Hosting gives you a 99.99% uptime putting you ahead of your competition. A higher uptime means less time your server is down and prevents potential loss of customers.
Consider A2 Hosting if you are familiar with website development. While the customer support is very helpful, this might not be the best option for beginners. They are only compatible with Linux and do not offer support for many items such as ColdFusion, and HTMLDoc.


Our #1 Choice For Hosting Blogs
62% Off Exclusive Offer Applied at Checkout
4. GreenGeeks VPS hosting
GreenGeeks is a good option if you are looking for a VPS that has a fast uptime (99.9%), high-performance servers, and stellar customer service. The variety of plans to choose from gives you many options to fit your budget.
While they are only compatible with Linux, they are relatively easy to use. Featuring loads of video tutorials and an easy to navigate website builder, you should have no problem setting things up.
GreenGeeks hosting VPS benefits
This company offers a ton of great add-ons for free with a VPS plan. Some of these add-ons include unlimited domains, unlimited sub-domains, unlimited SQL Databases, and a free website builder.
This is a highly secure company with CSF Firewall and Mod Security. They also offer nightly VPS backups on all servers to ensure you never lose anything. In the event of a disaster scenario, you can feel safe knowing you are protected.
GreenGeeks is aptly named. They are environmentally friendly and use as many alternative energy sources possible while still maintaining you with a high-performance server. Your VPS will be hosted on their world-leading 300% renewable energy infrastructure.
GreenGeeks got their overall rating based on numerous things. They have an excellent track record of customer support, a wide variety of plans and the bonus of being environmentally friendly.
If you have been searching for a reliable web hosting provider that helps the environment along the way, you might be interested in choosing GreenGeeks.
LiquidWeb is a reliable company that offers its services for both Linux and Windows users. If you are looking for a VPS provider with the power of dedicated hosting and the features of a cloud, LiquidWeb might be for you.
When you choose LiquidWeb as your virtual private servers, you are guaranteed a 100% network uptime. This automatically puts you ahead of the game. Without this guarantee, there is a percentage of time traffic simply can't reach your site. Ensuring a 100% uptime means that someone is constantly monitoring the system.
LiquidWeb hosting VPS benefits
CloudFlare CDN is just another advantage of choosing LiquidWeb. This feature allows you to sit back and relax, worry-free that your website is preforming at its optimal speed and security. CloudFlare is included with every VPS and is automatically set up.
Local site backups are included with every server. However, if you want extra protection, you can add on their Storm backups, which will provide unmatched data protection. These Storm backups will give you an automatic full-server snapshot for full recovery of your server should the unimaginable happen.
This company is so confident in their services they offer a 30-day money back guarantee. One more reason to give them a shot without worry.
LiquidWeb gained its overall rating based on a number of items. While it is not the cheapest VPS out there, it does have some great features including CloudFlare, Windows compatibility, and 100% network uptime.
Best VPS providers: our conclusion
Each of these sites made our best providers of VPS list due to their great customer service, reliability, performance, and ease of use.
All are great options. However, we chose HostGator as the leader. They give their customers the most well-rounded options at a mid-range price point.
In the end, it's up to you to determine which features you would like to have and which are not as important. With the many options available, you should be able to find something that both fits your needs and your budget.
After reading the VPS hosting comparison chart and the VPS reviews, you should be able to make an informed decision and choose the best VPS hosting provider for your own situation.