Last Updated on
WordPress is easy to use and maintain, so it is no wonder that it is the most popular CMS out there. Every hosting provider has plans tailored for managed WordPress hosting, so it can be hard to pick the one that is right for you.
SiteGround is one of the best web hosting providers that offer all kinds of hosting. Flywheel specializes exclusively in WordPress hosting. If you are considering one of these two for your WordPress website, I am here to help you make that choice. I combed through everything they have in their offer and created this SiteGround vs Flywheel WordPress comparison with all the important info in one place.
Disclosure
As an independent review site, we get compensated if you purchase through the referral links or coupon codes on this page – at no additional cost to you.
P. S. I promise I will remain impartial despite all the annoyance that comes with Googling Flywheel. On the bright side, I know a lot more about storing rotational energy right now. Let this be advice to you; pick a name that is more distinguishable when you create your website.
SiteGround is a great WordPress hosting provider. They have a beginner-friendly approach and come at affordable prices. Flywheel is more expensive and isn't beginner-friendly at all. Despite that, I find Flywheel is the best WordPress hosting provider between the two because they have better features included in their plans.
Flywheel vs SiteGround comparison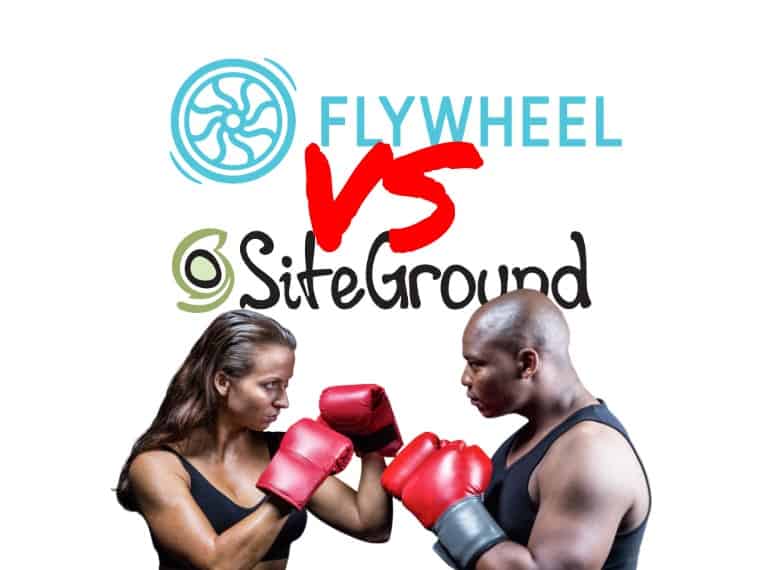 I compared Flywheel and SiteGround in a few categories. Through the reviews of ease of use, pricing, WordPress plans, customer service, and many other factors, you will get a comprehensive overview of both hosting providers compared side by side.
Use the switch to toggle between the two providers and get the best out of this Flywheel vs SiteGround WordPress web hosting comparison!
SiteGround or Flywheel ease of use
SiteGround is a beginner-friendly hosting provider with good scalability for users with more experience.
They use industry-standard cPanel, so everyone with some experience with web hosting will find their way around SiteGround's interface easily.
The great thing about their interface is the knowledge base that is accessible from the account dashboard. Any article you open from the knowledge base will open in a new tab, so it is easy to work and have access to helpful articles at the same time.
Beginners will enjoy the easy process of setting up their WordPress website with this host. There is an automated installer that installs the WordPress software on your account. Once the software is there, you can use the Starter WordPress application to pick themes and essential functionalities to be automatically installed.
Some hosting providers outperform SiteGround in ease of use, but SiteGround is easy enough to use to pass this test with flying colors. As for this Flywheel vs SiteGround comparison, it is simple. If you are a beginner, go with SiteGround. If you are experienced and want to forego beginner-friendly stuff in favor of easier-to-use advanced functionality, you should pick Flywheel.
SiteGround vs Flywheel WordPress hosting
Let's start this with a list of SiteGround's plans and their respective prices:
StartUp: $11.95
10,000 visit monthly
10 GB storage
Unmetered bandwidth
1 site included
GrowBig: $19.95
25,000 visit monthly
20 GB storage
Unmetered bandwidth
Unlimited websites
GoGeek: $34.95
100,000 visit monthly
30 GB storage
Unmetered bandwidth
Unlimited websites
All plans come with a free version of the Weebly drag & drop site builder, free CMS install, unlimited MySQL databases and automated SSL certificates.
For most users, SiteGround is a better option. The reason is very simple: they are cheaper and you get almost the same deal when it comes to the basic features.
There is no fee for exceeding your monthly visitor or storage limit, but your website might face some performance issues. This is another reason why SiteGround is good for basic users, but not a better option for agencies and professionals.
SiteGround and Flywheel server locations
When getting a hosting provider, one of the main concerns you should have is the speed of your websites. One of the things that impact this a lot is the proximity of a server where your website is hosted. With SiteGround, you have plenty of options to choose from because they have servers located on three continents.
Here is the list of their server locations:
USA: Council Bluffs, Iowa and Chicago, Illinois
UK: London
Netherlands: Eemshaven and Amsterdam
Singapore


Our #1 Choice For Hosting Blogs
62% Off Exclusive Offer Applied at Checkout
Flywheel or SiteGround website builder
SiteGround uses the Weebly drag and drop website builder. Even complete beginners won't have any trouble using Weebly. It utilizes an intuitive grid system, so you won't have to worry about overlapping elements. Every element you drop will snap in place and auto-align with other elements. This way your website will look good even if you have no knack for design.
Weebly has all the features you will need to create a simple website. If you need some functionality that isn't integrated into Weebly, don't worry; Weebly is compatible with tons of widgets and apps you can use to add any features that are missing.
As with any other drag and drop website builder, don't expect to create really complex websites. The purpose of website builders is to help individuals and small businesses create their own simple websites. Weebly does that job perfectly.
Flywheel vs SiteGround SEO
To help users with their SEO, SiteGround has partnered with Attracta. Attracta is a company that offers SEO solutions. Once you log in to your account, you will find an SEO tools section. The tools you will find there are pretty standard.
The sitemap of your website will be automatically generated, and Attracta will ping major search engines every time you add a new page. You will get all the tools you would expect from a hosting provider like link building directory, Google scorecard, etc.
While you get all the basics covered with integrated tools, for more advanced SEO you will have to use third-party SEO plugins and tools.
Compare Flywheel vs SiteGround storage space and bandwidth limits
With SiteGround, your storage space will depend on the plan you choose. With the cheapest plan, you get 10 GB storage space. The limit is raised by an additional 10 GB with each subsequent plan. You get unmetered bandwidth with each of the plans.
Flywheel vs SiteGround domains, migration & site transfer
Many hosts offer a free domain name included in their plans, but SiteGround is not one of them.
Website transfer is free for one existing website per account in their GrowBig and GoGeek plans. If you choose the StartUp plan, a professional transfer is a paid service.
If you want to register a domain with SiteGround, here is the pricing for most popular domains:
.com: $15.95/year
.net: $17.95/year
.org: $17.95/year
.biz: $17.95/year
.info: $17.95/year
.us: $17.95/year
Flywheel v SiteGround customer support
SiteGround has a 24/7 live chat, phone and email customer support, and all support options are available in each of the plans. Their customer support answers immediately and guides you through solutions to your problems expertly.
There isn't much to say about their support besides the fact that they are doing a good job.
SiteGround vs Flywheel speed, uptime and reliability
SiteGround has almost 100% uptime. They are a bit slower than FlyGround, but the difference is negligible. Here are the numbers:
Uptime: 99.99%
Average load time: 649 ms
SiteGround vs Flywheel price comparison
SiteGround is a more affordable option for WordPress hosting. To get their hosting, you will have to pay $11.95/month for the StartUp, $19.95/month for the GrowBig plan and $34.95/month for the GoGeek plan.
Most of the features included in the plans are the same. The main differences are the amount of storage and bandwidth you get, and the number of websites you can have on one account.
SiteGround vs Flywheel WordPress hosting conclusion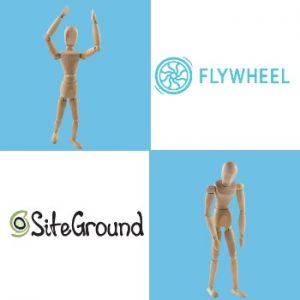 The winner is Flywheel!
This was a tough decision to make. Flywheel and SiteGround target different groups of people, and both are excellent hosting providers for the group they target.
The bottom line is: if you are a beginner who wants just a simple website, yes you should go for SiteGround, and if you are a professional designer, go for Flywheel. The main reason I picked Flywheel over SiteGround is the bigger number of unique features they offer.
SiteGround versus Flywheel final score