Last Updated on
You decided to capitalize on the blogging trend and start one for yourself. You found a niche, learned how to set one up, created all the material that will go on your new blog, and found the right time to publish it!
Now, after all this hard work, you're ready to get it online. The only problem is that after some exploration, you have decided that WordPress is not the right platform for your needs and you want to iinvestigate WordPress alternatives. It is after all pretty technical sometimes, and there are so many plugins.
Disclosure
As an independent review site, we get compensated if you purchase through the referral links or coupon codes on this page – at no additional cost to you.
The good news is that there are tons of great replacement content management systems (CMS) to choose from, so you don't have to settle on one that doesn't make you happy.
I tested a bunch of different options and picked the five best alternatives to WordPress so that you can find a CMS better than WordPress for your business.
This article will deliver the features of each of these alternatives to WordPress, along with their pros and cons to help and reassure you. When you finish this article, you will know a great platform for your needs and be ready to post that blog—live for everyone to see!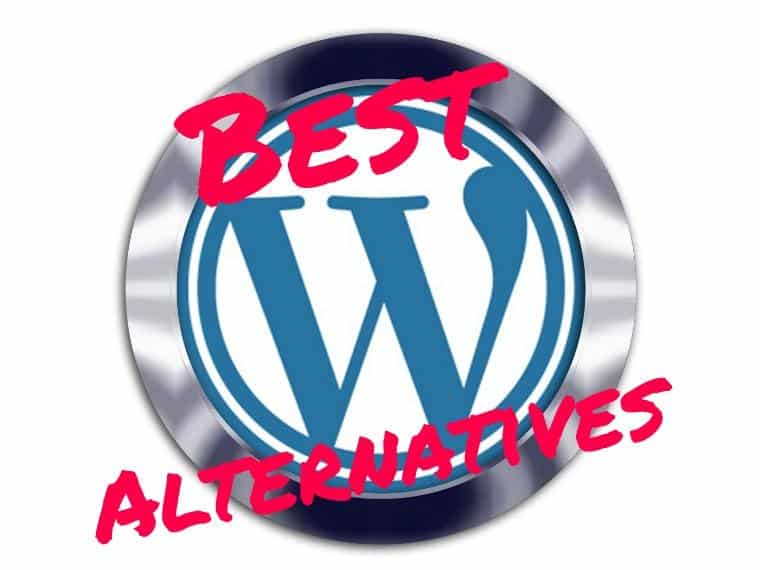 | WordPress alternative platform | simplicity | Extensions | Support | Security |
| --- | --- | --- | --- | --- |
| | | Very few compared to competitors | Community forums and official documentation | Responsibility placed on user to update and use plugins |
| | Very steep learning curve: not for beginners | Nearly as many as WordPress | Smaller community but active, tons of documentation that gets regularly updated | Extremely secure: one of their strong suits |
| | Very user-friendly with no learning curve | | Very limited forum and developer community | |
| | User-friendly back end interface | Lots of tools available but far fewer than WordPress | Fairly small community and lack of documentation | |
| | Heavy learning curve: uses Twig for language | Lots of extensions and modules available | Great documentation and an active community | Reliable and regularly updated |
Here are the Best WordPress alternatives 2019
1. Joomla (best alternative for robust usage)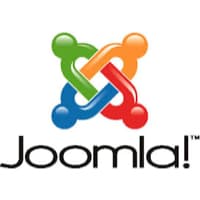 Joomla is nearly as popular and well known as WordPress. Millions of users have flocked to this company over its 14 years in the business. Like WordPress, Joomla is open sourced and lets you generate content with platforms and applications.
Joomla was not the best of the WordPress alternatives for bloggers, though. While it is possible to run a great blog through Joomla, the platform was intended for more robust usage. It will be more difficult to manage your blog with the Joomla platform based on how the dashboard is set up.
Joomla is a pretty secure platform. Developers are regularly updating their security features and codes to prevent you from getting hacked. There are also several third-party plugins you can use to enhance security. Just remember that, at the end of the day, no one is invincible, so be careful with your content.
Joomla supports a lot of languages. It is a multilingual platform right from the core of its programming.
Joomla is much more customizable in regard to managing hundreds of sub-pages. The modules are flexible and can easily be moved from page to page or menu to menu.
Joomla allows database options to be built into your site.
Joomla has fewer plugins and third-party apps than WordPress. The community of programmers building for Joomla is significantly smaller, and therefore, you get less variety and detail.
The interface isn't easy to learn. Because there are so many possibilities and functions built into Joomla, the interface can get very clunky, and beginners need a lot of help to learn how the system works.
Joomla is a balanced platform. While this seems great, what it really means is that it is not user-friendly enough for technologically illiterate people who want an extremely intuitive program, but it is also not friendly enough for developers who know how to maximize code and generate a lot of unique content.
Joomla is not a blogging CMS. The setup makes blogging very difficult, and you need a lot of technical proficiency and patience to do it. If all you need is a blog, this may not be the best option.
2. Drupal (best alternative to WordPress for dvelopers)

If you're looking for one of the original open source content management systems, Drupal might be a great option.
Drupal has fallen behind WordPress and Joomla, but it is still one of the most popular systems available. In fact, larger websites tend to prefer this platform over the alternatives. If you only use the Internet's million most popular sites, Drupal overtakes competitors in terms of popularity.
This is also the most technologically advanced CMS on the market. It runs on PHP and offers limitless features and customization.
Fun Fact: NASA uses Drupal for their content, so using this option will give you something in common with rocket scientists!
This is the most technologically advanced system. If you have a large site, a large business, or a lot of skill when it comes to programming and developing, you're not going to find as many features anywhere else.
Drupal focuses intensely on security. Their CMS is extremely safe, their website immediately notifies users of vulnerabilities and codes patches as they occur, and there are tons of extensions available to handle back-end security.
Drupal is multilingual at the core. This is not true when it comes to WordPress.
This system is also the most flexible option. When it comes to content types, Drupal offers much more flexibility and customization to those who know how to use it. They also you to create custom access controls with specific rules for anyone who gets access to the back end of your site. And Drupal can handle tons and tons of data and massive amounts of content because their taxonomy system is more flexible than WordPress.
Drupal being the most technologically advanced system is a pro, but it can also be a con. It requires a lot of programming skill and technological proficiency to take advantage of all the amazing features available. If you're a beginner, arm yourself with their documentation or go ahead and hire a professional.
This is the least efficient option available. Because it offers endless possibilities, it also means that the scripts will require the servers to generate larger loads and work harder. I recommend grabbing a plugin that allows your website to cache to a server.
3. Ghost (best WordPress alternative for bloggers)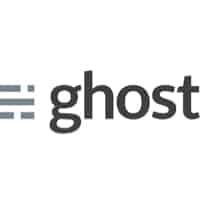 For bloggers, Ghost might be a great option. It was created to be a blogging platform. It does not aspire for more.
Ghost is all about simplicity. Their user interface is extremely intuitive and basic, but it still allows for maximum customization if you are a developer who knows to program.
The Ghost dashboard has very few options. Only allowing for Content, New Post, and Settings makes it easy for users to immediately begin posting content.
The Markdown writing method they use can be a little tricky if you're used to the way WordPress handles code, but it makes the blog run so much faster and more smoothly. It's also simple to learn because it's abbreviated. If you have no HTML experience, you can still pick up the Markdown language easily.
When it comes to speed, Ghost has an interesting position compared to competitors. Without optimization and plugins, Ghost is the fastest system out there, but when developers really learn how to optimize WordPress, Ghost loses the advantage and the battle for speed ends up in a tie.
Because of its focus on simplicity, Ghost doesn't operate with APIs and plugins. They build SEO tools directly into their content, to make it even easier on you!
This is a fantastic option for bloggers. It's minimalistic and designed specifically for creating completely customized blogs.
This app offers the best of both worlds. Beginners will find the clean interface easy to use right from the start, and programmers will love the amount of customization that is allowed.
Ghost is likely the easiest to use of the WordPress alternatives listed here, it's extremely simple. They use Markup, an abbreviated HTML language, to simplify coding. Their user interface is basic and doesn't have tons of buttons. They are designed to function as a blog, not a massive site. Everything about them is easy and simple.
One of the amazing features that Ghost offers is a live preview. In WordPress, you can easily end up with dozens of tabs open and lose track of which ones have previews and which ones have code that needs to be saved. Ghost offers a preview in the same browser window, side by side, so you can easily find and tweak any changes.
There's not an iOS app for working in Ghost. This makes mobile compatibility and on-the-go updates impossible. While their platform is mobile friendly, updating must be done through the browser, which can get tricky on a small mobile screen.
Ghost doesn't have a native commenting system. You must use a third-party app like Disqus if you want your audience to be able to interact with your content.
The support community is limited. Compared to other giants, the support forums are much smaller on Ghost than other CMS platforms. There is also less documentation.
There are fewer tools and features available. Ghost was built for blogging, not for running large sites and e-commerce stores. Because of this, they don't offer tons of tools, features, and functions.
4. SilverStripe (Best WordPress alternative CMS for ease of use)
SilverStripe is a small CMS platform with massive potential. It offers a huge framework instead of just a blogging platform and is versatile and friendly for developers.
Programmers who are extremely skilled with PHP will notice that they can create nearly anything they want. There are a limited number of modules and even some professionally designed templates that look as nice as WordPress can boast, despite there being fewer of them!
Fun Fact: The Democratic National Convention chose SilverStripe as their hosting platform, so you know they can handle massive projects and that their security is tight.
SilverStripe calls their plugins "modules". Like WordPress, they have a lot of available modules to choose from. Unlike WordPress, their modules are more like suggestions. These are completely customizable, and developers can customize them to fit the needed of their site instead of having to use them as they were originally coded.
SilverStripe comes with a BSD license (meaning free to use, share and modify), and it is completely open-sourced software. In fact, they even let you demo their product before signing up for it!
This is extremely easy to use. Developers and users both love the flexible framework and suite of tools and features. They have one of the cleanest user interfaces available anywhere. They also use drag-and-drop technology to allow users to move pages around easily.
As WordPress alternatives go, SilverStripe is more secure. Being smaller than other major CMS platforms means they are less likely to be targeted. They add another layer of insulation, too, because they separate their developers from their users. They have high standards that all developers must meet in order to continue coding through SilverStripe.
SilverStripe is the best of the WordPress alternatives for multilingual sites as it allows visitors to view the site in their language of choice.
This platform allows you to try the demo before investing too much time into it.
Developers are the ones who get to customize. They hide the functionality from end users. This means that you won't be able to do as much yourself.
Their community is much smaller than WordPress. This means there are fewer people to answer questions. Their documentation is also less extensive.
While there is the potential for unlimited custom themes that don't exist at WordPress, the access is limited to developers. SilverStripe is aimed towards developers, not end users, so there aren't as many great ready-to-use themes. They assume that every developer is going to code their own theme.


Our #1 Choice For Hosting Blogs
62% Off Exclusive Offer Applied at Checkout
5. CMS Made Simple or CMSMS (best alternative to WordPress for SEO)
CMS Made Simple has some great features. Their URLs are extremely SEO friendly. They have a lot of modules and extensions and easy-to-manage user and group settings.
CMSMS know they are not a giant platform and do not intend to become one. They have clearly stated that they are an alternative to the giants. They are an extremely agile and easy-to-use option as long as you know their language.
They are one of the simplest forums available. You will find a very basic interface at your disposal. They make up for this by having a vast number of modules, plugins, and extensions available for site customization.
Unfortunately, the total reliance on third-party extensions can lead to some very big issues. It can cause integration problems, slower speeds due to pages that require optimization, and inconsistent coding that isn't compatible. It also makes support difficult when there isn't a single documentation list or point of contact for issues.
This system is extremely simple. Once you learn the Twig development language, you can do a lot of customization with the Internet's simplest layout.
They have great documentation. They offer tutorials on more than just coding; you can also learn to cache and optimize. Documentation includes APIs and database abstractions. Their documentation is also very clean and easy to understand.
They may have over-simplified themselves. In their effort to provide a simple and clean platform, they have made it difficult to build certain things. You will need to use modules and extensions for nearly everything, including blogs! Once you start needing to continually install and customize third-party templates, it becomes more of a hassle than just using a less simple interface that includes the features you need.
Despite its simplicity, this platform is not for beginners. You need to be a seasoned developer to understand how to make this platform do what you want it to do. Even their end-user tutorial section is more of a tutorial for developers who are new to Twig than an end user guideline.
The best alternatives to WordPress CMS: our conclusion
There are a lot of different options available if you are looking for WordPress alternatives. Each one has strengths and drawbacks, so it is important to know your budget, content needs, and goals before deciding on which one to use.
A lot of the CMS systems require a lot of technical knowledge. They are geared towards developers who are designing sites for clients and end users, and they are not meant to be used by end users themselves. Make sure that you are proficient enough to use the system you choose, or you may end up regretting the choice not to use WordPress!
My recommendation for end users looking for a site they can manage themselves would be to opt for Joomla or Drupal. These are similar to WordPress in that end users can learn the system without too much knowledge of coding, but they offer enough great features to distinguish themselves.
On top of all this, there are also options that are a bit more hands off such as Wix, and Weebly or Shopify if you prefer not to get your hands dirty with the coding side at all.