Last Updated on
Your blog is finally listed on Google, and it is thriving. There's a massive upswing in traffic, and you are ready to really take flight. Your niche is well established, and you've chosen a great domain name and it's ready to activate.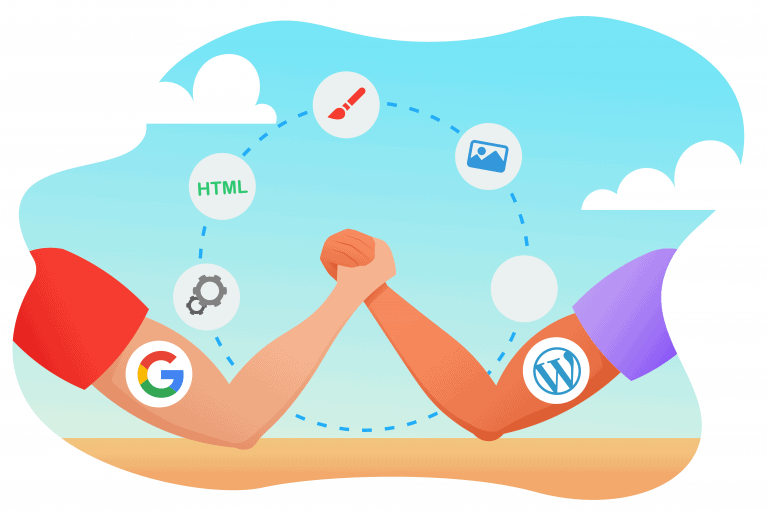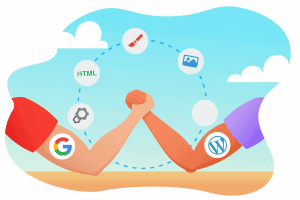 It's time to start building your website. The market is flooded with website builder platforms, all offering a variety of different features and price points. With this much saturation, how do you know which option to choose?
Disclosure
As an independent review site, we get compensated if you purchase through the referral links or coupon codes on this page – at no additional cost to you.
You've finally narrowed it down, but now you need to know the difference between WordPress and Google Sites. Does Google Sites support WordPress?
In this article, we will compare Google Sites vs. WordPress to help you determine the right option for your web building needs. We will rank them based on how they perform and their top features to give you an idea of the best site.
Google Sites vs WordPress: what's the difference?
The first thing you need to know when choosing between Google Sites or WordPress is what they both are exactly. The simple answer is that they are website building platforms, and that these platforms allow you to create your customized website for anything you might need, whether personal or business.
Google makes a wide variety of different tools, products, and platforms. Google Sites is one of these. It's a product you can use to create websites that can be hosted on Google servers.
WordPress is an open source web building platform. You can use it to build your website, blog, or whatever you need. It is currently the most popular option online for web solutions because of how customizable it is.
WordPress vs Google Sites Setup
The first hurdle to cross when it comes to web building is set up. If you can't get through that, you may as well give up. Let's take a look at how the setup compares.

This process is a clear winner. You can set up a website for yourself in 10 clicks. Even the least technical people online could navigate this process within half an hour.
This setup is much more difficult. It will take lots of time and has a very steep learning curve. Most people using WordPress hire an experienced developer to launch their site instead of trying to do it on their own.
Google Sites or WordPress for user friendliness
It is important to small business owners that website builders are easy to use. Many business owners are artists or merchants, not developers and coders. This means that, unless they have the budget to hire a developer, they will want a platform that they can easily learn and understand.
Google Sites requires no coding. None. The average person could easily create and launch a site within 30 minutes of starting.
They have an all-inclusive platform that allows you to access everything you need in one space. There's no need to upload or install external plugins and extensions to get your site running.
Their user interface is familiar to most people who have worked with Google before; it's clean and intuitive, with a lot of simple drop-down menus for formatting and layouts.
Again, WordPress is not a site for beginners. They lose the battle when it comes to user-friendly systems. It's a more basic Content Management System (CMS) instead of being an all-inclusive suite like Google Sites. This means that it relies heavily upon plugins and extensions for access to themes and requires users to be familiar with coding if they want to customize anything.
WordPress or Google Sites for functionality
While each platform offers the same basics, the features can really distinguish them from each other. Let's take a look at some of the extras that come along with each of these options!
One of the cool things about Google is that they build everything with collaboration in mind. Their site builder is no exception. You can allow users to help build the site and set their individual permissions.
Each page functions based on its type. There are several different categories, so you can create list pages, start pages, announcements, blogs, files, and web pages. Each type of page has its own features. Bloggers should enjoy the announcements page.
Google Sites is also built to work with the entire Google Suite of products. This means that their applications (Maps, Hangouts, YouTube, Calendar, and even Drive) can be seamlessly inserted into your site.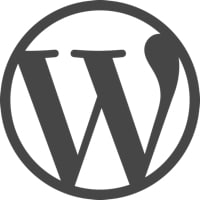 Because WordPress is open-source, it has an endless list of features available. The catch is that each of these features is available through their app store with plugins and extensions. These aren't always compatible with each other, and it is difficult to control the quality because developers range from amateur to expert in skill levels.
Design is the feature that will attract people to your site and keep them there. A badly designed website can quickly cause people to leave and destroy your reputation. It is important for businesses to create a very sleek and professional site in order to keep traffic on their pages.
Google Sites offers very limited options when it comes to themes. Their builds are pretty basic and don't look very professional. Furthermore, if you want their sites to look good on mobile browsers, you have to manually enable the mobile option in the control panel.
Because WordPress is open sourced, they have a ton of options. They add new themes every day in their third party extension library, so there are tons and tons of options to choose from. If you have a large enough budget, you can also hire a designer to create your very own website instead of using one of the prefabricated templates.
Customer service experience
Customer service is something we will all need at some point in the web building process. Some of us prefer talking to people, while others would rather email in a help request. All of us can agree that it is important to be able to reach someone who can help us when we need it.
Google has some amazing support options. Their help center is pretty comprehensive, and it answers pretty much any question you might have. If you're not keen on learning from articles, then you can send feedback through the control panel and get in touch with one of their experts. They also make themselves available over the phone in 13 different languages!
WordPress is a trickier beast when it comes to service. Because they're open source, there isn't a single point of contact to talk to. They have a ton of documentation and a huge community, so chances are that your question has already been answered somewhere. It just might take some digging to find that answer.
The prevalence and reliance on third-party plugins and apps also make it difficult to get support. Sometimes, plugins are not compatible with each other, so third party designers have difficulty troubleshooting issues you have when they don't know what is fighting their plugin. Also, having so many third party designers means that there's not a single person you can talk to who is familiar with every element in your site.
Search engine optimization (SEO)
The Internet is flooded with websites. These days, even niche markets can be difficult to break into, and it's hard for people to find you. SEO helps you get discovered.
You might think that having a site hosted by Google would give you a clear advantage in their algorithm. After all, they're the ones setting it. You automatically get some of their trust by default, since they have access to your content and can easily verify that it isn't malicious, right?
Ironically, no; Google has very basic SEO capabilities. Page ranks are about other people linking to you and sharing pages, and SEO requires a lot of metadata and tagging to get right. Google's SEO tools are very limited and do not allow for much. This is probably because they're afraid offering tools for SEO will give people too much of a peek at their secret formula for weighting options, but it puts their customers at a distinct disadvantage.
WordPress excels at SEO toolkits. Your pages are easy to link, because anyone can comment on your posts and share them. Their huge suite of extensions also afford you the option of cross-linking with the developers to ensure mutual page rank increases and SEO benefits. If you want some help with SEO for WordPress, there's a great beginner's guide here.
Both of these are great options, so it's hard to declare a winner. I would say it depends on what you're looking for in a site and how much you have to spend.
If you just need a basic template with an easy setup process that doesn't require any technical skills at all, then go with Google Sites.
If you have a large enough budget for a designer, or you have experience designing sites and coding, then WordPress offers a lot more options to customize your site and build in e-commerce options and extensions.


Our #1 Choice For Hosting Blogs
62% Off Exclusive Offer Applied at Checkout