Last Updated on
Two of the first companies to make names for themselves with ecommerce were Amazon and eBay. As the everyday shopper learned how easy it was to become the everyday seller, new ecommerce business owners like you needed a way to efficiently manage their sales and inventory, but didn't know who to trust their business with. That's where Vendio reviews like this one come in.
Vendio developed a software program that makes the work of managing sales fast and easy. Vendio is a subscription-based online selling platform that gives e-sellers a one-stop hub for creating their brand, posting product listings, and selling them across channels.
Disclosure
As an independent review site, we get compensated if you purchase through the referral links or coupon codes on this page – at no additional cost to you.
At a glance, sellers can see which items are selling like hotcakes and which need a pricing change to generate better sales. Less time in managing the store means more time for selling, and that means more profit in the seller's pockets.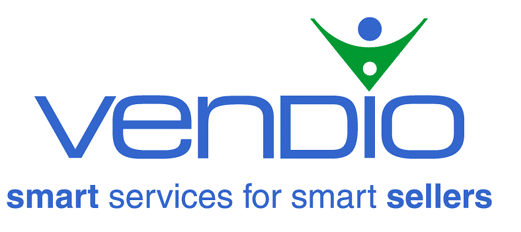 Tasks always go more quickly and smoothly when you have the right tools to do the job, and Vendio certainly has the tools.
Vendio was designed to accommodate small and large ecommerce providers. Upgrades let you expand your volume as your business grows.
With Vendio, there are no single product hosting fees, listing fees, or transaction fees, even from your own store.
Review of Vendio: pros & cons
Think of Vendio as the brains of ecommerce selling platforms. It's a selling platform that knows how to market and sell your products with very little managing on your end. No Vendio.com review is complete without a rundown of the features that sellers love most. Here's a review of the Vendio pro's and con's.


Our #1 Choice For Hosting Blogs
62% Off Exclusive Offer Applied at Checkout
Market across social media platforms
Vendio lets you build your brand across other platforms like eBay, Amazon, OpenSky, Facebook, mobile commerce, and your own store while letting you control marketing and sales from a central place. If you are doing a new product or store launch, you can set Vendio to coincide with your launch date.
Managing marketing and inventory from a single hub
The biggest advantage to using Vendio over a traditional online shopping cart is that it saves you time. No longer do you need to go to multiple social media or other sites to market your products, because Vendio puts it all in one place for you.
Not right for the small seller
The Vendio platform is so well-designed that it's difficult to find a con. If there is one negative to the platform, it's that it may be cost-prohibitive for the small seller in comparison with some of the free shopping carts that come with web hosting plans.
With Vendio, you can sort and filter thousands of products, which is a huge timesaver for sellers with large inventories. E-commerce sellers get updates and other information on sales in real time. This gives you the flexibility to make changes in pricing or promotions while sales are hot.
Watch this video to see how easy it is to import products to your Vendio account from eBay.
Vendio gives you over 50 professionally designed store templates to help you make your ecommerce platform attractive to your clientele. It has HTML, XML, and CSS capability that lets you fully customize your online storefront just the way you imagine it.
Drag and drop technology lets you add features like text boxes, photo galleries, photo carousels, contact forms, and much more, without needing to have developer-level expertise. The automated email feature lets you prefill messages to your customers at various points in the sales cycle.
When you need to make one change to many items, Vendio has an advanced feature that lets you edit items in bulk. With Vendio, there's no need to painstakingly type out policy and shipping parameters. You can set up Vendio for the most common shipping profiles.
Another marketing plus for Vendio is the quick-add SEO features that help search engines find your wares. Vendio also has a feature that automatically feeds your products to Google Product Search, so that new customers find you more easily.
Our Vendio reviews conclusion
If you thought that you couldn't keep up with the demands of staying on top of every part of your sales cycle, including social media and selling channels, Vendio gives you the tools to do it.
Vendio automates most of your tasks so that you can devote your time and energy to other important aspects of your ecommerce business. Try Vendio and if you aren't crazy about it, ask for their 30-day money back guarantee.
Are you a high end user requiring more flexibility and control over your sites and resources? Then we've got just the right thing for you…
Our Vendio review overall rating
After weighing up the pros and cons in our Vendio reviews section, I give Vendio 4.5 stars out of 5.
It's the perfect platform for ecommerce, small or large. The only improvement that Vendio could make is to price themselves more competitively against similar platforms.