Last Updated on
Starting a blog is quite easy. You can start with three basic steps. You must first decide what to start a blog about. Secondly, you must choose a blogging platform (a content management system, most probably, WordPress). The third step is to pick a reliable hosting solution.
The final step, i.e. choosing a hosting service for your blog is the most underrated or you can say neglected aspects when it comes to starting a blog. Interestingly, one Google search yields hundreds of hosting services, but the question is: are they all good enough?
Disclosure
As an independent review site, we get compensated if you purchase through the referral links or coupon codes on this page – at no additional cost to you.
In this Cloudways review, we will take a look at this managed hosting service provider, and discuss why can it be the perfect choice for blogging websites. But first…
Cloudways coupon code: "startblog"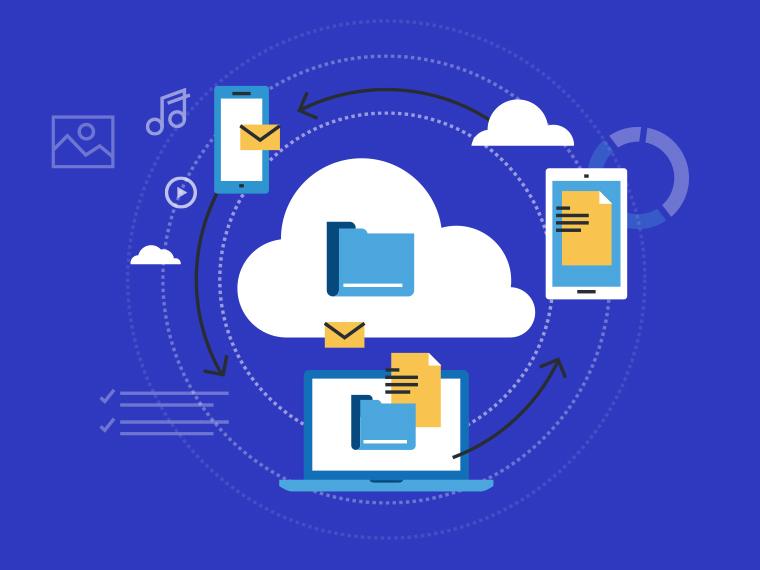 I know some of you guys are just here to grab the cloudways coupon code, so let's get that out of the way first.
Use the Cloudways discount coupon "startblog" while signing up and they will give you 20% off for two months on all plans!
Now let's move onto the main…
When it boils down to offering a great balance between affordability and great functionality in cloud-based managed WordPress hosting, there's Cloudways, giving other platforms a run for their money.
The platform is built to keep pace with business growth and expansion because the Cloudways architecture is optimized for performance, speed, and security. When you join Cloudways, you have the choice of selecting from the top five cloud server providers. The most affordable plan starts at $10 per month.
About Cloudways & some history
Cloudways came into being in 2011. Initially known as "Cloudways 2.0." the company completely revamped its site in 2016, calling it Cloudways.
Cloudways is a PaaS (Platform as a Service) that offers hosting services from five of the best cloud infrastructure providers including:
DigitalOcean
AWS
Linode
Vultr
Google Compute Engine
In addition, every account on Cloudways comes equipped with lots of features that harness optimized performance, security and support, engineered to give you the best cloud hosting experience ever.
Without further ado, let's get into our Cloudways reviews of the features offered by this company.
Cloudways hosting features
The Cloudways platform offers a host of features that simplify the hosting experience for all users.
Multiple cloud providers – Five most popular cloud providers to host your WordPress website.
Global data centers – More than 60 servers placed across the globe to help reduce latency when your audience visits your blog.
CloudwaysCDN – A superior experience for your visitors when content is delivered faster than ever based on their location.
Server scaling, based on bandwidth, hard disk space, processor and RAM – Get more freedom and choice with on-the-go server scaling, space and memory requirements that can be adjusted whenever you want.
PHP 7 Ready Servers – All servers on Cloudways are PHP-7 ready, which is the fastest version to date.
Auto-Healing Feature – If you experience downtime, servers on Cloudways are equipped with an auto-healing feature. if your WordPress website crashes.
Free WordPress Cache Plugin – Developed specifically for WordPress websites, Cloudways features a built-in advanced cache plugin that helps speed up your WordPress website even more for breath-taking speeds.
Multiple PHP Versions – You have greater flexibility and compatibility with multiple PHP versions, if you are accustomed to using an older version with Cloudways.
One-Click Application Installs – To help reduce pesky steps for installing the most popular CMS like WordPress, Magento, Drupal, Joomla, Prestashop, including support for all PHP based applications and frameworks.
WordPress Migrator plugin – A simple WordPress migrator plugin enables speedy and efficient migration for WordPress powered websites.
Staging Area & URLs – A staging area with unlimited URLs at your disposal so you can test your blog or any modifications you made before it goes live. This is an excellent opportunity for you to see how your WordPress blog responds in real-time before you take it live.
Application and Server Cloning – Clone unlimited servers and applications as you wish. You have complete freedom to create multiple copies of servers and applications for your website.
A highly optimized Cloudways WordPress stack
For bloggers, page load speed matters a lot. This is why Cloudways has put in a lot of effort to optimize the stack that hosts the WordPress applications. This stack comprises a combination of servers (Apache & NGINX) and caches (Varnish, Redis, and Memcached) that come together to offer exceptional page load speed for WordPress.
Consider the scenario where a user has to deploy WordPress on an unmanaged server. The process starts with the installation of the server layer and then the appropriate cache options are set up. Once this is done, the user can move on to installing the latest WordPress version.
The scenario doesn't end here. Once WordPress is active, the user now has to deploy additional customizations such as cache plugins or WooCommerce stores.
As you can imagine, this can take a good part of an hour.
Now here's how Cloudways saves precious time for bloggers. Can you imagine working on a live and optimized WordPress website within ten minutes? This is how fast Cloudways provisions a cloud server of your choice and get your WordPress application up and running.
The data center where your server is located makes all the difference in the user experience of your WordPress powered websites. Since Cloudways offers the choice of five industry-leading cloud providers, Cloudways users can host their WordPress applications at any of the 50+ data centers that are closest to the target audience. By choosing the right data center, WordPress users can minimize latency issues and improve page load speed.
Cloudways staging environment
Testing website codebase, new themes, and plugins is an ongoing process. Bloggers often come across themes and plugins that they want to try out for their blogs. Trying out plugins and themes on the live site is simply out of the question because of the chances of the live site going down.
Cloudways staging offers free areas that are sandboxed environments where bloggers can test the website codebase, new plugins, and themes without affecting the operations of the live site. Once they are satisfied that everything is working perfectly, they can "push" the changes from the staging to the live site.
A Cloudways ssl certificate free
Whether it's a blog or an ecommerce store, an SSL certificate has become an essential requirement for both user and search engine trust. In fact, Google now marks all sites without an SSL certificate as NOT SAFE.
One reason why many bloggers do not have an SSL certificate on their sites is the high cost of paid SSL certificates. For all such users, Cloudways offers FREE SSL certificates from Let's Encrypt. The best part – deploying SSL certificates is a matter of a few clicks and the certificates can be optionally renewed automatically.
If you are interested in a custom paid SSL certificate, the process of installing the certificate files or initiating a CSR right the platform is simple!
Disaster can strike anytime!
Every minute your blog remain down, you are losing audience and brand recognition, This is why you need to bring your blog back online ASAP.
Cloudways has a very streamlined backup process that allows users to take on-demand and automated backups of servers and applications. In fact, Cloudways highly recommend taking an on-demand backup before making any major change on the site. Similarly, the process of restoring a backup is simple and your site is back in action within minutes.
When things go wrong, Cloudways users depend upon the expert round-the-clock support delivered by the Cloudways support engineers. Users can raise a support ticket and ask Cloudways support to resolve the issue for them. Alternatively, the Cloudways Knowledge Base offers solutions to common issues encountered by the Cloudways users.
If you need a higher level of support with sorter response times, you can opt for support add-ons that ensure that your issues are looked after by senior engineers.
CloudwaysBot – Get tips and recommendations delivered straight to your inbox about your server's health and upgrade suggestions via the CloudwaysBot.
24/7 live chat – Get the support you need anytime you want with 24/7 live chat to help solve any query you might have.
24/7 Ticketing – The ticketing system ensures your queries are always answered in the shortest time possible
Billing on hourly basis – A distinct feature that allows superior control over your finances. You can pay hourly for a server you host on the Cloudways platform
Pay as you go model – This feature allows you to only pay for the services you use. There are no hidden charges for any service on Cloudways
No contract – Forget being bound with yearly or quarterly contracts. Cloudways welcomes its users with an easy-to-use hosting platform without hassles or any commitments
Cloudways has a pay-as-you-go billing structure where users only have to pay for the resources they consume in a given billing cycle. Users receive a single invoice that covers the costs of the Cloudways managed servers.
To give you an idea, a basic DigitalOcean plan starts at $10 per month.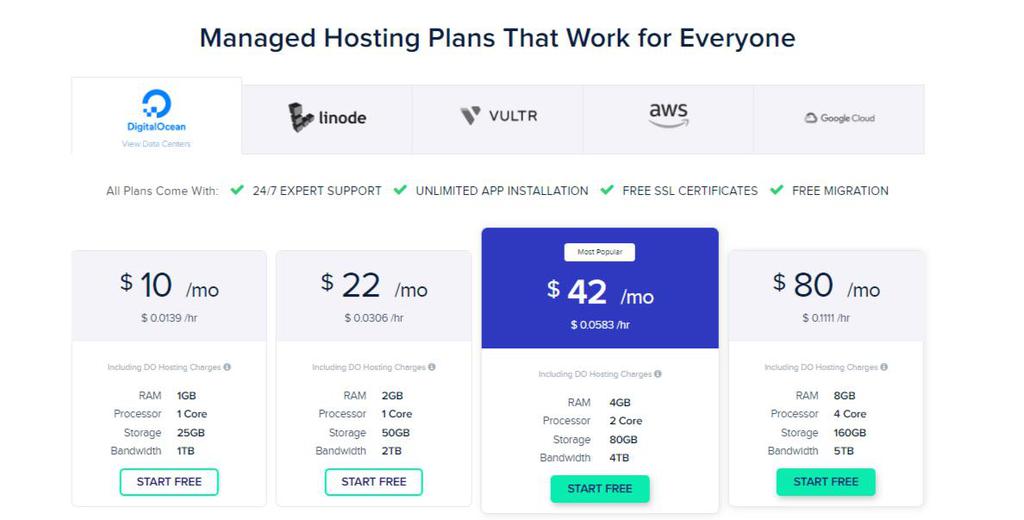 Cloudways is a managed platform and as such take care of all server security issues. The platform is secured by firewalls that filter out malicious traffic. Users have the choice of activating 2FA for their accounts (highly recommended) to add another layer of security for their account. Similarly, the platform notifies the users about unrecognized devices that access their accounts.
OS and app patching is another aspect of managed security. Software developers release versions of their products that fix known bugs and close security loopholes. Cloudways engineers first test the patches to ensure compatibility with the platform architecture. Once they are satisfied with the results, the patches are deployed.
Platform-level firewalls – OS-level firewalls are in place to make sure your website is guarded against the most common security risks
Free SSL Certificates – A necessity for bloggers is an SSL Certificate is often overlooked. SSL certificate by Let's Encrypt is provided free from Cloudways for your WordPress website.
Automatic
Backups – A handy feature that allows you to create automated backups helps provide peace of mind, while you work on your blog's content. You can restore to a working server anytime if you are testing a feature, or trying to revert to an older version of your server.
Two-Factor Authentication – To help provide better security for your account, Cloudwaus incorporates 2FA (Two-Factor-Authentication) to keep intruders at an arms-length, who want unauthorized access to your account.
Regular Security Patching – Regular security patches for applications help prevent security flaws. All applications on Cloudways are checked and patched regularly with the latest versions to eliminate bugs.
IP Whitelisting – With this feature you can block suspicious IPs from accessing your server and only allow those who you trust.
Cloudways comparison of pros and cons
| Pros | Cons |
| --- | --- |
| Choose from 5 cloud hosting services | |
| One-click staging for WordPress | Can't register a domain name |
| 24/7 support and live chat | Doesn't include email hosting |
| | Not meant for advanced developers and programmers |
| | |
| | |
Being a blogger means you will face constraints in certain aspects, but that does not mean you compromise your WordPress website with cheaper alternatives for hosting. Choosing a managed hosting provider is a one-time investment that will only bring benefits for you in the long run. You can choose VPS but it is not recommended since it is quite expensive.
On the other hand, shared/cheaper hosting options will fail to provide you the features available with managed hosting. In the case of managed hosting, Cloudways is not only one of the best, but one of the most recommended and commendable hosting platforms out there.
I highly recommend you give these guys a shot if this sounds like the type of service you need, and don't forget to use my Cloudways coupon code "startblog" to get your exclusive discount.


Our #1 Choice For Hosting Blogs
62% Off Exclusive Offer Applied at Checkout