Last Updated on
With so many hosting providers that all offer similar services, it is hard to choose one. All the marketing tricks, hidden clauses, promotional pricing and other shenanigans hosting providers use make the choice even harder. This HostPapa review should help you decide if HostPapa is the right choice for you.
HostPapa is an independent hosting company based in Canada. They are one of the companies that purchase green energy tags to offset the CO2 emissions their data centers produce. That is a commendable effort, but what market are they targeting and what features do they offer?
Disclosure
As an independent review site, we get compensated if you purchase through the referral links or coupon codes on this page – at no additional cost to you.
HostPapa's target market is individuals and small and medium companies. It is clear that they are not targeting bigger companies because they don't offer dedicated hosting. Some of the small companies might also avoid HostPapa because there is no cloud hosting in HostPapa's offer.
If you are looking for shared, WordPress, VPS or reseller hosting, HostPapa might be the right choice for you. Let's start this HostPapa review and evaluate all their plans and other HostPapa pros and cons. Once you get a full picture of what they are offering, and at what price, you will be able to decide if they are any good.


Our #1 Choice For Hosting Blogs
62% Off Exclusive Offer Applied at Checkout
HostPapa review of plans, pricing and more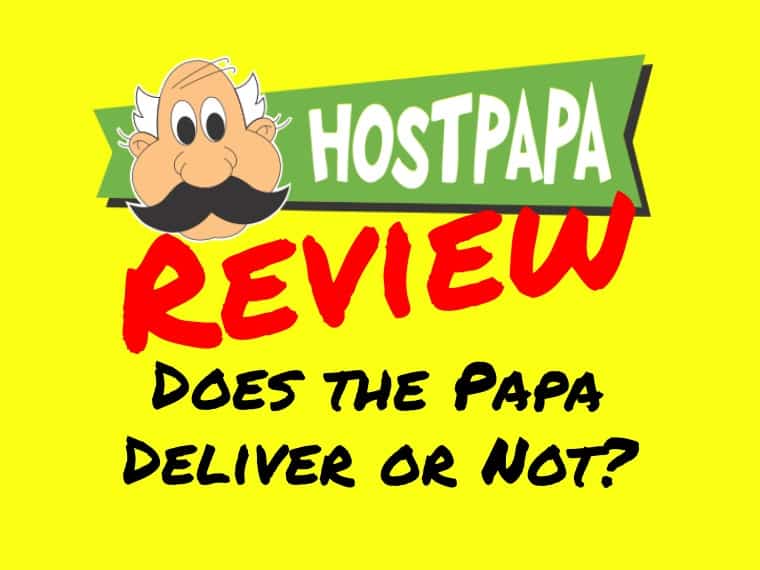 | HostPapa reviews criteria | Overall rating |
| --- | --- |
| | |
| | |
| | |
| | |
| | |
| | |
HostPapa's shared hosting plans come with plenty of features, but there are some limitations as well. The prices below might be different than the ones you might have seen in some other HostPapa reviews. That is because I am showing you their regular prices without any promotional discounts. I find the prices fair considering all the features that are included in the plans:
Starter: $7.99/month
2 websites
2 domains
100 GB SSD storage
100 email accounts
100 email forwarding accounts
500 MB storage per mailbox
5 GB overall mailbox storage
Business $12.99/month
Unlimited number of websites
Unlimited number of domains
Unlimited storage
Unlimited email accounts
Unlimited email forwarding accounts
500 MB storage per mailbox
5 GB overall mailbox storage
Unlimited MySQL databases
Business Pro $19.99/month
All features from the Business plan
1 GB storage per mailbox
10 GB overall mailbox storage
Automated website backup
HostPapa's shared hosting comes with lots of useful features. All plans come with free domain registration, 1-click setup for WordPress, Joomla, and Drupal and a variety of content management systems.
With the Starter and Business plans ,you will get access to a starter edition of HostPapa's website builder. Starter edition lets you build websites with only 2 pages. The Business Pro plan will let you use the Business edition of website builder that supports up to 1,000 pages.
No matter what plan you subscribe to, you can easily create an online store that is PayPal merchant compatible. One thing to bear in mind is that the website builder plan that comes included with shared hosting plans doesn't have the tools necessary for setting up an online store, but more on that later in the website builder part of the review. HostPapa's shared hosting also comes with a 1-click setup for OSCommerce Cart, Open Cart, PrestaShop and CubeCart.
The business plan is the best buy plan for shared hosting. It removes some of the limits you will have in the Starter plan. However, if you select the Business Pro plan, you will get some nice bonuses. You will share a server with fewer other users and more resources will be allocated to your account. You will also get access to advanced security features, domain privacy protection, premium SSL certificates and automated website backup. You can pay additional subscriptions to add those features to one of the cheaper plans, but if you are going to use them, it might be better to choose the Business Pro plan outright.
HostPapa WordPress hosting
The three HostPapa's WordPress plans share the same limitations to the number of websites, email accounts, amount of storage, etc. as their respective shared hosting plans. Let's see what makes them different from HostPapa's shared hosting plans:
WP Starter: $8.99/month
2 WordPress websites
Free WordPress installation
Free WordPress migration
100+ free WordPress themes
WP Business: $13.99/month
All features from the WP Starter plan
Unlimited WordPress websites
Unlimited addon domains
Unlimited parked domains
WP Business Pro: $21.99/month
All features from the WP Business plan
SEO optimized WordPress plugin
Free WordPress backup
Daily automated backup
30-day archive
Automated spam filtering
The WP Starter plan and the WP Business plans have similar features. They differ in the number of websites, domains, email accounts and the amount of storage per account. The WP Business Pro is the plan that is packed with features and that stands out from the bunch.
You get access to CDN (Content Delivery Network) for images with all HostPapa WordPress plans, but with the WP Business Pro plan, you can also use CDN for an unlimited amount of videos. If your website is going to be video-heavy, you should consider subscribing to that plan.
There are lots of other features that come only with the WP Business Pro plan. Some of them are the SEO preview tools, Google Analytics integration, automated malware scanning, and security fixes, scheduled social media posting and an option to accept PayPal payments.
All HostPapa WordPress plans have features appropriate for their price range. If you can afford it, I recommend the WP Business Pro plan, because all the bonus features are a great help in making your website successful, and daily automated backups are a good way of keeping your content secure.
Although HostPapa's VPS hosting plans are named after the planets of the solar system, their prices aren't stellar. The names are a bit confusing because the plans are not sorted by the size of the planets. I am prepared to forgive them for a little bit of confusion and the fact that they omitted my favorite planet because they have good VPS hosting deals. P.S. The pricing below is for an annual subscription.
Mercury: $29.99/month
2 GB RAM
4 CPU cores
60 GB SSD storage
1 TB bandwidth
Venus: $69.99/month
4 GB RAM
4 CPU cores
125 GB SSD storage
2 TB bandwidth
Earth: $129.99/month
8 GB RAM
8 CPU cores
250 GB SSD storage
2 TB bandwidth
Mars: $179.99/month
16 GB RAM
8 CPU cores
500 GB SSD storage
4 TB bandwidth
Jupiter: $269.99/month
32 GB RAM
12 CPU cores
1 TB SSD storage
8 TB bandwidth
You can get all the VPS features HostPapa offers with any of the plans. The only difference between the plans is the number of resources you get.
There are two choices you will have to make when you start your subscription. You have to choose from among CentOS, Ubuntu and Debian operating systems. You also get to choose if your server will be self-managed, managed, or fully managed. Unless you choose a fully managed server, you won't have access to KernelCare and a dedicated team of server admins.
As long as you know what you are doing, your server should be secure even without KernelCare. HostPapa's VPS hosting is PCI DSS compliant. It comes with a firewall, brute force detection and regular security updates.
During the first 30-days of subscription, you are eligible for a free migration, which includes website files, databases and scripts. Also, if you are not satisfied with the HostPapa service, there is a 30-day money-back guarantee. Be careful about the money-back guarantee. It doesn't apply to any setup, domain registration or transfer fees. For example, if you use free migration and then ask for your money back, you will be charged a $29.95 setup fee.
HostPapa customer support
You can reach HostPapa's customer support through multiple channels. They are available 24/7/365 via phone, email and live chat. The phone support is available in 18 countries and a few languages (English, French, German, and Spanish). Some hosting providers limit different types of support to different levels of subscription. With HostPapa, you can contact the support team even if you don't have a HostPapa account!
For basic questions, there is HostPapa's knowledge base. It consists of a series of articles organized by topic. You will find solutions to most of the common questions in the knowledge base. There is also a network status page where you can easily check if there is a problem with your server or there is something wrong with just your website.
There are mixed customer reviews concerning the HostPapa's support. There are lots of people praising how fast the support is and how quickly they resolved the problems. However, some users claim it took ages for the support team to answer, and once they answered, they were useless.
HostPapa domain registration
HostPapa is a domain registrar, so you can get both hosting and domain registration in one place. When registering a domain with HostPapa, you can add domain privacy to your domain for $14.99/year. Protection power website security will cost you an additional $59.88/year, and for adding G Suite email to your domain name, you will have to pay $71.88/year. Here is HostPapa's pricing for some of the most popular domains:
.com: $10.99/year
.net: $15.99/year
.info: $21.99/year
.org: $14.99/year
.us: $14.99/year
.online: $4.99/year
.blog: $9.99/year
.xyz: $1.99/month
HostPapa website builder review
HostPapa has 4 website builder plans you can choose from. The Starter website builder plan is included in any of their hosting plans. The Business website builder plan is included only in the Business Pro hosting plan. For other website builder plans, you will have to pay a separate subscription. Let's take a look at what they offer in their website builder plans.
Starter: $2.99/month
Free domain registration
Up to 2 pages
Mobile-friendly, responsive design templates
Business: $9.99/month
All features from the Starter plan
Up to 1,000 pages
Premium: $19.99/month
All the features from the Business plan
HTML & CSS editing
Header/footer code injection
Enterprise: $39.99/month
All the features from the Premium plan
eCommerce
45+ payments gateways
No additional transaction fees
Digital goods functionality
Inventory tracking
Sell on Facebook
Website creation with HostPapa's website builder starts with a choice of template. After you choose a template, you are prompted to add several keywords. Once the template is selected, you can use various tools to change and resize images, fonts, colors, etc. HostPapa's website builder isn't a drag and drop builder, but it is still intuitive and simple to use. However, it lacks powerful features that some other builders have.
That being said, I am very dissatisfied with HostPapa's website builder offer. The fact that you have to pay for more expensive website builder plans to get access to HTML editing or eCommerce tools, after already paying HostPapa for a subscription, doesn't sit well with me. I recommend that you choose another website builder like Weebly. There are plenty of options that are cheaper and have better features.
HostPapa also has something called Do-It-For-Me. It is an option where you pay their team to create your website and manage your account for you. It is a decent option, but it is quite expensive. The pricing will depend on what kind of website you want. For a regular website, pricing starts at $99/month, and for online stores, pricing starts at $199/month with an additional $499 setup fee.
HostPapa speed, uptime & reliability
Even the best features won't do you any good if your website is constantly down and takes ages to load. Luckily, HostPapa has excellent uptime and decent speed. Here is the data from pingdom.com for the past year, so you can check uptime and response time by yourself:
April 2020
Uptime 99.94%
Response time: 589 ms
March 2020
Uptime 99.96%
Response time: 666 ms
February 2020
Uptime 100%
Response time: 522 ms
January 2020
Uptime 99.99%
Response time: 529 ms
December 2019
Uptime: 100%
Response time: 508 ms
November 2019
Uptime 99.88%
Response time: 570 ms
October 2019
Uptime 99.70%
Response time: 554 ms
September 2019
Uptime 100%
Response time: 537 ms
August 2019
Uptime 99.94%
Response time: 531 ms
July 2019
Uptime 100%
Response time: 624 ms
June 2019
Uptime 99.98%
Response time: 421 ms
May 2019
Uptime 100%
Response time: 433 ms
HostPapa disk space & server storage
HostPapa is another one of those companies that offer unlimited space and unmetered bandwidth. It is a common thing in the industry to create an offer like that. It is a simple method hosting providers use to make themselves look good in the eyes of beginners. Anyone experienced with hosting will know that, in the hosting provider dictionary, "unlimited" means that bandwidth and/or space are unspecified. Storage and bandwidth are finite and limited by hardware. This means that it is impossible to provide unlimited storage.
There is always a clause in the terms of service that deals with unlimited usage. Actually, with HostPapa, there are a bunch of clauses. They are dispersed throughout different sections of their terms of service. It takes some time and effort to track them all down and find out what HostPapa's unlimited means. In short, HostPapa can suspend or terminate your account if you are using those resources excessively.
Although that is something most hosting providers do, I still detest it, and you should too. Fair hosting providers put clear limitations or just state that the usage of resources is unspecified, and left to their discretion. Others just promise something that is not true.
If you don't mind such marketing shenanigans, you will be happy to know that all plans come with SSD storage. They are also quite generous with storage space in the plans that specify how much storage you get. I mentioned earlier in this HostPapa review that you get 100 GB SSD in their cheapest plan. That is plenty of storage for just a basic plan.
HostPapa reseller hosting
Reseller hosting is a way to start your own web hosting business without owning any servers. With reseller hosting, you are using your allotted storage and bandwidth to host websites on behalf of someone else. If you are a web designer or developer, this is a good way to earn some extra money on the side.
Bronze: $29.99/month
2 GB RAM
4 CPU cores
50 GB SSD storage
500 GB bandwidth
20 cPanel accounts
Silver: $39.99/month
4 GB RAM
4 CPU cores
100 GB SSD storage
1 TB bandwidth
40 cPanel accounts
Gold: $64.99/month
8 GB RAM
8 CPU cores
150 GB SSD storage
1.5 TB bandwidth
60 cPanel accounts
Platinum: $89.99/month
16 GB RAM
8 CPU cores
200 GB SSD storage
2 TB bandwidth
100 cPanel accounts
Titanium: $119.99/month
32 GB RAM
8 CPU cores
250 GB SSD storage
2.5 TB bandwidth
150 cPanel accounts
Most of the features are included in all plans, but starting with the Gold plan, you will get some extras, so let's talk about those. You will get to choose between free WHMCS and Client Exec billing and automation suites. You also get one instance of manual malware removal assistance per account per month.
Some other features reserved for higher-tier plans are WAF (web application firewall), advanced malware detection and automated malware removal for up to 5 domains with the Gold Plan. With the Platinum or Titanium plans, you get these for up to 10 domains.
All plans come with free SSL certificates, a bunch of security features, a Softaculous script installer, PayPal merchant compatibility, a brandable control panel and an option to set custom resource limits.
Is HostPapa Hosting Good?
HostPapa has excellent speed and uptime, and the plans they offer are packed with features. On the flip side, they are not completely transparent, and they have some hidden fees. Unfortunately, I don't recommend HostPapa as a hosting provider.
Although I don't recommend them, here is a quick rundown of HostPapa advantages and disadvantages
2 domains included in a basic plan
Plans are packed with features
SSD storage
Excellent uptime and speed
HostPapa complaints and praise
The main HostPapa complaints seem to revolve around unexpected hidden fees and the spike in price after the initial subscription is over. The main HostPapa praise revolves around reliable uptime and the good speed they provide. There are also some mixed feelings about their customer support. Some users praise it to the sky, while others find it terrible.
Our HostPapa reviews conclusion
HostPapa is a hosting provider I don't recommend. Sure, they have excellent speed and uptime, their plans are packed with features and they have low starting prices. However, their regular prices aren't that cheap, there are some hidden fees and some additional features you will want to use are locked behind a steep paywall. HostPapa isn't a terrible hosting provider, but there are better hosting providers out there.
Our HostPapa review overall rating
HostPapa is a hosting provider with excellent features and SSD storage included in all their plans. If I reviewed them based only on those features, I would give them a 5-star rating. However, they ruin the experience with hidden fees and paywalls that locks you out of some useful features.
HostPapa hosting review FAQ