Last Updated on
Thanks for stopping by to get our HostGator coupon code. The promo code is "startblog",  and we hope you get a lot of value from using this to start your website.
If you haven't taken a look at it already, we also suggest you look into this companies strengths and weaknesses in our HostGator review for yourself and find out why we like them.
Disclosure
As an independent review site, we get compensated if you purchase through the referral links or coupon codes on this page – at no additional cost to you.
Want to know more about HostGator before before you make a final decision on using our HostGator coupons?
It's good you do choosing reliable hosting is very important!
It's only natural that you want to know more, and we would think you were pretty nuts if you didn't do your due diligence before using our HostGator Promo code!
Here's what you'll get:
A free domain name
As much as 62% off your hosting
Unlimited disk space and bandwidth
Free 24/7/365 email, chat, and phone support
Industry-leading blog load speed and uptime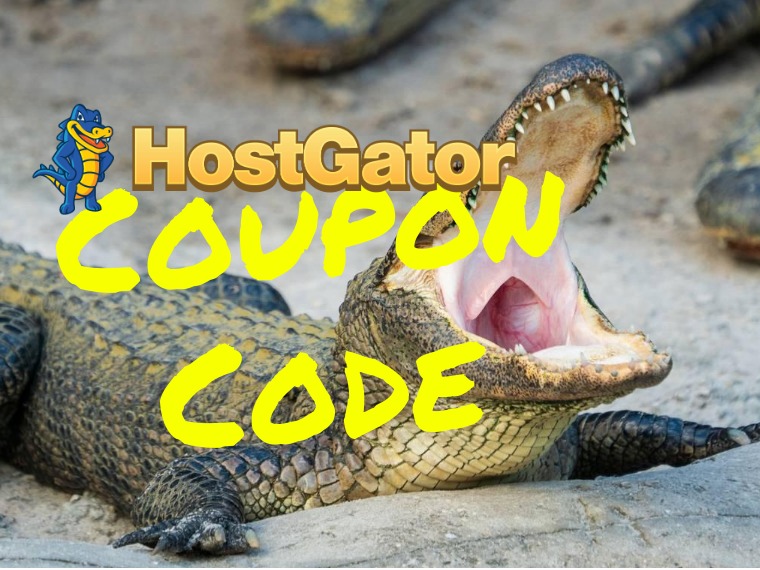 How to apply Your HostGator promo code discount
It's very simple, first just visit this link and follow the directions in the images below. The voucher applies to all of HostGator's hosting packages and you will also get a free domain name as part of the deal.
When you get to the website via our link, click the "create now" button.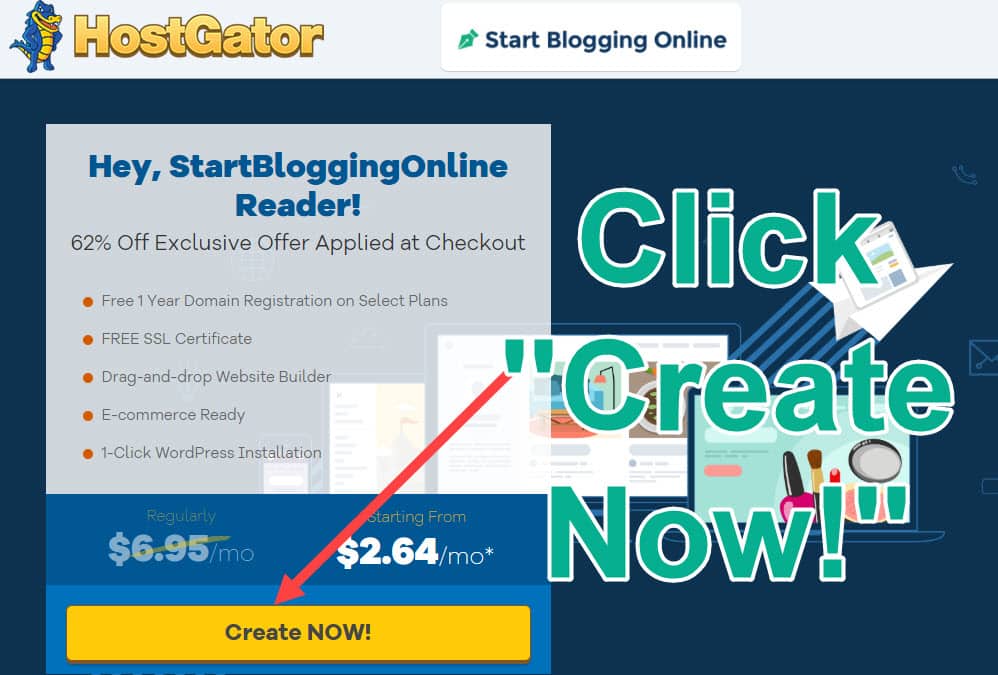 On the next page you can choose to register a new, free domain name, or you can use an existing domain name that you own if you prefer. Don't forget, this domain name comes free when you use this link.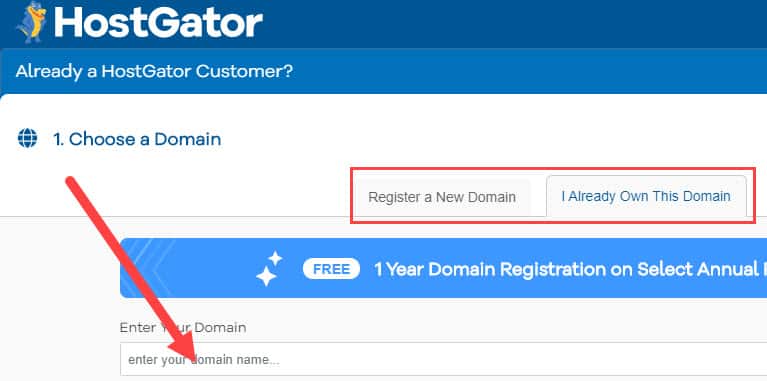 Now scroll down and choose your hosting package type. "Hatchling will be sufficient for most users. Then choose the duration of your hosting, notice that the longer you sign up for, the cheaper it will be.
As with most things you sign up for, you also need to add a username, but you also get a personalized security PIN to use when you contact support so make a note of this somewhere.

Next, you'll scroll down and enter your billing instructions in section 3.
Section 4 is a little more important and will impact the final amount you pay. Things like SiteLock monitoring and backups can be chosen if you feel you need them, but they aren't essential so feel free to uncheck these so that your costs lower.
Nest in section 5, make sure that you have the HostGator Coupon code "startblog" in place.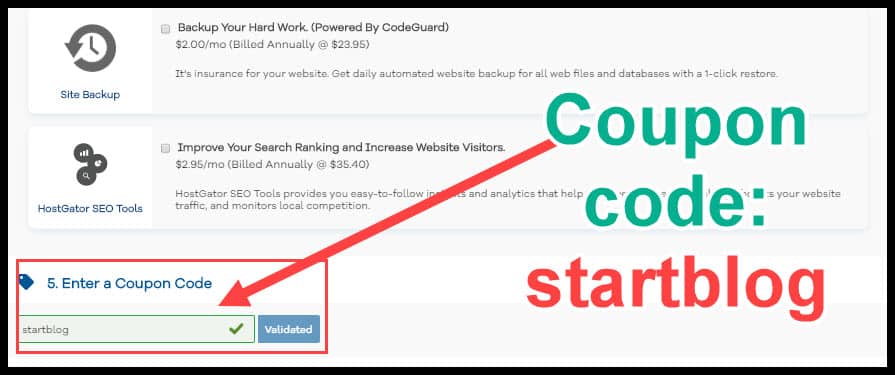 Related to HostGator coupons
Did you know that there is more carbon dioxide in our atmosphere today than any time in history?

We take pride in reducing our carbon footprint with the #1 Green Hosting Platform
Their servers operate on 100% Wind Energy, so you can help the climate for a super affordable price (through us) while benefiting from the best features a hosting platform has to offer. 
You'll even get a FREE domain name with them! 
Help save the planet. Get your web hosting with GreenGeeks now.