Last Updated on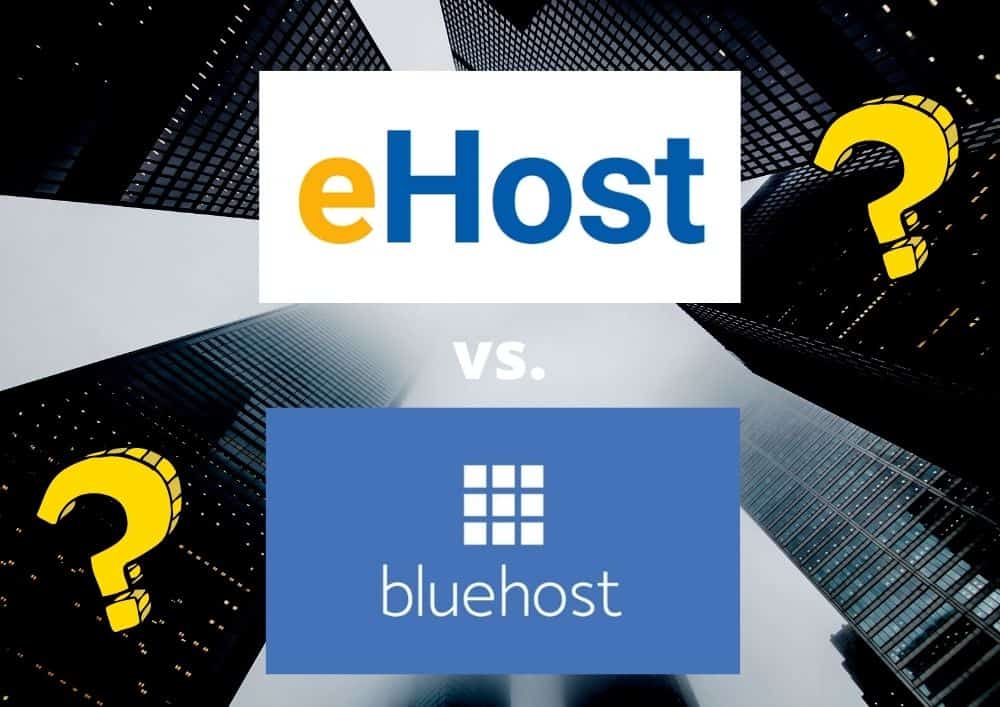 eHost might not be around anymore, but they had a great following of loyal clients when they announced that they will no longer be trading. As the authority among the hosting service providers, they've become a benchmark that entrepreneurs and self-employed professionals use to gauge the deal they're getting. eHost provided a great service, however, the value of their cost-effectiveness dwindled significantly before they closed down. 
A growing trend of negative eHost.com reviews, lower overall client satisfaction, and a number of competitors bringing more value to the market may have contributed to the demise of eHost. Is there a service out there that is comparable with eHost's eCommerce package? Absolutely. 
Disclosure
As an independent review site, we get compensated if you purchase through the referral links or coupon codes on this page – at no additional cost to you.
We're going to compare the offerings brought to the market by Bluehost, with the packages that were previously available from eHost.
Top facts about web hosting and eHost.com reviews
Choosing the right web hosting service is important, it's not a once-off service that allows your website to appear on the internet. It's an ongoing service that protects your site from hackers, cyber-attacks, and ensures your website is easily navigated and accessed by your clients. It's tempting to take the most cost-effective solution, but there is also the value for money factor to consider. The best value for money is going to give you the greatest return on investment. These fundamental facts and statistics about web hosting drive hoe the importance of value;
Page load speed is crucial to your SEO efforts: Google search results on page one have an average page load speed shorter than 2000 milliseconds

Load speed is fundamental to your site's success: 1-second delay in page response causes a 7% reduction in e-commerce conversions

Uptime is crucial: Server downtime costs $7,908 per minute on average

According to Forbes: "30,000 sites are hacked every day".
eHost vs Bluehost: pricing comparison & review
Is Bluehost a good option in place of eHost? With over 2 million domains to their database, they're one of the largest web hosting service providers out there. Just like eHost, they're owned by the Endurance International Group. Like eHost's discount opportunities previously, Bluehost also have coupon opportunities and discounts. Their packages and service options can be scrutinised against the offerings that were previously available to consumers who supported eHost. Here's a price comparison; 
Bluehost versus eHost eCommerce packages 
| | | |
| --- | --- | --- |
| Pricing | Bluehost | eHost.com pricing |
| Starting price | $2.95 / month | $2.75 / month |
| Free domain | Yes | Yes |
| Coupons | One | No |
HEAD OVER HERE TO GET 1 YEAR FREE DOMAIN WITH BLUEHOST
At face value, Bluehost comes in marginally more expensive than eHost.com's pricing did at more or less the same value. The differences are so minimal, both in services and in price, that they're much of a muchness in terms of financial outlay. When you factor in inflation as well as the fact that this is Bluehost's current price compared to eHost's previous price, you can call them even. Despite the cost-effective pricing, eHost discount and coupon codes remained popular, Bluehost coupon codes are too. 
Bluehost is one of the more cost-effective web hosting service providers out there. They're also one of the household names in the business, and, if you've decided to use WordPress as your platform of choice for your website, you're probably discerning when it comes to quality and value for money. Bluehost supports a greater number of database supports than eHost did. eHost only supported MySQL, but Bluehost supports MySQL and MongoDB too.
Bluehost versus eHost premium plan: Which is best for WordPress?
WordPress is a popular platform not only because it has a user-friendly CMS, but also because Google loves WordPress. It's great for SEO. 
Many people only utilise the CMS and add some coding to enable a more customised design. If you're doing this, you'll need to familiarise yourself with the languages your developers are using and ensure they're compatible with your web hosting platform. Bluehost is compatible with Java, Python, Perl, and PHP. In Contrast, eHost was compatible with PHP, NodeJS, Perl, and Ruby on Rails. 
Bluehost offers Cloud Hosting Plans, which eHost did not. Cloud hosting plans start at $6.95 and offer 2 GB of RAM, 100 GB of space, and unlimited bandwidth. eHost and Bluehost both have their server locations in North America.
Overall score: Bluehost versus eHost eCommerce package
Overall reliability, features offered, and ease of use are factors that should play a role in your decision-making when you're shopping for web hosting services. If you loved what you were getting from eHost, Bluehost will satisfy too. They're tailing eHost.com reviews closely in terms of their overall scores;
| | | |
| --- | --- | --- |
|   | Bluehost | eHost |
| Reliability | 9.8 / 10 | 10 / 10 |
| Features | 9.4 / 10 | 10 / 10 |
| Ease of use | 9.5 / 10 | 9.5 / 10 |
| Support | 9.5 / 10 | 9 / 10 |
| Pricing | 9.4 / 10 | 9.5 / 10 |
The kind of support you can expect from your service provider is also important. If there's a problem, or if you get stuck, being able to communicate with the service provider and have a timely response is paramount to protecting your eCommerce store. While Bluehost might be 2 million domains strong, their team of dedicated and full-time staff come to around 750 individuals. It might sound thinly spread among 2 million domains, but it's actually an excellent ratio. How well does it translate into actual service? Can you expect to be helped timeously and in a manner that satisfies your need for assistance? Here's a comparison between eHost's services and Bluehost's services;
eHost and Bluehost accepted the same payment methods, both are compatible with PayPal and credit cards. They're also identical in terms of the support they offer for Operating Services – Linux is in, Windows it out. Both support the same number of CMS's, although not the same ones. Bluehost offers support for WordPress, Managed WordPress, Joomla, Magento, Fantastico and Presto Shop. This puts Bluehost in better stead than eHost if you're a WordPress fan – eHost also supported WordPress but not Managed WordPress. They did, however, support Drupal which Bluehost do not. 
eHost premium plan: worth it?
eHost.com reivews dominated the scene when it came to web hosting services, for a long time. It didn't last forever, eHost reviews revealed frequent downtime, slower loading speeds, and other minor issues that kept popping up – until they eventually terminated their service. 
Bluehost offers services that are on-parr with eHost's offerings at their peak when they were the authority in the field. Bluehost adds a tremendous amount of value to their packages. Their shared hosting plans are only 20c more expensive than eHost's shared hosting plans were, but you can gain a great deal more value from their packages if you value space – forget eHosts's 1GB of storage – Bluehost offers 50GB.
Shared hosting plans
eHost.com reviews suggest that the company ran similarly to Bluehost in terms of their operational methods and in the services they offer, hardly surprising when you consider they're both owned by the same corporation. You could consider Bluehost to the upgrade from eHost, in many ways. When you compare their shared hosting plans, you can see why. 
| | | |
| --- | --- | --- |
|   | Bluehost | eHost |
| Plan name | Basic | Design Suite |
| Space | 50 GB | 1 GB |
| Bandwidth | Unlimited | Unlimited |
| Panel | cpanel | cpanel |
| Number of sites | N/A | N/A |
| Pricing | $2.95 | $2.75 |
eHost vs Bluehost: final verdict
Bluehost certainly meets the requirements of even the busiest eCommerce store, their loading times are adequate, they're incredibly attentive in terms of the customer service they offer, and they're better equipped to service WordPress users than eHost was. They're still met with a certain degree of reluctance, which is to be expected. People are creatures of habit, we prefer to stick with the names we know and trust. It is natural to feel somewhat displaced now that eHost is no more. 
Overall features comparison
Bluehost is one of the 20 largest web hosting service provers in the world, and their reputation and reviews reveal that they're popular and achieve great customer satisfaction. Bluehost scores a 99% user satisfaction rating, while eHost scored 86%. Bluehost is also super simple to use, with its "single-click install" feature. Bluehost offers a money-back guarantee, 24/7 chat features, and their servers are lightning-fast. Their uptime guarantee is also noteworthy, especially if you're in the business of selling online. 
My best recommendation for your hosting needs
Bluehost is the logical choice for exceptional web hosting services. Their services are on-parr with the industry standard and they're incredibly attentive, ensuring you have the best customer care experiences and features that function well.  They're not the only choice, InMotion is another popular choice that provides fantastic uptimes, speedy servers for excellent loading times, and great customer service. 
It always pays to shop around and delve into the forums and review sites. No service provider is absolutely perfect, but by getting an understanding of what to expect, you can make an informed decision. Customer service is one of the most important attributes to look at when you're choosing a web hosting platform. If you're unsatisfied, unsure, or in need of guidance, having a person at the end of your problem can mean a make-or-break in terms of solving your problem. 


Our #1 Choice For Hosting Blogs
62% Off Exclusive Offer Applied at Checkout