Last Updated on
When you hear the word "Hero," a superman emblem and a muscular frame with a six-pack come to mind, right? It turns out it's not just the superheroes in tights on TV or in the movies that fit this term, it turns out that the best GoPro for vlogging happens to be a Hero too.
The newest edition, the GoPro Hero 8, is the best GoPro in terms of features, but it's not everyone's top-choice. That's why GoPro brings choice and versatility to the market with a wide range of models.
Disclosure
As an independent review site, we get compensated if you purchase through the referral links or coupon codes on this page – at no additional cost to you.
The story behind the Hero affirms that each vlogger, each sports-enthusiast, and each film-nut can be the hero they see on TV. It's more than a selfie video camera. This GoPro series was designed to empower you with something to show the world and to do so at a professional level.
When you compare the ultra HD capabilities, the image stabilization and the Hero's compact shape and form with other cameras in a similar price bracket, you can see just how much bang for your buck you're actually getting.
Is the Hero the best GoPro for vlogging?
Are there GoPros outside of the Hero series that work well for vloggers? Absolutely. Look at the GoPro Max; it's at the top of the specs for the serious action vlogger. Looking for something super compact that fits into your pocket? The GoPro Session brings all of the features of the top-of-range pro cameras into the palm of your hand. Then it adds durability that you won't find in a regular video camera.
Best GoPro for YouTube comparison chart
Here are the models we focused on for our GoPro comparison chart:
GoPro Hero 7 Black: best GoPro for beginners
GoPro Hero 7 Silver: Best budget GoPro
GoPro Hero 5 Black: Best GoPro for the money
GoPro Fusion: Best image & video quality GoPro
GoPro Hero 5 Session: best compact GoPro
GoPro Hero 8: best GoPro for stabilization
GoPro Max: best GoPro 360 degree camera


Our #1 Choice For Hosting Blogs
62% Off Exclusive Offer Applied at Checkout
Best GoPro for vlogging: here are the top choices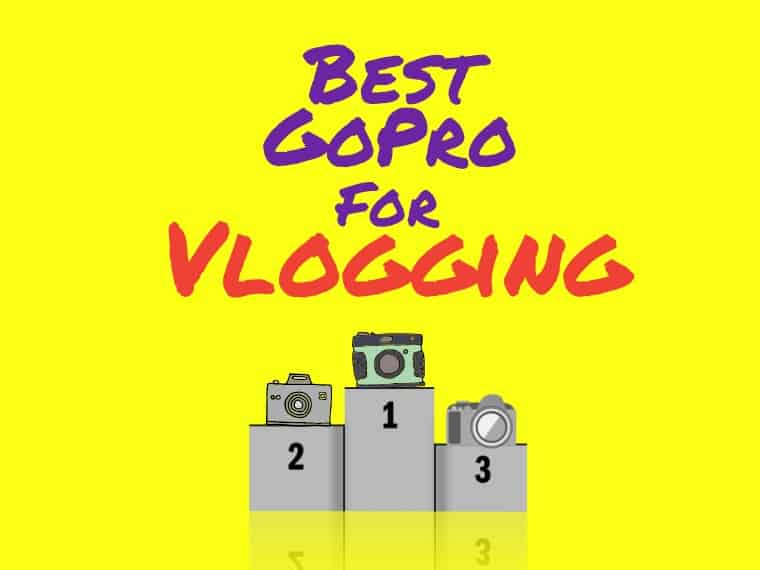 1. GoPro Hero 7 Black (best GoPro for beginners)
GoPro Hero 7 Black
Great video stabilization

High quality photos

Rugged and completely waterproof

Voice control feature

Live streaming feature
This action camera is popular with vloggers because it creates such high quality footage with its ultra HD 4K filming. For the features it offers, it's considered cost effective. It's also really easy to use and its features are focused around creating an enjoyable experience when filming.
The GoPro Hero 7 Black is also compact and perfectly designed for you if you're looking for action shots. It has really great image-stabilization capabilities and, thanks to its gimbal-like movement predictions, it can anticipate your next move and capture it with perfect clarity.
This camera may have been designed for sports people, but it is loved by vloggers for the professional finish and image/video clarity. The other bonus is the live streaming feature, it syncs effortlessly with your smartphone and streams directly to Facebook or YouTube. It also features:
Time Lapse Mode (if you want photography features)
Ultra HD Video Quality
Waterproof
Live Streaming
Shortfalls
No 4K streaming
Very poor battery life (but you can get a second battery to extend your filming time)
2. GoPro Hero 7 Silver (best budget GoPro)
GoPro Hero 7 Silver
Great video stabilization

Touch screen with streamlined capture modes

Voice command feature

Includes photo timer feature
The Hero 7 Silver is for the budget-conservative. It is one of the best vlogging cameras for beginners, especially those who love the GoPro Hero 7 Black but need something affordable. It's slimmer than the Black one and doesn't have the front screen.
The Black also enables more add-ons and aftermarket extras. These are the features that make the GoPro Hero 7 Black more expensive, but in terms of functionality, you're getting better value for money with the Silver, considering the large price jump between the two models.
When it comes to performance, the Silver can manage 30 frames per second while the Black gives you ultra HD 60 frames per second in 4K. In full HD, the Hero 7 Black can film 240 FPS while the Silver manages a total of 60 fps. You're also not able to remove the battery from the Hero 7 Silver, but you can remove the battery of the Hero 7 Black (handy if you are out and about and carry a recharged spare with you).
The GoPro Hero 7 Silver is ideal for the action vlogger that values a more compact design and doesn't need the extra features. It's tough, the image and video quality are superb and you get the same image-stabilization capabilities that makes the GoPro brand so popular. The GoPro Hero 7 Silver is for the vlogger that wants to create high quality and professional video clips on a budget.
Some of the other features that make the GoPro Hero 7 a great buy for a vlogger:
The WDR function corrects dark shadows and overexposed parts
Slow down full HD images X2
Image stabilization
4K, QHD and Full HD image quality
Best budget GoPro
Shortfalls
No HDR photos
No live stream
No removable battery
No memory card included
3. GoPro Hero 5 Black (best GoPro for the money)
GoPro Hero 5 Black
4K video and 12MP photos

Durable design

Compact and easy to carry

Tough exterior

Super time lapse mode
This GoPro vlogging camera is great for the action vlogger who loves the Hero 7 but needs something a little more budget-friendly. It is slightly cheaper than the GoPro Hero 7 Silver and significantly cheaper than the GoPro Hero 7 Black. The video and image quality are still fantastic, far beyond what you might find in this price range when you're shopping for a regular vlogging camera.
How great is the video and image quality? Well, just like the Hero 7 Black, it can capture stunning videos. It handles recording 4K videos at a 30 fps rate with ease. The colors render true to their nature with no pixel shattering.
It's an easier option for beginner vloggers to afford; however, the primary drawback between this one and the Hero 7 Black is the lack of water proofing. Unless you are actually looking for something that will film underwater, it's really a non-issue.The GoPro Hero 5 Black also offers:
Compact and tough exterior design
Video editing option is available
12MP photos mode
Exceptional the time-lapse mode
Shortfalls
Needs special housing to go under water (which you can buy on Amazon)
4. GoPro Fusion (Best image and video quality)
GoPro Fusion
Spherical video and photos

360 degree vlogging feature

Captures 5.2k videos
The fusion was really designed for the action vlogger and the extreme sports fan. The video quality is greater than 4K, which has proven to be irresistible to vloggers, especially action vloggers. Does it deliver on its promise? It delivers with absolute precision. The ultra-HD 5k video quality gives you the best video quality you will find right now. If you're filming long distance, you will still have clarity even when you zoom in to magnify a still shot.
It also features 360-degree video and image capturing, again, a feature that was designed with the action vlogger and avid sports person in mind. However, this feature has proven to be super handy for vloggers too, even the studio-based pros. It makes it easier to record Facebook ads and other promotional content. You can also capture perfect images because the fish-eye lens shots are easily converted into a standard scene, which is what you need for a professional YouTube clip.
Ultra HD 5.2K videos
360-degree vlogging
Easy video editing thanks to the GoPro Fusion app
Spherical videos and photos
Transforms spherical photos into standard ones
Shortfalls
It's expensive (second most expensive GoPro on the list)
Firmware has issues
GoPro app needs upgrades
5. GoPro Hero 5 Session (best compact GoPro)
GoPro Hero5 Session
Single press shutter

Photos are captured at 10 mp

Waterproof to 10 meter

USB connectivity
The Session is like the twin of the GoPro Hero 5, except that it is absolutely tiny. Picture a camera the size of the Gopro Hero 5's lens. It's compact, it's super tough, and it can fit into a match box. Many vloggers prefer the Hero 5 because the Session sometimes has some issues with its firmware and the battery drains fast. That said, for the price you're likely to pay for it, you're getting exceptional value for money, because the image quality is anything but tiny.
You're getting wireless connectivity, an attribute that's seriously great for vloggers because you can transfer your data to your social media channels effortlessly. This camera is the best camera for YouTube vlogging if you're looking for a miniature camera. It's tough and compact; plus, it brings 4K video recording and a steady fps rate to the table. It is also loved for its:
Durable design
Water resistance
Affordable price
The single press shutter button is available
Captures stunning photos and videos
Shortfalls
It's easy to lose (because it's so tiny)
The firmware tends to be little buggy
The battery life is poor (a fair trade for its compact shape?)
6. GoPro Hero 8 (best GoPro for stabilization)
GoPro Hero 8
On, High and Boost level stabilization

Mods are expandable

1080p live streaming feature

High quality photo and video
HyperSmooth stabilization, the sleek design and the customizable interface, welcome to the world of the GoPro Hero 8.
You don't have to be an action vlogger to appreciate the superb features packed into this compact little design. GoPro has included some presets to help you with specific image and video capturing – no more guesswork. Additionally, you can choose whether you want HyperSmooth on or off, giving you further versatility and control over your shots. The image stabilization feature is so effective, you can almost guarantee your footage will be free from vibration and unsteadiness, even in the toughest conditions.
The Hero 8 is really designed for the extreme sports vlogger. It is the best camera for YouTube, but unless you are taking action shots, you might find yourself paying for features you're never likely to need – like the image stabilization and ultra-HD footage (YouTube often throttles the streaming quality anway). It is also:
Compatible with over 30 accessories (such as a wrist strap, mini tripod stand, floating hand grip, waterproof case and screen protectors)
Capable of 4K60, Wide FOV
3.5mm Audio Mic Input with Media Mod for HERO 8 Black
Wi-Fi + Bluetooth® enabled
Shortfalls
Poor battery life
Device is compatible with an older battery but some of the unique Hero 8 features won't be available
7. GoPro Max (best GoPro 360 camera)
GoPro Max
Three in one camera function

Great stabilization

1080p Live streaming available

Horizon Leveling

Panoramic photos without any Distortion
The GoPro max doesn't bring the best specs to the table with regards to vlogging with a GoPro, and it's also not the best camera in its price bracket. However, if you're looking for something you can have a ton of fun with, this is your best bet.
It gives you 360-degree filming, which is always great for the action vlogger and if you're conducting interviews. You can also enjoy 360-degree editing, which is super user-friendly. The Max is GoPro's upgrade from the Fusion, although it is far smaller and more compact.
They have refined how usable the camera is, giving it a selection of fun features that give it a similar experience to the Hero 8, but the image quality is somewhat lower. On the other hand, the Max's image stabilization is superb and as good as the Hero 8's in every way.
1080p (1440P 4:3) action cam video
Horizon lock
5ATM water resistance
Single microSD card
6x microphones
Shortfalls
Non-replaceable lens (you must get lens caps)
The lenses are convex in shape, which makes them feel more vulnerable to damage
Which GoPro vlogging camera is best for beginners?
The Hero 8 remains the best for beginners. (Some say the Hero 7 is the best; the debate is open and the jury is out.) It has built-in mounting fingers (a built-in hard mount), which enables you to secure your GoPro to other objects. It's handy if you're on a bike.
The Hero 8 also has hyper-stabilization and boost mode. Hyper-stabilization takes a wide field-of-view image and crops it down to fit into your frame and stabilizes the image in that frame to the horizon – this feature is unrivalled. Some of the other extras to get excited about:
Media mod – this is a built-in shotgun mic (far improved audio when compared with previous GoPro cameras)
3.5mm Mic jack (use the mic of your choice)
Micro HD out – connect to any display that is compatible if you need a bigger screen
Cold shoes – Clamp your favorite extra parts onto the camera
Beginner vloggers will value features that are user-friendly and require minimal, if any, aftermarket attachments to get the perfect sound and clear footage. That's why it's helpful to select a GoPro model with newer specs; anything older than the GoPro Hero 7 (Silver or Black) will make it difficult for a YouTube vlogger. The fish-eye lens will require editing and that extra software is another process altogether. It also means live streaming is difficult, if not impossible.
In comparison, the GoPro Max is also very nice because it films in 360 degrees (it has a lens on the front and the back end of the camera); however, unless you specifically require that, you're going to have a lot of post-production edits to do before you can upload your vlogs.
What's the best GoPro for kids?
The GoPro HERO5 Black is the best GoPro for kids. It's tough and it's water-resistant without the housing. It's in the higher price bracket, which means it's not in everyone's budget. However, it's the model that's most likely to survive in the care of youngsters.
GoPro got its name for being virtually unbreakable; for that reason, it is a child-friendly camera especially when you compare these action cameras with other filming devices that can capture similar image quality. You're far more likely to hand a GoPro to your child than a DSLR as an example.
Plus, the features are more interactive and engaging. The voice command element on its own is likely to amuse the children, and this GoPro's image stabilization will come in handy too. The Hero 5 is a better option compared to the Hero 8 or the Hero 7, because it's far more cost-effective but offers almost the same features.
Most importantly, the Hero 5 is tough and compact. Canon's action camera, the Canon EOS R is also worth considering, depending on the specs you need.
If you're buying a camera for your kids to capture action-packed footage, this is not your best bet. If you're looking for a versatile camera with great quality image and footage quality that will occasionally capture outdoor action, the Canon is a great buy.
LIGHT – GoPros are designed for outdoor spaces, bright sunlight, and lots of sky – they need plenty of light. When you're filming indoors, you have to compensate for this. Get a simple LED panel for filming indoors; this will prevent your footage looking grainy and dark. Plus, these panels are affordable and easy to move.
SOUND – A GoPro action camera is designed to capture the sound around it; it is not designed for professional indoor recording. You will need to get a good quality mic that is compatible with your GoPro when you are vlogging.
FOV FILMING – Use a GoPro to shoot a wider FOV (field of view) and give your viewers greater insight into your surroundings and what is happening in the scene. When you shoot with your settings on the "wide" setting, it gives you a 15-30 mm field of view. If you film with your settings on "linear," it gives you a 24-49 mm and a little more control over the way you film. Use GoPros that are newer than the GoPro Hero 4 for vlogging (like the GoPro Hero 7 Black, the GoPro Hero 7 Silver, the GoPro Hero Session 5, the GoPro Max or the GoPro Fusion). The previous models will film with a fish-eye effect and you will need third-party software to fix that. These models make it easy to convert your footage using the app.
SETTINGS – You have to have the correct settings on your GoPro for filming YouTube videos and for vlogging:
Resolution: 2.7K
Frames Per Second: 30 (minimum)
Field Of View: Linear (if optional) or Narrow (if Linear is not available)
White Balance: Set this to taste, but most likely either at 4800k or 5500k
Color: Flat
ISO Limit: 400
EV Comp: Adjust this down to reduce harshness
Audio Protune: OFF


Our #1 Choice For Hosting Blogs
62% Off Exclusive Offer Applied at Checkout
Vlogging with a GoPro: key takeaways
GoPro cameras that enable live streaming are best for vlogging.
Buy a GoPro camera that is compatible with your other mobile devices.
GoPro cameras provide beginner vloggers with many budget-friendly options.
Don't pay for more specs than you need – GoPros all offer HD filming.
Even entry-level GoPro camera specifications are excellent for the price they're offered at.
GoPro is ideal for action and sports vloggers, not for indoor vloggers.
The Hero series in the GoPro range is the best when it comes to vlogging.
GoPro cameras are versatile when you add accessories to customize them for your purpose.