Last Updated on
Video editors and YouTubers know exactly how to make an amateur backroom video look like a professionally shot film reel that had the benefits of a studio backdrop. It's almost like magic. In fact, the mixture of a casual background with superb video editing makes YouTube videos so much more relatable, and that's what has viewers hooked and it keeps the coming back for more.
It's like an eclectic ensemble of professional and totally "backyard" filming that really sells a channel. It does take some skill to pull it off. As a vlogger, your needs are different. It's not about finding the best stock standard piece of equipment to set up and turn on whenever you need it.
Disclosure
As an independent review site, we get compensated if you purchase through the referral links or coupon codes on this page – at no additional cost to you.
You need devices you can travel with, that are convenient to set up anywhere. We have covered other pieces on the equipment you need to make really great YouTube videos and vlogs. That includes choosing the correct microphone for vlogging, finding the best video camera for YouTube videos, and even how to find and use the perfect tripod.
Once you've captured great footage and you have the skills to edit what you've filmed, you'll need a device that can run the software programs without glitching. There's nothing as frustrating as a computer that keeps freezing or shutting down because it simply doesn't have the processing capacity to run your programs smoothly.
You want to find a laptop that can run the programs you need and render your videos in as little time as possible – but – you also need to find something that fits your budget. Fortunately, there's a wonderful selection with something for everyone, whether you are looking for the best video editing laptop – something advanced and designed for fast-paced productivity – or an entry-level laptop that's budget friendly.
Best laptop for video editing & vlogging: Here are the top choices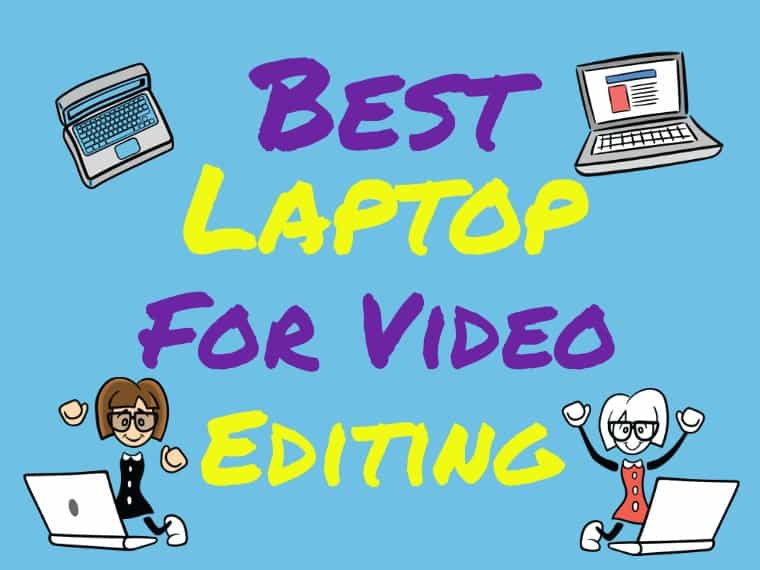 Here are our top 10 picks for the best laptop for video editing:
Microsoft Surface Book 2 (15-inch)
Asus Zenbook 13
MacBook Pro 16-inch
2019 Dell Latitude E7450 14″
Dell Precision 7730
Razer Blade 15 RTX
HP OMEN 15-inch gaming laptop
Lenovo Thinkpad T480s
Acer Aspire 5
Alienware New M15 Gaming Laptop
1. Microsoft Surface Book 2 (15-inch) (best laptop for video editing overall)
The Microsoft Surface Book 2 (15-inch), with its enhanced graphics performance and impressive processing capabilities, is easily the best laptop for video editing overall. It's surprisingly lightweight for its size, giving users a good mix of practicality with convenience. And, Microsoft pumped close to $4 million into marketing this product, which is quite a showmanship of faith in its abilities.
This device is made from machined magnesium, which means it stays free from fingerprints, because it's a completely matte finish. The laptop comes with numerous slots, making it easy to transfer videos that need to be edited from your recording device (video camera/phone) onto the laptop. This includes a USB-C, two USB 3.1, one full-size SD slot, and the magnetic-detach charging port.
The screen pops out by detaching from the keyword with a button function. If you have other programs running, you might experience some delay with this, which can be a tad frustrating at times. This laptop is a bit short on storage space and the fact that there's no Stylus/touch pad pen provided is disappointing since this a feature appreciated by video editors and designers.
A touch screen can be a lifesaver for animators who prefer to use a Stylus (or a touch screen pen). Instead of relying on a mouse or a trackpad, sketching and animating can become as simple as it is on paper (if not more so). The vibrant display will keep you transfixed and productive.
Microsoft Surface Book 2 (15-inch) pros and cons
Excellent cooling
Lightweight
Very powerful


Our #1 Choice For Hosting Blogs
62% Off Exclusive Offer Applied at Checkout
2. Asus Zenbook 13 (best laptop for video editing under $1000)
Considering you're getting an i5 processor with extensive connectivity and a design that's ideal for convenient on-the-go travel and usage, the Asus Zenbook 13 is really great value for money, definitely coming in as the best laptop for video editing under $1000. They're available for around $699 right now.
Asus Zenbook 13
13.3 inch wide-view full-HD NanoEdge bezel display

Intel Core i5-8265u processor (6M cache, up to 3.9 GHz)

Fast storage and memory

Connectivity: HDMI, USB type C, Wi-Fi 5 (802.11AC) and Micro SD card
If you're on a budget and you need a device that can run video editing and graphic design software, this device is perfect. It occasionally battles with its processing power if you're running too many programs simultaneously, but if you're careful about the number of processes you have running, it will work like a charm.
The excellent screen quality makes it ideal for the creative's purposes. The trackpad can occasionally become glitchy; use a wired mouse for a more fluid experience. The important elements for video editors, the sound and graphics, are above average and exceeds expectations for a device in this price range.
Finding an i5 processor for less than this can be difficult and it will usually mean you're being shortchanged elsewhere. The 3.9 GHZ processing is impressive for a device in this price bracket. The connectivity options leave room for creatives to move their content easily from one device to another to be edited.
Asus Zenbook 13 pros and cons
Great value for money
Compact and ideal for travel
High resolution screen
3. MacBook Pro 16-inch (best Apple Mac laptop for video editing)
If you're looking for the best mac laptop for video editing, meet the MacBook Pro 16-inch wonder. It's made for creatives with its superior processing power and its stunning 16-inch retina display. It's considered the best Apple laptop for video editing for those who want something with great specs.
MacBook Pro 16-inch
Ninth-generation 6-Core Intel Core i7 Processor

Stunning 16-inch Retina Display with True Tone technology

Amd Radeon Pro 5300M Graphics with GDDR6 memory

Intel UHD Graphics 630
It's not ideal if you're a traveler looking for a device that will work on the go. The poor battery life, combined with the fact that the bottom of the laptop gets very hot, makes it a better device for at-home or in-office use. It also doesn't have the extensive USB and connectivity capabilities that cheaper Windows devices have.
Many users, however, are thrilled to see the end of the butterfly keyboard with this model, and the slim and sleek design is enough to convince anyone that this is a superb laptop for creativity – like video editing and graphic design.
If you already love Apple products, this will be the cherry on top you've been waiting for. It still features the sleek design and the simplified approach to OS but with all the features and specs you need for video editing. It's not designed to go out and about with you, but set it up in your office for a reliable workhorse that is easily taken to a meeting when necessary.
MacBook Pro 16-inch pros and cons
Six-speaker system with force-cancelling woofers
Touch Bar and Touch ID
Ultrafast SSD
4. 2019 Dell Latitude E7450 14″ (best budget laptop for video editing)
It's not the latest release, but if you're on a budget, you can find tremendous value in purchasing an older device because the price drops exponentially as soon as there is an update. It doesn't devalue its functions in any way. The 2019 Dell Latitude E7450 14″ is the best budget laptop for video editing.
A core i5 processor is the bare bones of what you can get away with for video editing. The fact that you have a dual core CPU and 8 GB of RAM makes this a great buy. Dell is known for releasing excellent quality products and their aftermarket service has earned them a good reputation in the industry.
The laptop will only run one Creative Cloud program at a time, which might be annoying, but if you're looking for a really great deal and an affordable machine to get into video editing, this device will work perfectly. The fact that it's 5th generation also means you're getting newer technology at a bargain price. The SSD helps smoother functions when there's a demand on processing power.
This bare bones basic laptop gets the job done without a fuss. It's a great device for a beginner video editor who isn't under pressure timewise. You can comfortably run one editing program at a time (you might need to close a few background programs) unless you don't mind the program rendering at a slightly slower pace.
2019 Dell Latitude E7450 14″ pros and cons
Affordable
Lightweight for travel
Runs video editing software
5. Dell Precision 7730 (best Dell laptop for video editing)
Dell has a long-standing reputation as one of the best computer manufacturers. The best Dell laptop for video editing is the Dell Precision 7730. These days, video editors get more joy from devices like Razor or Alienware, but this particular Dell has all the essentials a video editor needs.
Dell Precision 7730
16 GB RAM

Processor speed 2.6 GHz

Core i9 processor and a 4K display

Nvidia Quadro P5200 graphics card
This 17-inch workstation from Dell is designed for professional video editors and graphic designers. Not ideal for jet-setters, this heavy and larger machine is packed with features to make rendering and other demanding features simple and easy.
It's performance is quite unlike anything else on the market; if you are buying it for creative purposes, it's like a dream come true. If it's used as an office or general PC, the true power and capabilities of this product are tragically wasted. It's lightning fast, sturdy as a rock, and designed to handle the demands that even the most professional video editors might throw at it.
The 16 GB of RAM means you can really get the most out of your 2.6 GHz processing power. The 4k display is enough to make any creative, designer or video editor, swoon. This beautiful and efficient workhouse won't only captivate you during working hours, the HD movies and videos will keep clients transfixed during demos and pitches, too.
Dell Precision 7730 pros and cons
Screen resolution of 1920 x 1080 and a 4K resolution panel bear
Windows 10 Professional
Two Thunderbolt 3 ports
6. Razer Blade 15 RTX (best laptop for graphic design and video editing)
The crème de la crème of gaming, graphic design, and video editing devices. In fact, calling it a device is selling it short – it's a real and true beast. The processing capabilities are unrivalled, the Razer Blade 15 RTX's super responsive and it can almost read your mind (very intuitive). Definitely the best laptop for graphic design and video editing on the market right now.
Razer Blade 15 RTX
Customizable RGB Individual Key Lighting

Biometric Security

Connectivity: 1x Thunderbolt 3 USB-C 3. 2, 1x USB-C, 3x USB 3

Specifications: 9th Gen Intel Core i7 9750H 6 core processor w/ 2.16GB RAM, 512GB NVMe SSD
Alongside the creative, web developers and programmers also appreciate the Razer Blade's impressive performance. For those who appreciate artistry and fine attention to detail, this product spares no expense or consideration. Every detail is geared to improve the operation, the comfort, and the internal capabilities.
While it's very heavy, it is also quite neatly designed without bulk. This makes it a worthwhile laptop for those who need all the features in a travel-friendly package.
The travel-friendly feature makes it a popular favorite with designers – both graphic designers and web designers. It's highly functional and easily packs up to be transported to a client meeting, where it puts its best foot forward. Designers also love the processing power, which means no more freezing and losses if you need to reboot suddenly.
Razer Blade 15 RTX pros and cons
Zero-Compromise Powerhouse: Built for gaming and creative work
100% sRGB, factory-calibrated matte screen with a 240Hz refresh rate
Supports SSD and dual-channel memory upgradeability
7. HP OMEN 15-inch gaming laptop (best HP laptop for video editing)
If you're looking for overall versatility, ease of use, affordability, and great features, the best HP laptop for video editing is the HP Omen 15-inch gaming laptop. Gamers enjoy smooth gaming with no lag, which translates to faster renders (especially with 3D rendering) and a more enjoyable video editing experience.
If the Nvidia Turing graphics doesn't turn heads, the screen's 240Hz refresh rate certainly will. Users report that this machine runs better for gamers than for creatives, but it packs a punch when it comes to processing power. It has everything you need for a smooth experience, making it the best HP laptop for gaming and video editing.
This machine is a direct rival of the Razer Blade 15, with similar specs but a far more daring exterior design. The Razor is akin to an Apple product; this one is slightly more ostentatious with its obvious Omen look.
Who said gaming laptops are just for gamers? They offer some of the most intuitive features and designs yet, which is exactly what a video editor needs, along with fantastic RAM and processing abilities. The Omen brings it all together in an exceptionally attractive laptop with high functionality.
HP Omen 15-inch gaming laptop pros and cons
2.6GHz Intel Core i7-9750H
Fast, well-balanced specification
Affordable for its specs
8. Lenovo Thinkpad T480s (20L70023US) (14") (best small laptop for video editing and travel)
You either love Lenovo, or you don't, but either way, this Lenovo Thinkpad T480s is the best small laptop for video editing and travel. Why? It's compact, it's based on Lenovo's classic IdeaPad design, and its specs are really impressive for the price class this device is in, especially with famous podcasters like Joe Rogan praising it.
This machine is designed to be a tough workhouse aimed at the corporate hero who needs functionality, speed and efficiency, and a die-hard quality that ensures data is protected.
But how does this help video editors? It's easy to transport, its specs make it more than capable of running video editing software and rendering without hiccups, and it's slightly more budget friendly than the professional devices. Lenovo has kept with their classic look; if you love it, you'll enjoy the upgraded features.
The solid construction alongside the built-in security features help video editors – you don't have to spend any excess RAM on aftermarket security software. You can't underestimate the importance of a great display when you're working with video and image quality. Lenovo is also known for offering great customer service.
Lenovo Thinkpad T480s (20L70023US) (14") pros and cons
Built-in security features
Solid construction
High-quality display
9. Acer Aspire 5 (best video editing laptop under $500)
This laptop is available for under $500 if you dig around for it on Amazon; the Acer Aspire 5 is often valued at significantly higher prices, as much as $749. You're definitely getting a tremendous amount of value; it's by far the best video editing laptop under $500 when you find it on Amazon for $499.
Acer Aspire 5
CPU: 1.60Hz Intel Core i5 8250U (quad-core; 6 MB cache; up to 3.40GHz)

Display: 15.6-inch FHD (1,920 x 1,080) LED

Graphics: Intel UHD Graphics 620

Memory: 8 GB DDR4 RAM

Storage: 256 GB SSD
The build of the device is super handy for video editors and designers; it comes with decent connectivity options like two USB 2.0 ports, one USB 3.0, a USB-C, Ethernet and an SD memory card port. If you're looking for something specifically for video editing, you may find you get far more joy if you opt for the Full HD (1920 x 1080) screen. It will cost a little more, but you'll have a less washed-out color contrast. The battery life is very impressive, giving you 6 hours of usage.
With a solid state drive, you can expect a pretty smooth editing process. The memory is borderline; it will run one video editing software program at a time and you may need to suspend some background processes while you are busy. Rendering may take some time, but it will do the job well enough considering its price bracket.
Acer Aspire 5 pros and cons
Battery life
Solid build quality
Reasonable specs and function
Alienware New M15 Gaming Laptop (best laptop for gaming and video editing)
This super compact device from Dell's manufacturing warehouse is ideal for traveling, and the specs and processing capabilities make it the best laptop for gaming and video editing. Being 9th gen, you're getting the latest innovations in tech for a smoother and more enjoyable product.
Alienware takes pride in bringing out super slim and compact machines packed with super capabilities. Along with its travel-friendly design, it also has a number pad, which makes keyboard shortcuts easier.
Regardless of whether you are a gamer or a video editor, keyboard shortcuts speed up your commands. The trackpad is super smooth if you find yourself out and about without a mouse.
Alienware became famous for their gaming laptops; not many people realize that Alienware is part of Dell. The brand became particularly popular after it was featured in the famous series The Big Bang Theory, when one of the lead characters, Sheldon Cooper, uses this brand as his preferred choice.
Alienware New M15 Gaming Laptop pros and cons
Excellent processor
Great display
Compact
Should I use a Mac or Windows laptop for video editing?
Both Mac and PC have a great range of devices on the market for video editing. When you buy a Mac, you pay considerably more for the same specs, which means it could become far more costly to set yourself up as a video editor.
Those who opt for a Mac usually do so because they find the functions more user-friendly and they enjoy the layouts and the sleek design. It's a matter of personal preference, but because you're paying for the "look" primarily, you have to pay extra to get the specifications and the features that can run video editing software without a problem. That said, if you have the budget, a Mac will give you an enjoyable and stress-free video editing experience. It's all about design and ease of use when you go with Mac – functionality sometimes takes a backseat.
If you want to pay less for better specs, Windows is your best option. These devices come in a range of price classifications with varying features. You will need a higher-end Windows device for video editing – something that is priced over $1,000 if you really want to run video editing software without a hiccup.
Windows devices are often easier to work with because they sync better with other devices, whereas Apple generally works best with other Apple products. Windows is focused on functionality first, which often means the devices are not as aesthetically pleasing or minimalistic in their sophistication. In terms of what you can achieve, the right Windows device will see you happily editing videos for many years at a time.
The verdict? If you have been a loyal Apple user up until this point, look for a device with the necessary specs for video editing. If you have used a Windows device up until this point, look for a higher-end Windows device that can run the software for video editing. The two operating systems are similar but each have their own unique traits. It's a matter of personal preference and budget availability that determines which you opt for – both operating services have fabulous devices available for video editing.


Our #1 Choice For Hosting Blogs
62% Off Exclusive Offer Applied at Checkout
What are the best video editing laptop specifications and configurations?
Finding the laptop with the specifications you need for video editing will give you a far more productive day at the desk. No more slow renders, skipping, hiccuping, or the interminable wheel of death that spends forever spinning and eventually requires a refresh (which then loses everything).
The specs you need for video editing vary based on the type of video you are working with. It also depends on what else you need to run in the background. The basic, entry-level specs you need can get the job done, albeit with some frustration and a bit slower than you would probably like to. However, here is an idea of what you should look for in a good video editing laptop:
You need at least 16 GB memory to process 4k, 8k or higher videos. Adobe Premiere Pro can run on 8 GB of memory if your footage resolution and bit depth isn't too high. You can also function on 8 GB if you're working on 1080p projects and you close down any background apps and programs that might consume RAM.
You can get away with using a laptop that has an i5 processor but you want to aim towards an i7 or, better yet, an i9. This is particularly useful for caching of files, which is a pre-render. The processor is responsible for acting on the command from a task and storing that in the RAM. Good RAM is best complemented with a good processor.
Cut the lags and delay with the right graphics card. You can also enjoy faster (and better) rendering, faster 3D visualization of effects, and a happier more productive video editor. Some of the most popular names in the video editing industry include Nvidia, Asus, MSI (Geforce) and AMD.
Decent screen quality (good resolution)
You don't have to have the best resolution, but you do need to see 4k footage clearly, at the very least. This is important because as a video editor, you need to be able to see clearly if you need to tweak the colors to prevent them from looking washed out. It's also an important element in detail, especially if you are working with effects and animation – the devil really is in the details.
If your visuals appear washed out and you decide to liven the colors, you might end up with too much contrast when you view the video on another device. Work with a device that gives you crisp and clear visuals for an accurate idea of what you're doing.
What laptop is best for video editing & YouTube vlogging? Key takeaways
You can use a Mac or a Windows device for video editing
Video editing devices often come as heavy devices, making travel a little more challenging
The best laptop for video editing is the one that can run Creative Suite software
Your device should make video editing more enjoyable
A long battery life might not be your top priority; your processor is more important
The most expensive devices are not necessarily the best
The best cheap laptop for video editing is the 2019 Dell Latitude E7450
Best laptop for YouTube video editing FAQs