Last Updated on
I've been traveling the globe for over a decade, sometimes with family (preferred), and sometimes alone. If there's one thing I've learned, its that you have to learn to pack right (hence the ultimate digital nomad packing list article if you hadn't guessed! 😉 )
You'll get packing tips from both a men's and women's point of view (my husband had had to deal with my semi-nomadic lifestyle too!) so don't think this is an all girl packing fest. I'll keep you guys happy too so don't worry. There's nothing worse than a scruffy, smelly hubby tagging along right girls? We'll get you guys kitted out to keep the woman in your life interested, all in a bag you can throw over your shoulder. 🙂
Disclosure
As an independent review site, we get compensated if you purchase through the referral links or coupon codes on this page – at no additional cost to you.
On a budget? I'll also include a good quality alternative where I know of one. This digital nomad stuff can get expensive!
Any digital packing list obviously includes items that assist in packing in a way that saves space and weight, but it's much more than that! You have to be prepared for whatever the world throws at you, you have to be prepared for whatever work throws at you, and sometimes, you just have to look darn good and feel comfortable while not weighing yourself down.
Just as a heads up, this is a new post for my followers who have signed up for my blogging course. It's intended to help those among them who are already earning a decent amount from their sites and have decided to hit the road, so it's a sparse at the moment as this is a weekly update kinda scenario (Rome wasn't built in a day!) If you want to keep updated on the best nomad travel gear, hit the button for the free blogging course on the top right of this page.
So let's dig into our ultimate digital nomad packing list…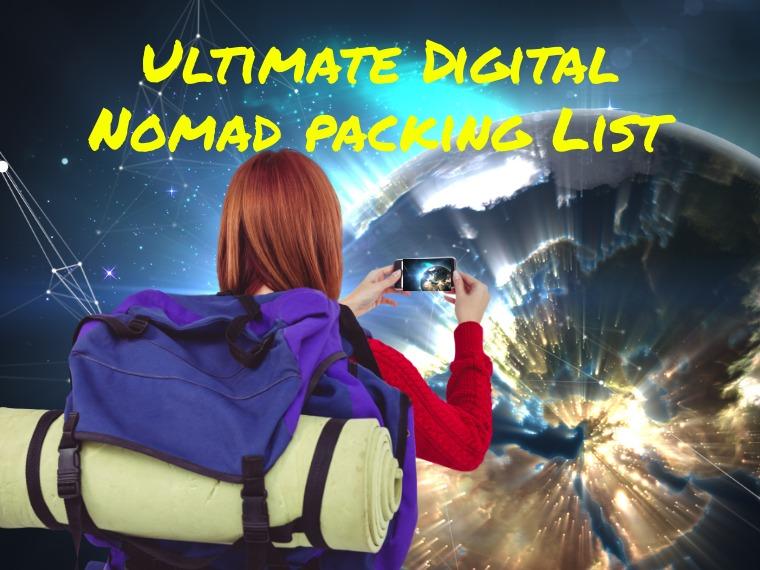 OK, so before we start, have you got your passport with you?
Yep… state the obvious right! But a ton of people slip up and head off to the airport and leave this at home, so add this to your checklist right away. Better to be safe than sorry!
And while we're on the subject of checklists, make one. A physical one that you can see. And make your passport the first item on this list.
I like to keep this list right next to my computer at my home office, if you're anything like me , you're there checking your emails last minute before you hit the road, so for me, this is the ideal place to have a plain old piece of paper with everything I need to take (and it's something to reuse this every time you travel).
You definitely need to make the most of your space when you travel, so we'll cover these first.
2. Nomadic clothing and apparel
Now you have your bags and organizers in order, let's take a look at what sort of clothing you need to add to your digital nomad fashion wardrobe!
3. Footwear for digital nomads
You're cloting now looks amazing, but what you put on your feet matters not only for style, but for functionality.
4. Carry on travel toiletry list
If you have a bag for the hold, it's not such a problem, but if you are all carry on gear, this is the section for you.
5. Miscellaneous things to pack
The odds and ends that don't really fit elsewhere in this digital nomads packing list. Stuff that will come in handy whether you're in Bangkok, Canada or Cornwall UK. Don't forget the travel insurance, wallet and watch!
Yep, here's the fun part where you get to buy options for shiny new gizmos and gadgets that will save you space and hassle on your travels.
Digital nomad travel gear I recommend
Pro tip
Pro tip: Use the army ranger roll to really save space (see video below).
You can ranger roll just about anything you need to pack, jackets, underwear, jeans etc. just Google how to do it with individual items and you'll be packing like a digital nomad/ranger in no time!
Budget option:
Amazon has their own version of the packing cube, and if buyer ratings are anything to go by (I haven't used these) they do the job quite well (Amazon don't really put their name on the line with crappy products right?)
Hitting the beach or taking part in watersports?
This waterproof dry bag from Earth Pak is an absolutely amazing piece of digital nomad gear. It keeps your kit dry while out on the water, but to be honest, that's not really why I use it.
I like to keep my iPad and phone close at hand so I can keep online, and when I hit the beach with my family this stops sand (as well as water of course) from getting near my gadgets. A must with kids kicking sand around! 🙂
The best part? For something so durable and useful that folds flat in the rest of your luggage the price is surprisingly low. No need to add a budget option to our gear list on this.
Your main nomadic travel bag
My packing list for digital nomads wouldn't be complete without a focus on the main travel bag. This is going to be your best friend on your journey — not your laptop or smartphone.
Digital nomad bags for the ladies
You can't go wrong with the Osprey Fairview 40. It's designed to suit most airline carry-on policies and is super easy to carry and store your travel essentials in.
Always go for quality when it comes to your bag — it's going to take a lot of handling, so the fabric robustness is essential. With breathable mesh, a lockable main section and a lightweight wire frame, you'll be hard-pressed to find a better option than this Osprey model. The lowest capacity is 40 liters, but you can scoot up the charts with 55 or 70 liters, although these might be too big for your digital nomad gear list.
Digital nomad bags for the men
Say hello to the Osprey Farpoint men's travel backpack. It provides a happy medium between being big enough to store all your digital needs but not being too bulky to carry around with you.
Again, the 40 liter is ideal to take on a plane with you and is super comfortable for extended use. Osprey is a highly regarded brand for your overall baggage needs. Sure, you can find cheaper models but at what sacrifice? You can also find more expensive ones, but there's no need to go much further than this model.
Your minimalist fashion wardrobe
C'mon girls… I know you've already started thinking of adding this lot to your lists before even looking at bags, but it's super easy to pack too much. Layering… it's all about the layering. We need to travel light, and by having layers, we can increase the amount of air we trap to keep us warm. That goes for the guys, too.
The amount you pack will depend on your trip duration and personal taste, so take the amount of each clothing as a general guide for your nomad travel gear clothing.
Lightweight tees and shirts
Quantity: 5
Pack a mixture of colors and styles to suit your environment. I love super-thin cotton tees, especially with different cuts and arm styles. Consider wearing a couple at a time if you need to, or a t-shirt underneath an open shirt.
Don't forget to include long-sleeved tees. A couple of these at most will do.
Quantity: 2
These are perfect for more chilly days and are ideal for an extra layer. Consider combining a regular tee with a long-sleeved version with a sweater on top for styling. Try and avoid heavy cable-knit items in your packing, though
Something smart — dress or dress shirt
Quantity: 1
Consider this as optional, but it's nice to have something handy if a smarter occasion shows itself up. If you're sure you won't be needing to dress up at a restaurant, skip this to save space.
Quantity: 2
These are a must-have for me. Super comfy, lightweight and don't take up much space. Perfect for plane journeys, working out and general day-to-day comfort. They also wash easily and dry quickly.
Quantity: 2
Get some contrast here between a fashionable pair of shorts and one for comfort. You can, of course, use workout shorts, too.
Quantity: 1
This is only a feature if you have room when it comes to a balance of warmth, comfort and space.
Quantity: 1
I know most of my regular followers are big fans of jeans. They're an instant option for colder weather, but if you aren't a jeans fan, leave them out.
Quantity: 5
Make sure you prioritize comfort over anything else with your underwear. Choose an amount that reflects how long you're traveling for. You can always hand-wash them 🙂
Quantity: 5
Again, comfort over style for the majority of your pairs, especially for travelers who plan on walking lots.
Your best bet here are merino wool socks. They are durable, warm, breathable, antimicrobial, 100% eco friendly, lightweight, temperature regulating, moisture-wicking, quick drying, and they offer natural UV protection…
Phew! I hope you're sold on merino wool after all that typing effort. These really are a must for any digital nomad packing list, no matter the climate.
Quantity: 2
I recommend adding a couple to your packing lists here — 1 swimsuit and 1 bikini. If you know swimming or beaches aren't part of the plan, leave these out if you're short on space.
Quantity: 1
No digital nomad should skip this! Just because you're going somewhere hot, that doesn't mean it won't rain. They pack small, are lightweight and will keep you dry.
Quantity: 1
Here's one of my top tips: avoid packing a heavy-duty ski jacket. Go for a down or synthetic padded option that condenses down.
The range from Columbia is amazing. They're warm, comfortable and lightweight.
Quantity: 1
Tie your hair up and throw a cap on for maximum efficiency. Ditch this from your packing list if you aren't a fan, but consider it for sun protection.
Quantity: 1
Give me one good reason why you include a beanie as part of your digital nomad packing list? Essential for warmth and bad hair days — which is every day for me at the moment 🙁
Quantity: 1
Totally up to you if you go for these, but consider them if you're going somewhere cold or windy. Wind chaff on the knuckles can be horrible, and they don't take up too much space.
Quantity: 1
Please don't forget these essential travel buddies. Just don't pack them in the bottom of your bag.
Saying that, these William Painter "The Hook" titanium polarized sunglasses are virtually indestructible, and they open beer bottles. What more could you ask for?
Don't believe me? Watch the hysterical video below!
Quantity: 1
Small, light and an excellent accessories — it doesn't even have to be functional!
Digital nomads packing list: footwear
I find shoes a killer to decide on and pack. You can totally go overboard here and most shoes take up lots of room. Only pack what you really need. Second-guess and triple-guess yourself with these — you're packing light, remember.
Sneakers are perfect for traveling, so make sure you wear a new pair before you travel. I know some of you spend 90% of your time in your sneakers so ensure they're comfortable and lightweight. The Nike Flyknit range is super popular!
If your trip is more aligned to trail walking, consider some more robust walking shoes instead of flimsy sneakers.
Flip flops, sandals or thongs
This is limited to preference only and shouldn't be considered essential to your digital nomad gear list unless it suits your style and destination.
Travel toiletry carry on packing list
Guys, you might find this easier than the ladies, but it's still easy to pack too much. Remember, you can always pick up replacements if you run out. Don't forget to only take certain sizes if you're taking them in your hand luggage.
Consider placing your toiletries into one or more of your cube packs and locate it at the top of your travel bag. Having them accessible is ideal for a quick freshen up, and for quick access when going through airport security.
If you have any glass containers (not the best idea, but we all need some smellies), keep them separated with socks.
Going for a combined product saves space and is perfect for use on the plane or in the airport bathrooms.
Lightweight microfiber towel
Toothpaste and toothbrush
Only take as much as you need, but the moisturizer will be essential if you're traveling on a plane. If I had to choose only one beauty product, it'd be my moisturizer.
This is where we can get too crazy. Why not go wild and only take your bare essentials or none at all? Take the essentials that make you feel good.
In true digital nomad packing style, combine them to save space. Or, don't take any and use the ones on offer in the places you're staying in.
For those of you who haven't had laser surgery.
Guys, it's not a bad idea to take a shaving soap block (in a travel size) and brush rather than shaving cream/foam.
If at all possible, buy blades when you arrive at your destination, airport security may take them off you! Alternatively, pack that electric razor and charger, otherwise, you might come back looking like Tom Hanks in Castaway — not necessarily a bad thing.
Skip the hairdryer is my advice, it's not exactly in keeping with a digital nomad lifestyle, and most hotels will have one you can borrow. Grab a foldable and small hairbrush if you need one.
You don't need to pack an amount for your entire trip. Take what you need for your initial journey(s) and take it from there.
Sunscreen is pricey and you might find it cheaper at your chosen destination.
On the flip side, you can save on carrying moisturizer if you choose wisely.
Please don't forget this! I've read horror stories of digital nomads not being able to get access to much-needed medication while abroad. Take yours with you.
Ladies, don't forget to take your birth control method with you, too. You just never know!
Guys, avert thine eyes!
Ladies, only pack the minimum for your immediate travel. You can always pick up more if needed.


Our #1 Choice For Hosting Blogs
62% Off Exclusive Offer Applied at Checkout
Needed travel accessories
Travel documents and wallet
This is the first thing I pack! Some will advise against packing your wallet in with your passport, cash and travel documents, but it's handy to have in one place, especially when going through security checks.
Of vital importance is that you add the following to your packing list:
Passport
Medical and travel insurance confirmation
Access to currency
Minimal space-taker and essential for healthy and fresh lippage.
Every digital nomad packing list should include ziplock bags. Grab different sizes so you can store dirty clothing or food in them. Also handy to put creams and liquids in so they don't soil the rest of your bags contents if there's an accident.
Please don't buy water wherever you go. Save money and the environment by taking a BPA-free water bottle with you.
I like the Kupton collapsible travel water bottle which is of course BPA free and a great space saver. It even has a carabiner so you can hang it from the outside of your backpack for even more space saving if you're really desperate!
Remember not to have it filled as you go through customs, fill up the other side!
Not something most think to put on a digital nomad packing list right?
Some travel bags come with a padlock included, but consider getting one if yours doesn't. This could be used to secure your travel bag, laptop bag, rental bike or anything else you need to protect on your travels.
Why not journal while you travel? Perfect for noting the name of a funky cafe or recommended place to visit.
Even if you can do it on your phone or laptop, there's something special about taking down memories on paper.
Majorly optional, but curb boredom by reading a book while traveling. Alternatively, look out the window and take everything in, or chat to a stranger!
If you're a real bookaholic like I am, take your entire library on a Kindle Paperwhite, they are really affordable now and many come with free book credits and other special offers. There is even a waterproof one… added insurance against any nasty mishaps!
Many times my trusted travel adaptor has come in handy, but this is only needed if you're traveling abroad. There are some wild and wacky socket designs out there, so grab a universal travel adaptor kit that can last you for your future trips, no matter where you go.
You can, of course, grab one specific for your next trip, but if you're planning on being a digital nomad for the foreseeable future and seeing the world, consider thinking long-term. This NEWVANGA all-in-one travel adaptor is so cheap for what it does, it's not even funny. Whether you're in the US, EU or Asia, it has adaptors for your needs and also has a surge protector and 2 x USB sockets — awesomeness!
Digital nomad must have gadgets
I've left the essential to last. You can buy clothing and toiletries on your travels, but consider prioritizing packing these to fuel your trip. I take all of these with me unless I mention otherwise, and I've never needed anything else.
Duh! I'll totally admit to forgetting my laptop on one of my trips… oops!
If you don't have a laptop yet or are looking to upgrade, consider a MacBook Air with an SSD drive. Solid state drives are faster, more resistant to the rough and tumble of traveling, and MacBooks are well… amazing anyway. You can totally level-up on your remote work with one of these.
Oh, and yes, I forgot the charger, too if you're wondering…
Don't forget that protective sleeve for your laptop or tablet, especially if you're packing it in with other items that could scratch or damage the equipment. The low price is worth it to save your pride and joy.
Sheesh, where would we digital nomads be without this modern must-have? Ideal for getting maps online or off using Google maps.
External batteries are becoming more affordable and super lightweight. If you're traveling and using 4G or 5G, your cell phone battery my disappear super quick.
Consider grabbing an Anker PowerCore for that immediate charge. You can then recharge the external battery whenever you're back at your base. There are different models available, but I like the PowerCore 20100 for up to 92 hours of extra battery life and 2x USB-A ports.
This is an often-overlooked piece of digital nomad gear essential for those starting out on your trails. They combine well for listening to music to chill out and to block out external noise when working; the latter being important when in a coffee shop or on a work call.
With this in mind, consider going for noise-canceling buds rather than cans. Cans take up a lot of room and tend to be more expensive, making in-ear headphones an excellent choice.
I love the Diginex Bluetooth earbuds. They're noise-canceling, have stereo sound are super quick to charge. The quality is exceptional and they're affordable, too! You don't need to break the bank here.
Majorly optional, but curb boredom by reading a book while traveling. Alternatively, look out the window and take everything in, or chat to a stranger!
If you're a real bookaholic like I am, take your entire library on a small Kindle paperwhite, they are really affordable now and many come with free book credits and other special offers.
Let's finish up with a few final travel tips and packing tips:
There's a lot to remember to take with you, but don't get too anxious or stressed before you go. Remember to take your passport, travel documents, insurance papers, and access to money — everything else can be purchased.
Sure, this digital nomad packing list is one in itself, but there's no harm in having a written list and check it off as you pack it. Don't check an item off until it's in your bag!
I recommend you scroll up and watch the video on the Army Ranger roll again. It saves so much space, it's unreal!
On top of this, remember that the less you take with you, the more memories you can afford to carry back with you when it's time to come home.
4. Direct access while traveling
Think about the things you'll need while on the plane or traveling. Things like water, snacks, a lightweight waterproof and something to freshen up with are ideal to store at the top of your travel bag if you're only taking one bag with you.
If you're taking main luggage and a carry-on bag, pack accordingly. Anything that you won't need until you get to your destination can be stowed away until needed.
Hungry to get your digital nomad gear together quickly?
Here's what else Amazon has in their lineup:
What about YOUR digital nomad packing list?
I'd love to hear how you guys get on with your digital nomad trip, whether it's your first one or you're an old hand at it.
Sign up to my free blogging course at the top of this page and leave me a comment below with any tips you might have about your digital nomad packing list! How did you find my digital nomad packing list?