Last Updated on
Can you create a professional vlog that attracts views and followers with a smartphone? Absolutely. While many professional vloggers use high-end recording devices like video cameras, tripods, and sound equipment, it's not necessary. In fact, most vloggers start out using a good quality smartphone, and you can too.
In fact, there are many benefits to using a smartphone as your camera – for one, it's far more convenient because it means you only need one device for creating your videos, editing them, uploading them, and managing your vlogging account. Your smartphone also makes it easy to engage your followers with a live stream.
Disclosure
As an independent review site, we get compensated if you purchase through the referral links or coupon codes on this page – at no additional cost to you.
To find the top smartphone for your YouTube video blog, you have to look for a variety of features in a device. Don't make the mistake of focusing only on your vlogging needs when you look at phones. Your phone still needs to perform as a communication tool – make calls, send texts, and connect to social media sites. At the same time, opt for features that give you the best video recording capabilities. You will also find a phone with a decent battery life helpful, so you can avoid interrupting your videoing with the need to charge or running out of charge because you have been recording all day.
Based on experience in the field and user comments, combined with knowledge of what the industry professionals are actually doing, we have a list of the best smartphones for vlogging. We have taken budget, style preference, features, and brand preferences into consideration and drawn up the most comprehensive list. Here is the a list of 2020's top phones – choose your best phone for vlogging.
Best phone for blogging: Here are the top choices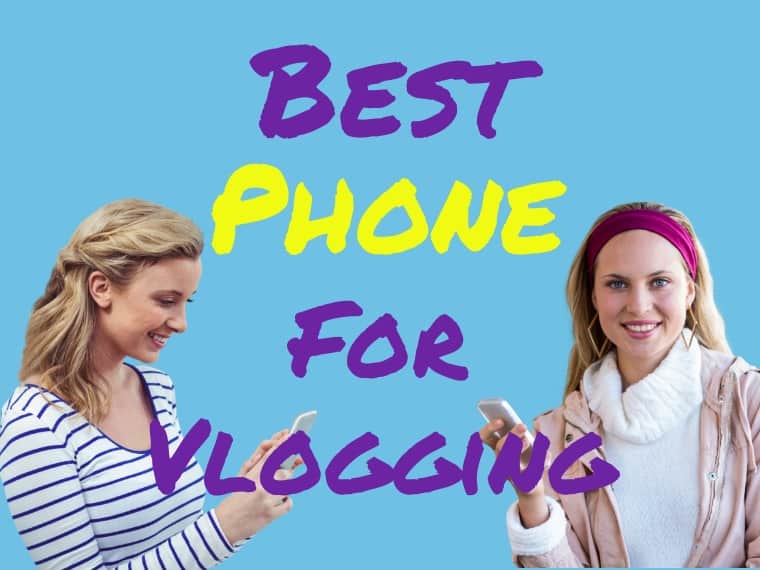 Here's our list of the best phones for vlogging; we have some great options here including affordable budget and mid-range cell phones if you don't want to spend too much, as well as the top high-end smartphones that any pro YouTube vlogger would be proud of:
Huawei P30 PRO
Apple iPhone XS Max
Oneplus 7 Pro
Google Pixel 4
Samsung Galaxy J7 Pro
Samsung Galaxy S10+
Samsung Galaxy A50
Xiaomi Mi Note 10
iPhone 11
CAT S61 Rugged Smartphone
1. Huawei P30 PRO (best phone for vlogging)
Possibly the fastest Android device there is with its octa-core processor, the Huawei P30 Pro is one of the best phones for vlogging that is available currently. It's not just about ease of use; vloggers around the world are also smitten with this magnificent camera and the video quality.
Huawei P30 PRO
128GB + 8GB RAM – NM (Nano Memory)

Octa-core 2.6GHz

Rear Camera: 40 MP (ultrawide)

Front Camera: 32 MP, f/2.0, (wide)

Video: 2160p 30fps
As a phone, this Huawei model might not be the most comprehensive package – the call volume is disappointing when compared with other devices and the Samsung S10+ offers better video recording capabilities. However, for the vlogger on the move, this phone is the best friend you've never had.
It offers super-fast charge times – you'll swoon over the briefness of the charger's battery top-up time. The phone holds the most impressive charge, reminiscent of the old Nokia 3310 with its 2-day battery life. The Huawei P30 Pro will give you a full day with full usage of the camera and apps without running into the low battery region. This alone might make it the best phone for vlogging.
The camera and video capabilities are competitive with other devices in this price bracket on Amazon. Huawei fans tend to stick with the brand; it offers great value for money in terms of the features it offers.
Huawei P30 PRO pros and cons
Battery life
Incredible zoom feature
Easy to use interface


Our #1 Choice For Hosting Blogs
62% Off Exclusive Offer Applied at Checkout
2. Apple iPhone 11 Pro Max (Best iPhone for vlogging)
The solid design of the iPhone Max, along with the features that make this the Best phone for vlogging, it's such a treat for creatives, has made it a popular option for vloggers (and photographers). The camera is the phone's crowning glory, with impressive night shots, even with the flash disengaged.
Apple iPhone 11 Pro Max
6. 5-inch Super Retina HDR OLED display

Water and dust resistant

12MP camera

12MP True Depth front selfie Camera with Portrait mode, 4K video, and slo-mo
The best iPhone for vlogging better have a chock-full list of awesome features to compete with the cheaper Android phones to justify its price, and boy, has the Apple iPhone XS Max proved its point. With its 6.5-inch Super Retina HDR OLED display, everything you look at is a treat for the eyes.
This is also the iPhone with the biggest screen, at 6.5-inches in size. The battery life is also quite impressive for an iPhone, having improved since the previous XS model. The only real snag for the average consumer is the price, around the 1,000-dollar mark, it's a tad pricey for a mobile phone.
Still, if this is your camera investment for your vlogging channel, it can certainly justify the spend, especially with features like 4k video, slow-mo, and also being dust and water-resistant. Apple has certainly decided to beef up their device's capabilities in handling a bit of a beating.
Apple iPhone 11 Pro Max pros and cons
Decent battery life
Excellent camera
Picture-perfect screen resolution
3. Oneplus 7 Pro (Best front camera phone for vlogging)
What makes the Oneplus 7 Pro the best vlogging phone with a pop up front camera? It could be the 4k video? Or the dust resistance (which really attracts extreme outdoor vloggers)? Pick your favorite reason; they all add up to the same picture-perfect result, making it the best front camera phone for vlogging especially if you're a sucker for visuals.
Oneplus 7 Pro
6.67-inch Super Retina XDR OLED display

12MP Ultra wide camera

4K video, and slo-mo
The OnePlus 7 Pro is a vloggers dream. It's perfect for live streaming thanks to its 4K video capabilities with up to 60 fps. The battery life is not great and it means you can't enjoy a full day's filming without needing to recharge occasionally, but you can make provisions for this by buying a solar charger.
The OnePlus Pro is fast becoming one of the most popular phones on the market with its easy-to-use interface and seriously competitive list of features. It's considered the best phone for vlogging by many YouTubers.
Oneplus 7 Pro pros and cons
Great video quality
Good price
Excellent front camera
4. Google Pixel 4 (Best smartphone for vlogging)
Wouldn't you love to have an assistant to help you when you're vlogging? Meet your new virtual helper, Google Assistant. The Google Pixel 4 device is the best smartphone for vlogging if you're looking for automation and simplified functions. Google Assistant is voice-activated, meaning you can command it for simplified (and hands-free) operations.
Google Pixel 4
Point and shoot a feature

Google Assistant automation

Quick Gestures let you control your phone waving your hand above the screen
The Google Pixel 4 comes with the perfect camera for a vlogger. It's also packed with impressive AI features, giving you a positive introduction with the future of tech and machine intelligence. It's easy-grip and comfortable hold is thanks to the rubberized sides and back coating and the overall compact design. The aluminum frame gives it a good sturdiness, although it's a sensation you have to get used to.
You can order it with 128GB+6GB RAM, or opt for a lower price and get 64GB+6GB RAM. The battery life is disappointing if you are a travel or outdoors vlogger, so it might be better to get a different device or keep a portable charger handy (charging times are also infuriatingly slow). For a phone in this price range, you might also hope to get fingerprint activation, but Google hasn't thought of that as yet.
Google Pixel 4 pros and cons
5. Samsung Galaxy J7 Pro (Best mid range phone for vlogging)
If you're looking for a good combination of features, capabilities, and affordability, then the Samsung J7 Pro is the best mid range phone for vlogging. It offers vloggers a 13MP camera at the back, which is focused on hyper-clarity in low light settings – it is great for night shots. It's also designed for ease of use with a single-gesture function to control the shutter. View your footage with crystal clarity thanks to the Full HD Super AMOLED Display.
Samsung J7 Pro
5.5 inch Full HD 1920 x 1080 pixels

Super AMOLED, Android 7.0 Nougat

16GB ROM, 3GB RAM, microSD

13 MP camera

Octa-core 1.6 GHz Cortex-A53
The specs are impressive, and Samsung put a great deal of thought into the design of this phone too. The design improves the overall user experience and gives you more bang for your buck. The only design elements that are slightly dated is the micro-USB charging port, as opposed to the universal USB Type-C charging port that has become popular.
The built-in Blue light filter is an undervalued feature. It preserves the health of your eyes by reducing the strain on your eyes caused by the screen. The octa-core processor will have even the most discerning budget-seeking buyer thrilled because it's fast and super-efficient; some even call it intuitive. If you are looking for something cost effective, this is the Best phone for vlogging.
Samsung J7 Pro pros and cons
Sleek design
Excellent processor
Great connectivity
6. Samsung Galaxy S10+ (Best Samsung phone for vlogging)
Samsung has a reputation for giving consumers feature-packed phones without the costly fuss and the Samsung Galaxy S10+ is the cream of the crop in this regard. Without a doubt, it's the best Samsung phone for vlogging. It introduces subtle AI to improve the phone's battery life and overall user experience as well as an in-screen fingerprint sensor.
Samsung Galaxy S10+
Cinematic Infinity Display

Ultrasonic in-display fingerprint ID protects and unlocks with the first touch.

Pro-grade Camera

Intelligently accesses power by learning how and when you use your phone
Samsung designed this phone to convince users they need an upgrade by cramming it with irresistible features, like the Wireless PowerShare feature, the in-screen fingerprint sensor tech, and the attractive Infinity-O screen.
The battery life is also impressive, just like most of the new devices these days. Some users report a battery life for as long as 58 hours for the battery to drain from 100% to 5%! This definitely qualifies it as the Best phone for vlogging on the go. The manufacturer does not state this and individual use will affect this. The only real problem is that other phones in this category are a bit faster.
Samsung Galaxy S10+ pros and cons
Lots of features
Great battery life
Beautiful display
7. Samsung Galaxy A50 (Best cheap phone for vlogging)
This Samsung Galaxy A50 is the best cheap phone for vlogging for one reason: it's packed with pro features. Vloggers love the triple-lens set-up and the three cameras – a 25-megapixel main sensor, an 8-megapixel sensor for wide-angle data, and a 5-megapixel sensor for extra depth.
Samsung Galaxy A50
6.4 inch Super AMOLED capacitive touchscreen, 1080 x 2340 pixels

Display with Corning Gorilla Glass 4

Internal Memory: 128GB, 4GB RAM

Android OS, Exynos 9610, Octa-Core
What makes this the best budget phone for vlogging? The detailed digital zoom (that retains detail like an absolute boss), the in-display scanner, or the pin-sharp display? The outer appearance of the device is quite glitzy, perhaps a bit too flashy for a rugged vlogger. But what does a vlogger really need? A great camera.
This phone doesn't have all of the latest features (although it does have fingerprint identification) but the camera is out of this world for the price bracket. It's also super easy to use, meaning those who are creatives and not tech-minded will easily set it up and operate it. If you want a VA, you will have the assistance of Bixby Voice, the Samsung version of Siri/Alexa/Google Assistant. The phone also comes with Samsung Pay. Definitely the best phone for vlogging if you're on a budget.
Samsung Galaxy A50 pros and cons
Affordable
User friendly
Excellent camera
8. Xiaomi Mi Note 10 (Best phone for youtube vlogging)
You have to love a camera that specifically has settings called "vlog mode" for recording in slow motion, but that's not the only feature that makes this the best phone for youtube vlogging. Those looking for a great camera will also love the RAW-based multi-frame composition photos and the ability to capture crystal clear images even in low light conditions.
Xiaomi Mi Note 10
6.473D curved AMOLED display Corning Gorilla glass front and back

Main camera: 108MP ultra-high-resolution

Responsive in-screen fingerprint sensor

1080P slow-motion recording – Vlog mode & Night mode 2.0
Who thought a mid-priced Chinese smartphone would come packed with features that make the rest of the tech world sit up and pay attention? Well, it's happened thanks to the Xiaomi Mi Note 10.
It comes with an impressive pro-level camera making it ideal for vloggers and keen photographers. Its screen quality is also superb and unsurpassed for its price. It's not built as cheaply as you might guess; it's actually surprisingly robust and sturdy with a 6.47-inch display. If you're creating high-quality videos for your vlog, you will be delighted to record in 4k on this device.
Xiaomi Mi Note 10 pros and cons
Vlogging camera
Pixel-perfect screen
Fast charge times
9. iPhone 11 (Best compact mobile phone for vlogging)
With its 6.1-inch Liquid Retina HD LCD display, the iPhone 11 is one of the most petite smartphones on the market for YouTubers. It still fits all of the must-have features you might need into one neat design. Its excellent camera and user-friendly design makes it the best compact mobile phone for vlogging.
iPhone 11
6.1-Inch Liquid Retina HD LCD display

Water and dust resistant (2 meters for up to 30 minutes, IP68)

Dual-camera system with 12MP Ultra wide and wide cameras; night mode, Portrait mode, and 4K video up to 60fps

12MP TrueDepth front Camera with Portrait mode, 4K video, and slo-mo
iPhone lives up to its name for producing phones with great cameras; the iPhone 11 is no exception. The photos are crystal clear and the video capturing feature is easy to use, and it produces quality videos.
The camera's night mode is breathtaking too; the iPhone 11 managed to inject brightness into dark scenes to improve the overall visibility beyond what you would expect. The screen makes this phone great for outdoor vloggers because it offers decent visibility in sunny conditions.
Good battery life
Great camera
Decent screen
10. CAT S61 Rugged Smartphone (Best durable phone for vlogging)
Looking for something that's seriously tough and able to survive the rough? For adventure vloggers who need something on-the-go that's as convenient as a phone (a GoPro isn't always practical), the CAT S61 is your virtually unbreakable companion that can take decent videos and run on Android. It's not designed with vloggers in mind, but it's a good smartphone for vlogging
CAT S61 Rugged Smartphone
Camera: thermal – flir lepton thermal imaging

Camera – 16MP

Indoor air quality sensor: capable of measuring temperature, humidity and volatile organic compounds

Certified waterproof up to 3 meters (9.8ft)

Laser-assisted distance measurement
The point of having a virtually indestructible phone is to protect your data (like your videos) and ensure all the functions you need from your device are protected in a hard and tough outer shell. There's no need to go out and purchase a Nokia 3310; CAT has been bringing out some truly useful devices that combine the ruggedness of outdoor equipment with sleekness and functionality of a high-end smartphone.
It comes in behind the other devices in its price range with only 4GB of RAM and 64GB onboard storage (still plenty). What has outdoor vloggers excited is the thermal camera from FLIR. It is integrated to be able to locate heat sources up to 400 degrees centigrade.
CAT S61 Rugged Smartphone pros and cons
Balanced hardware
Upgrade path to Android P
Only phone with IP69 rating


Our #1 Choice For Hosting Blogs
62% Off Exclusive Offer Applied at Checkout
Best phone for vlogging: key takeaways
Most of the newer devices available for purchase come with excellent battery life.
Older devices often have similar features to the newer models; they're simply less capable in terms of performance.
Chinese phones are as impressive as the famous tech names we know and love, but cheaper.
Remember to consider internal memory when you buy a 4k-enabled phone to make sure it can handle storing the videos you record.
Vlogging from your smartphone is easy and fun when you have the right device.
iPhones tend to be stronger at low light filming while Android devices tend to perform better in terms of battery life.
Best cell phone for vlogging FAQs