Last Updated on
YouTube Vloggers exist in every niche, from science and educational topics to tutorials and even boredom-busting videos, like unboxing clips. It isn't just for the freelancer wanting to get into the digital sphere; organizations and enterprises are also benefiting from creating videos and sharing their knowledge on YouTube. Creating professional videos for YouTube will also establish professionals as an authority in their field.
The first thing you want to do when you start a YouTube channel is to zone in on your own value proposition – what kind of entertainment do you provide? (Or maybe you have some unique ideas?)
Disclosure
As an independent review site, we get compensated if you purchase through the referral links or coupon codes on this page – at no additional cost to you.
One of the best ways to stand out from your competition is to have excellent sound and video quality. You don't want to look as though you are just starting out; you want the best microphone for YouTube videos you can afford. Today, we're going to talk about the best microphone for YouTube.
If you're ready to get started, you're probably wondering what you need. It's easy to get overwhelmed when you research your favorite vlogger to find out what equipment you should get hold of. The established experts use high-end vlogging cameras, only the very best microphone for their YouTube videos, and some even invest in professional lighting.
Truth be told, it's not always necessary. Honestly. In some cases, you need specific equipment to film detailed items clearly. Often, you don't need all of the features your hero vlogger on YouTube is currently using. You can actually create the same quality videos and audio with a far more modest setup. For those YouTube stars, it's often a case of buying more expensive equipment simply because they can (with many features going untouched because they're actually not needed).
Don't let this overwhelm you even more. We're going to look at the features that matter, such as the most cost-effective mics with the specs you actually need.


Our #1 Choice For Hosting Blogs
62% Off Exclusive Offer Applied at Checkout
What is the best vlogging microphone overall?
Considered by many professionals to be the best microphone for YouTube is the Audio-Technica AT4053B because it has a high SPL capability. It's a condenser mic and it's sound detection relies on a cardioid direction (meaning, it focuses its sound detection on the objects it is pointed at primarily and peripheral sounds as background noise).
This means it can detect even the most subtle of sounds and render them in crisp and clear playback without compromising giving a natural overall result. It's pricy, however, and for that reason, it's not going to work for every YouTuber. It's also a studio mic, which again, might not work for you if you're recording outdoors or on the go.
Finding the best mic for your YouTube clips
Slightly cheaper and far more versatile? The Rode VideoMic Pro+ is suited to your everyday YouTuber with a modest budget and a set of high expectations. It's a shotgun mic, meaning it can attach to another device and detects sounds in a specific directional method – it will focus its recording on the object you point it at. It's designed for use outdoors and in crowds, and it's ideal for interviews.
The best vlogging microphone for YouTube (for you) might not be the best overall device. You have to build up a set of recording tools, like a camera and a microphone, that work with your recording style and your needs. If you're outdoors frequently and taking action shots, the best overall mic, like the Audio-Technica AT4053B, isn't going to be ideal for you
Similarly, the best microphone for YouTube vlogging for beginners won't be the same as the best mic for intermediate or expert YouTubers. It's not just about budget; established professionals often prefer one feature in a camera over versatility. Entry-level YouTubers benefit from versatility while they establish their niche and their focus.
Best microphone for Youtube vlogging: top 10 picks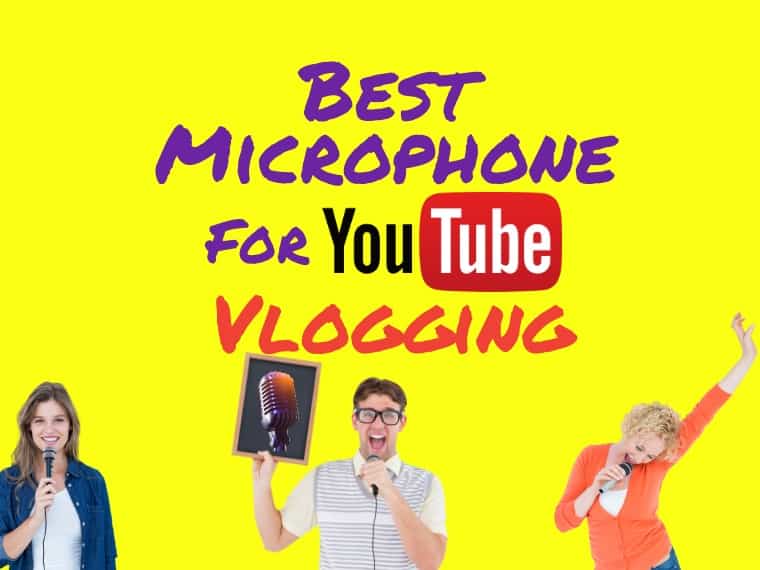 Here are the top 10 best microphones for YouTube vlogging
Rode VideoMic Pro+ (Shotgun Mic)
Zoom H1n
Rode SmartLav+
Boya WM2G (Lavalier Wireless Mic)
Samson Go Mic
Audio-Technica AT4053B (Condenser mic)
Rode NT-USB
Blue Yeti USB Mic
Sennheiser MKE 600
Audio-Technica AT2020USB+
1. Rode VideoMic Pro+ (Best microphone for recording YouTube videos)
Rode VideoMic Pro+
Automatic Power Function

Rechargeable Battery

Built-in Battery Door

Digital Switching
Many vloggers consider this device to be the best mic for vlogging, and with good reason. It's a mono shotgun microphone, plus it's lightweight and inexpensive, perfect for the YouTube vlogger on the go.
It is compatible with any camera fitted with a 3.5 mm mic input. As far as shotgun mics go, this is one of the smallest models on the market, weighing in at 85 grams and the battery at 120 grams. It offers decent noise reduction, making it effective for those shooting in a crowd and fairly close up. It connects to other devices and picks up great sound with ease.
Being lightweight and fairly compact makes it a great choice for travel and food vloggers. Keep your motions steady to keep the sound quality up. What specifications can you get from this model? It features:
Best-in-class Rycote Lyre suspension system onboard
Automatic Power Function (with plug-in power availability)
Built-in Battery Door
VideoMic Pro+ can be powered by RØDE LB-1 Lithium-Ion Rechargeable Battery, 2 x AA Batteries or continuously via Micro USB
Digital Switching
Points to consider before buying
It's not going to work for long-range shots
Perfect for entry-level YouTubers
The mount isn't as sturdy as other models; you have to minimize your movements
2. Zoom H1n (Best microphone for vlogging)
Looking for excellent quality standalone recording? The Zoom H1n might be your best microphone for recording YouTube videos.
The Zoom H1n makes mobile recording a breeze – you simply can't get this in a mobile recording app. It is especially adept at recording music, performing particularly well in a band's rehearsal room thanks to its excellent signal to noise ratio. Usability score gives this device 10/10; transferring files is effortless and the entire device is just large enough for easy handling. This mic is designed to make recording easy and fun.
One of the greatly undervalued qualities of microphones and video cameras is ease of use because frustration before you start recording can impact the energy you exude on camera. That energy is your primary selling point. What features can you enjoy from this vlog microphone?
WAV at 16 and 24 Bit recording
MP3 from 48kbps to 320 kbps recording
USB port (no need for card readers)
A line-in connection for external mics
Built in speaker (enabling playback)
High-quality audio perfect for professional YouTubers
Points to consider before buying
Only compatible with 32 GB SD cards
3. Rode SmartLav+ (Best lavalier mic for YouTube)
Rode smartLav+
High quality condenser capsule

Compatible with all smartphones

Kevlar reinforced cable

Broadcast quality
Don't let anyone convince you that you can't get professional sound quality when you're filming from a smartphone; this mic is a firm favorite with many smartphone vloggers.
This Rode SmartLav+ is a lapel mic, meaning it is pinned to your person, affording you complete mobility while recording. For an entry-level vlogger, it might be the best clip on microphone for YouTube. It is not suitable for recordings that require noise reduction; it is an omnidirectional mic, so it records sounds from every angle around it.
Need complete mobility? This is most likely your best microphone for vlogging. On a tight budget and filming from a smartphone? This might be the best lavalier mic for YouTube in this price bracket. What features does it offer?
Professional-grade Lavalier Mic with TRRS Jack
High-quality omni-directional condenser capsule
Discrete 4.5mm miniature microphone
Kevlar reinforced cable
Works with all smartphones
Points to consider before buying
It has to be used correctly in order to be effective (it offers superb sound quality when used correctly)
Can't make a point and shoot video (can't lock onto a target)
Not suitable for interviews because it only clearly records the one wearing it
The cable is very short – you have to get an extension
4. Boya WM2G (Best wireless microphone for YouTube)
With its unrivalled value for money, this might well be your best cheap microphone for YouTube if you're looking for lots of features packed into one mic.
The Boya WM2G is versatile, super cost-effective (ideal for beginners) and easy to use. It's optimal usage range is 15 ft., and you can expect crystal clear sound in that range. It enables wireless recording where a boom or shotgun mic can't be used. It has an impressive run-time, and to make it even more useful, it comes with two transmitters, two lapel mics and a receiver.
Overall, this microphone is ideal for entry-level YouTubers as well as intermediate, and here and there, you might even find a pro who is budget-conscious, relying on this model. Being easy to use ensures you make use of the full set of features, adding to the value for money. Overall, it might be the best wireless microphone for YouTube for those who want good specs in the mid-range price-wise.
Distortion: 0.1% or less (32Ω,1 KHz,65mW output)
RF output level: 2 mW
Earphone output level: 32Ω,65mW
Audio input connector: 3.5mm mini jack
Points to consider before buying
Any wireless mic for YouTube can lead to signal loss and audio cuts
Some users have reported audio loss while many others have not
5. Samson Go Mic (Best cheap microphone for YouTube)
Samson Go Mic
Dual pickup pattern

Portable and compact

Onboard headphone amplifier

Fold up design
This is the ultimate value for money buy if you're looking for a mic that is perfect for a vlogger. It's considered the best budget microphone for YouTube if you're looking for usability.
It's claim to fame is versatility, with plug and play features (making it compatible with both Apple and Microsoft). It can clip onto a device, like a laptop, perch on your desk neatly or act as a telephone. It boasts features enabling voice recognition software, iChat, webcasting and even Voice over Internet Protocol (VoIP). It also has an onboard amplifier, which means you can listen to your recordings directly from the device. It's also packed with these specs:
Microphone Technology: Electret condenser
Microphone Operation: Modemono
Sensitivity: -47 dBV/Pascal
Frequency Response: 20 Hz
Max Sound Pressure: 121 dB
Points to consider before buying
The bottom of the camera is made from plastic; it may crack easily
Sound levels are better than a built-in mic, but still fairly low
Some background noise comes through
Good buy for entry-level YouTubers with a limited budget
6. Audio-Technica AT4053B (Best noise cancelling microphone for YouTube)
This little beauty produces sound that is free from any distortion (especially that noise you get with typical transformer-coupled outputs). It offers high SPL capability, giving you a natural overall effect, but a crystal clear capture of each sound. It is responsive to sound pressure because of its cardioid pattern and large diaphragm, so consider the placement carefully during recording. It's a pricy mic, but if budget isn't an issue, this purchase will give you professional-grade results. You can make this long-term purchase, provided you're happy to record indoors. No need to upgrade for quite some time. This is probably also the best microphone for YouTube singing in its price bracket.
Dynamic Range (Typical): 129 Db, 1 Khz At Max Spl
Signal-to-noise Ratio: 78 Db, 1 Khz At 1 Pa
Output Connector: Integral 3-pin Xlrm-type
Optional Interchangeable Elements: At4049b-el (Omnidirectional); At4051b-el (Cardioid)
Points to consider before buying
Very expensive
Not ideal for those on the move – it is an in-studio mic
Might be excessive for a YouTube vlogger's requirements
7. Rode NT-USB (Best USB microphone for YouTube)
Rode NT-USB
Studio quality sound

Comes with USB connectivity

Monitors zero latency

Frequency range: 20Hz to 20kHz
Created for voice-overs, podcasts and vloggers, this microphone is only suitable for in-studio recording. It's extremely easy to use, being compatible with any device that has applications enabling external microphone recording.
It enables you to get excellent sound quality without investing in complicated technology. You will need to pay attention to placement; the design has some flaws. The ring that holds everything together is made from plastic, so the support elements in the design are less than desirable. Nevertheless, it is still considered by many vloggers to be the best USB microphone for YouTube.
The overall sound quality is superb and extraordinarily sensitive, making it the best noise cancelling microphone for YouTube. The Rode NT-USB is a great buy at the price on offer if you're looking for professional-grade sound at an intermediate budget.
Frequency Range: 20Hz – 20kHz
Power Options: USB bus powered
Dimensions: 184mmH x 62mmW x 50mmD
Output: USB Output
Points to consider before buying
The design isn't great with plastic at the bottom and metal at the top making it susceptible to breakage
The stand is poor quality
8. Blue Yeti USB Mic (Best for indoor recording)
Blue Yeti USB Mic
Great for vocals and instruments

Diverse pattern selection

Tri Capsule array

Several controlling features
You will notice a far deeper and clearer sound recording when you compare this mic to its competitor, the Samson, mentioned earlier. There's also a handy mute button, giving you the opportunity to cut recording for coughs or other irritating little interruptions. What makes this mic truly unique? It's a multipattern selector switch with four recording modes – select cardioid, omnidirectional or any other recording and sound detection method you prefer.
Multiple pattern selection – cardioid, bidirectional, omnidirectional & stereo
Frequency Response- 20Hz – 20kHz
Gain control, mute button, zero-latency headphone output. Power output (RMS): 130mW
Perfect for vocals, musical instruments, podcasting, voiceovers, interviews, field recordings, conference calls
Compatible with Windows 10, Windows 8 (including 8.1), Windows 7, Windows Vista, Windows XP (Home and Professional), and Mac OS X (10.4.11 or higher)
Points to consider before buying
It's big and bulky
The dial to switch among the modes may be tough to turn
9. Sennheiser MKE 600 Short Shotgun Microphone (Best for interviews)
Sennheiser MKE 600
High sound quality

Easy control features

Easy to carry

Catches lower notes
This is actually an entry-level mic, but it's sound capturing capability definitely ranks in the professional range. It's especially great at catching the lower tones. This mic pairs perfectly with the DSLR camera series, and, being lightweight, is easy to transport. This mic is convenient for vloggers who are traveling and conducting interviews outdoors and for those with a recording setup indoors. It's super easy to use and produces a semi-professional end result. It also features:
Fantastic sound quality
Transparent sound, low noise
Easy to use controls
Versatile for easy travel and use
Points to consider before buying
The shotgun is quite short if you make this purchase for an actual professional recording
Some users report static
10. Audio-Technica AT2020USB+ (Best cardioid condenser USB microphone)
Audio-Technica AT2020USB+
Premium quality A/D converter

Superior sound clarity

High output internal amplifier

Includes USB output

Volume adjustable headphone jack
The Audio-Technica AT2020USB+ Cardioid Condenser USB Microphone is a direct competitor for the Blu Yeti we mentioned earlier. They are in a similar price bracket, with the Audio-Technica coming is slightly more expensive. It is perfect for singer/songwriters, podcasters, voiceover artists, field recorders and YouTube vloggers.
If you're wondering whether you should opt for the Yeti or the Audio-Technica, the Yeti's multiple position patterning makes it ideal for podcasters, while the Audio-Technica's superior frequency response makes it ideal for musicians and vocalists. The Audio-Technica also offers:
Excellent frequency response
Headphone output for no latency monitoring
Solid build quality
Clean and warm vocals
Points to consider before buying
The large pattern has a tendency to pick up background noise
The tripod lacks sturdiness and won't survive the camera's lifetime
Best mic for vlogging: key takeaways
Condenser microphones are ideal for recording softer acoustics because they are sensitive and responsive to sound. They achieve this because they have a stronger audio signal. One of the best condenser mics is the Audio-Technica AT4053B; it's a professional-grade piece of equipment best used in a studio setting to minimize background noise and interpreference.
Get the verbiage right for your needs. Consider the way your chosen microphone will pick up sound. Does it zone in on a target or collect sound from all around it? This is known as directionality. For example, omnidirectional mics pick up sound from every direction, making it difficult to perform interviews and hush out background noise. Cardioid mics, on the other hand, pick up sound from the direction they're facing and slightly from their sides, too.
Your budget will play a role in your decisions, too. You can get great mics that work with your smartphone at an entry-level budget. These devices tend to be a bit more challenging to work with because they have fewer features, but the end result's quality is still superb. Alternatively, you can aim for a mid-weight device that offers more features, better user-friendliness and a professional outcome. Professional-range devices tend to focus on one function: they're either aimed at traveling bloggers and designed for noise reduction, or they're designed to give superb recordings in a studio-environment. For versatility, the mid-weight price bracket is the best all-in-one option.
Consider your current setup before you make your purchase. Do you have an iOS device? Are you recording from your smartphone? Do you need features on your mic that enable instant playback without needing to download the clips first? Some microphones are only compatible with certain applications and operating systems. The features on your chosen mic should simplify how you can access your clips, how you can save them and review them and how you capture them. Afterall, vlogging is supposed to be fun.


Our #1 Choice For Hosting Blogs
62% Off Exclusive Offer Applied at Checkout