Last Updated on
Vlogging tripods are probably the most important accessory you can add to a videography and vlogging kit. They're the compact (sometimes) and leggy little superheroes, giving you steadier footage from better angles.
If you're in the market for a new vlogging tripod, read on. Are you a first-time tripod buyer? Stay with me. We're going to look at the top 10 vlogging cameras – some are ideal for beginners, others are made for professionals.
Disclosure
As an independent review site, we get compensated if you purchase through the referral links or coupon codes on this page – at no additional cost to you.
How do you choose the best vlog camera tripod? The same you chose the best camera, by using simple match-making logic. Do you need versatility and flexible legs? A tripod for YouTube videos? Are you filming professional angles indoors? Do you need height, or are you after better height support? Identify your needs and match them with our top 10 vlogging tripod picks.
Best Vlogging Tripods comparison
Best vlogging tripods: Here are the top choices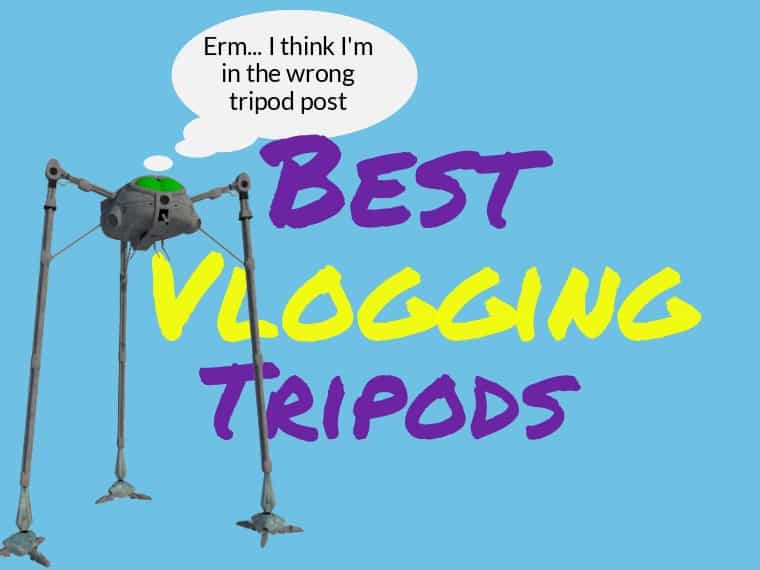 Manfrotto PIXI Mini Tripod
Joby Griptight One Gorillapod
Joby JB01503 GorillaPod 1K Kit
Sirui 3T-35K Plus Top Tripod
Manfrotto Compact Action Tripod
Manfrotto PIXI EVO 2
Joby Gorillapod 3k
Magnus VT-4000
Manfrotto MVMXPROA4 Mono Pod
JOBY GorillaPod Magnetic


Our #1 Choice For Hosting Blogs
62% Off Exclusive Offer Applied at Checkout
1. Manfrotto PIXI Mini Tripod (Best lightweight vlog tripod for on-the-go vlogging)
It's not only the sleek Italian design and satisfying push button locking mechanism that has everyone interested in the PIXI Mini but also the amount of features Manfrotto has included that makes this one of the best vlogging tripods if you need something lightweight.
Manfrotto PIXI Mini Tripod
Push button locking ball head

Tough aluminum, technopolymer construction

Compact design

Multiple accessories
At 5,3' tall when open, and being compact, it can be placed anywhere with minimal fuss while the rubber feet guarantee your equipment stays in place.
Closing the legs of the tripod reveals a stylish 7.2' tapered grip and with 35° tilt ball head and simple locking mechanism, switching from a static shot to vlogging on-the-go can be done in one fluid motion.
Manfrotto PIXI Mini Tripod pros and cons
Lightweight compact design
Easy to use locking mechanism
Multifunction use and accessories
2. Joby Griptight One Gorillapod (Best Iphone tripod with remote)
Designed to turn your smartphone into a professional vlogging tool, the Joby Griptight One Gorillapod is a robust, flexible vlog tripod and it can hold a phone of almost any shape or size, making it one of the best vlogging tripods to use in difficult conditions.
There have been a few flexible tripods before this one, but the Joby Griptight is the first to take it to the next extreme with added features and interesting accessories, like its iPhone holder's ability to stretch over 3.5 inches in width. This makes it one of the top Iphone tripod with remote (optional accessory) to use in conditions that call for added flexibility and maneuverability.
The ball-head mechanism is made from stainless steel, giving you pretty much unrivalled quality and durability. It also means you have precision in your angles and guaranteed sturdiness.
Joby Griptight One Gorillapod pros and cons
Redesigned, wider smartphone grip
Hook or wrap legs around any object
Easy to mount on uneven surfaces
3. Joby JB01503 GorillaPod 1K Kit (Best all-purpose vlogging tripod)
If you're looking for convenience, the Joby JB01503 GorillaPod 1K Kit has some of the fastest set up and take down abilities. Its diversity of features makes it one of the best vlogging tripods in terms of versatility – it even doubles as a handheld tripod for vlogging.
Regardless of your niche and your environment, this device is going to get the job done with smoothness and precision. This tripod is also compact enough to fit into a small bag or a lady's purse, making it ideal for travel vloggers or vacationers.
Despite its versatility and compact size, it handles heavier devices with great ease, including those like the Panasonic GX-8 mirrorless camera with its full range of lenses. That said, many users feel it should carry a better weight range.
Joby JB01503 GorillaPod 1K Kit pros and cons
Stainless steel ball joint head
90° tilt and easy screw tightened locking head
Versatility
4. Sirui 3T-35K Plus Top Tripod (Best camera tripod for vlogging indoors)
For a higher price, you can expect a professional piece of equipment. Ideal for those who are filming or photographing indoors, this tripod is a no-fuss sophisticated design with excellent features for the experienced photographer or videographer.
Sirui 3T-35K Table Top Tripod
Dual stage center column, rubber coated tripod feet

Folding feet can be used as a handle

Included: C-10 ball head, short center column, and tool kit.
Ideal for a professional set up, this camera tripod for vlogging is designed for level surfaces and indoor use. The features are better suited to mirrorless cameras and lenses as opposed to smart phone usage by vloggers. It's not exactly lightweight, so it isn't the ideal travel tripod.
Sirui 3T-35K Table Top Tripod pros and cons
360 degree panorama base and a vertical notch for portrait shooting.
Carabiner included to easily attach to a bag or belt.
Super smooth professional function
5. Manfrotto Compact Action Tripod (Best entry-level vlogging camera tripod)
There's a reason this vlogging camera tripod has earned an Amazon's Choice badge. It's well built and robust. It's straightforward to set up and use – no confusing features, just simplicity and functionality. Basically, this tripod scores 5-stars in terms of quality and ease of use.
Manfrotto Compact Action Tripod
Switch from photo to movie mode almost instantly

Quick-release plate supports a wide range of devices

Front tilt -30 Degree / +90 Degree

Head tilt lateral tilt -90 Degree / +90 Degree

Head tilt leg angles 21 Degree
Keep in mind this is not a full size tripod; it's a mini. There is a weight limit, so purchase it for smaller, lighter cameras (the heaviest it can comfortably handle is something like the Oly M5 II with the 14-150 Mk II lens).
Manfrotto Compact Action Tripod pros and cons
Includes a special adapter for higher-specification cameras
High-quality aluminum design
Perfect for entry-level SLRs with standard lenses
6. Manfrotto PIXI EVO 2 (Best mini tripod for DSLR kit)
This tripod is easily one of the most convenient and the best tripod for vlogging if you are traveling with a DSLR. It will fit snuggle in your luggage and the set up is fairly simple.
Manfrotto PIXI EVO 2
Head offers up to 90 degree tilt

Supports up to 5.5lbs

Product Dimensions: 10.6 x 3.6 x 6.2 inches

Item Weight: 7.8 ounces
Pay close attention to the specified weight limits; the less-than-rigid neck will see some vibration in your footage if you overload it. That said, it handles the weight of a Canon 5D Mark III with a 24-105 L lens beautifully, even in windy conditions.
While DSLR vloggers will appreciate this tripod, it's also great for vloggers making use of action cameras. This tripod performs best with a lighter weight on it.
Manfrotto PIXI EVO 2 pros and cons
Best tripod for vlogging with entry level DSLR
Built-in ball head
Adjustable legs and leg angles
7. Joby Gorillapod 3k (Best tripod for vlogging with larger camera kits)
If you're looking for unbeatable quality when it comes to mounting larger cameras and kits, the Joby Gorlliapod 3k boasts Japanese medical-grade ABS plastic and German TPE in the joints. It's tough and it's versatile.
Joby Gorillapod 3k
Product Dimensions: 2.4 x 2.6 x 12 inches

Item Weight: 13.8 ounces

Designed to support DSLR and mirrorless cameras

360° panning head and 90° tilt
This tripod is a great way to hold a camera on an uneven surface, so it's well-suited to outdoor use and for use by action and travel vloggers or photographers.
Joby Gorillapod 3k pros and cons
Flexible: You can secure professional camera equipment to virtually any surface
Strong: Supports up to 6.6 lbs
Stable: Rubberized ring and foot grips
8. Magnus VT-4000 (Best high-end features at a low cost)
Solid, sturdy, and robust. This heavier tripod offers ultra smooth panning, it's super easy to set up and it has very effective tilt and pan locks. It supports a DSLR beautifully, even in windy conditions, making it a popular choice with many videographers both in the amateur and professional niches.
Magnus VT-4000
Supports 8.8 lb (4 kg) | 65 mm Ball Diameter | 2-Stage Leg Design

Height Adjustment Range – 27.6 to 59

Fixed Counter Balance
The tripod is large and rather heavy, but it comes with a special carry bag that makes transportation easier. It is loved for its fluid head – which is why it's a great buy at this price, provided you don't mind that it's a bit bulky.
Magnus VT-4000 pros and cons
Fixed Pan / Tilt Drag | +20/-25mm Slide
Quick Release Plate
Tilt Angle +90 ° / -60 °
9. Manfrotto MVMXPROA4 Mono Pod(Best for elevated shots)
This tripod is ideal for capturing those elevated shots, thanks to the great height. It requires a stable and flat surface; it's not an adjustable tripod.
Manfrotto MVMXPROA4 Mono Pod
Rubber leg warmer for fast & secure movement

Quick power lock reliably secures & ensures super-fast set up

3/8' and 1/4 screws for video heads and cameras
Considering its size, it is actually very easy to transport. It's easy to get the pan you want thanks to the mount at the bottom, but this camera's real skill lies in getting those super smooth tilts. Overall, the design is compact and the quality is decent.
This tripod is a great mixture between sturdiness and lightweight compactness for easy travel. It's easy to set up and works like a charm. Users recommend adding a ball head to support heavier cameras.
Manfrotto MVMXPROA4 Mono Pod pros and cons
FLUIDTECH base for smooth movements in all directions
Great operating height for overhead shooting
Great for high angles
10. Joby Gorillapod Magnetic (Best mounting options)
This is the spiderman of tripods and it doubles as the best handheld tripod for an iphone. Take it anywhere with you; it's a pocket-sized superhero when it comes to filming. The magnetic feet give you more versatility with your shots and a greater level of control over your angles.
Joby Gorillapod Magnetic
Flexible wrappable joints secure the tripod to objects and position

Rubberized ring/foot grips allow you to capture crisp photos, even in low light

Flexible and lightweight legs

Quick-release clip stays connected to your camera

Super strong magnetic feet attach to anything magnetic
Each black ball is a fully articulated joint, giving you the ability to mould the legs into any shape or position. The magnets are limited to supporting something that is lighter than an iPhone 7 but the legs are able to wrap around anything, making up for the magnets' weight restrictions and limitations.
The features grab the attention of many vloggers and action photographers, and if that doesn't get you, the alien-robot appearance of the device certainly will. It comfortably holds a GoPro, most smart phones, and other lightweight compact cameras.
Joby Gorillapod Magnetic pros and cons
Versatility
Lightweight to transport
Endless angles to shoot from
Best Vlogging Tripods: key takeaways
A tripod must support the weight of your camera with ease.
Flexible tripod legs are ideal for travel and action vloggers.
Rigid heavy tripods are great for professional indoor shots.
Lightweight and compact tripods are best for travel vloggers.
Purchase a tripod with a robust design.
Tripods that are easy to use are great for beginner vloggers.
Best Vlogging Tripods FAQs


Our #1 Choice For Hosting Blogs
62% Off Exclusive Offer Applied at Checkout