Last Updated on
Got something to say? Your opinion could make you famous. Your story could be the guidebook that someone else is looking for. If you have something to share with the world, now is the time to do it.
Tell your story. Share your views. Say it in HD. Let it go viral. But first, get the best vlogging camera for YouTube.
Disclosure
As an independent review site, we get compensated if you purchase through the referral links or coupon codes on this page – at no additional cost to you.
Vloggers are the new street-smart celebrities. They're almost like Instagram influencers; the rest of the world will follow your recommendations when it comes to buying products. As a vlogger, you are considered an authority – people look up to you; you're the newest cool kid on the block. But first things first, before you get famous, you'll need to establish yourself and give people a reason to look up to you. You'll need to get going with a good vlogging camera.
There's a secret to vlogging successfully: you don't actually have to be an expert in your field. You need great equipment so you look like a professional, and you need some great opinions. Can you introduce a little controversy? Even better. The hottest trend on the internet right now is authenticity, even if your particular personal brand is chaotic, quirky, or highly opinionated.
What kind of equipment can help you to stand out? You need clear footage and great editing. When you master this, you can seriously monetize your videos. Who knows – you might even get the opportunity to test out new products and review the latest gadgets.
Choosing the best video camera for vlogging
Upgrade from your phone's camera and invest in some great technology that will enable you to release professional-quality videos with crystal-clear audio.
Limited budget? Most people start out with a fairly low budget set up and they get great footage with quality audio. The trick lies in looking at the most important features in a video camera and choosing a model that offers those features and minimal others. Pay for the quality of the features you need, and choose quality over quantity. If you're starting out on a tight budget, you can jump straight to our review of the best vlogging camera under $200.
Looking for the best vlogging camera? The best options are divided into categories: budget-friendly, high-end, and great value for money.
Best vlogging camera comparison chart


Our #1 Choice For Hosting Blogs
62% Off Exclusive Offer Applied at Checkout
Best vlogging camera for Youtube: here are the top 10 choices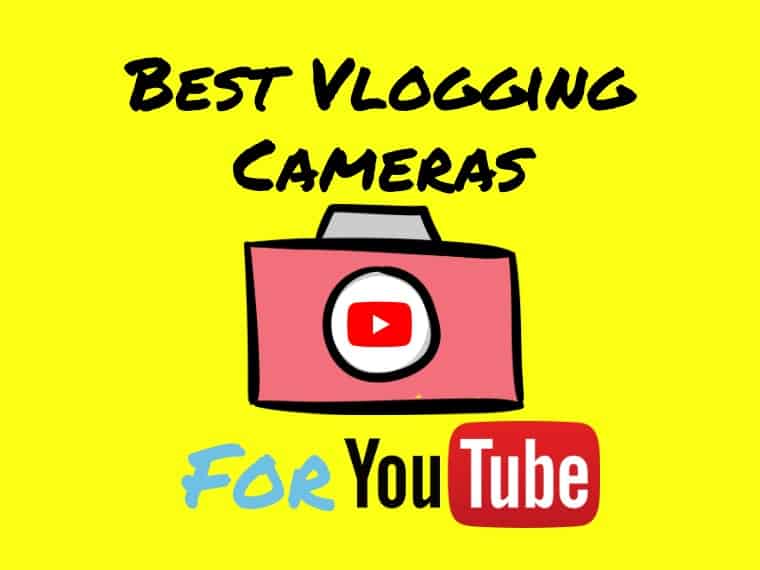 Canon PowerShot G7 X Mark 3 – Best for beginners who need versatility
Canon PowerShot SX730 (4k quality images) – Best if you love flip screens
Canon VIXIA HF G40 – Best digital option for blogging
Nikon COOLPIX S7000 Camera – Best buy under $500
GoPro HERO 7 Black – Best for the accident prone, almost unbreakable
Sony DSC-RX100 M III Cyber-shot Digital Still Camera – Best bang for buck
rx100 iv – Best small camera for the vlogger on the move
Panasonic Lumix G7 vlogging camera with DSLR quality footage – best for those who value features minus the bulk
Sony Alpha a6400 – Best for the vlogger wanting to capture detail
Gh5 – Perfect for the adventuring vlogger or the outdoors-person
1. Canon Powershot G7 X Mark III (best vlogging camera for beginners)
This model is popular with some of the leading vloggers of the industry, like FunForLouis and Case Neistat. It offers live stream filming, making it ideal for vloggers. It offers a 4k resolution, capturing low light settings with ease and clarity. The Mark III is the third release in the series and it is one of the best vlogging cameras.
The 24-100mm equivalent F1.8-2.8 lens has minor improvements in comparison to the previous models, thanks to the Stacked CMOS sensor and Digic 8 processor, which is why many vloggers think it is the best vlogging camera for beginners. This particular, Canon Powershot model comes in silver or black, featuring these elements:
4K/30p and 1080/60p video recording
Microphone input socket
Live YouTube streaming support built-in
1080/120p slow motion video (with no audio or autofocus)
Wi-Fi + Bluetooth wireless connectivity
Where can it improve?
This camera has a very aggressive noise reduction feature and it tends to overexpose images. You can't connect external mics and the camera offers no built-in viewfinder.
Who is best suited to?
Travel vloggers will love this camera because it rests comfortably in your hands and it offers a fairly compact shape. It has quite a lot of rubber on the outside, improving grip and comfort. In terms of vlogging, it's ideal. For professional shots, it might lack the crispness that higher-end cameras can offer.
2. Canon PowerShot SX730 (best vlogging camera with flip screen)
The Canon PowerShot SX730 is ideal for those looking for an extra powerful zoom feature, and it's a cheap vlogging camera with flip screen (considered by some vloggers to be the best vlogging camera under $400). Being slim, it comes with a fold-open screen, giving it a convenient pocket-sized feature for those who are filming on the go.
This Canon is considered by its fans to be great, because the flip screen enables you to look at what you're filming while you point the camera independently. It also features:
24-960mm equivalent built-in lens (40x zoom)
Full HD video at up to 60 frames per second
Continuous shooting at nearly 6 frames per second
Built-in Wi-Fi, NFC and Bluetooth
Where can it improve?
This camera offers standard video quality, and you can only film in HD (no 4k). Unlike many of its rivals that offer raw shooting, this camera does not. It offers no viewfinder or electronic level and the LCD is not touch-sensitive.
Who is it best suited to?
It offers great image stabilization and unrivalled zoom capabilities for its size. This makes it ideal for those who are vlogging recipes and might need to zoom in for some closer shots. It's also great for those who want to film action shots out and about; the compact camera is easy to travel with and it's image-steadying capabilities enable great action shots. For this reason, it's also great for filming events and crowds.
3. Canon VIXIA HF G40 (good vlog camera for high-end vloggers)
Canon VIXIA HF G40
Slow and fast motion recording

Built-in Wi-Fi

Intelligent Optical Image Stabilization

High battery capacity
This camcorder is ideal for the vlogger who needs more space. Hopefully, you're backing up your work to the cloud. However, if you find yourself running out of storage before your back-up is due, this camera gives a little more leeway. This is thanks to its double SD card slot, which enables you to use two SD cards simultaneously.
It produces high-quality images and offers excellent overall performance, making it a good vlog camera for high-volume vloggers. It also boasts a number of features you would only find on pro camcorders:
1080/60p Recording in MP4
Built-in Wi-Fi® Technology with FTP Transfer Capability
Dual SD Card Slots, Using Readily Available, Consumable Media
Dual and Relay Recording
Wide DR Gamma (600%)
Slow and Fast Motion, including Interval Recording from 2x to 1200x
Where can it improve?
It's autofocus has not improved much across the upgrades that brought us to this model. However, many loyal fans argue that the manual focus features more than compensate for this. The design is not ideal and will potentially deter the very market that would appreciate this camera's features. Critics also feel that at that price, it should come with a double-capacity battery included.
Who is it ideal for?
It's great for vloggers who do explainer videos; it's a bit pricey and too advanced for someone who simply wants to film unboxing videos or reviews. The camera's capabilities allow for an extremely customizable end-result when it comes to footage.
4. Nikon COOLPIX S7000 Camera (best vlogging camera under $500)
Hello, entry-level shoppers. Hello, 20x optical zoom – this is a good camera for newbie vloggers. The Nikon COOLPIX is a great choice; some might say it is the best vlogging camera under $500. This camera also comes with digital zoom, doubling its total overall capability. It's autofocus makes it ideal for YouTubers and vloggers who film themselves. It offers a mix of value, with great portability thanks to its compact design and decent features for its price bracket.
Its best image resolution is 4608 x 3456 pixels with aspect ratios of 4:3. It's not a great camera for traveling vloggers, as it offers no waterproof or resistant features to keep it out of misty weather and rain. It does have the standard image resolution for a camera in its price bracket and it also offers:
25-500 mm F3.4-6.5 Zoom Lens
9.2 fps continuous shooting
1920 x 1080 video resolution
Built-in Wireless
165g. 99 x 60 x 27 mm
Where can it improve?
It has a shutter shutter speed of 1/4000 sec. There is no viewfinder and no option of using an aftermarket viewfinder, either. This is problematic for some people, especially because the LCD screen can be quite limited in terms of visibility outdoors in bright light, confirming once again, this camera is best used indoors.
Who is this ideal for?
Beginner vloggers will be able to establish themselves with this camera. This camera will bring value to the unboxing vlogger, product review vlogger and explainer vlogger who works from a studio or from home and who has a limited budget.
5. GoPro HERO 7 (durable and best camera for vlogging)
GoPro HERO 7 Black
Smooth video stabilization

Great control features

Time warp video capture

Produce high quality image
Technically an action camera, this nifty little piece of technology is actually a good camera for vlogging. GoPro is a trusted name in the video industry. It broke into the sports world with a fantastic set of capabilities squeezed elegantly into a compact little box. It's the best cheap camera for vlogging if you're accident-prone or if you need something tough that can withstand rough weather outdoors and the general bumps that come with travel.
Video stabilization
Hero 7 black applies HDR, local tone mapping or noise reduction
Voice control
Live streaming
8x Sol Mo video – ultra high frame rate
Where can it improve?
It's not possible to live-stream and record in 4k simultaneously; it can achieve 1080 at most. For the average vloggers recording from a desk, this shouldn't be a problem. Users have reported a very poor battery life if you're taking it out for action shots.
Who is it ideal for?
Vloggers who want to capture action shots, extreme sports, and travelers who need something lightweight and compact. GoPro is loved in the industry for it's crystal-clear footage and easy-to-use features. It's great for those who want to record live events, there's no risk of the camera falling and taking damage. The automatic voice commands enable you to start and stop recording hands-free.
6. Sony DSC-RX100 M III (best vlog camera in terms of value for money)
This impressive little number from Sony offers an eclectic balance of features. They have managed to bring together the perfect harmony between shutter speed and lens focus between F1.8 and F4.9 (at a fully extended zoom). A pop-up electronic viewfinder has also proven to be one of the most popular features that comes with this camera, making it the best vlog camera in terms of value for money. It also offers:
Pop-up SVGA OLED electronic viewfinder with 1.44M dots
3-inch tilting WhiteMagic LCD with 1.23M dots
1080/60p video with full sensor readout and 50Mbps XAVC S support
Clean HDMI output
Wi-Fi with NFC and downloadable apps
Where can it improve? You can't ask for any better features on a camera in this price bracket, but reviewers have reported a sensory blackout being a common issue after a year or two of use. Who is it ideal for? Anyone who has a slightly larger budget and wants a fantastic range of features for a significantly lower price when compared with competitors in the same category. It's a great camera for traveling vloggers because it's compact and bursting with excellent features.
7. Rx100 iv (Smallest vlogging camera)
Sony RX100 IV
High resolution

Anti-Distortion Shutter

Multi/Micro USB terminal

Wi-Fi

Professional quality video functions
The compact nature of this camera adds so much convenience to the overall filming experience this camera provides that it attracts the attention of some of the most professional names in the industry. It is also loved for its wide apertures in long exposures, giving that full cinematic photography capability, despite being the smallest vlogging camera. It's also one of the more user-friendly cameras. The features make it easy to move your videos from one device to another. The high speed USB is a major factor in simplifying how you manage your data.
Hi-Speed USB (USB2.0)
Micro HDMI
Multi/Micro USB Terminal 9
One-touch remote
One-touch sharing
Wi-Fi®
Where can it improve?
4k video is limited to 5mn
The 960fps is not very user-friendly
Some buyers have also reported an overheating problem and software issues related to the power source. Who is it ideal for? Those who need something lightweight and compact packed with features will love this camera. It's a long-term investment, meaning once you purchase this, you shouldn't need to spend money on a camera again for a while. It comes at a higher price, but the quality is unbeatable. Ideal for those who want a camera that can double as a travel buddy.
8. Lumix g7 Panasonic vlogging camera
Panasonic Lumix G7
16 megapixel micro four thirds sensor

4K video capture feature

High Resolution Viewfinder

Easy to control

3.5 millimeter external mic port
Picture the same professional-grade images and video that you'd expect from a DSLR, without the bulkiness of the camera. The Lumix g7 is a 4k mirrorless camera with Wi-Fi sharing for easier uploads. What the vloggers will love is that the camera enables you to pause 4K video capture and download the still as an image in 4k HD. The camera also comes with impressive exposure technology and exceptional video clarity. No more moving into the shade to see your screen clearly, thanks to the 10000:1 contrast feature.
Where can it improve?
The Wi-Fi function is not very user-friendly; it's quite complicated. This shouldn't deter you from making the purchase; it is just a point worth keeping in mind.
Who is it ideal for?
Ideal for vloggers thanks to its ultra HD capabilities. The compact design of the actual device makes it simple to transport and easy to use. It's fast autofocusing and its unique ability to take stills from video and turn them into 4K HD photos makes them ideal for someone with a YouTube channel. Those images are perfect for using in social media posts and other adverts to promote the channel.
9. Sony Alpha a6400 (good camera for vlogging to capture detail)
Sony Alpha a6400
Tiltable LCD screen

Worlds fastest 0. 02 sec AF

Appropriate for vlogging

Produces clear, crisp and accurate image
Looking for super advanced autofocus? This camera has Real-Time Eye Auto Focus alongside all the extras a vlogger needs. The flip screen means you can record and monitor what you're capturing with ease. Ideal for those tracking movements or taking shots, because it features the world's fastest 0. 02 sec AF with real time AF and object tracking.
Sony has managed to introduce low image noise and pair it with smooth motion and great detail. The internal mic can be somewhat problematic; it is sensitive to wind noise but this easily remedied by connecting an external mic.
Where can it improve?
No built-in image stabilization
No headphone jack
16:9 aspect ratio screen
Who is it ideal for?
Do you vlog about nature, travel, make up, or other areas that require exceptional focus and detail? This camera is designed for you. It's also fantastic for those who want to capture movement. If you're taking photos and not videoing, you will appreciate the burst shot feature that is also fantastic.
10. Panasonic Gh5 (most durable vlogging camera)
Looking for a tough camera that can handle a bit of a tumble and a splash? Then you've found your partner in filming. The Gh5 from Panasonic is dust-proof, splash-proof and freezeproof down to -10 degrees. Those features are great, but obviously they only apply to the outdoors vloggers.
Here's the gold nugget every other vlogger wants to hear: the Gh5 boasts 4K 60p/50p Smooth Quality Video, a pretty unique attribute. Enjoy improved panning control and no recording duration limit. Other features include:
Professional photo and 4K video performance in a durable magnesium alloy body
20.3MP Four Thirds sensor with no low pass filter
4K Video: Internal recording at 4K60/50p (4:2:0 8bit) & 4K30/25p/24p (4:2:2 10bit)
Variable Video Frame Rates 4K: Max. 60fps & FHD: Max. 180fps
5-Axis Photo/Video Dual I.S. 2.0 up to 5 stops with compatible LUMIX MFT lenses, plus in-body stabilization support for classic non-O.I.S lenses
Fast and accurate focusing utilizing LUMIX 480 fps DFD focusing system and Venus
Where can it improve?
The Bluetooth capability seems outdated but possibly handy for some users
While it certainly stands as one of the best cameras for vlogging, as an upgrade, the features haven't improved that much
This camera is great for video, but it is really designed for photography
What is the best vlog camera to buy?
Ask yourself which features you value the most. If you're looking for something that can withstand accident-prone habits or handle a bit of action outdoors, consider the GoPro HERO 7.
Each vlogger has a unique niche and utilizes a unique setting. A vlogger who is new to the scene is going to have a different budget in mind from an established professional with millions of views on YouTube.
If you're looking for a mix of great features and affordability, look at the Canon Powershot G7 X Mark III. If budget isn't an issue and you're looking for a range of value and a few pro-features, consider the Sony DSC-RX100 M III.
Camcorder vs camera for vlogging: which is the best?
Video quality – camcorders, even entry-level devices, come with a far higher video quality in comparison to cameras. Few cameras offer 1080p, which is the standard entry level camcorder video quality. That said, vlogging doesn't necessarily require cinematic quality footage. A clear HD result is perfect, unless you're demonstrating or showcasing detailed objects.
Storage – a camcorder also offers better memory solutions. You can record and save the footage to an SD card as you would when using a digital camera. Your camcorder will also save everything internally.
Sound quality – when it comes to standard sound and audio features, your camcorder is probably going to outdo a digital camera. However, digital cameras come with hot shoes, which enable you to add aftermarket audio recording capabilities.
Cost – camcorders are expensive. Most features that set them apart from digital cameras are irrelevant for the purposes of a vlogger.
Best vlogging cameras for beginners: what are the options?
The best vlogging cameras for beginners include feature-packed models like the Canon VIXIA HF G40
Value for money gives you the Sony DSC-RX100 M III Cyber-shot Digital Still Camera
Nikon COOLPIX S7000 Camera is the best vlogging camera under $500
Canon PowerShot SX730 is the best vlogging camera under $400
GoPro HERO 7 is great for live streaming through Facebook
Best camera for vlogging: key takeaways
Affordability – the best camera for your vlog has to fit into your budget. You can get a great vlogging camera for as low as $400.
Image and video quality – most entry-level camcorders will give you an image/video quality of around 24p/1080p. You can pay slightly more for your digital camera and get the same specs. For a good quality vlog, you don't need much more than that.
Audio quality – some cameras come with external mics, others come with hot shoes for added audio recording capabilities. If you are recording indoors with minimal outside noise, you won't need extra audio equipment.
Ease of use – how important is usability to you? If you are not tech-savvy, opt for a camera with fewer features but better capabilities. The trick to finding the best camera for this purpose? Get better value for money. Don't pay for features you may never even discover or need.
Design – Do you want something that fits into your hands while you're walking and talking? Do you prefer a sturdier design that rests on a desktop to record you? Consider this when you look at the design of your camera.
FAQs on choosing the best vlogging camera
The Canon Powershot G7 X Mark III is used by big names on YouTube, like Casey Neistat, who is always out and about on various skateboards and other gadgets; similar vloggers benefit from using an action camera, like the GoPro Hero 7.
Some of the best cheap vlogging cameras include the Canon PowerShot series, the Sony DSCHX90 and the ​Nikon COOLPIX. These cameras combine affordability with the essential features that vloggers need. These cameras cover the essential basics. When your budget increases, you can always upgrade to enjoy more features.
It depends on your needs. Will you be filming in low light? Opt for the Canon Powershot G7 X Mark III. Do you need great zoom capabilities? Try the Canon PowerShot series. Need a handy and compact travel buddy that'll record your every thought? Get the GoPro HERO 7. These cameras are well priced for the features they offer.