Last Updated on
Videos, videos on my wall, which is the best editing software of all?
When you're scrolling through your social media channels, you can't help but notice how fast the media age is moving away from text-based digestibles to video. You might see great videos with smooth transitions and flawless special effects and you might also see a few pretty clumsy edits. Is it the software or the editor that makes a great video? Well, it's a trifecta really. You need great footage (and audio), a skilled editor, and the software that invites the editor's creativity out to play. So, what is the best home video editing software?
Disclosure
As an independent review site, we get compensated if you purchase through the referral links or coupon codes on this page – at no additional cost to you.
These are the top 12 best video editing software for YouTube vloggers out there right now. Some of them are free, some of them are perfect for beginners, some of them are super advanced. What do they all have in common? Each one is a leader in its speciality offering.
| Product Name | Best for | Buy |
| --- | --- | --- |
| | Best video editing software with a professional feature set | |
| | Best video editing software for YouTube overall | |
| | Best video editing software for Windows 10 | |
| | Best video editing software for Mac | |
| | Best video editing software for beginners | |
| | Best budget video editing software | |
| | | |
| | Best iPhone video editing software | |
| | Best video editing software for Android | |
| | Best online video editing software | |
| | Best free video editing software for Windows | |
| | Best free video editing software for Mac | |
| | Best all-in-one video editing software | |
| | Best screen capture and recording software | |
Best video editing software for YouTube: Here are the top choices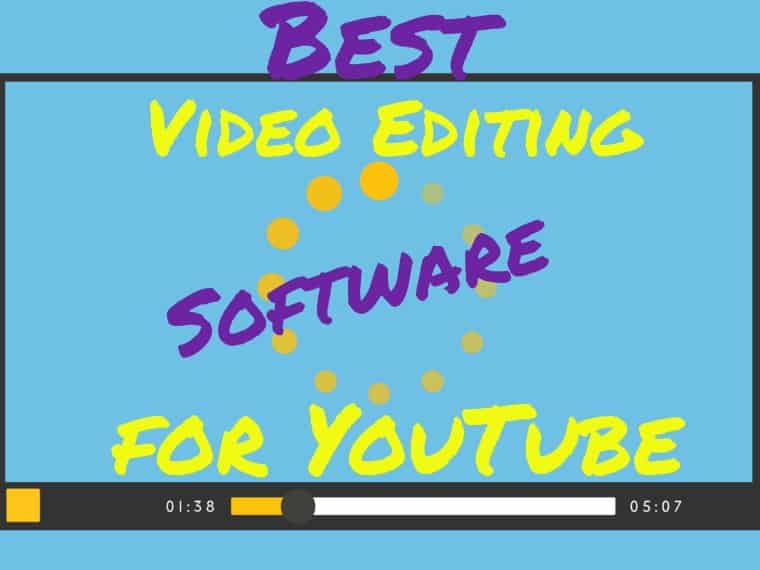 Camtasia
Adobe Premiere Rush
Premiere Pro CC
Apple Final Cut Pro X
Nero Video
Wondershare filmora
LumaFusion
iMovie
FilmoraGo
HitFilm
Avidemux
OpenShot
Da Vinci Resolve
Snagit
1. Camtasia (best video editing software with a professional feature set)
Across operating systems, Camtasia remains the software program that supports some of the widest ranges of media formats. Transferring raw video files from your phone to your computer is easy with Camtasia's mobile app, making it the best video editing software with a professional feature set.
Well designed interface
Excellent customer support
Powerful software
Decent range of features
Camtasia is available as a free trial for 30 days, giving you a full month to play around with it and dig deep into its professional feature set. It's sensible interface makes it easy to learn. Overall, it's some of the best video editing software for videos to be posted on YouTube. Camtasia's excellent web support ensures that the learning process is smooth and enjoyable.
4k video support
Easy social sharing feature
Mobile app available


Our #1 Choice For Hosting Blogs
62% Off Exclusive Offer Applied at Checkout
2. Adobe Premiere Rush (best video editing software for YouTube overall)
Adobe Premiere Rush is available for $119.88 (for an annual subscription) or $9.99 (per month) on Amazon. It is the best video editing software, specifically, for YouTube overall because its interface remains identical across operating systems and screens, and it saves all of your work in the cloud as you go.
Adobe Premiere Rush features
100 GB of cloud storage
One-click sharing to popular social networking platforms
Intuitive interface
Great storyboard layout
Premiere Rush brings a number of great aspects to the table, namely that it automatically saves your work to the cloud. Anyone who has ever experienced an unscheduled power down midway through an unsaved edit will attest to the value of this feature. Users rely on Premiere Rush to color-correct video clips, record voice overs, and add color filters and text overlays.
It's ideal for YouTube vloggers who want a fast and easy software program that enables one-click sharing to YouTube, Facebook and Instagram.
Adobe Premiere Rush pros and cons
Easy to use and learn
Effortless square, landscape, and portrait orientation
Syncs between desktop and mobile automatically
3. Premiere Pro cc (best video editing software for Windows 10)
Adobe's Premiere Pro CC is professional grade software that experts use to rework raw footage into beautiful flowing masterpieces for film, web, TV and YouTube. The professional finish and the variety of features available on this program is what makes Premier Pro CC the best video editing software for Windows 10 users.
Open multiple projects simultaneously
"Learn" feature helps new editors master the software fast
Essential Graphics enables you to pin and move multiple layers at once
Improved color matching features
If you are a professional, this cost quickly pays for itself since the features are by far the most advanced. One of the most exciting features you get with Adobe Premiere Pro CC is the color matching tool. You can now match the colors between two different clips with absolute precision. Another exciting feature is the way in which you can isolate shapes and apply a gradient to each one – including a transparent gradient. This feature is great for YouTubers and video editors who make adverts.
Premiere Pro CC pros and cons
Excellent color grading features
Multi-platform software
Multiple improvements from previous versions
4. Apple Final Cut Pro X (best video editing software for mac)
The interface is familiar if you've used iMovie before, which is already going to set you right into your comfort zone. What makes this different from iMovie is that the features are far more advanced; this is a professional piece of software, making it the best video editing software for Mac.
4k Video
HDR and 360-degree video
US$299.99
Professional color management and correction
One of the most notable features that sets this program apart from other video editing programs is the fact that it supports 360-degree virtual reality and 360-degree cameras. Have you ever inserted 360-degree titles? Once you get into Final Cut Pro X, it's completely addictive because it's so much fun.
Add the multi-camera editing capabilities and the professional color management Final Cut Pro X offers, and you're really and truly hooked. It's the ultimate piece of software if you want a professional finish.
Final Cut Pro pros and cons
Advanced software that is easy to use
Interface looks like iMove but more advanced
Super powerful
5. Nero Video (best video editing software for beginners)
Nero Video is the best video editing software for beginners for many reasons, but first and foremost, it's not a subscription-based product. You can purchase it outright and fiddle with it as and when you want to (no pressure to get your money's worth each month). The software has over 1,000 templates to enjoy.
Purchase software outright
4K, Full HD and SD movie quality
Download size: 1.8 GB
1‐Click Video Story Creation
With so many transitions, effects, and templates to choose from, Nero Video 2019 might be one of the best programs to launch yourself into as you start out as a video editor. You also have the opportunity to take on more challenging edits with this program as your skills improve, thanks to the two modes of editing to choose from: Express Editing and Advanced Editing. It's simply a matter of familiarizing yourself with it. It's also great for beginners because their online customer support channels are readily available and very helpful.
Affordable $49 purchase
Over 1,000 movie template to choose from
Many effects, transitions and enhancements
6. Wondershare Filmora (best budget video editing software)
If you're looking for value for money, this is the ultimate steal. Wondershare Filmora brings unbelievable features to the video editor's desk at a fraction of the cost of some of the bigger names in software programs. This makes it the best budget video editing software available at the moment.
Wondershare filmora features
Advanced piece of software for the price
$39.99 per year (basic plan)
Over 300 effects
Ideal editing features like rotate, crop and split
Named one of the few consumer-level tools that truly brings professional value to the market, Wondershare Filmora is a budget-friendly program with truly advanced features. It's easy enough for beginners to master but advanced enough to keep professionals coming back to it. You gain access to over 100 video tracks and 100 audio tracks to enhance your videos. Some of the other features to enjoy on this software include Smart Scene Detection (intelligently seeks and splits scenes with shifting camera angles) and Playback speed adjustment.
Wondershare Filmora pros and cons
Quality effects and transitions
Features are very advanced for the price
Sophisticated piece of software
7. LumaFusion (best iPad video editing software)
Using a smaller device like an iPad can present its own set of challenges when it comes to video editing. LumaFusion makes it easier to edit videos effectively on a small screen, thus making it the best iPad video editing software. It's also far more affordable than many similar programs.
Export videos to 1080p or UHD 4K (3840×2160)
Once-off purchase price $29.99
Import and export media from external drives, including SD cards, flash drives and portable HDDs/SSDs
Excellent UI
LumaFusion 2.1 is updated from the previous version, LumaFusion 2.0. It can now collaborate with third-party media drives to import and export to and from SD cards, flash drives and portable HDDs/SSD for easier editing. It was created to be used for corporate purposes by professionals, like journalists, filmmakers, news and corporate video creators. That only means it's even better kitted for the passionate YouTuber or vlogger that's just starting out.
Excellent connectivity for iPad
4k UHD video capability
Unbelievable value for money
8. iMovie (best iPhone video editing software)
On a mobile device, easy upload and download is incredibly important since you don't have a whole lot of screen space to manipulate your up and download. The ease-of-use combined with the fact that this is a free piece of software is what makes iMove the best iPhone video editing software.
Easy import and export of videos
Three editing options: Media, Projects and Theatre
Good features and effect variety
Easy video upload to iCloud
iMovie is Apple's own video editing software. Apple has done an exceptionally great job of developing a program that's absolutely free (for iOs users). There are some limitations; for example, you can't customize your interface but the general layout is so sensible and straightforward, it almost justifies this shortcoming. You can edit from two main editing options – Movie or a Trailer. Selecting "Movie" gives you the opportunity to edit with full control over your settings and your video, while "Trailer" enables you to create Hollywood-style video trailers from your footage.
Free
Great effects
Trailer templates
9. FilmoraGo (best video editing software for Android)
If you're looking for something you can test out (fully) before you commit to paying the full price, FilmoraGo is your best video editing software for Android users. (If you have iOS devices, don't fear. You can download it from the App Store too!) It's a mobile application that's surprisingly powerful and packed with music, effects, filters and themes for video editing.
The app supports international languages
Export video in HD quality (no time limit)
Multitude of advanced video editing features
Maximum output resolution quality 720p (HD quality)
Share your videos directly onto your Youtube channel or your Facebook and Instagram pages from the app. Enjoy the free version of the app where all of the features are open for use; however, you will only have a watermark at the end if you don't purchase the app. The plus side is that it's one of the only free mobile apps with no adverts or pop ups. The interface is super simple and designed to make it easier to edit videos on a mobile device. (Let's be honest, it's not the easiest thing to do on a small screen, right?)
Easy to use
There is a free version
Ad-free
10. HitFilm Express (best online video editing software)
HitFilm Express comes with so many features that go way beyond simply trimming away unwanted elements and adding a few backtracks. It's difficult to believe this professional-grade program is free to use, making it by far the best online video editing software.
2D and 3D composition tools
Keying for green screen effects
Audio and video filters
Extendable software
The biggest downside to this software is the download process – you have to kind of prove you're joining the club by sharing that you are downloading the software on social media. It's an annoying self-promotion strategy that leaves a bad taste in your mouth, but once you get past this stage, it's really worth it. How worth it? The professional-grade tools we keep mentioning include layers and masking, 3D video support, advanced cutting tools, keying for green screen effects and Audio and video filters.
Professional grade software
Tutorials included
Compatible with Mac and Windows
11. Avidemux (best free video editing software for Windows)
Avidemux is a super basic open source software program that offers the bare bones of what you need to do a few quick edits in a professional way. This quite possibly makes it the best free video editing software for Windows.
Open Source software
Wide variety of export options
Cut, copy and delete sections of video with ease
Good variety of filters to choose from
It comes with great export options, making it easy to fit into your life and jive with your current technology setup. This means you can choose the audio and video encoding. Another hidden talent you'll discover when you launch into the software is that you can select up to 4 audio tracks to add to your video. You can edit those songs, fade them in and out and even remix them.
User-friendly interface
Sharpening features
Easy enough for a novice to use
12. OpenShot (best free video editing software for Mac)
OpenShot is probably the best free video editing software for Mac when you consider the number of features packed into this program. It supports 4k video editing, which is not common among open source programs, and it's compatible with almost every operating system – including Mac.
Compatible on Windows, Mac or Linux
Simple and Advanced view options
Supports 4K video quality
Handy preview feature
In terms of interface and workflow, OpenShot has a few handy features. There are a number of keyboard shortcuts you can customize to your own preference. For example, OpenShot has JKL functionality (J to rewind, K to stop, L to fast forward) and you can use the spacebar to start and stop playback. OpenShot gives you a wide variety of transitions to choose from, as well as 14 effects.
Free
User-friendly interface
Frequently updated/improved software
Da Vinci Resolve contains everything a video editor might need from basic cutting and editing through to color grading, sound design and VFX (special effects composition) in one neat user-friendly package. Da Vinci Resolve gives you the full Adobe Creative Suite capability in one super neat and user-friendly package that's completely free to use.
Snagit is another nifty program; it's quite basic but certainly sufficient for some users who value having only the basics. The creative brainchild of TechSmith, it's ideal for a beginner looking for an easy way to batch-process clips and process footage into multiple formats. One downside is that it's only available for Windows users.
What do YouTubers use to edit their videos?
The 3 main programs YouTubers use to edit their videos are iMovie and Final Cut Pro X (for iOs and Apple devices), and Adobe Premiere Pro CC. iMovie is a free software program available from the App Store; it comes with a surprising number of features considering it's open source.
What do YouTubers use to edit their videos? They also use Adobe Premiere Pro CC, the creme-de-la-creme of video editing software programs.The range of features, transitions, and audio options make it easier to be creative.
YouTubers also use Final Cut Pro X. It's popular because of its user-friendly interface and its professional light correction and color-grading features. The software's capabilities might be overkill if you're only interested in casual edits.


Our #1 Choice For Hosting Blogs
62% Off Exclusive Offer Applied at Checkout
Best home video editing software: key takeaways
You can get professional-grade software for free if you look for open source programs.
Open source programs might require you to share their links or they might have ads popping up.
There is a wide variety of programs to choose from, some are free and some are very expensive.
Start using a program with an interface that doesn't confuse you.
The best video editing software that you use for YouTube needn't be the most complex.
The programs that make video editing enjoyable will be the best video editing software for you to use.
Best video editing software for YouTube FAQs