Last Updated on
Since you are reading this, my guess is that you want to start an online store. You are probably wondering which platform to choose for your shop. If that is true, you are reading the right article.
I'll compare Shopify vs Wix stores and website hosting in detail and help you make a decision that's right for you.
Disclosure
As an independent review site, we get compensated if you purchase through the referral links or coupon codes on this page – at no additional cost to you.
Wix is a cloud-based web development platform you can use to create a website through a browser-based editor. Shopify is also cloud-based, but it specializes in creating online stores. There is a tight contest in the popularity of these two top platforms, and after reading this article, you will have all the info you need to decide is Wix or Shopify better for your business.
You might make millions with your business one day, but choosing the correct platform for your online shop is a first step in making an enterprise. Sit tight, read on, and don't forget me if this Wix vs Shopify comparison helps you make millions!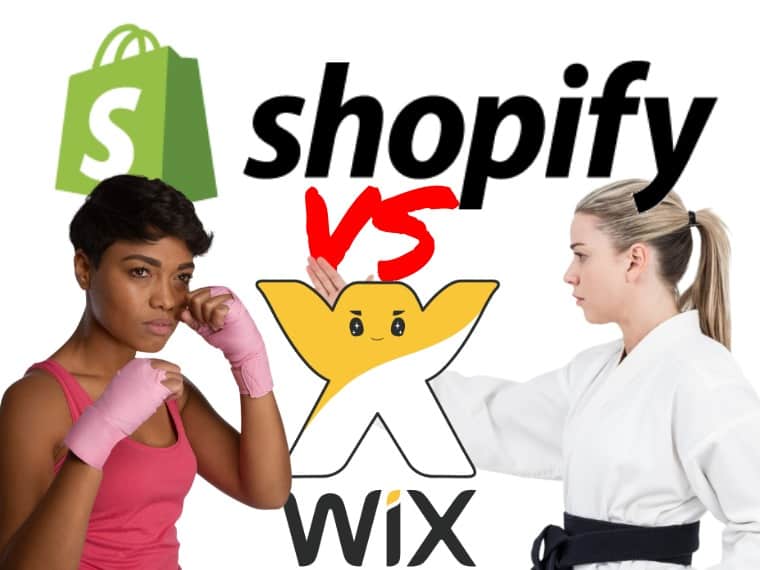 If you are considering Wix or Shopify for small business, Shopify is the better choice. It is easier to set up and has all the basic features you will need. Overall, when we compare Shopify vs Wix, Shopify is better because it has a better structure to support bigger and more complex online stores.
Wix vs Shopify comparison
OK, let's compare Shopify vs Wix:
Wix or Shopify platform ease of use
Wix claims to be the simplest way to build and manage an online store. It is hard to argue that point. Wix is designed to help individuals and small businesses create and run their own websites.
Their drag and drop editor is intuitive and you just need to click on any feature you want to add to your online store and drag it where you want it.
Creating and managing small websites with Wix is so simple that it is unlikely you will find an easier editor to use. However, that simplicity has downsides as well.
Wix doesn't give you much backend control, so it gets a bit more complicated to create intricate stores with lots of products. As long as you need just a simple store, you should stick to Wix!
Shopify vs Wix website builder
Once you try using Wix's website builder, you will realize that website creation doesn't get any easier than that. It is so simple that deciding on a template will probably be the hardest thing you will have to do.
After you picked one of over 600 templates, you just need to drag and drop any elements you want to use. Resizing and moving elements around your website is intuitive, and if by some case you run into problems, there is in-editor help that has answers to most common problems.
Wix isn't the best choice for creating complicated websites, but let's face it, building a complicated website isn't the purpose of Wix. Wix is designed for small businesses and individuals who want to run their own business. For those groups, the Wix builder is a perfect fit.
Wix vs Shopify templates, themes and customizability
Wix has over 600 free templates with industry-specific features. The platform targets a wider market than Shopify, so most of the themes aren't optimized for eCommerce.
Wix editor will let you customize some parts of your website. You can choose colors, fonts and animation types for your site. The height and layout of sections are also customizable from the editor. Although Wix isn't specialized in the eCommerce websites, it has tools that let you customize important elements of your digital store.
If you know how to code, the door to almost complete customization will be open to you. Using CSS and HTML, you can customize more or less everything on your website.
Your choice of template is final, and that is the main problem with Wix's customization. If another template catches your eye, and you decide to use it, you will have to create a new website.


Our #1 Choice For Hosting Blogs
62% Off Exclusive Offer Applied at Checkout
Wix vs Shopify eCommerce features
Feature to sell physical and digital products is built on the Wix platform. You can sell services as well, but you will need an app for that.
Wix supports 24 different payment gateways. They will automatically connect you to the most suitable payment provider available based on your preferences and location. If you would like to switch to a different provider, you can do it manually.
Wix recently started working with Avalara, an automated tax software. The feature is currently only in beta version, but it is available to most users (currently users in Brazil and India can't use it). Avalara provides you with real-time tax rates for transactions around the world.
There are various shipping rate settings you can use with Wix. You can set the shipping rate by weight and order price. If you prefer flat rate, free shipping, or store pickup, those features are also available to you. There is also an option to offer your customers a choice of shipping service (standard shipping, fast delivery, overnight shipping, etc.) You can set different shipping rules from the list above in different geographical regions.
If you are selling physical products, it is likely that you have variants of those products. Wix store supports 6 product options. Each of those options can have up to 30 choices. The total number of variants you can manage is 300.
This might sound confusing if you are starting your first online store, so let me clarify. Let's say you are selling chairs in your Wix store. In that case, an option could be material and option choices could be wood and metal. If your other option was color, then your variants would be: white wooden chair, black wooden chair, white metal chair, etc.
Wix has a somewhat limited inventory management because it is designed for small stores, and abandoned shopping cart recovery is available only through a third-party app.
Shopify vs Wix online marketing features
As a free Email Marketing user, you can create 3 email campaigns a month with 5,000 email recipients overall. This quota can be raised by becoming a Wix Ascend subscriber.
Wix Ascend is a separate subscription that lets you manage all your marketing campaigns in one place. Different Ascend plans will cost you $10-$45. Depending on a plan, with Ascend you can create automation rules, sync with Gmail and Facebook Messenger, get VIP support, etc.
Don't forget that Wix isn't designed only for building stores. It lets you build all kinds of websites. Wix's drag and drop builder makes building a beautiful blog a breeze. Wix has some problems with blog archives, but Shopify isn't doing any better in that field either.
Another thing Wix does better is SEO. The gap is small here, but keyword assistance gives a slight edge to Wix in SEO features.
Shopify or Wix sales features
With Wix, you can sell online to overseas countries by creating a multilingual store. This is done by adding additional languages in your editor and manually translating your page and product descriptions (you will have to do this every time you make changes in your store).
The good thing is that you can add any number. However, Wix has a problem with multilingual support for the most important part of your store: the storefront. Certain text, such as the checkout page text, is generated automatically and cannot be translated directly. There is a list of 28 languages that will translate automatically, but if your language isn't on the list, you are out of luck.
Linux users out there might be disappointed to find out that Wix doesn't support the editor on Linux. Other than that, Wix has all standard features in the industry like a mobile app, mobile responsive stores, support for most popular browsers, etc.
Shopify or Wix store apps & add-ons
Wix has a huge app store, but many apps aren't eCommerce oriented. There is an online store category in their app store, but some of the apps you might want to use are in other categories.
You will have to spend some time searching for apps that you will use and want to use. The good thing is that you can also find apps that will not only improve your shop but also your website overall.
Wix vs Shopify customer support
Wix has only phone and forum support. Support is limited to business hours, so you might have to wait if you run into problems at the wrong time.
The good thing is that in Wix editor you already have answers to the most common problems. Wix blogs and tutorials are also packed with info, so you might resolve your problem without having to contact the support team.
Compare Wix vs Shopify pricing
Wix has three plans you can use to start an online store. Store features are the same in each eCommerce plan, so let's take a look at Wix pricing:
Business Basic: $23/month
20 GB disk space
5 video hours
Free domain for 1 year
Business Unlimited: $27/month
35 GB disk space
10 video hours
Free domain for 1 year
Professional logo
Social media logo files
Enterprise: $49/month
50 GB disk space
Unlimited video hours
Free domain for 1 year
Professional logo
Social media logo files
Priority response
VIP support
The main difference between the plans is the amount of disk space you have at your disposal and the amount of video playback you can upload. This is just a limit for upload; you can still use as many embedded videos as you want.
There is also a $500 Enterprise plan. With that plan, you get to consult industry experts to target specific challenges in your project. Also, the Wix team of professionals will help you plan and launch your project
All of the plans get you unlimited bandwidth, a free domain for 1 year, and access to online payments and Google Analytics.
The biggest upside to Wix is that there are no transaction fees, and the biggest downside is that you will have to get one of Wix Ascend Plans for advanced store features. Let's see what are the most important features you get with each of Ascend plans:
Ascend Basic: $10/month
50 lead capture forms
10 Customizable Forms
Payment Forms
5 email marketing campaigns/month (disappointing part is that this plan doesn't allow linking the email campaign's URL to your domain)
9,500 emails/month
5 automaton rules
5 social post campaigns/month
Ascend Professional: $24/month
5 contributors
150 lead capture forms
20 Customizable Forms
Payment Forms
20 email marketing campaigns/month (the disappointing part is that this plan doesn't allow linking the email campaign's URL to your domain)
50,000 emails/month
20 automaton rules
Chat automatons
20 social post campaigns/month
Ascend Unlimited: $49/month
Unlimited contributors
Unlimited lead capture forms
Customizable Forms
Payment Forms
Unlimited email marketing campaigns/month (the disappointing part is that this plan doesn't allow linking the email campaign's URL to your domain)
1 million emails/month
Unlimited automaton rules
Chat automatons
Unlimited social post campaigns/month
VIP support
Wix vs Shopify online store hosting conclusion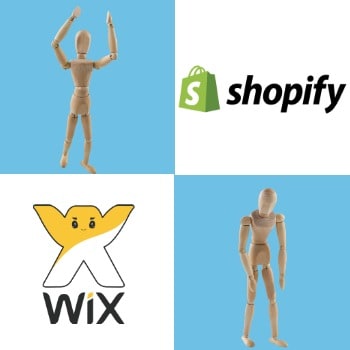 The winner is Shopify!
When choosing Wix or Shopify for small business, you will probably lean towards the side of Wix. However, you should ask yourself, is Shopify or Wix better in the long run?
Your business might start small, but as it grows, you will require a better structure and a wider set of specialized eCommerce features that come with Shopify.
Wix versus Shopify final score
Shopify vs Wix online store FAQs