Last Updated on
For many people choosing WordPress over other CMS-s is a no-brainer; after all, WordPress is the most popular CMS for good reason. However, choosing the right hosting provider for your WordPress website can be difficult.
There are a few terrible hosting providers out there, and it is easy to tell you which ones to avoid. However, each individual has unique needs, and different hosting providers have offers that are aimed at different groups, so it isn't as easy to tell you which one to pick from among the good ones.
Disclosure
As an independent review site, we get compensated if you purchase through the referral links or coupon codes on this page – at no additional cost to you.
Flywheel belongs to the group of good providers, but it has a niche target group. After reading this Flywheel review, you should be equipped with all the information you need to decide if Flywheel is a good hosting provider for your unique needs.
Wondering if there is a Flywheel promo? Check at the button below:
Flywheel WordPress hosting review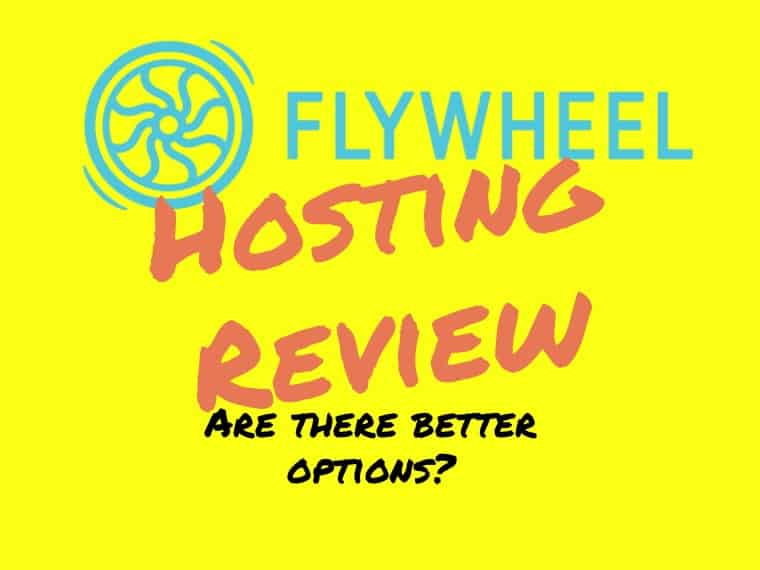 Flywheel hosting pricing and plans
The key differences between Flywheel's plans are the number of monthly visits and websites you can create, and amount of bandwidth and storage you get. Additionally, there are some nice bonuses that the Agency plan includes. There is also the possibility to customize what you get in a plan with a custom plan. The price of the custom plan will depend on the features you choose. Here is the pricing of Flywheel WordPress hosting plans:
Starter: $25/month
25,000 visits monthly
10 GB storage
50 GB bandwidth
1 website included
Freelance: $96/month
100,000 visits monthly
20 GB storage
200 GB bandwidth
Up to 10 websites included
Multisite
Agency: $242/month
400,000 visits monthly
50 GB storage
500 GB bandwidth
Up to 30 websites included
Migration dashboard
Phone support
Dedicated account manager
Quarterly business reviews
Above, I listed only the features that make plans differ from each other. The features they have in common are excellent, but those will be discussed later in this Flywheel review.
What does Flywheel WordPress hosting offer?
Let's start this by saying that Flywheel web hosting isn't for everyone. Flywheel is a hosting provider that targets freelancers, developers, designers, and agencies. They have a special set of features that make it easier to develop and ship websites to clients. I will tell you about that a bit later; for now, let's check out what are the basic features that come with all their plans.
The platform is based on the Genesis Framework and is PHP 7.3 ready. All the plans come with SSL certificates and free StudioPress Themes. It is incredibly easy to set up CDN with Flywheel, which is a huge bonus. All you need to do to set it up is to check the CDN box in settings. In case you are wondering, CDN stands for Content Delivery Network. It is a network of servers that keep content from your website cached. This way, when a visitor opens your website, they receive data from the server that is geographically closest to them. This greatly improves performance and decreases the load time of your website.
If you decide to use Flywheel's CDN, I have to warn you about the possible impact on your SEO. Usually, it is possible to get lots of traffic from Google Images. When you turn on the CDN option on your website, all images on your website will be uploaded to Flywheel's CDN. This means they won't be associated with your domain anymore, and all the Google Images traffic you would otherwise get will be lost.
The best thing about Flywheel is that it entered a partnership with the Google Cloud Platform. Now even their cheapest plan is cloud-based. The platform is equipped with auto-healing technology that lets it heal itself in case of service failure instead of going down.
Cloud platform your website instantly scales when you get spikes in traffic. If the platform wasn't cloud-based, your website would have to be migrated to a server with better hardware to handle increased traffic. This means you would experience downtime during the times you are getting traffic spikes.
You can also stage your website. This means you can create clones of your website to experiment with changes safely. You can do that without any additional plugins or separate servers.
There are also some optional add-ons you will get access to with any of the plans. The managed plugin update feature will update all plugins on your site to their newest version each month. You can also opt-in to get a detailed summary of your website's performance with an actionable recommendation.
Is Flywheel VPS hosting a thing?
With Flywheel, you don't only get a cloud-based platform but your website will also be hosted on a VPS server. Yes, you read correctly; this is not shared hosting, it is VPS hosting. You will have your server, so you will have full access to the server and be able to manage it however you want.
With shared hosting, your website shares resources with other websites. When the websites that share the server with yours get increased traffic, your website can experience performance issues. With VPS hosting, all the resources are isolated from other servers, so your server won't suffer from decreased speed when other users get increased traffic.


Our #1 Choice For Hosting Blogs
62% Off Exclusive Offer Applied at Checkout
Flywheel domain registration
Flywheel doesn't offer domain registration. If you want to register a domain, you will have to use one of the domain registrars out there. I know this is a Flywheel review, but let's sidetrack a bit at this point. NameCheap and Hover are very popular domain registrars, so I composed a list of how much some of the domains will cost you with one of them. The prices below are the prices your domain will renew at, not the introductory prices.
Flywheel website builder review
I already mentioned that Flywheel is targeting freelancers, designers, developers, and agencies. None of them need a website builder. They need an environment where they can create websites with ease. That is just what Flywheel will provide you with. It is packed with features that focus on improving the experience of building websites and delivering them to clients.
The first thing that speeds up the process of creating multiple similar websites is the feature called Blueprints. Blueprints let you save packaged themes and plugins. You can use these custom configurations for building future projects. By using Blueprints, you can cut a huge chunk of time configuring each individual website you are building and rather focus on the design details instead.
During the development of a website, you can stage multiple clones of the website. This makes it easy for your client to preview your progress or the different solutions you are proposing for their website. This also removes the need for manually copying themes and plugins to a test server. You can move all the changes from the live website to the clone website and vice versa, with a single click. There is also an option to move the database from one website to the other. If you want to move just themes and plugins, that is also possible.
Demo sites let you start working on a project and subscribe to hosting later. Combined with the possibility to transfer billing and ownership to a client, this makes Flywheel the perfect hosting provider for developers. This is further improved by an option to generate a link for one of Flywheel's plans in the dashboard. The generated link is automatically sent to your client's email, so they can handle the finances of the project while you work on their website.
The Organizations feature is another quality of life improvement for teams. With the feature, all of your team's websites will be on a single dashboard. This eliminates the need to constantly send data back and forth. Each of the members of the team will be able to access the websites in development. The Organization feature also has integration with Slack, so you can get notifications whenever something is changed on one of the websites.
Most of these features are useless to someone who just wants to host their blog somewhere. On the other hand, professional developers who want to maximize their efficiency will hardly find a hosting provider that can compete with Flywheel. If you belong to the second group, Flywheel is designed for you!
Flywheel speed, uptime & reliability
Flywheel has good speed and excellent uptime. The speed of your website can be further improved by using the CDN feature I talked about earlier. Here are some numbers so you can easily judge yourself how fast and reliable Flywheel is:
Uptime: 99.99%
Average response time: 524 ms
Flywheel web hosting disk space & server storage
Flywheel has limits to bandwidth and server storage. Those limits depend on the plan you choose. The storage starts at 5 GB and increases to 10 GB / 20 GB / 50 GB with each subsequent plan. With the cheapest plan, you get 20 GB.
The bandwidth increases to 50 GB / 200 GB / 500GB in more expensive plans. If you need more storage and/or bandwidth, you can go choose whatever amount you want in the custom plan.
Flywheel customer service & support
Flywheel's support team has the benefit of having to handle only one CMS. As you can expect, they are experts in handling all WordPress problems. Whatever problem you run into, you are in safe hands with Flywheel's support team.
With the Tiny, Starter, and Freelance plans,you get the access to contact 24/7 email and live chat support. If you opt for the Agency or Custom plan, you will also get access to their phone support. Phone support is available Monday-Friday, 9 a.m. to 5 p.m.
Flywheel reseller hosting
Flywheel's reseller hosting is called Flywheel's Agency Partner program. It comes with a dedicated account manager. The account manager helps you price your servers and sell them to your clients. To become a reseller with Flywheel, you have to own at least one bulk plan (a plan with 10 sites or more). There are no additional costs for reselling, which is a really sweet deal. When you become Flywheel's Agency Partner, you get an additional website for free.
White Label feature makes it possible to bill your clients through Flywheel's platform. This is a great feature because it makes it possible to resell hosting and bill under your brand without having to worry about the technical details of billing.
Is Flywheel Hosting Good?
Flywheel is an excellent hosting provider for freelancers, designers, developers, and agencies. It is packed with powerful features that make the process of developing websites and selling them to clients very easy. Flywheel isn't a good option for people who just want to have their blog hosted somewhere because they won't need most of the high-end features Flywheel offers. Instead of paying an exclusive price for all those features they won't use, casual bloggers should pick one of the cheaper hosting providers.
After reading this Flywheel review, you should already know if Flywheel is a good hosting provider for your unique needs. Nevertheless, let's run through a quick list of Flywheel's advantages and disadvantages.
Flywheel Pros
Flywheel Cons
Great for freelancers, developers, designers, and agencies
Cloud-based platform
VPS hosting
Reseller hosting with no additional fees
Blueprints
Easy to set-up CDN
Transfer billing to a client
Free demo websites
Flywheel complaints and praise
The main Flywheel complaints seem to revolve around ease of use for beginners. Unlike most hosting providers, Flywheel isn't a beginner-friendly hosting provider. However, they are targeting professionals, so there is no need for them to be beginner-friendly. Flywheel praise revolves around all the features that help professionals develop and sell websites to their clients.
Our Flywheel review conclusion
If you are creating just a simple website like a personal blog, you should look past Flywheel. They have great features, but those features aren't aimed at people who want to create a small personal website. However, if you are looking for a hosting provider with powerful features that support professional website development, Flywheel is among the best options out there!
Our Flywheel reviews hosting rating out of 5 (Add small table like image below)
Flywheel hosting review FAQs