Last Updated on
You can go to Amazon for just about everything these days. Whether it's the latest book release, groceries, or electronics, you can find it on Amazon. In the past few years, the company has even ventured into publishing and TV production. Now, Amazon is offering a host of web services.
In 2006, Amazon added more services to its on-demand repertoire: web hosting. While they're not the first to offer web hosting, Amazon was among the first to enter the cloud hosting services space.
Disclosure
As an independent review site, we get compensated if you purchase through the referral links or coupon codes on this page – at no additional cost to you.
But is AWS hosting the way forward for you?
Read our Amazon web hosting review to find out…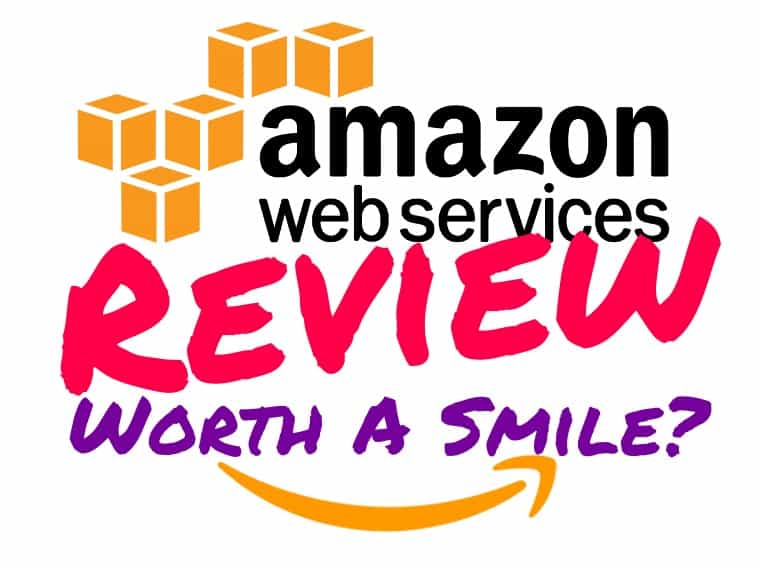 While Amazon has been around since the '90s, they're fairly new to the web hosting market. But in the short amount of time since they've started up, Amazon has shown that they're a capable and competitive hosting provider. Here you can watch a video overviewing Amazon
Amazon shows off its high-profile clientele on the web services homepage. These clients include Unilever, Airbnb, and even Netflix. With so many large corporations as clients, Amazon web services is clearly doing something right.
AWS web hosting pros & cons
Amazon web hosting, like many of their other services, is like nothing else out there. In addition to web hosting, they provide a suite of related services. These services include scheduled backups, elastic load balance, and content delivery. While their primary clientele consists of sellers that use their platform, other users can also sign up.
All features fall into one of four categories. These core features are Compute, Storage and Content Delivery, Databases, and networking. If you're looking for high-end services, you can control all four with admin controls accessible through a secure web client. Signing up with Amazon Web Services, you can configure the security and monitoring of your site.
Many Amazon cloud services reviews note the high customizability. AWS hosting services also offer third-party programs and application programming interfaces to customers. Amazon's web hosting is supported on both Linux and Windows servers, so if you prefer one over the other, you have your choice.
Reliability is a cornerstone to all good hosting. If there's one thing that we found out about during this AWS review, it's that they have reliability in spades. When you sign up for Amazon web services, you get full redundancy, server cloning, and automated backup. As the web's largest online retailer, Amazon has the infrastructure to support high uptime.
Amazon's pricing scheme is also very flexible. You can pay per hour, per month, or per year, depending on your needs. Per hour services start at $0.08, and per month pricing starts at $57.60. They're not the cheapest service out there, but you get a whole bunch of features included with your account.
Prospective customers may not be surprised to learn that Amazon's support is top-notch. You can contact customer service via live chat, email, or phone any time of the day, any day of the week.
And their expert customer support reps are willing to guide you every step of the way. No matter your experience level with technical support, you'll be able to find the support you need.
While Amazon web services offers a wide range of options, you can only sign up for cloud hosting. If you want to go for shared or VPS hosting, or dedicated servers, you'll have to look elsewhere. Amazon hosting is meant to serve a specific purpose, and it'll likely stay that way for some time.
Their pricing scheme can be a little bit confusing, as well. Some other Amazon web hosting reviews have noted that users may need a consultant to even just figure out pricing. While you can pay for different time intervals, there's a lot of variation with pricing depending on the services you use.
While Amazon has been making an effort to lower their pricing, they're still not cheap. Compared to hosts that provide similar services, Amazon's on the higher end of the pricing scheme. It may be a bit expensive for even the most active Amazon sellers.
Like many other hosting providers, Amazon's services come with limitations. Amazon does not offer unlimited bandwidth or disk space. This again is due to the enormous traffic capacity Amazon's servers withstand every day. There's only so much that the cloud can take. If you need a lot of storage, Amazon's services may not be the most optimal for you.
Sometimes there can also be too much choice. Since there are so many services and options on offer, Amazon has one of the more complex IaaS solutions around. While initial setup is easy, customizing your account to optimize performance for your needs can be tricky.
In part to address the complexity, consultants knowledgeable in Amazon's IaaS offer their expertise to assist you. But of course, then you're paying even more just to be able to learn your way around Amazon's services. This is a particular complaint among many Amazon web hosting reviews.
High variance in performance
While Amazon is generally reliable, their performance is not always up to par. This may be in part due to the fact that their servers manage a much larger workload than other cloud services. Performance often reaches steep peaks and valleys, outstripping the competition while also falling behind. With such a wide variation in performance, it's not the most stable service.

Our passion is Blogging, and we take pride in educating thousands of you fantastic people on this subject matter. 
However, there is a global crisis happening TODAY, right under our noses. Climate Change is real, and we have the power to make an actionable difference. 
We've partnered with GreenGeeks – the only Eco-Friendly Web Hosting company (powered 100% by wind energy) that runs a 300% Green Hosting platform. 
By signing up through us, you can benefit from a FREE domain name and tons of freebies. 
Get your Eco-Friendly site up and running now starting from as little as $2.95/mo

All the Amazon hosting reviews out there tend to agree on one thing: Amazon web hosting services are not for everyone. Amazon's services are a bit complex for newcomers to navigate, as is their pricing scheme.
These services also appear tailored to a specific clientele – namely, users of their selling platform. Other web users can sign on if they wish. But the range of services available may not be optimized for you.
If you want to use cloud services, it may be better to check out our Hostpapa review as it will likely be a better option. In addition to greater affordability, they have all the basic features covered. If you're an individual or small business looking to base your site in the cloud, Hostpapa may be the service for you.