Last Updated on
Hosting24 gives tons of features, unlimited everything, good support, and a great price too. If you are looking for a web hosting plan that gives you the most, check out this Hosting24 review to see if it is right for you.
Hosting24 was founded in 2005 with the goal of provided value in a web hosting company. Hosting 24 quickly became a leading provider of shared, reseller, and VPS hosting services. As part of the Hostinger International LTD group, Hosting24 is an ICANN accredited registrar. This gives them the ability to register domain names directly and without having to go through a reseller.
Disclosure
As an independent review site, we get compensated if you purchase through the referral links or coupon codes on this page – at no additional cost to you.
Hosting24 offers many of the same features as other web hosting companies and they take pride in giving their subscribers many of the features they are looking for at an attractive price.
Some of the features include a free domain, a dedicated IP address and unlimited data transfer, unlimited web space, and unlimited bandwidth. They're so sure that you'll be sold on their plans that you can try any of them for just one penny for the first month.
Let's take a look at some of our Hosting 24 reviews finer points.
With many web hosting companies, a lot of the extra add-ons can really add onto your monthly costs. Hosting 24 includes extras, which frees up some of your budget dollars to get some of the paid add-ons that you might not otherwise be looking at.
Their uptimes and customer support are good, but don't quite measure up to competitors with similar pricing.
Hosting24 review pros and cons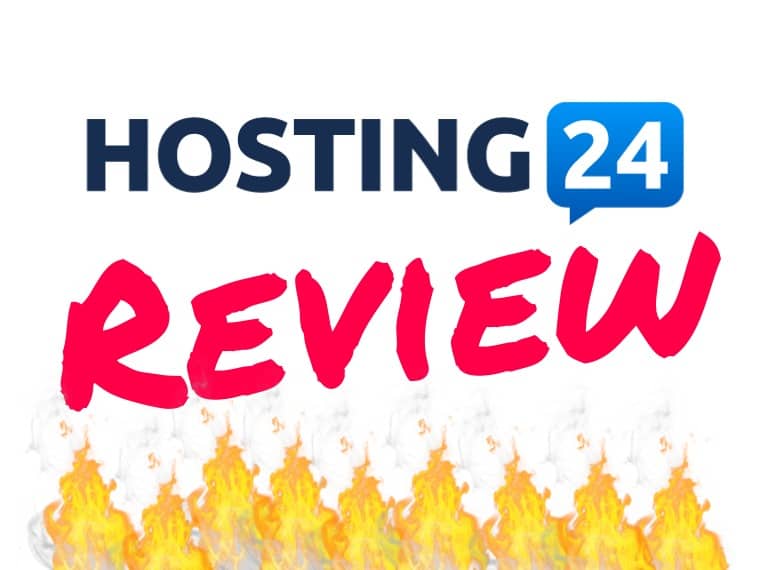 Web Hosting24 attracts the value-conscious buyer with features like a free domain for life. Many competitors charge for it or they only give you a free domain for the life of your contract.
If you need emails for multiple users, Hosting24 accommodates unlimited emails at no additional cost.
24 Hosting gives you SSH access, a dedicated IP address, unlimited data transfer and web space and unlimited bandwidth.
Customer support is nonchalant
Customer support is available around the clock, but they tend to respond slowly, especially on weekends. While the tech support is very good, they tend to be overly chatty and may not get down to fixing the problem as quickly as some subscribers would like.
Recent clients report that the company has made stronger efforts regarding faster tech support responses recently. When you are in contact with Hosting 24 support technicians, you will typically find them to be clear, thoughtful, and detailed.
Domain registry has lag times
You are sure to be happy about the free domain, but you won't be quite as happy about the amount of time it takes to get it registered and operational. You could be waiting from 24-48 hours.
Getting free backups is one of the things that gives Hosting 24 value. On the downside, backups occur weekly, rather than daily.
In our Hosting24 review we really want to bring to your attention that they have single, not multiple backups and they won't back up accounts that are larger than 2GB. It's best to have a backup plan of your own.


Our #1 Choice For Hosting Blogs
62% Off Exclusive Offer Applied at Checkout
Hosting24 review of the top 3 most important features
Hosting 24 is very proud of the strength of their uptimes, which stands at 99.9%. If anything happens, Hosting24 gets an immediate alert by their monitoring system and they are standing by to address it right away. Their rock stable services use a premium Softlayer.com datacenter with zero network downtime. Dual tech system architecture backs up all systems.
2. Customer support response
Hosting 24 took heed of earlier customer complaints regarding the slow response of tech support and turned lemons into lemonade. The company has made a recent commitment to shortening their response times for technical support. Their new goal is to respond to their clients within one hour.
Customers can access the live chat almost all the time and wait times are typically minimal.
They also have a ticket-based support process that also has a goal of answering customers within an hour. Hosting24 does something else that no other web hosting provider does. If you are not satisfied with your tech support reply, you can forward your inquiry to the company CEO.
3. Top of the line cPanel
cPanel has become the premier control panel for web hosting providers. Hosting 24 provides cPanel to website owners to let them manage their websites from a web-based interface. Website owners then have a graphical interface they can use to control their portion of the server.
cPanel uses a tiered structure, where different users can have different levels of access to the website tools and functions. Website builders can manage databases, domain names, mail accounts, and backups. cPanel generally has an auto installer with a built-in installer for a website platform like WordPress or Joomla.
Here's an informative video that shows you what you can do with cPanel.
Our Hosting24 reviews final verdict
There's no question that Hosting24 is one of the best value-based web hosts. Flexibility is another of their strong points. Check out their low-cost plans for shared hosting, reseller hosting, and VP hosting.
Hosting24 is also one of the few web hosting companies that won't try to continually upsell you. Customers in the United States will user their server location here in the states and there is a European server for our friends that live or work across the ocean. Try one of their plans and experience Hosting 24. It will only cost you a penny to try it.
Our Hosting24 review final rating
I'm giving Hosting 24 a rating of 3 stars out of 5.
They have certainly fulfilled its mission of becoming a web hosting company that gives a lot of value for their monthly plan fees. On the flip-side, some of the features that have become important for users could use some improvement.